MENU
How To Create My Own Mobile App ?
One of Publuu's most impressive features is the App Kiosk that converts your collection of Flipbook PDFs into a mobile app for mobile devices like tablets and smartphones.
Thanks to this functionality, you can effortlessly create a mobile app for your online catalogs, digital magazine , eBooks or other documents. The app can be published in mobile stores, like Google Play or Apple Store. If you're our Premium customer, we can create the app for you, while all you have to do is to customize it to match your brand design and offer specific issues you choose.
How to use App Kiosk?
Our App Kiosk system is free to try out, even if you are using our free trial. You can access it easily, simply by clicking the App Kiosk icon on the topmost upper blue bar when you have logged into Publuu.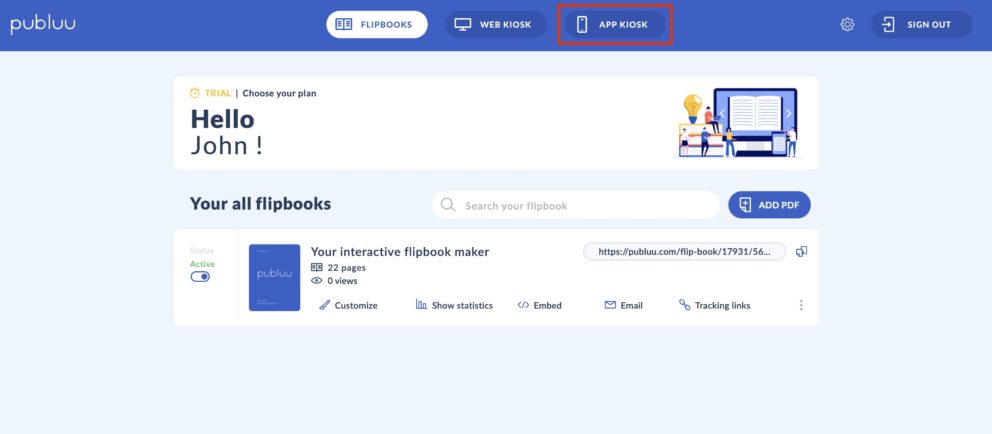 You will see a preview of your app; if you have uploaded any PDFs, they will be automatically presented in the preview window on the right hand side.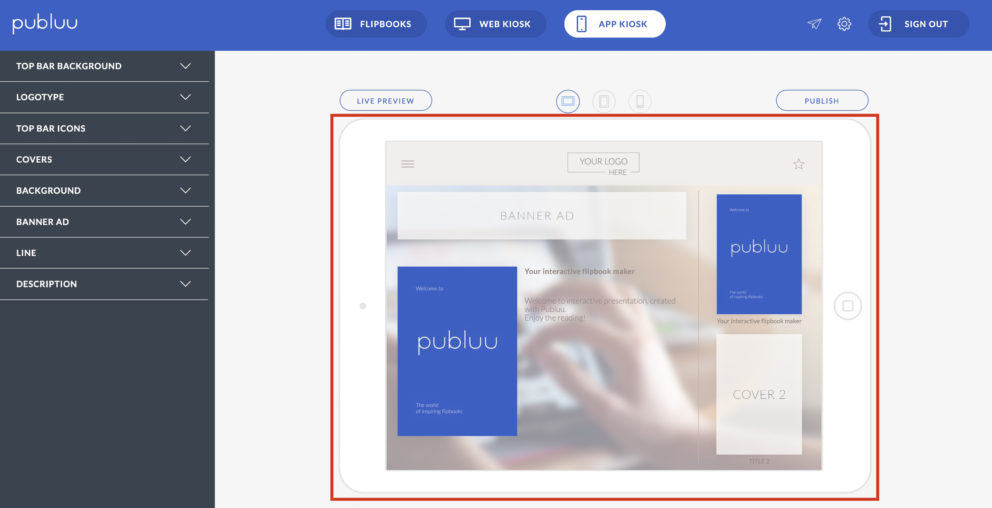 You can customize the appearance of your app by using the bar on the left side or by clicking on the elements of the app you wish to adjust.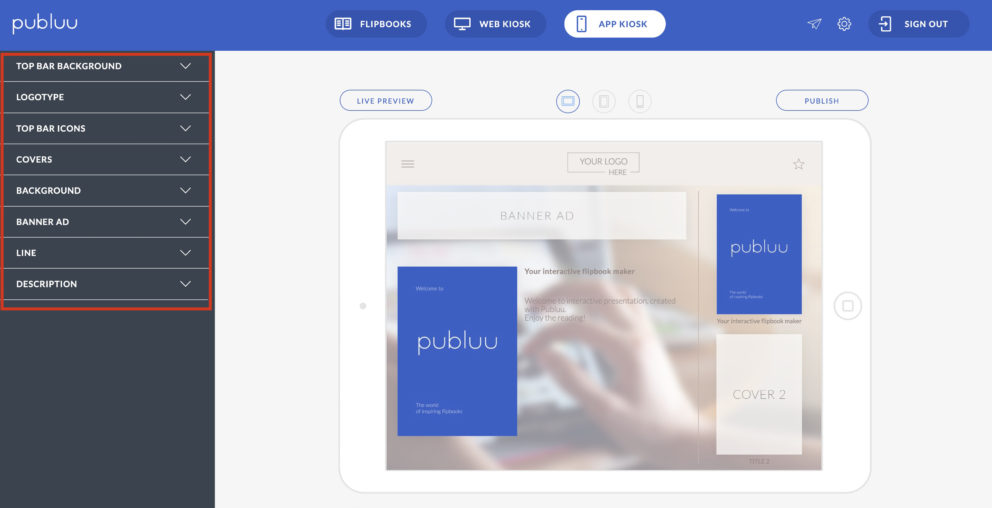 Thanks to the color picker tool, you can set the colors and transparency of the top bar.
You can also add your own logo in JPG or PNG format by clicking on LOGOTYPE button.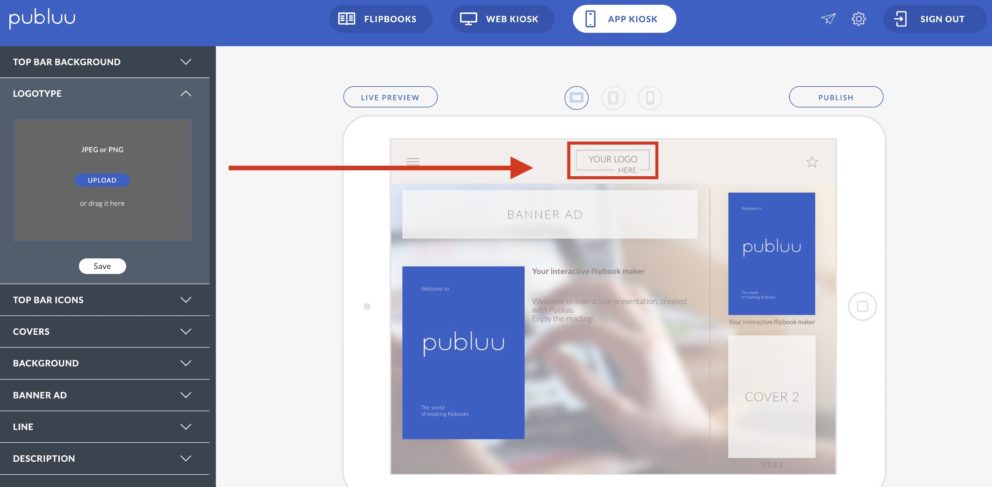 Click on TOP BAR ICONS to set the color of the icons in top bar



By clicking on the cover of the uploaded PDF, you can swap the issues that are uploaded to your Publuu account. If you publish catalogs or digital magazines you can present the current edition and the last month's one, for example. It's easy to switch the issues if you want to update your app regularly.


Likewise, clicking on the Background tab lets you choose the color of the background or upload the background image (or delete the sample one prepared by our crew).
Many of our users want to use the advertising banner – you can use it to redirect traffic from the app to your website or one of your advertising partners. You can upload your own graphics or set the target website to which your banner should redirect traffic.

By clicking on the DESCRIPtION box in the center you can edit the name, description of your content and set the font color.

If you choose the "preview" option you can generate an automated preview of your app, viewable on your mobile device's screen. To install it, use the QR-code or a link provided in the window.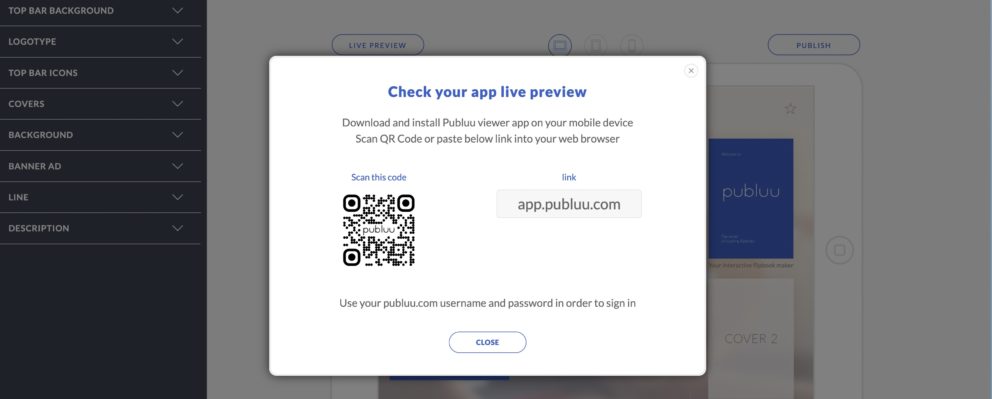 When you're satisfied with your work, click the Publish button.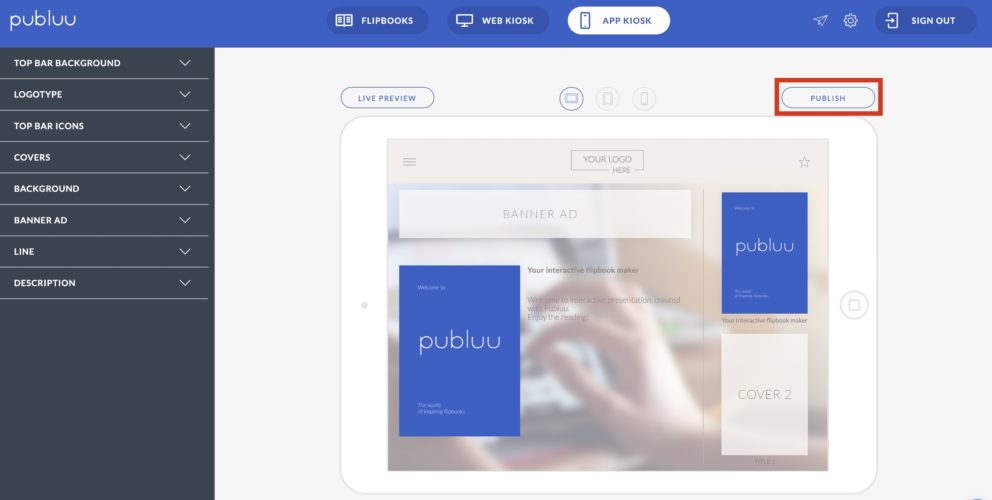 Your app requirements will be sent to our professional coding team which will create the app based on your specification. We provide a world-class level of customer support, so we'll stay in touch!
You may be also interested in:
How To Customize My Flipbook
How to Embed a Flipbook Into My Website ?
How To Share My Flipbooks



Convert your PDF to flipbook today!
Go beyond boring PDF and create digital flipbook for free.
Register with Publuu for free today and check out all the smart options we prepared for you!