MENU
How to replace my flipbook without changing its link?
Sometimes just after creating a flipbook you notice a small typo you want to correct, or you need to update your flipbook's content from time to time. This is when Publuu's flipbook replacement function comes in handy.
The good news is you can replace your PDF anytime without changing the direct link you once sent to your clients.
To learn how to replace the existing flipbook with a new one, carry on reading this simple guide.
To update the existing flipbook, first, sign in to Publuu and find the flipbook you wish to replace. You can do it faster by using the search bar and typing the name of the desired flipbook.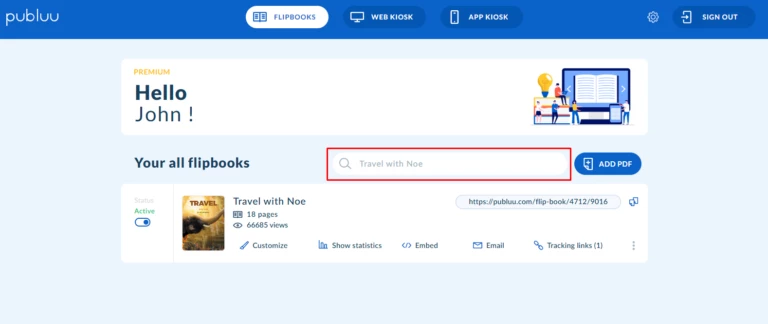 Now head over to three-dot button menu on the right, click it to expand and select the REPLACE option.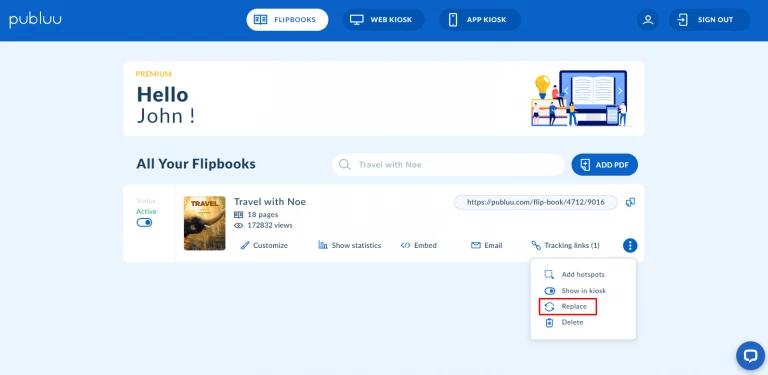 Then, in the pop-up, click the YES, REPLACE IT if you are sure you want to swap this particular flipbook.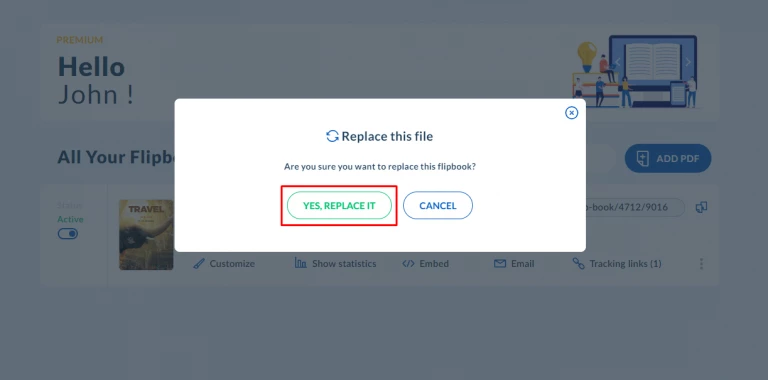 This command will launch a system window. Now just upload the updated PDF file from your hard drive and let Publuu convert it into an online flipbook in a few seconds.
Well done, your flipbook is replaced!
The link you've once generated and sent to your customers remains unchanged. It means your clients can now access your updated content using the same direct URL. Isn't it great?
IMPORTANT!
If you are replacing a PDF you need to be aware of a few things affecting your flipbook, all of them discussed below.
Interactive elements
Every interactive element you once added remains on the same page of your flipbook even if your replace a PDF file. So if the number of pages of your new PDF does not differ, you may want it to stay that way.
But if a new file contains more or less pages than the old one, you will need to reorganize or remove the interactive elements, since they may not suit the updated content.
Let me show it with the example:
If you delete the 2nd page of your document, the 7th automatically turns into 6th. So, if you had a hotspot on page 7th you will have to move it to page 6th to match the content.
It is especially important to reorganize the interactive elements if the changes you've made to your PDF are significant and you add or remove a few pages and change not just a single typo, but the whole content.
Internal links
If your new PDF contains more or less pages, you will also need to change the internal links, since the pagination of your flipbook will be different. The detailed instruction on how to add and customize the internal links at Publuu can be found here.
NOTICE: The links you have once created in the original PDF will be automatically transferred to your flipbook, but only the ones from its latest version.


Thanks to Publuu you can also update your flipbook's content by adding interactive elements. Check the articles below to learn more:
How to Add GIFs to Your Online Publication?
How to Add Photos to Your Publication?
How to Add Videos to Your Digital Publication?