MENU
How to prepare PDFs to create the best quality flipbooks?
To answer your question about how to prepare your PDFs so that the flipbooks you create look great and are of high quality, we prepared a short guide. Do remember that to create a sleek and professional flipbook the only thing you need is a PDF. It is therefore important to take your time and understand how to prepare it so that it converts well and looks fantastic.
What type of PDF you should use?
You may be wondering whether there is any particular type of PDF format or version you should use when you want to convert your PDF file into a flipbook.
When it comes to formats, most PDFs will do the job. If you use XFA though, which is the format for creating tables to fill in, you need to change your file into a standard PDF before converting it. Please note that the tables and forms will not work as previously when changed into an ordinary PDF.
There are many different PDF versions and generally speaking most of them will work when converting your files to flipbook format. But to get the smoothest effect for your flipbook, you should ideally use PDF 1.4 (Acrobat 5.0) format.
How to prepare your text for flipbooks?
The only rule when it comes to texts is to save them as as real texts (with selected an appropriate font, colour and size of the text), not as images. If you do it differently, the quality of the text may be poor which will have an impact on your readers' experience. When you convert it as a part of your PDF, it will change into an SVG image which looks fantastic and zooms well.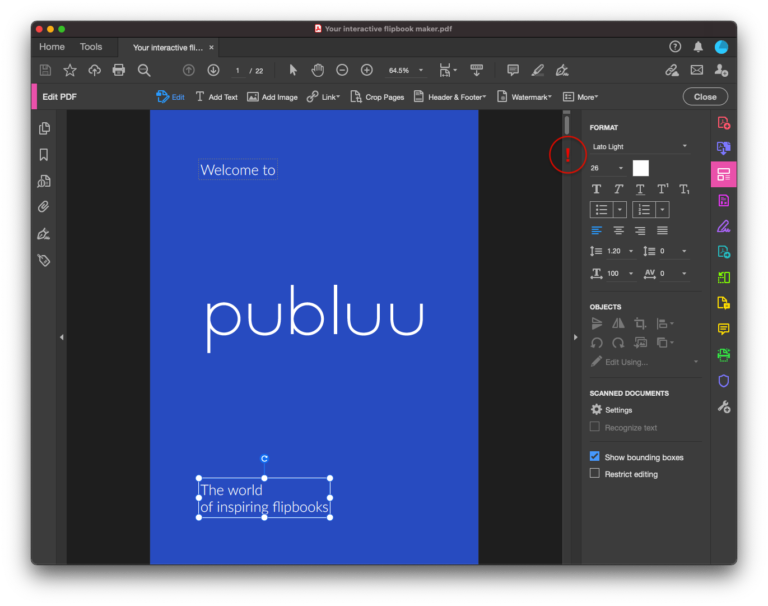 Make sure you don't use any hidden text. If you don't use a part of your text, simply delete it – otherwise it may be problematic when transforming to an SVG image and may influence the quality of your flipbook. If you are not sure whether your file contains any hidden texts, check it directly in Acrobat: Tools > Protect > Remove hidden information > Hidden text.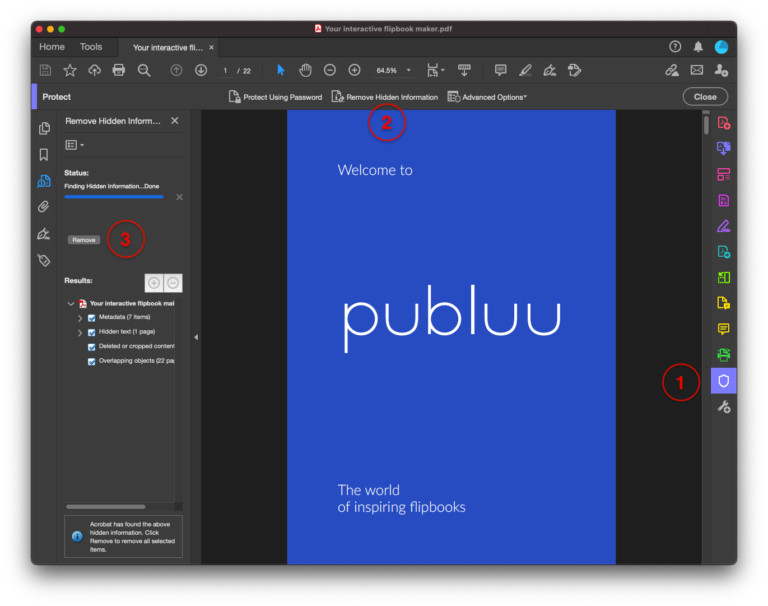 How to prepare your images for flipbooks?
When it comes to images, 200 PPI is a resolution that works just well. When converting your PDF into a flipbook format we change the size of your images anyway so that they don't take ages to load.
What to do when your pages are of different size?
The simple answer is: we recommend that all your pages are the same size. Why is that? All flipbooks by Publuu contain pages of exactly the same size for the crisp look and smooth experience. If your pages are of different size we will need to add a frame to them or crop them so that they work well in the HTML5 format.
Is there a size limit for your PDF?
The size limit of your PDF is connected to your subscription plan. Publuu's limits are 150 MB for Basic, 250 MB for Optimum, 500 MB for Professional and 1 GB for Premium plans. For more details on available subscription plans have a look here.
If the plan you subscribed to seems not enough and you exceeded the size limit, try optimizing your PDF to compress images and delete any items that are redundant.
To optimize your PDF try the following options:
All you have to do here is upload your PDF, select the compression level, click on compress PDF and download the compressed file.
This is a payable service with a limited free version and a free trial period which you can subscribe to. To compress your PDF upload it, select the compression level, click on choose option and download the compressed version of your file.
Allows you to optimize your PDF and reduce its size, giving you an option of deciding which of the items to compress. To optimize your file quickly, go to file, save as other, optimized PDF, then tick the checkboxes: images, fonts, transparency, and make sure the others are not clicked. Press OK and save your optimised PDF.
Is there a page limit for your PDF?
No, there is no page limit, so you can create a PDF containing all the information you need, without worrying about the number of pages.
If you need to split your PDF into sections that are easier to handle (not just for you, but particularly for your readers), for example into chapters, you can try iLovePDF – a great tool for doing so, or create bookmarks in Adobe Acrobat that will be later imported to your flipbook as an interactive table of contents. To learn how to do it properly, go to this page: How to create a table of contents in Adobe Acrobat?
We hope we covered everything you may need to know before converting your PDF to a flipbook. But if there is anything else you are worried about or are keen to discuss when preparing your PDF, get in touch with us.