Virtual Bookshelf
Create virtual bookshelf with access to your online book collection. Share it via link or integrate it with your own website.
CREATE VIRTUAL BOOKSHELF NOW
What is virtual bookshelf?
Virtual Bookshelf is an online space for all your digital books, magazines, brochures and catalogs – all under one address. It allows your readers to easily access and browse your publications, creating an impression of a real-life library.
Creating
virtual bookshelf

with Publuu

With Publuu you can make virtual bookshelf with access to your flipbook catalogues, magazines, brochures with just few clicks. Share it via link or integrate it with you own site. You don't need any coding skills to make your own branded virtual bookshelf today.

Create Your Free Bookshelf
Virtual Bookshelf – Features
Enjoy Reading On Any Device
Your book collection clearly arranged in one central location - your virtual bookshelf. All of your clients and readers will have a good overview and easily find what they are looking for. Desktops, tablets and smartphones – your digital bookshelf fits to every screen automatically.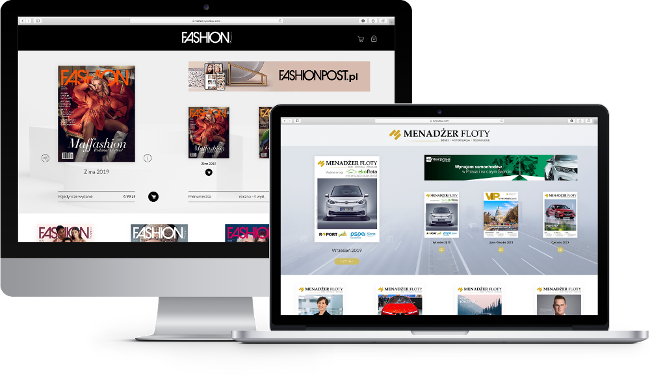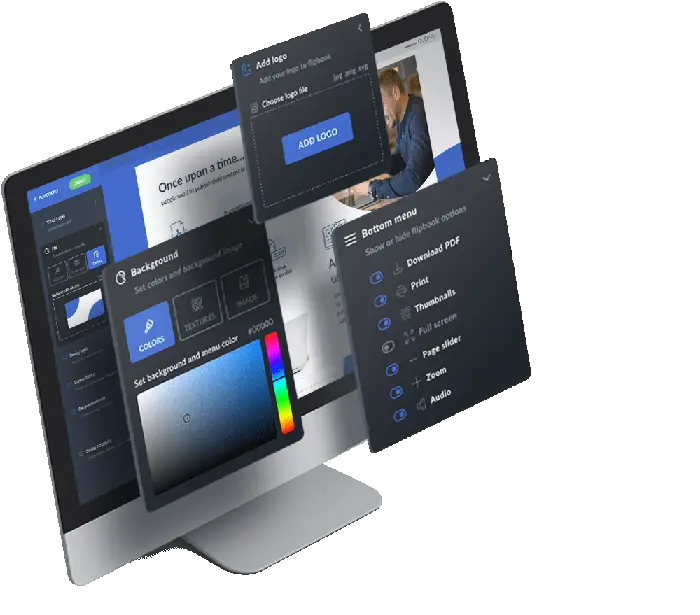 Customize your library
Personalize your Virtual Bookshelf with simple to use online creator. Select colors, backgrounds, upload your logotype and see how it all look in real-time. Create an appealing digital library for your readers without coding today.
Interactive Hotspots
Attract your reader's attention. Enrich your books with interactive elements, that can activate photo galleries, videos or active links inside your e-books.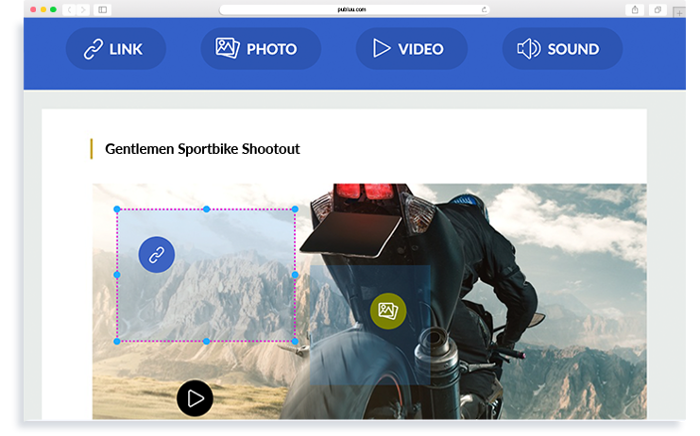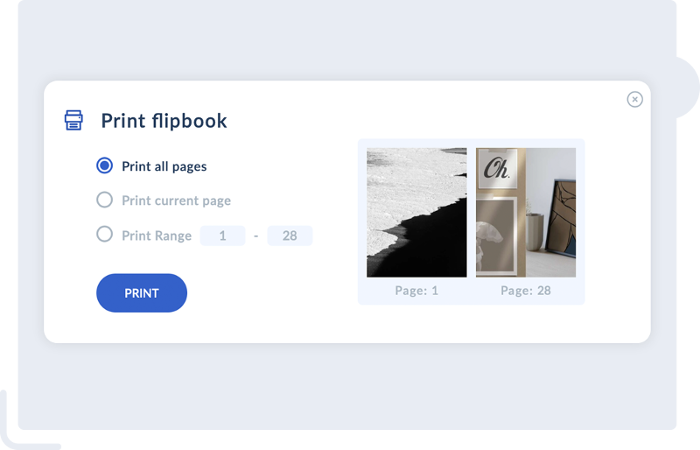 More Income From Advertisers
Add direct links to your clients products inside your books and raise your ad rates. You may also offer advertising space in your Virtual Bookshelf to generate additional revenue. See statistics on your books and bookshelf itself.
How do I create a virtual bookshelf?
Upload your books (in PDF format)

Upload your publications to Publuu with just a few clicks. You can upload up to 3 books at the same time, so your collection will grow in no time.

Customize your Bookshelf

Use our editor tool to create your dream library. Upload your background, logotype and banner ad. Customize your text, icons and see how your bookshelf looks in real-time.

Publish it

Once you will be happy with your design, just click LINK and publish it. Now you can share it with everyone you want through the customizable link or social-media.
Virtual Bookshelf examples
Publuu - online bookshelf creator is being used by more and more publishing businesses around the world. Join them and share your book collection with the best possible way.
Recognition as a leader!
We are serving customers from over 150 countries and helping over 10,000 businesses grow every day.
We are so proud to be recognized as a global leader for our flipbook apps performance, easiest setup and easiest to do business with.
We have a 99% satisfaction rate from our customers and we work hard to keep it that way - we value service quality and always make sure that our interactive flipbook apps answer your business needs.
And we've been awarded for it!
How to create bookshelf for free?

Explore great features of virtual bookshelf for free. Open a free Publuu account and try all bookshelf options on mobile and desktop devices during 14 days trial - free of charge.

How can I customize my bookshelf?

Step 1:

Log in to your Publuu account

Step 2:

Pick a background color or upload your own graphic file

Step 3:

Change the text color

Step 4:

Select the icons and change their colors

Step 5:

Publish your customized bookshelf

Can I customize books in my bookshelf?

Yes, you can easily do it in the customize section with just few clicks. Change the name, description and set the menu buttons to match your needs. Pick the background theme, upload your own graphic or choose the specific color for each of your books individually.

Can I share my bookshelf and books individually?

Yes, you can quickly share as well different bookshelves in your library as books individually with a direct link or embed into your website like it was an integral part of it. You can post your shelfs and books on social media with no time too!

How can I protect my books added to my virtual bookshelf?

You can protect your books on many ways :

- by setting a strong password for each of your books separately

- by disabling share, download and print option in your books top menu.

- by switching an embed protection feature on, that will make your books only work when embedded into your website. Your visitors won't be able to share it via direct or embed it on their website.

How many books can I add to my bookshelf?

You can have from 10 to even 500 product books stored in your library at the same time. The number of books depends on the plan you are signed up to. Have a look at our price plans and choose the best option for you.

Does bookshelf work on mobile devices?

Yes, it doesn't matter whether you read a book on a tablet, smartphone or a laptop, it will always look and work great on any device.

What is bookshelf app used for?

A bookshelf app is used as a digital platform or tool to organize and manage library of books. It allows users to catalog, organize and publish their collection online.
With Publuu you can also create
Create Your Virtual Bookshelf For Free Today.