Online Magazine Maker
Create your magazine with Publuu - all-in-one magazine maker and publishing platform. Add real page turn effect to your online magazine, that looks stunning on all devices. Customize, embed photos and videos with few clicks. Track your online magazine performance in real-time !
Why creating an Online Magazine with Publuu?
When reading Publuu-made digital magazine it feels like you were viewing real print magazine. Its pages rustle when you flip through them and have characteristic shadows and reflections. All that, combined with many user and business-friendly features, make reading your online magazines a truly unique experience.
CREATE YOUR OWN MAGAZINE
Online Magazines
Features
Customize Your Magazine
Choose your custom colors or one of many stunning design templates. Brand your online magazines with your logotype and add animated hotspots with videos, photos or links. Make them truly memorable and unique with Publuu - online magazine maker.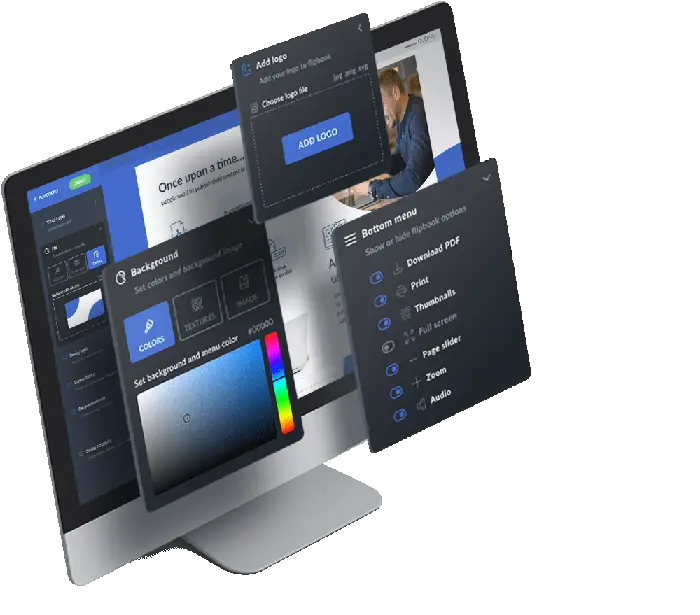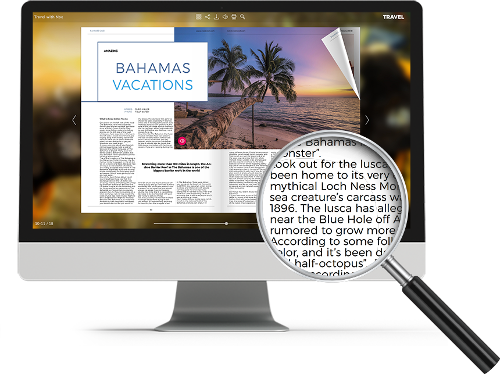 Text vector quality
Surprise your readers with the best text quality in the whole online world. Our vector support viewer makes your online magazines readable on any device without losing on its quality.
Sharing Your Online Magazine
Share your digital magazine in many ways: by email, on social media or by embedding it into your website. Unlike PDFs, Publuu's online magazines always look great when posted on social media – they show as a 3D cover with description below. Your readers' attention is guaranteed!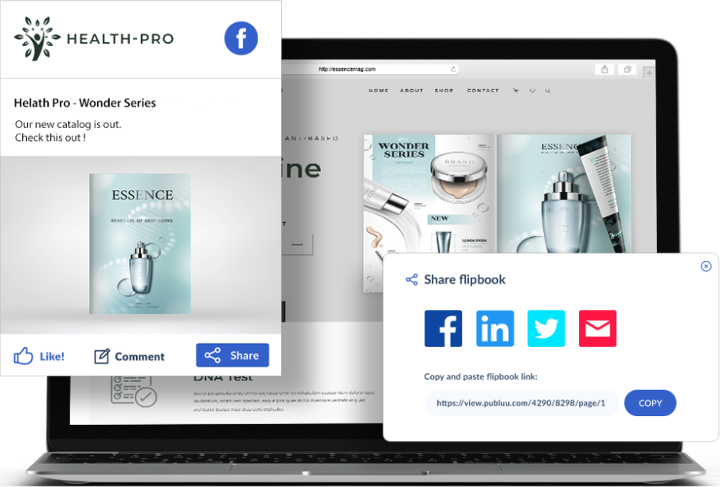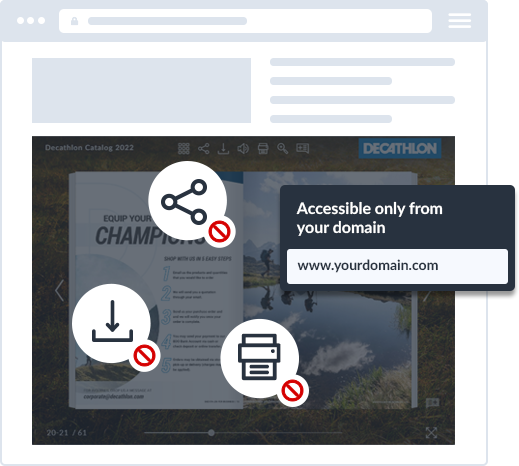 Embed Protection
Protect your content from being shared or redistributed without your permission. Embed your online magazine securely into the chosen website and be sure it can't be displayed anywhere else. Sell your online magazines and make them available only to subscribers with granted access. Increase your income without worrying about unauthorized downloading or printing.
Magazine Statistics
Use our statistics to check how much time your readers spent on each page of your online magazine, which them was the most interesting one and how they interacted with them.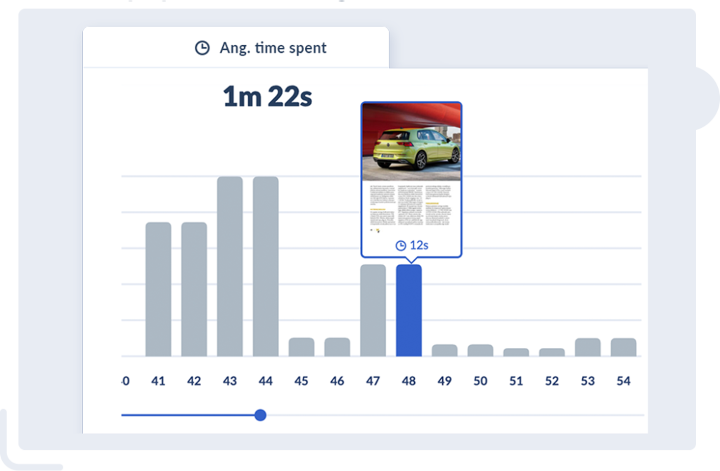 Online Magazines Examples
Publuu online magazine maker is being used by more and more publishers around the world. Join them and see how easy and business-useful our publishing platform is.
How to create an online magazine ?
Creating with our online magazine maker could not be easier.
Follow our short guide and learn how to make and publish your first digital magazine with a few clicks !
SIGN IN AND CONVERT

Log in to your free Publuu account. Upload your PDF-Magazine file and our online magazine maker will automatically convert it into a stunning online magazine with a page flip effect.

CUSTOMIZE YOUR MAGAZINE

Customize your online magazine. Add a name, a SEO optimized description and your logotype. Choose the background color or one of the stylish design templates.

SHARE YOUR PUBLICATION

Embed your online magazine into your website, post it on social media or send as a direct link. You can also instantly publish your digital magazines in your own branded mobile application.

TRACK ITS PERFORMANCE

Check how your online magazine performs using our real-time statistics. See the time spent on each page, the number of views and the kind of interactions your readers had.
Website Embed
Show your online magazines on your website like it was an interactive part of it. The online magazine's embedding process is easy and does not require any coding skills! Our embed tool has many options of how to show your online magazine to your visitors to choose from.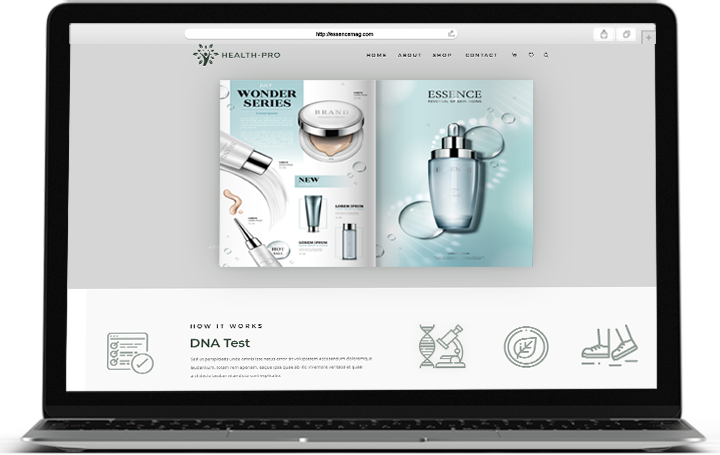 Virtual Bookshelf
Publish your online magazines on your own custom-designed virtual bookshelf and flipbook app, available to download from Google Play. Place your online magazines in one central location that is accessible to everyone, even offline! All that with just a few clicks.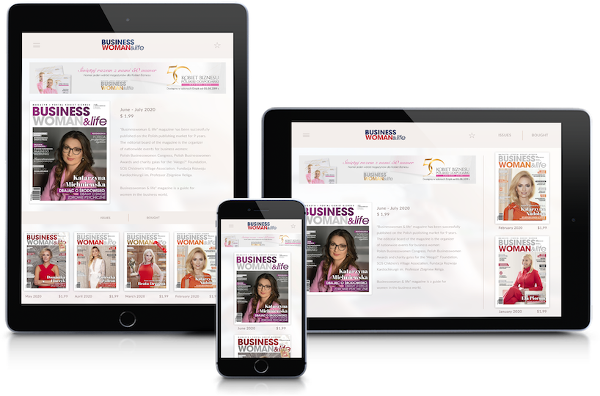 Online Magazines benefits
Creating a modern and interactive online magazine will take your publishing to the next level.
Check out other smart features that can help you in your business.
Article linking
Promote your online magazine with a particular article. Direct your readers to it by sending a direct page link.
Mobile Experience
Online magazines created with Publuu - online magazine maker are mobile optimized and responsive across all devices. Without compromising their quality.
Content Protection
Protect your digital magazine by controlling its share, print and download options. Set a password if you want it to be accessible to your subscribers only.
Custom Design
Customize your own website where you can publish all your magazines using our user-friendly online tool. You can quickly brand your own Web Kiosk that is easily accessible to everyone.
All in One
Keep all your digital magazines clearly arranged in one central location – your custom-design online bookshelf. Give your readers a good overview of what you offer and simplify their searching process.
Ad space
Offer an advertising space in your Web Kiosk to your ad-clients or use it to promote your own products. This space can be activated or deactivated at any time.
Offline access
Make sure all your readers have instant and offline access to your all e-magazines. Once your online magazine has been downloaded inside the Flipbook App, it can always be accessed and read offline!
Mobile stores
Your Flipbook App will be published in the Google Play – the worlds largest mobile stores for IOS and Android devices. We will handle the complicated submission process for you.
24/7 Access
Let you readers have your online magazines always at their fingertips. It doesn't matter what kind of tablets or mobile phones they use - let them have access to them anytime and anywhere, always in the most appealing form!
Our customers talk about our
online magazine maker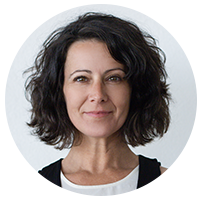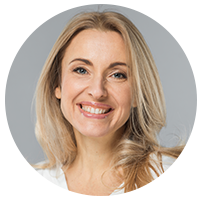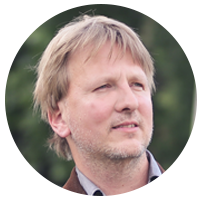 Recognition as a leader!
We are serving customers from over 150 countries and helping over 10,000 businesses grow every day.
We are so proud to be recognized as a global leader for our magazines performance, easiest setup and easiest to do business with.
We have a 99% satisfaction rate from our customers and we work hard to keep it that way - we value service quality and always make sure that our interactive magazines answer your business needs.
And we've been awarded for it!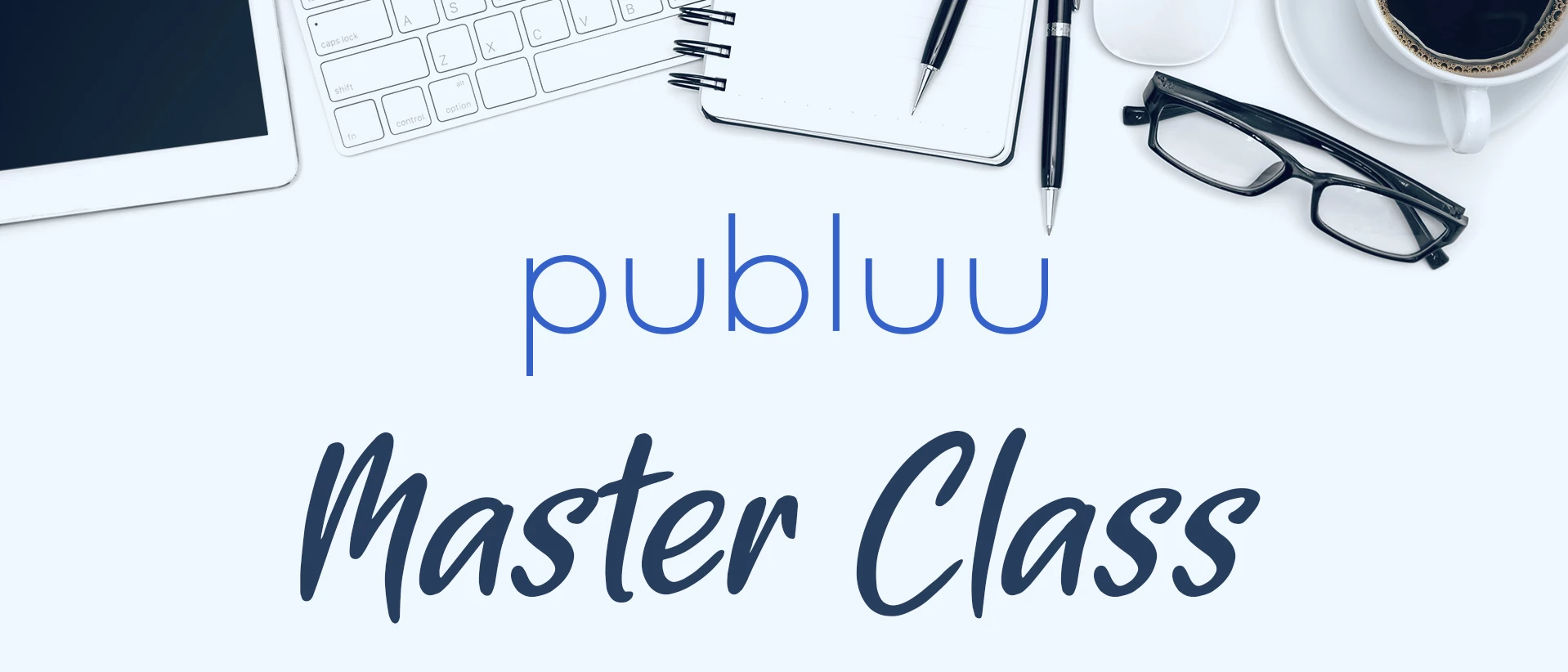 Digital Magazines Tips
Magazine cover design
Magazine cover is the first thing that people see when they look at your digital magazine. The cover should be eye-catching and have bright colors and also have an interesting headline so people will want to read more about what's inside.
Magazine Template
With the magazine templates, you can produce a professional-looking publication with little effort. Fortunately, there are now plenty of free templates that you can use to create your own magazine without having to worry about any problems.
Magazine Creator
Nowadays, you need to put a lot of effort into really making your magazine different and better than the ones already on the shelves. Thankfully, that is not the case with online magazines using the magazine creator.
The magazine maker is a very cost-effective solution that lets you create a fantastic digital magazine with the use of your magazine template and cover to finally put everything together into one masterpiece. Little or no technical skills are needed to create your very own magazine online.
You may surf the web for the best magazine creator since there are plenty of them, but none of them have as many interactive and customization features as Publuu's online magazine maker. Sharing the final product online is also important, so you can choose from the various sharing options. Do not let your magazine go to waste and choose the service that lets you create an interactive digital magazine to make an everlasting impression on your magazine's readers.
Digital Publishing
Publishing online magazines is one of the most popular ways to reach a global audience.With the help of digital publishing tools, like Publuu, we can create magazines and publish them online like they were made by professionals, with few clicks.
How can I create a digital magazine for free?

You can create a digital magazine and discover all of Publuu's great features during the free trial with no credit card required.

How do I self-publish a magazine?

With our Online Magazine Creator, you can publish and store all your magazines in one place using the Online Newsstand. You can also embed it on your website, share it using a direct link, or publish it on your social media accounts. Learn more about publishing your magazines here: How To Share My Flipbooks.

How to gain more readers for my magazine?

Gaining more readers is a challenging task for many new publishers, but Publuu has the solution to it – Mobile Flipbook Application which allows you to create a branded app for all your magazines. You can publish it on Google Play or AppStore, and as a result, grow your audience!

Do I need any design skills to create a magazine with Publuu?

Not at all! The only thing you need to create a magazine with Publuu is a PDF file with your content.

How many magazines can I publish with Publuu?

It depends on the pricing plan you choose – Publuu offers four of them: Basic, Optimum, Professional, and Premium. The Basic plan, for example, allows you to publish 10 magazines at the same time, while Premium - 500. Check the Prices tab to choose the best plan for you.

How big my magazines can be?

Depending on the pricing plan, your magazine can be either 150 MB, 250 MB, 500 MB, or even 1GB. However, using our Online Magazine Creator you don't need to worry that your digital magazine is too large to share – it allows you to share large files in a form of a link sent directly to your recipient.
The Best Online Magazines
Without a doubt reading online magazines is quite a good habit and it's interesting too. Think about it? Not only do you get to entertain yourself but you can also keep yourself updated about all the happenings around you. So whether it's print magazines or online magazines, if you love reading them, know that you are investing your time in something worthy.
The top digital magazines available for everyone around the world
The best thing about the internet is that now people have access to digital magazines. Yes, you read that right! You basically subscribe to these magazines and then get updated whenever a new one is published. Moreover, you can use any device to access these magazines. Whether it's your smartphone, your tablet or your e-readers, you can use any of them to read and entertain yourself online.
Speaking of magazines, today we are going to jot down list of the best online magazines that can help you make the best out of your time. These e-magazines are quite popular and they can work wonders for you whenever you want to entertain yourself or read something interesting.
The Best Online Magazine Maker
If you are interested in launching your very own digital magazine and want a site that can come in handy for you here then try Publuu.com. It's the best platform that comes with all the ease and convenience you need when making online magazines. What's best is that it offers some great features that you won't ever find with any other online magazine maker.
Just drag and drop your PDF file into the window below and see it for yourself now!
What makes Publuu.com special is the fact that it offers customization. In other words, if you want to add images to your magazine, if you want to add logos and content of any font, you can do that all with this online magazine maker. It's not just a magazine maker, in fact, you can also make some great flipbooks, brochures and pamphlets with it too.
Publuu's digital magazine example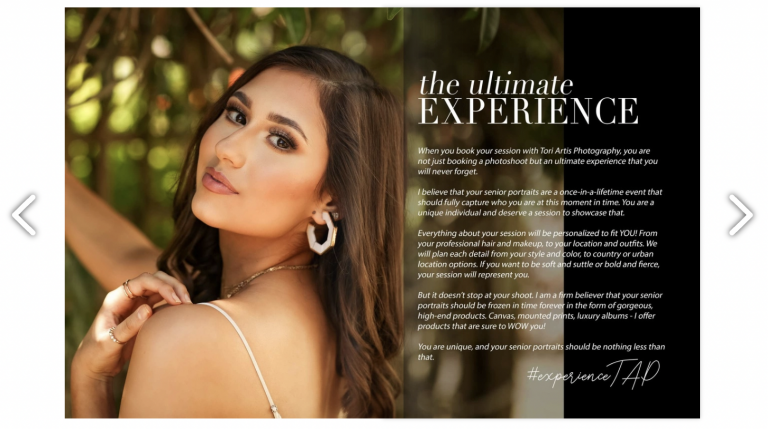 More online magazine example
You can use the free trial version of Publuu.com to see if it's worthy of your time or not. We assure you that once you start using it, you'll love to spend some money and buy a plan where you can create some great interesting magazines for people to read online. Whether it's a print magazine that you want to publish or an e-magazine, publuu.com is all that you need!
So let's get started with the list:
1. National Geographic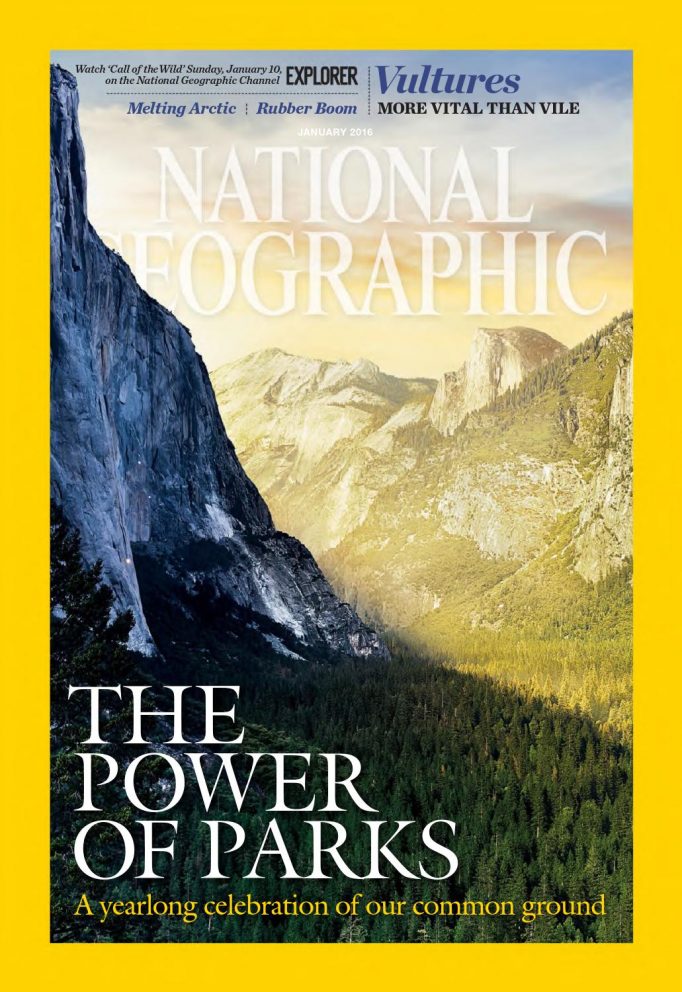 There was once a time when National Geographic was our most favorite channel and for some, it still is. All that amazing and interesting information they provide with the most fascinating content. Moreover, NatGeo is famous for being the very first magazine that published pictures. According to them, a photo is necessary to tell the complete story and well, it's true and we couldn't agree more with them. You can find their magazines online on different websites and not just this, if you really are into their content then you should definitely download their application where you can easily access weekly or daily magazines to make the most out of your time.
2. The Atlantic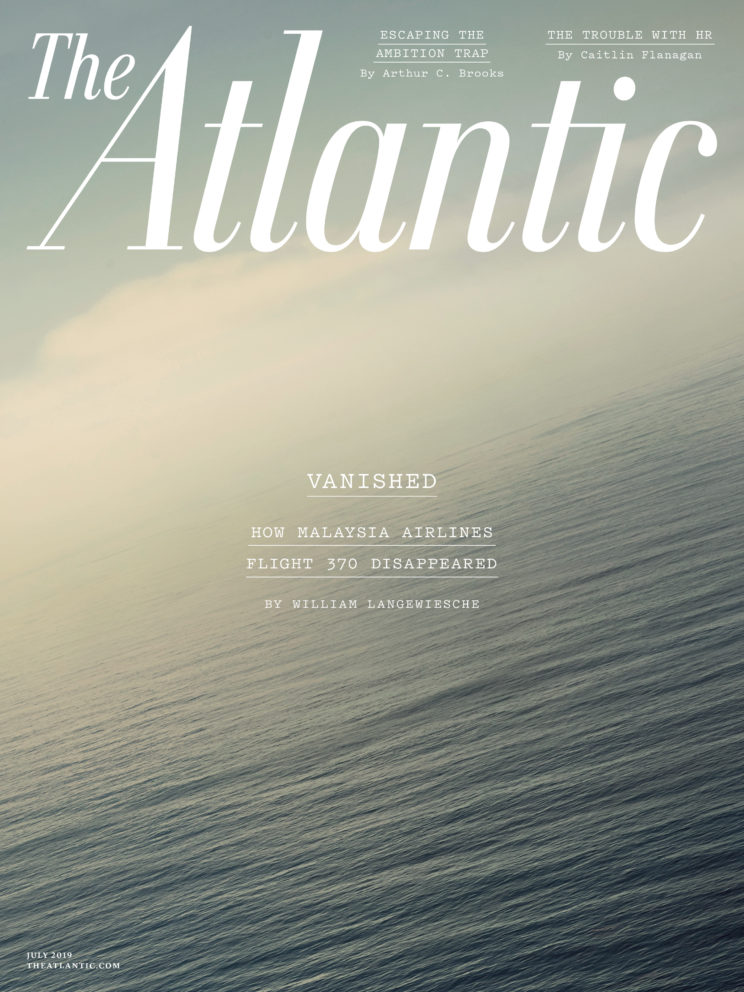 If you've been reading online magazines for a while now, you probably have heard about "The Atlantic". In fact, it's so popular that it's now considered a giant in the publishing industry. Their print magazine has always been a hit and it's been decades that they lead this industry but now they also have online magazines for people who love using the internet to access information. When you head to their website, you'll see how they cover different topics everyday including makeup, beauty and fashion. In other words, whether you are a male or a female, you can easily find the kind of content that entertains you. What's best is that "The Atlantic" is available on the App Store for Apple users, it's also available on Kindle, Google News and Nook. Especially the iOS app is something that you'd enjoy using because there's easy navigation and you can even change the font size as per your device. If you are looking for an online magazine that covers a wide range of topics then "The Atlantic" is what you need to subscribe to right away. We assure you that you won't regret this decision of yours and there's just so much that you'll get to learn through it.
3. Rolling Stone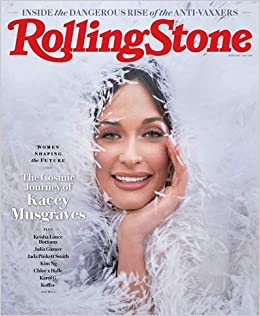 You shouldn't miss Rolling Stone if you are into politics news or the music industry. Rolling Stone is one of the most popular magazines especially for music and political news. Just like the above two news magazines, even this one comes with a great application with a very simple layout, remarkable headline font and easy navigation so that you can enjoy reading it without any hassle. It will adjust to the size of your screen that you are using to access this magazine. To be honest, with this magazine you'll get to learn a lot of things so you should subscribe to it right away or download the application to keep yourself busy.
4. Food Network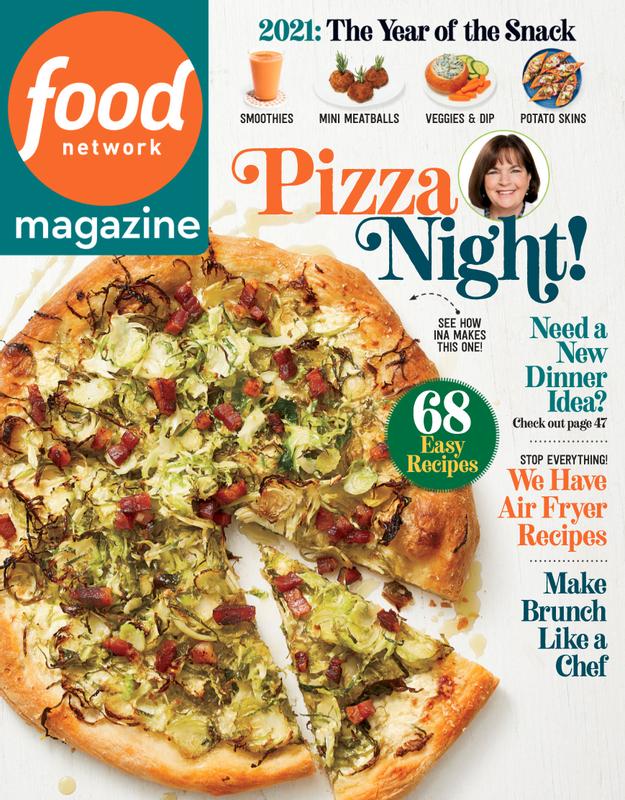 If you are into food and want some great recipes or news about different famous restaurants then Food Network is the best online magazine for you. With this magazine, you'll be able to go behind the scenes and check out what your favorite chefs do and how they make some delicious and scrumptious meals. No matter what your age is, this magazine has some great recipes for you to try. In fact, if your children are interested in cooking and trying different meals then you should subscribe to Food Network right away. This magazine will help your children learn a lot of new things about food and well, it will be good for them as they'll develop an early habit of reading magazines which is great for knowledge and vocabulary.
5. Woman's Day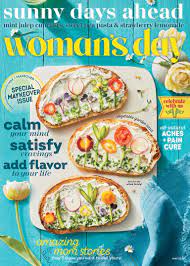 If you are looking for a women based magazine that has health and beauty tips and even weight loss tips then this is the right magazine for you to subscribe to. The Woman's Day magazine is quite popular because it not only covers the basic topics that females are interested in, in fact it also helps them learn about women empowerment. There are some great success stories of women for you to read in this magazine. Moreover, in this magazine, you can even learn different recipes and how to make some of the best meals. In a nutshell, if you are a woman who wants something interesting but relevant to read then this is the magazine that you should be reading on your mobile phones and laptops everyday. We can bet on the fact that you will enjoy the content and would get addicted to all the stories they cover.
6. InStyle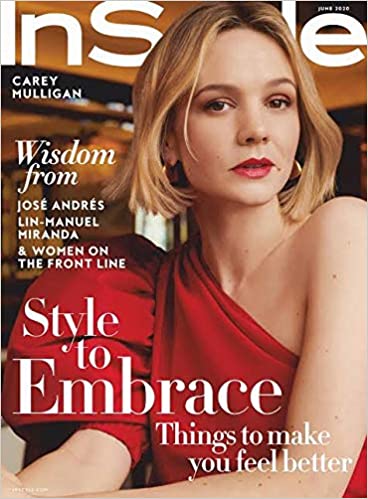 Another very popular online magazine, InStyle is going to become your favorite one among all the other ones mentioned in this list because this magazine has everything that people often want information on. The main topics covered by this magazine are; fashion and style. So if you want to keep yourself updated about the best and the most popular fashion trends and if you want to know what's in style and what's not then this is the right magazine for you. Not only does it cover fashion and style but it also provides information about celebrities and Hollywood movies and premiers. It's like a printed fashion guide that you can carry with you anywhere you want to. So if you want something really interesting, you should definitely opt for InStyle and we assure you that you won't regret it.
7. People Magazine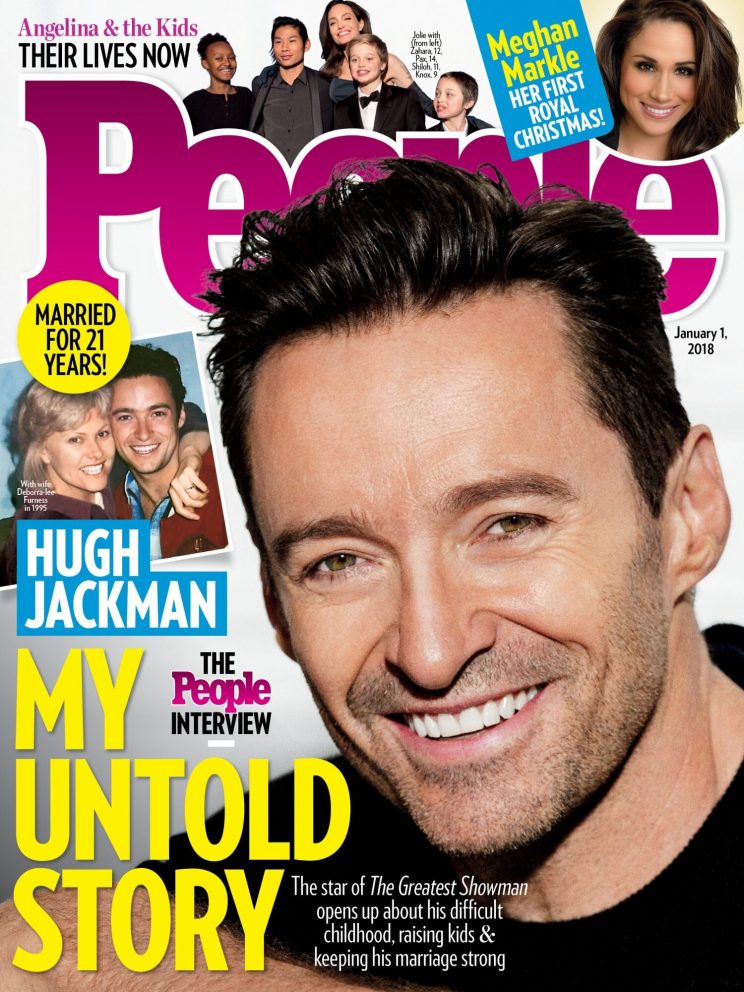 The next on the list is "People Magazine", a very easy going and smooth digital magazine that can help you spend the best time whenever you want to relax and entertain yourself. The best thing about this online magazine is that it can connect you with your favorite celebrities, you get to know what's happening in their lives and you even get to know about the new movies that are to be released. You'll also find some in-depth reviews about different movies and books here and it will feel like you are actually connecting with them in real life. On top of everything else, there's some really sensational photography and images that will be a treat to your eyes. There are special features included in this magazine. From 100 Most Beautiful People to the Best and Worst Dressed Celebrities, you'll find all kinds of entertaining content here.
8. Men's Health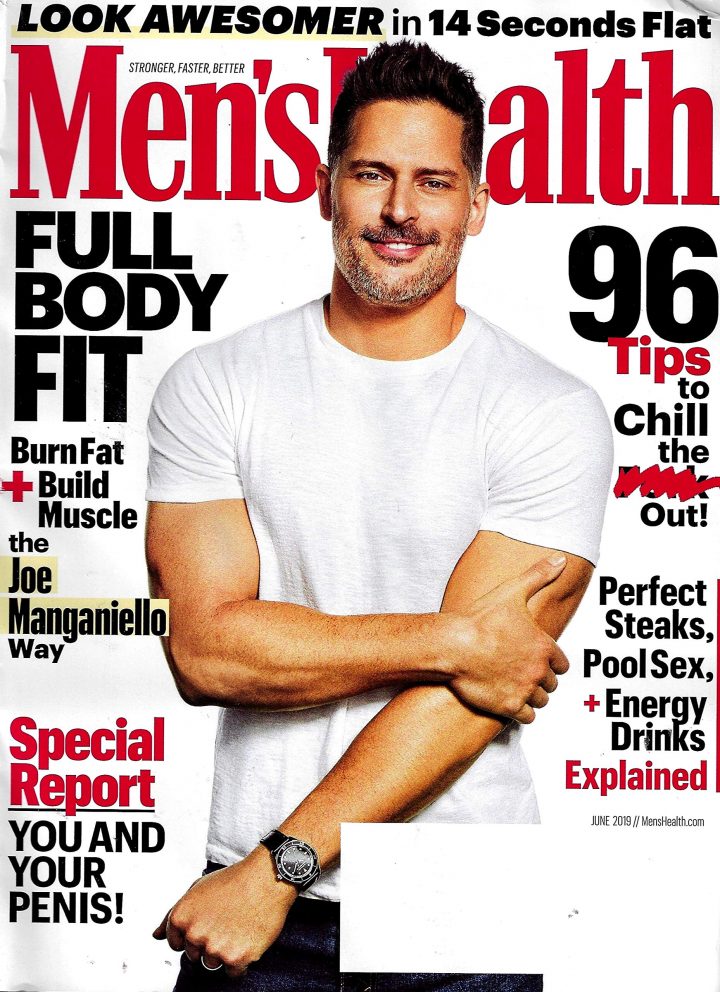 Are you looking for a men's magazine? If yes then try Men's Health. Just as the name implies, you'll find several interesting information about your health here and how to lose weight too. Not just this but you'll also be able to know about the diets and workout routines of different celebrities that can work as an inspiration for you. If you like news from pop culture world this is for you. From relationships to grooming yourself, latest gadgets and even science, you'll find it all in this magazine. In simpler words, if you want to subscribe to something that's worthy of your time then this is the right magazine for you. Especially if you love reading something when having breakfast before you leave for work then this is the right magazine that you need to turn on, on your laptops and tablets. It's the best and the most entertaining magazine of all time.
9. The Economist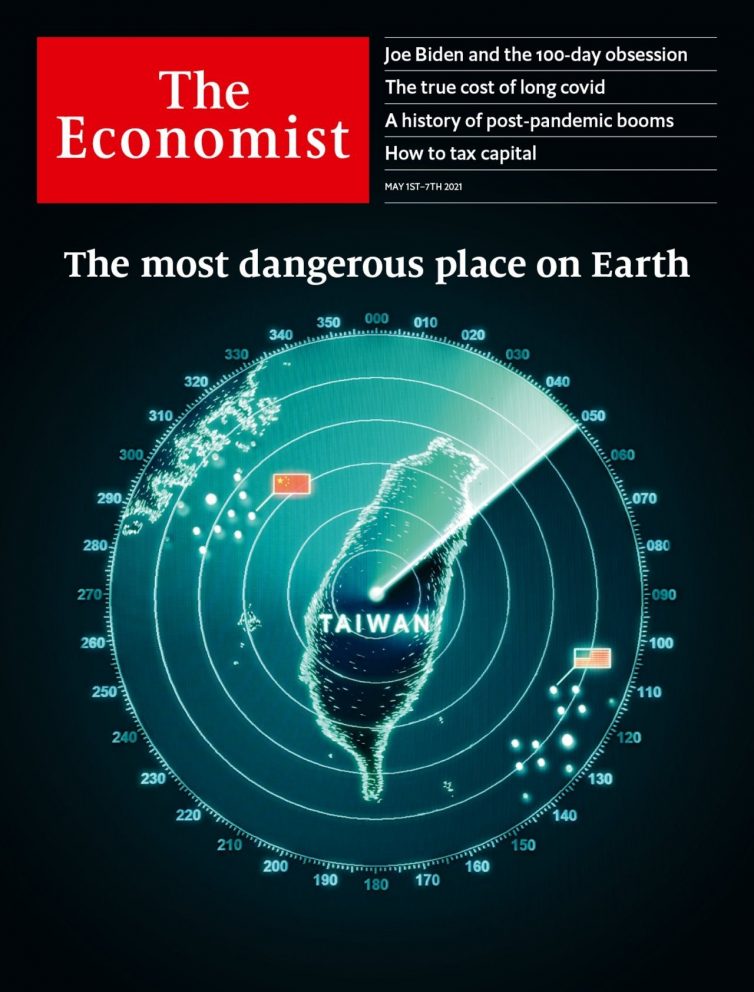 If you love reading about politics and all the major insights about what's happening in the world around you then try The Economist. This online magazine can work wonders for you when it comes to keeping you updated about what's happening on a national and international level around you. Not only this but you can get some important news about the economy too and you also get to learn about new and latest tech and science information. It's a one-packed magazine that covers all the major topics that can help you spend the best pastime possible. Moreover, it's very easy to read and it's so interesting that you might even find yourself a little lost in the content for a while.
10. Forbes
Last but not the least, Forbes is a one extremely popular magazine that has been existing for over a 100 years now. Especially if you are a businessman looking for new business opportunities. Or if you are interested in marketing, finance and making investments, then there's a lot for you to learn with this magazine. It's best known for its listings and rankings like 30 under 30 and The World's Billionaires. You can easily install the Forbes application on your phone and use it whenever you feel the need to. Moreover, Forbes allows you to download PDF files of the issues that you like the most. In simpler words, this is a must-subscribe magazine if you want some really interesting news about the world, especially when you are looking for news on finance and business.
Some of its features are:
It's Easy To Use

You won't be confused even for a second when using this online magazine maker because everything is so easy and simple to use. All the tools are easily accessible and you'll get a hold of them instantly.

Customization

Just what we said earlier, customization is the number one reason why you should invest your time in publuu.com. With it, you can add as many images and fonts to your magazine as you want.

Sharing Option

Once you are done making a magazine, you can then share it with your team members for some feedback. You can share the magazine with as many people as you want. There's no limit to it.

Track And Monitor

Once you share your document with your team, you can then easily track and monitor it. You can even check if someone has opened your file and you can even monitor how much time each one of your prospects are spending on each page of the magazine.

Secured Files

You can set passwords on your magazines to secure them completely. This is the best feature of publuu.com because confidentiality is what most people are concerned about.

Final Word

Now that you know everything about top online magazines and the best online magazine maker, Publuu.com, it'll be easier for you to start your own online magazine. If that's what you intend to do then don't wait any further and try publuu.com right away. We assure you that you'll be more than happy when using this platform to design the best magazines possible!
With Publuu you can also create
Make your first online magazine for free today!
Go beyond boring PDF and create digital magazine with Publuu - online magazine maker.