MENU
How to check lead capture reports?
Lead capture reports allow you to check how your readers respond to your flipbook. You can check who filled out the lead form and what kind of data has been left in exchange for accessing your flipbook. Let's discuss these reports now.
REMEMBER!
Analyzing your collected leads data can be possible only if you add a lead form to your flipbook. It can be done only by Optimum and higher plan subscribers. To learn how to do it properly, go to the following guide: How to Create Lead-Capture Form?
The collected leads tab presents the information your readers shared with you through the lead capture form – it can be an email address, phone number, and multiple other data that you ask your viewers for.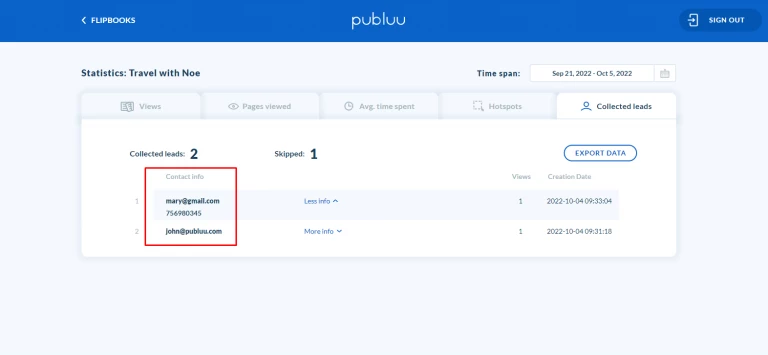 To select the time span for the analysis, just click the calendar to expand and choose the period.

In the collected leads tab it is also possible to check other details of every lead – how many times readers viewed your flipbook,

and even the exact date of every particular lead creation.

Moreover, if you allowed skipping your lead form, you can check how many readers have skipped filling in your form, and as a result, haven't shared any contact info. This information can give you a clue that your form does not work very well.

Publuu allows you to export the collected data in .csv format, and then save it on your hard drive to use for future sales.

Thus, thanks to collected leads reports you know exactly who left their contact detail and when your readers usually access your flipbook. It may help you to determine the best time for sharing your flipbooks or improve your lead form to encourage your viewers to share their contact information more often.
You may be also interested in:
How to Create Tracking Links?
How to Analyze Your Flipbook's Statistics?
How to Check Your Readers' Interactions?