Business Proposal - Create, share and track online
Create a professional-looking business proposal that will leave your competition behind and won't be easy to forget. Share and track how your clients reacted to your content in real time.
Why digital business proposal with Publuu?
A well-written business proposal can often mean the difference between winning or losing a prospective client. Online proposal presentation should hold the clients attention and stay in their memory . This is why you should create it with Publuu- online business proposal maker. Publuu's business proposals are always reliable, engaging, look professional and stay with your recipients for a long time.
TRY FOR FREE NOW
How to make a business proposal ?
Working with Publuu, an online proposal creator, is very easy. Follow the four steps described below and learn how to prepare, customize and share your first business proposal.
SIGN IN AND CONVERT
Log in to your free Publuu account. Upload your PDF file and Publuu will turn it into a professional online proposal with a realistic page flip effect.
CUSTOMIZE AND ADD HOTSPOTS
Customize your digital proposal. Add your logotype, choose the background style and add interactive hotspots. Make it more engaging and interesting.
SHARE
Send your business proposal to your clients with a direct link. Insert a link in your e-mail or send it as a text message.
TRACK
Get alerts as soon as your digital proposal is opened or if it doesn't get opened by certain date. Check how much time your clients spent on each page, how they interacted with it and how often your proposal was viewed.
Business Proposal – Features
Mobile optimised
Make sure that all of your clients can access your business proposals on any device. It doesn't matter whether you view it on a tablet or a smartphone, Publuu's proposals will look and work great everywhere.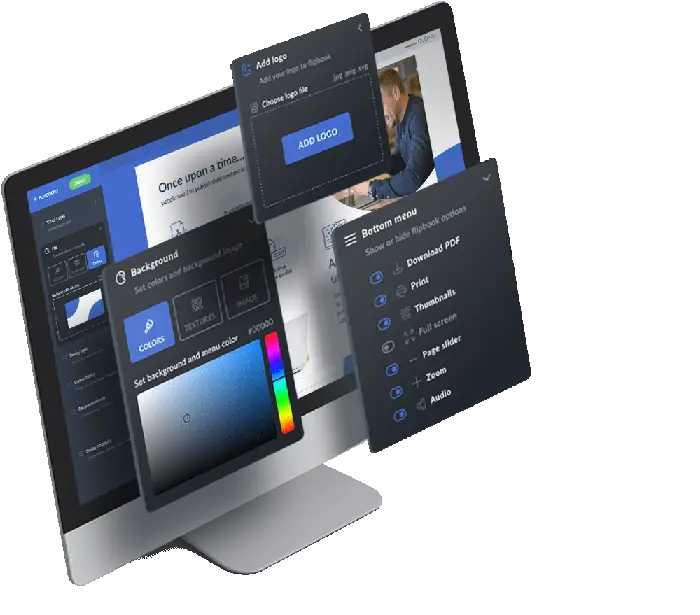 Customize it
Make your business proposal look truly professional and unique. Set a background with a custom colors or upload your own graphic. You can also choose one of 30 stunning design templates. Brand it with your logotype, Make it yours!
Share your business proposal
Share your online proposal with your clients. Send a direct link via e-mail or text message. Once clicked it will open instantly on any device with no need to download anything.
Track and be notified
Track your business proposal performance in real time. Check how much time your client has spent on each page and find out which one was the most interesting for him. Get notification via e-mial when it gets opened or set a reminder if it won't by a certain date.
Business proposals examples
More and more clients create their online proposals with Publuu every day.
Have a look at a business proposal example below.
Content protection
Protect your business proposal against third party people by setting a strong and unique password. Only selected people will be able to see it. You can also disable share, download and print option in your proposal to keep them private and secure.
Quick update
Need to make some correction in your online proposal, but it has been sent to your client. Don't worry - just replace a file in Publuu control panel with the new one. The main direct link sent to your client will stay untouched and he will access an updated version trough it.
More Business Proposal Benefits
Creating professional and engaging online digital proposal will take your company presentations to the next level. Check out other smart features of online proposals made with Publuu.
Links
Add links to your external sources on any page of your online proposal. Make you lead gain more trust in your offer.
Video
Add videos to your digital proposal. It's always easier to show then describe your full potential.
Pictures
Hide more details of your proposal under a hotspot pop-up picture or whole photo gallery added to any page of your offer.
Branding
Make your business proposal look professional by adding you logo. It will appear at the loading page and in the top bar of your offer.
Design
Add your own background, choose a color or set one of 30 beautiful design templates. It will make your presentation stand out from the crowd.
Navigation
Help your clients quickly find what they are looking for - use the new online proposal navigation panel!
Our customers talk about our online catalog maker
With Publuu you can also create
Make your first business proposal!
Empower your static PDFs with Publuu an Online Business Proposal Maker.