MENU
How to check your readers' interactions?
The knowledge of how your readers interact with your flipbook is useful when it comes to getting to know their preferences and as a result, improving your marketing strategies.
Checking your readers' interactions means monitoring if they react or not to the interactive elements called "hotspots", that you can easily add to any of the pages of your flipbook.
If you'd like to learn more about adding hotspots to your flipbooks, read the articles below:
How to Add Audio Files to Your Flipbook?
How to Add Photos to Your Publication?
How to Add Videos to Your Digital Publication?
So, to find out how to check and analyze interactions with your publication, keep reading this article!


IMPORTANT!
Only the subscribers of Optimum, Premium and Professional plans have access to the statistics mentioned in this article. Thus, if you are subscribed to the Basic plan, you'll need to upgrade your plan to check your readers' interactions.


First, select the flipbook you want to analyze. As you have it, click the SHOW STATISTICS button to enter the statistics menu.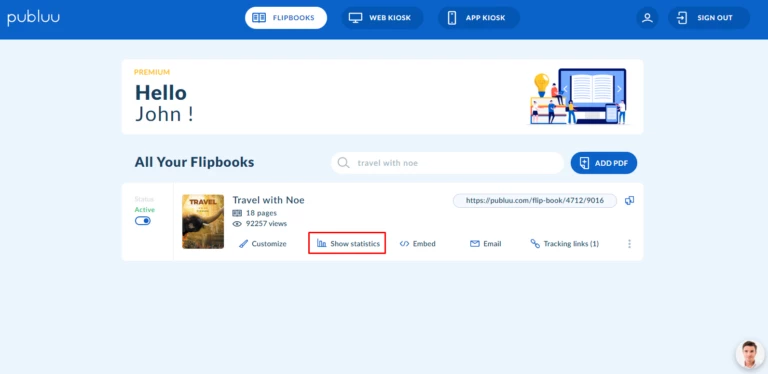 Here you can access and analyze multiple statistics available at Publuu. Each of the tabs is described in the following article: How to Analyze Your Flipbook's Statistics? except the hotspots that we will focus on now.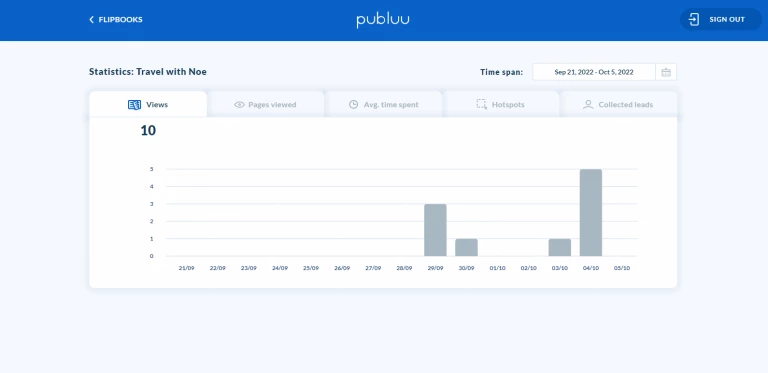 So let's take a closer look at the HOTSPOTS tab. Thanks to this tab you can check how engaging your hotspots are and draw conclusions. But let's start from the beginning.
Just after you open the tab, you'll see a list of interactive elements embedded into your flipbook that were clicked at least once.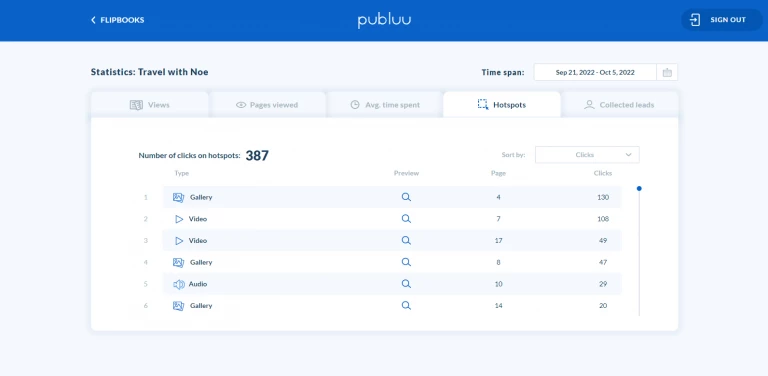 Publuu allows you to specify the period for the analysis. To do so, open the calendar by clicking the TIME SPAN tab and then select the time span.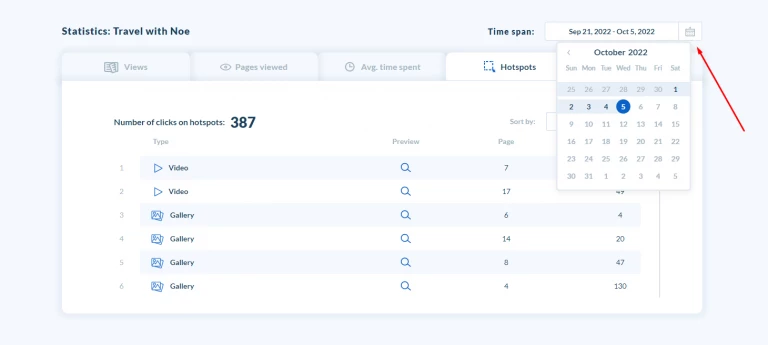 The total number of clicks on all the hotspots is shown on the left. It will differ depending on the period you select. Remember that some interactive elements may be clicked more often than others. So to get to know the exact number of clicks for a single hotspot, you have to check it on the list below.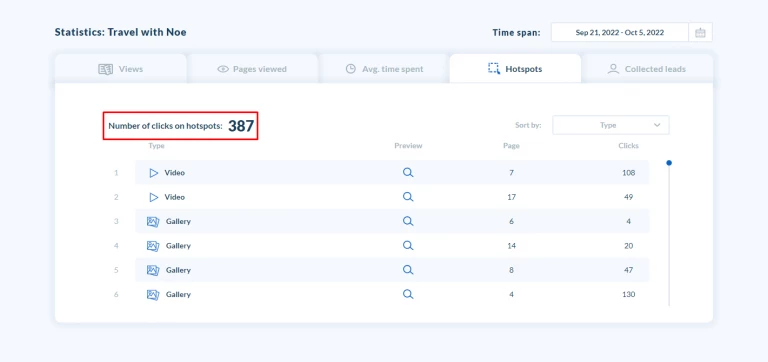 You can sort the hotspots on the list either by clicks, page, or type.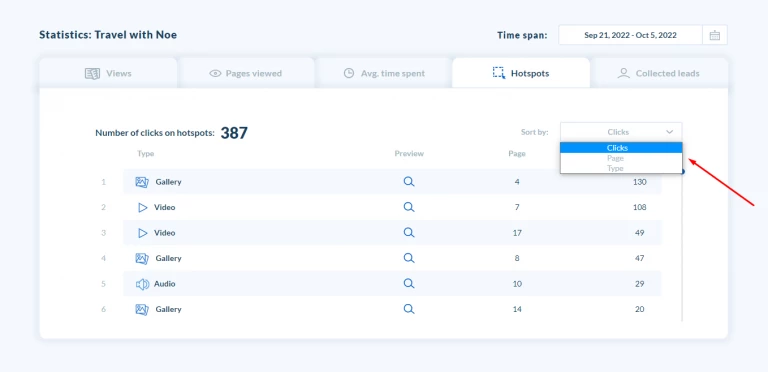 If you sort them by clicks, the items on the list will be arranged from the most clicked to the least clicked. One of the first things that may come to your mind while analyzing the number of clicks is that the more clicks it gains, the more interesting it is for the readers.

If you select to sort the hotspots by type, they will be grouped according to their category.

When you choose sorting by page, the page numbers will be shown in order. Thanks to this column you know exactly where your hotspot is located in your flipbook.

You can also see its preview by clicking the magnifying glass icon. This option is particularly useful in case you have plenty of different hotspots embedded on the same page.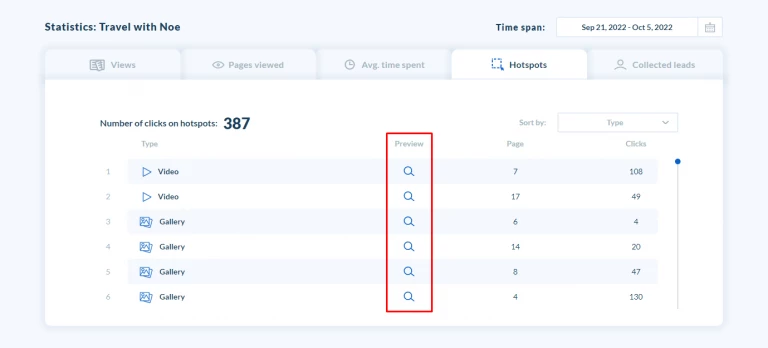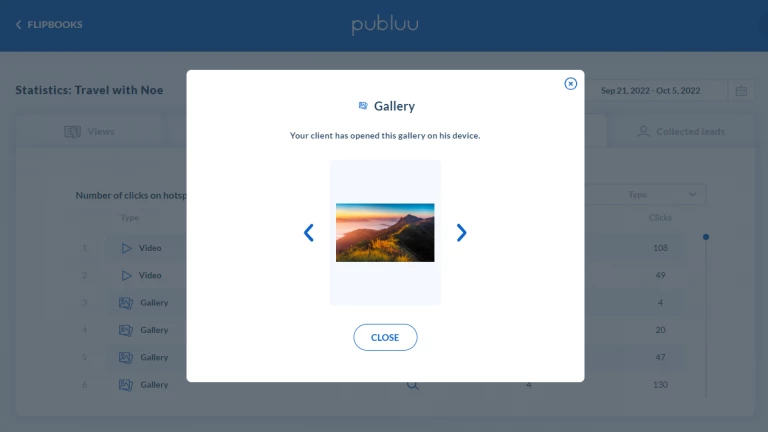 You can take a look at the statistics of every single hotspot added to your online flipbook anytime and analyze its performance. For example, if you send your flipbook via a direct link to one of your clients, you can monitor if the number of clicks raises. If it doesn't, it means your client hasn't opened the hotspot. And now it's your turn to evaluate why – is it noticeable enough? Is it interesting for your readers?
With this guide you know how to check the readers' interactions with your flipbook – use this data wisely to let your publication become a beneficial marketing tool!
You may be also interested in:
How to Set Up Flipbook's Viewing Notifications?
How to Replace my Flipbook without Changing its Link?
How to Brand Your Online Publications?