MENU
How to create tracking links?

Using your tracking links is a great way to get a feel for who is accessing your content and how they are using it, as well as how you can improve your flipbooks. Thanks to Publuu robust analytics service, you can easily trace the users and monitor the readers of the flipbook.
By adding the tracking link you can learn whether your readers (coworkers, patreon subscribers or customers) opened your content, how much time they spent reading it, and receive e-mail notifications. We suggest you use a single personalized tracking link per person – it's the simplest solution.
How to add tracking links to my flipbook?
Begin by logging into your Publuu account and following these instructions:
Open the list of your Flipbooks and click on the "TRACKING LINKS" option of the flipbook you want to modify (the last option, marked with a link icon).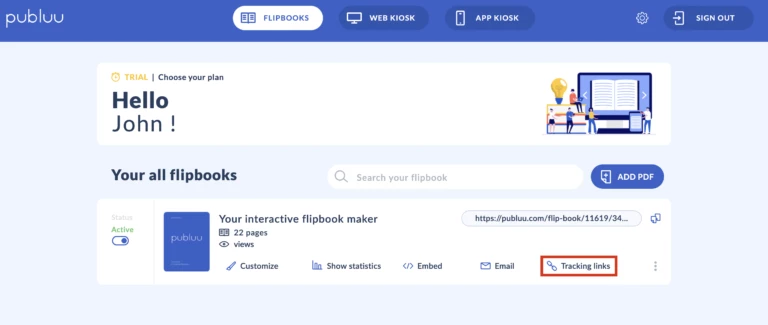 The bar of the flipbook will extend. To generate the link, click the "GENERATE LINK button".

You will see a window where you can determine the details of your tracking links.
You can name your Tracking link (to distinguish one group of links from others). If you want to send the link to a single person, you can name it after them – to see whether they open it or when.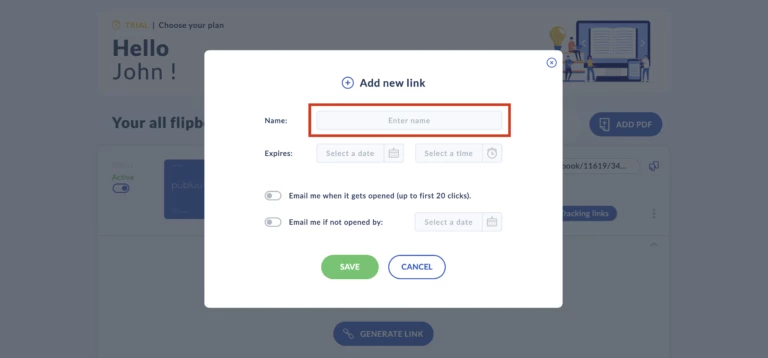 Select a date (down to the hour) for your link when it will expire.


You can toggle one or both switches. The upper one will notify you via e-mail when someone opens your link. We put a limit of 20 uses on it so that you won't feel overwhelmed with notifications. This feature is often meant for leaders who need to be sure that their coworkers have opened instructions… but we're sure you'll come up with some other application.


The second toggle is for the notifications – mark it if you want to be notified that no-one opened your content. This is useful for testing purposes – you can set up different links and control groups and learn which ones are the most popular.

To add new tracking links, just click the plus icon above your first link.

You can check last activity, the total time your recipient has spent in your flipbook and see how often was the link opened in the tracking link panel too.

You can also toggle the notifications on or off.



To learn more about the link user, click on the Statistics button with three bars in the Monitored Links panel. It will display time that user spent on each page and how many hotspot he activated. To hide this information, click on the bars button again.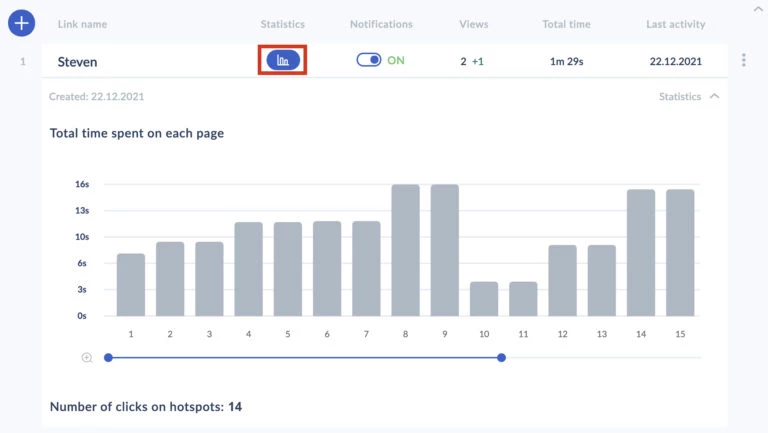 To remove the tracking links, click on the three dots on the lower-right corner – a menu with extra options will appear.

This menu lets you copy the link to your clipboard.

You can also edit all link's options here. Select the 'Delete' to remove it or toggle switch above (Link Enabled) to disable it and making unaccessible for everyone.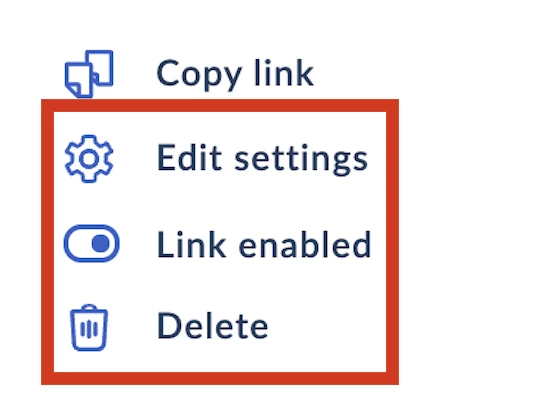 To check the summary of all links statistics use the SHOW STATISTICS button in the general flipbook panel above. You can learn more about this here.

You may be also interested in:
How to Create Lead-Capture Form ?
How to Create the Virtual Bookshelf?
How to Share a Flipbook via Email?