Company Newsletter Maker
Create a professional and eye catching company newsletters online. Enrich them with interactive elements, share and analyze how they perform in real time. Empower your content marketing today!
Why making a company newsletter with Publuu?
Newsletters created with Publuu will keep your audience engaged and focused from the first second. Realistic page flip effect will make your company newsletters stand out from the crowd instantly.
You will easily customize them by adding interactive hotspots with videos, photos, links and even audio files too. Thanks to Publuu, you will be able to share them on many ways with one click and then track your clients interactions in real time. Start engaging your audience today!
MAKE YOUR OWN
How to create a newsletter?
Creating your interactive newsletter has never been easier. With Publuu's online newsletter maker you can create a professional looking newsletter in just minutes. Follow the guide below and see it for yourself how simple it is!
OPEN A FREE ACCOUNT
Sign up for free and upload your newsletter in PDF format. Publuu will convert it into an interactive newsletter with real page flip effect in a few seconds.
CUSTOMIZE AND CHANGE
Now it is time to customize it. Insert your company logo, upload a new background or choose on of the templates to match your brand colors.
SHARE IT WITH YOUR AUDIENCE
Now you can send your new online newsletter as a direct link, post it on social media or embed it on your website.
SEE HOW IT PERFORMS
Track your newsletter and check the amount of time spent on each page, the number of views, and the interactions your readers made.
Share it everywhere
Your newsletters will never go unnoticed. Publuu allows you to send your company newsletter as a direct link, not as an attachment. Fast and easy. Share a link via e-mail or publish it on your social media to make your subscribers engaged.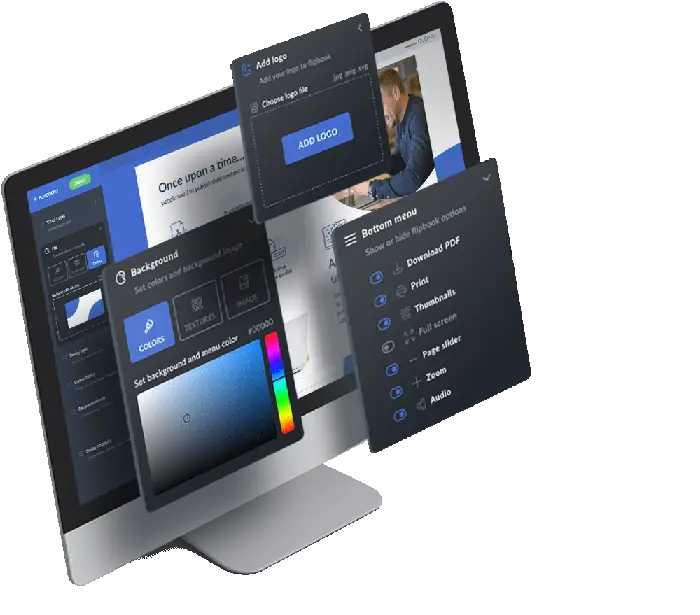 Customize your newsletter
You don't have to spend hours using complicated software to customize your newsletter. With Publuu you can make your newsletter unique with just a few clicks. Personalize its look, upload your brand logo and add some videos, images, and links.
Add hotspots
Diversify your company newsletter with animated hotspots that can transfer your customer's attention to your website or online store and help to sell your products directly from the newsletter.
Mobile devices friendly
Whatever device your subscribers use to view your company newsletter, they will see it clearly. Using Publuu's company newsletter creator you can be sure your newsletter will be easily displayed on every mobile device.
Newsletter Example
Check how many clients from various industries have trusted Publuu- company newsletter maker.
Create a newsletter now
Improve your content marketing and internal communications today!
Newsletter performance
Publuu's newsletter tracking system gives you the opportunity to check how your company newsletter performs. It will send you a special notification when your company newsletter gets open. You can then check the exact amount of time your subscribers spent reading it. It also allows you to analyze the number of interactions your readers have taken.
High quality effects
Publuu guarantees the high quality of your company newsletter. Thanks to its simple design and vector fonts that can be scaled to any size without losing quality, it is much easier to read your newsletter on all devices. What is more, the automatically added stunning page-flipping effect gives your clients a sense of reading a real publication.
Company newsletter benefits
If you want to take your email marketing to the next level, create an email newsletter with Publuu.
Take a look at other smart features below.

Brand recognition
Create brand awareness with adding to your company newsletter elements such as your logotype. Choose the colors and graphics that match with your brand and make it recognizable.
Link replacement
Change the layout of your newsletter and replace some elements with others at any time. You don't have to share another link with your clients – the one they have will be enough to see the updated version.
Large PDFs
You don't have to worry about the size of your PDFs anymore - just convert it to an interactive newsletter and share as a direct link. No attachments mean no problems with large files.
Top Tips
Content marketing
Content marketing is the process of creating and distributing content that helps a business build, maintain, or grow its brand and audience. Your company values should be reflected in the content that is produced. When looking for new ideas for your newsletter content, it can be helpful to use content presentation tool like Publuu. It generates an eye catching newsletters with a focus on your audience engagement and their professional presentation.
Design Elements
The following are some of the best practices that you should keep in mind while designing your newsletter:
– Create an appealing and engaging design.
- Make sure that your content is relevant to your company culture and your audience.
- Include a call to action for the user. - Keep it short and concise.
Newsletter template
Take advantage and use newsletter templates. It's a good idea when you don't have enough time to create a good newsletter design from scratch. You can also use email template, which is a great way to get started with email marketing. All you need to do is take the template, personalize it and start sending out emails to your list. If you want to send out newsletter e-mail that stand out from the crowd, then Publuu is just what you need.
With Publuu you can also create
Try it for free today
Sign up to Publuu and create your interactive company newsletter with ease! Use all of the great Publuu's features to gain your readers' attention and make your newsletter unique!