MENU
How to brand your online publications?
Branding your flipbook is one of the first steps in building your brand awareness among clients.
Publuu allows you to add brand elements to any of your flipbooks in an easy and efficient way. You can brand your online publication and make it really unique by:
Adding name and description,
Adding your logo,
Changing the background,
Using a custom domain function.
Keep reading this instruction to learn more about each option!
ADD NAME AND DESCRIPTION
Let's start with the basics. To make your flipbook truly yours and easy to find, you should name it and write a short description. To do so, right after uplaoding your PDF file to Publuu, go to the customization panel. You will find the NAME & DESCRIPTION tab with ease, since it is the first option available in the left-hand panel.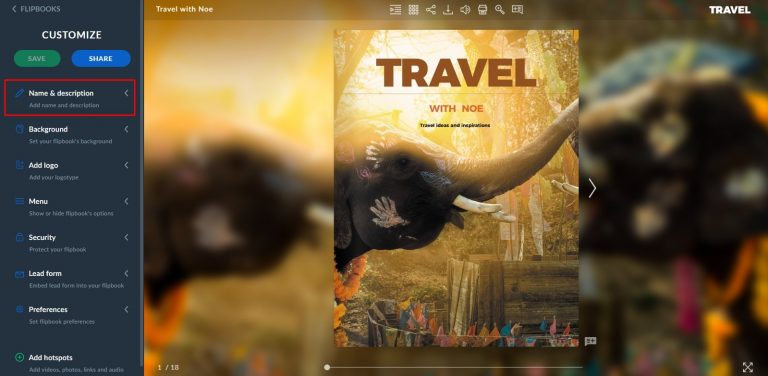 So, click it to open, and as soon as you do so, you will see the text fields for both NAME and DESCRIPTION.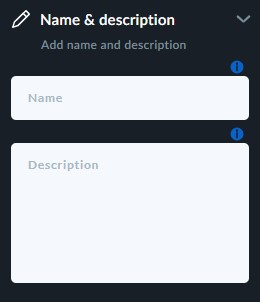 Now, first, you have to type the name for your flipbook in the NAME text field – and it's totally up to you how you name it! Your flipbook's name will be shown in the top panel of your flipbook and in a browser tab. It will also be shown in the middle of the screen before your flipbook gets loaded.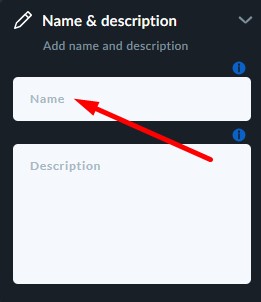 Once you name your flipbook, it will be also easier to find among others in the account control panel, because you can then use the search bar to search by name.
Then, you can add a short description of your flipbook. Just go to DESCRIPTION text field and write a few words about your online publication.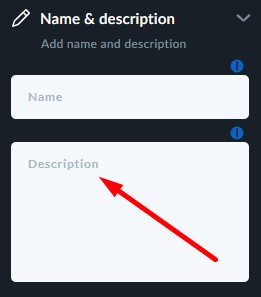 The name and description of your flipbook will be shown for example in the preview of your flipbook while sharing it on social media platforms such as Facebook, just like below: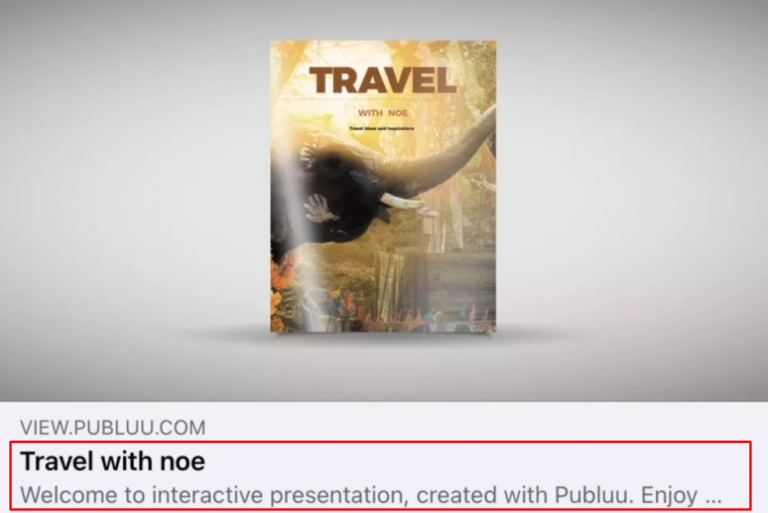 ADD YOUR LOGO
Adding your logo should also be one of the first things for you to consider when it comes to branding your publication. A logo is a key element that represent your company in the best possible way, so it is a good idea to make it the first thing your readers see when opening your flipbook.
Thus, how to add a logo to your flipbook?
Start with logging in to your Publuu account and finding the flipbook you want to add a logo to.
Then pass into the customization menu by clicking the CUSTOMIZE button.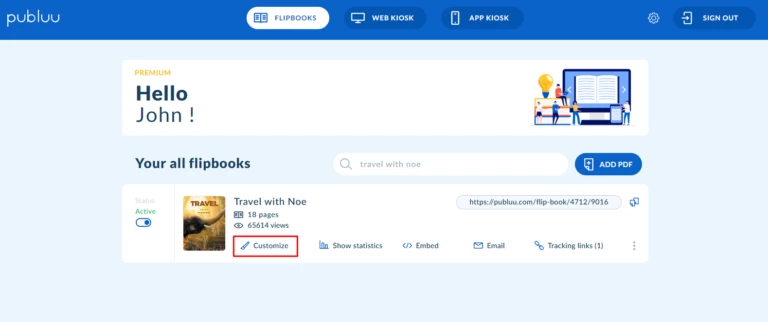 Now focus on the left-hand panel, find the ADD LOGO tab, and click it.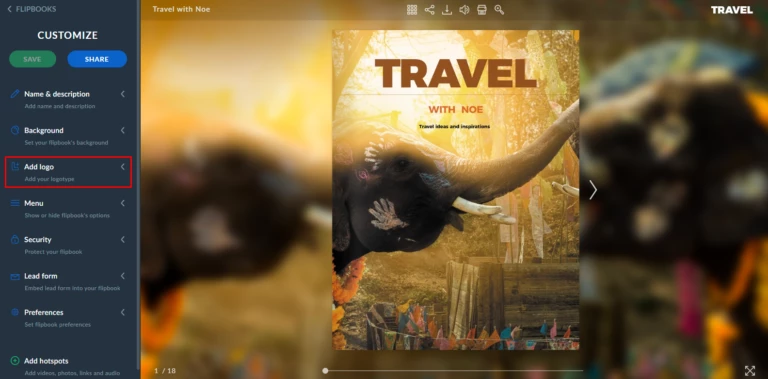 After opening the tab, you'll probably see the "powered by Publuu" logo which is added by default.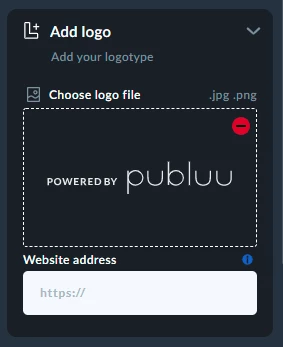 Click the minus icon to remove it and replace it with your own logo.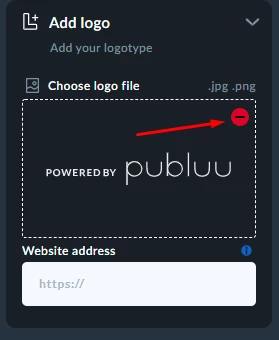 Then click the ADD LOGO button to run the dialog and upload the logotype from your hard drive. Remember that our system accepts only logos in .jpg or .png format.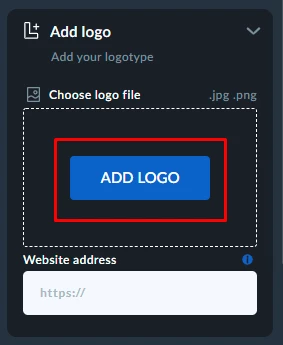 To make your logo an active button that once clicked will transfer your readers straight into your website, just paste the link to your website in the input below. That's it!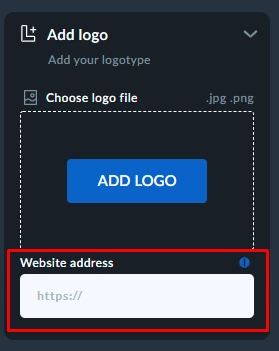 As soon as you finish the process of adding your logotype, click the SAVE button in the left-hand corner.

Now your logo will be shown in the center of your flipbook each time somebody opens it, as well as in the top right corner of the viewer.
CHANGE THE BACKGROUND
Changing your flipbook's background is the next step in making your online publication reflect your brand's style. You can set a one-colored background, make use of multiple ready-to-use templates or upload your own image – all the options are available in the BACKGROUND tab. The detailed guide on how to customize your flipbook's background can be found here: Setting Your Flipbook's Background.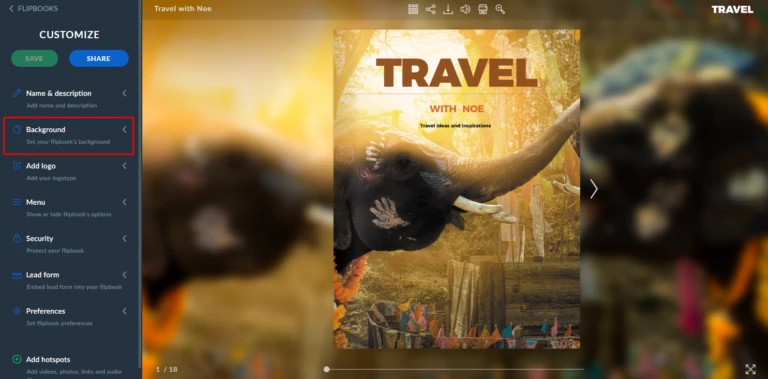 CUSTOM DOMAIN

A custom domain is a function that allows you to create a unique URL address to your flipbook containing your own subdomain instead of having Publuu domain in it.
GOOD TO KNOW: This function is available only for Optimum, Professional, and Premium subscribers. Basic Publuu users need to upgrade their plan to use it.
The detailed instruction on how to set your custom domain can be found here: How to Customize Publuu Domain
As you can see, branding your publication and making it truly yours is easy and fun with Publuu! If you want to make your publication even more attractive for your clients, read these articles:

How to Add GIFs to Your Online Publication?
How to Add Videos to Your Digital Publication?
How to Add Audio Files to Your Flipbook?