Booklet Maker
Turn your regular PDF into a digital booklet with our online booklet maker. Add page flipping effect that resembles a real book. Share it online with multiple sharing options. Embed videos, photo galleries and interactive elements to grab your customers' attention. Check statistics to see how clients interact with your online booklet.
How to make a booklet online?
Create your own booklet online in less than a minute!
The following guide shows how to make your first digital booklet with Publuu Booklet Maker in a few steps.
Create your own booklet with few clicks!

You don't have to wait long hours – your PDF will convert into a digital booklet with a realistic page turn effect in a couple of seconds!

Add a personal touch to your digital booklet.

Change the background, add your logo and make your online booklet suit your brand.

Share your booklet online.

Use multiple sharing options to make more clients see it. Send it as a direct link via email, post it on social media or embed it on your blog.

Monitor the real-time performance.

Monitor your digital booklet with the Publuu statistics tool. Check the number of views, pages viewed, and many other factors that influence your digital booklet's efficiency.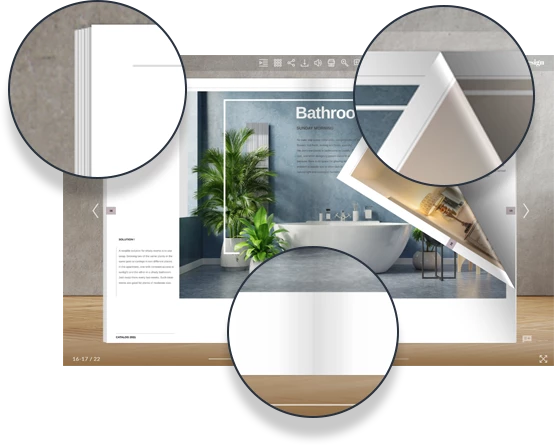 Real book experience
Endow your digital booklet with realistic pages thickness and maximize the real book reading experience. Add reflections and shadows to every single page of your online booklet to make it even more attractive. Present your online booklet as a single or double-paged and surprise your clients with its realism.
Embed a photo gallery
Enrich your digital booklet with more product images to promote your business even more effectively. Embed photos as a slide show gallery displaying instantly while reading your virtual booklet. Add multiple animated hotspots with photos, videos or links on any page of your booklet without the need to change the layout of your document.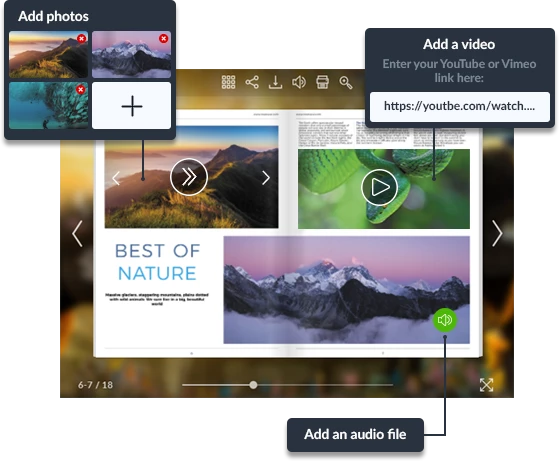 Share online and check the performance
Endow your digital booklet with realistic pages thickness and maximize the real book reading experience. Add reflections and shadows to every single page of your online booklet to make it even more attractive. Present your online booklet as a single or double-paged and surprise your clients with its realism.
Link

E-mail

Social Media

Embed
Add GIFs
Add animated GIFs to make your online booklet content more entertaining. Locate them in any significant place in your digital booklet to emphasize the key information about your products and services. Boost your customers' engagement and make them stay longer reading your online booklet thanks to these eye-catching, short clips.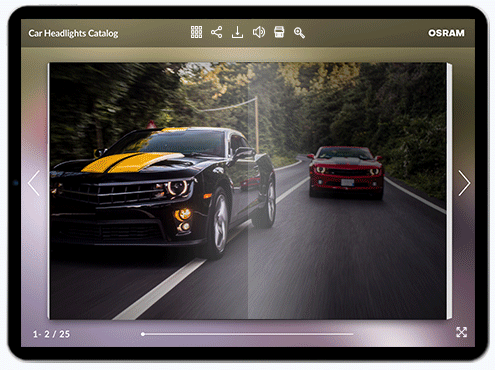 Publuu online booklet benefits
Simplicity
Convenience
Business-oriented
Simple interface

Publuu booklet maker's interface is intuitive and easy to use so it doesn't matter if you're a novice or an expert - anyone can make and customize their own virtual booklets in minutes.

Fast updates

Update your content fast and easily without the need to replace the link you once sent to your customers. Save your time and make a simple correction to the existing file without creating a new one from scratch.

High quality and easy to read

Simplify the process of reading your publication on every mobile device. Enable your readers to view your content in high-quality thanks to vector fonts and let them zoom in and out on the most important information anytime they want.

Viewable on every device

Allow your clients to access your digital booklet anytime and anywhere regardless of what device they are on. An online booklet created with Publuu is compatible with any mobile or desktop device and viewable without installing any additional apps.

Private notes

Let your customers leave their own comments and annotations on the content of your online booklet. They will be able to add their private notes to any of the pages of your virtual booklet.

Table of contents

With an interactive table of contents imported straight from the bookmarks of your PDF file and multiple navigation tools available at Publuu Booklet Maker, reading and navigating your digital booklet is easy and convenient for every customer.

Represent your brand

Create a digital booklet consistent with your branding. Use multiple background templates or upload your own image and add a brand logo that is shown every time your online booklet gets opened. Use animated hotspots with links to transfer your readers to your website or online store and boost your sales.

No page limits

Don't limit yourself – include all information you need in your digital booklet without worrying about the page limits. Then share it as a link via email without any heavy attachments or publish it on your website.

No printing costs

Don't waste time and money on printing. Once uploaded, your PDFs turn into responsive digital booklets— easy to share and perfect for viewing on all mobile devices.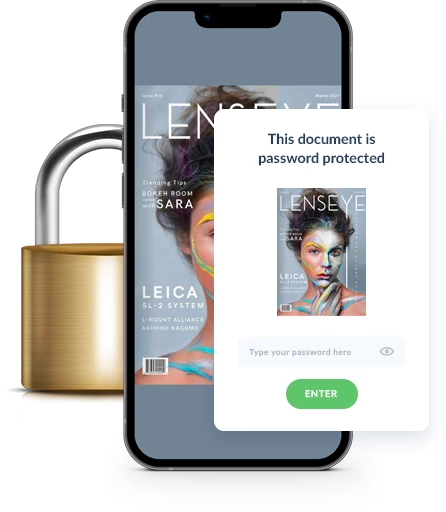 Protect your content
Prepare a special offer or a discount dedicated to selected individuals only and include it in your online booklet. Set a password to your publication and send it to chosen clients. Make sure your online booklet opens only after typing the correct password.
Interactions tracking
Track your online booklet's real-time performance with the tracking links you can send easily to any customer. The link allows you to check how the specific customer interacts with your virtual booklet. Analyze the number of views, time spent on each page, and much more data to improve your marketing efforts.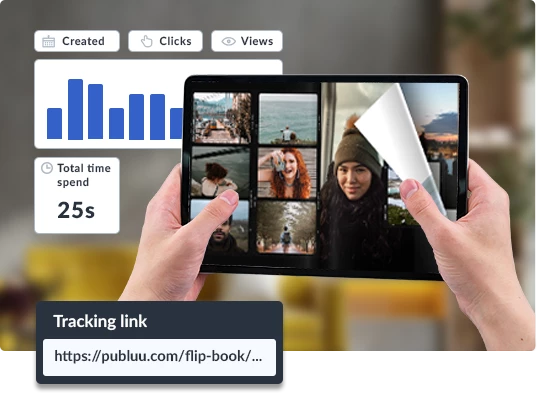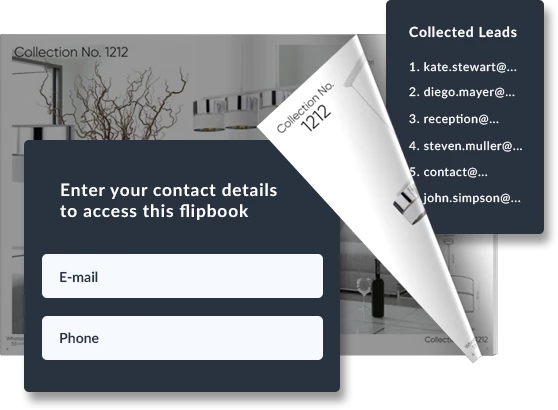 Generate leads
Collect your potential clients' contact details in exchange for accessing your online booklet. Add a lead generation form to any of the pages of your virtual booklet and encourage them to share their personal data, such as email addresses or phone numbers. Use this information to follow up and convert them into buyers.
What's it like working with Publuu booklet maker?
"Publuu booklet maker really saves me time and effort. It is exactly what our business has been lacking"

"Publuu's digital booklets have got all the functions I need. It is the most valuable resource we have ever purchased."

"I like booklet maker more and more each day because its sharing options make my life a lot easier"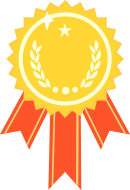 Recognition as a leader!
We are serving customers from over 150 countries and helping over 10,000 businesses grow every day.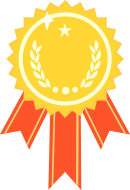 We are so proud to be recognized as a global leader for our booklets performance, easiest setup and easiest to do business with.
We have a 99% satisfaction rate from our customers and we work hard to keep it that way - we value service quality and always make sure that our interactive booklets answer your business needs.
And we've been awarded for it!
Trusted by numerous businesses worldwide
What are digital booklets?

Digital booklets are the type of online publication that can be distributed through email, social media, text messages, or embedded into your website. The best thing about digital booklets is that they are mobile-friendly, interactive and you can easily share and track them online.

How to convert PDF to booklet?

You don't need to do anything manually - if you upload your PDF file to Publuu, it will convert automatically into an interactive booklet in seconds saving you time and effort!

What is the best program to create a booklet?

Among numerous online software dedicated to booklet creation, Publuu still remains highly recommended thanks to its simplicity, versatility, and multiple business-oriented features that help you increase your revenue.

How much does it cost to print a booklet?

The cost of printing a booklet depends on the type of paper, the number of pages, the binding, etc. Printing numerous booklets can often be a costly venture for a company, thus Publuu Online Booklet Maker is the best solution for those who want to reach out to various customers in a cost-effective way.

Where can I make a booklet for free?

Don't waste time searching for free software, try the 14-day free trial from Publuu right now! During the trial, you are allowed to test all the functions, make your first online booklet and check how it benefits your business!

How many pages is a booklet?

A traditional, printed version of a booklet usually has only a few pages due to the high printing costs. However, there are no page limits when creating interactive booklets with Publuu Booklet Maker, so your publication can have as many pages as you need to present your products and services.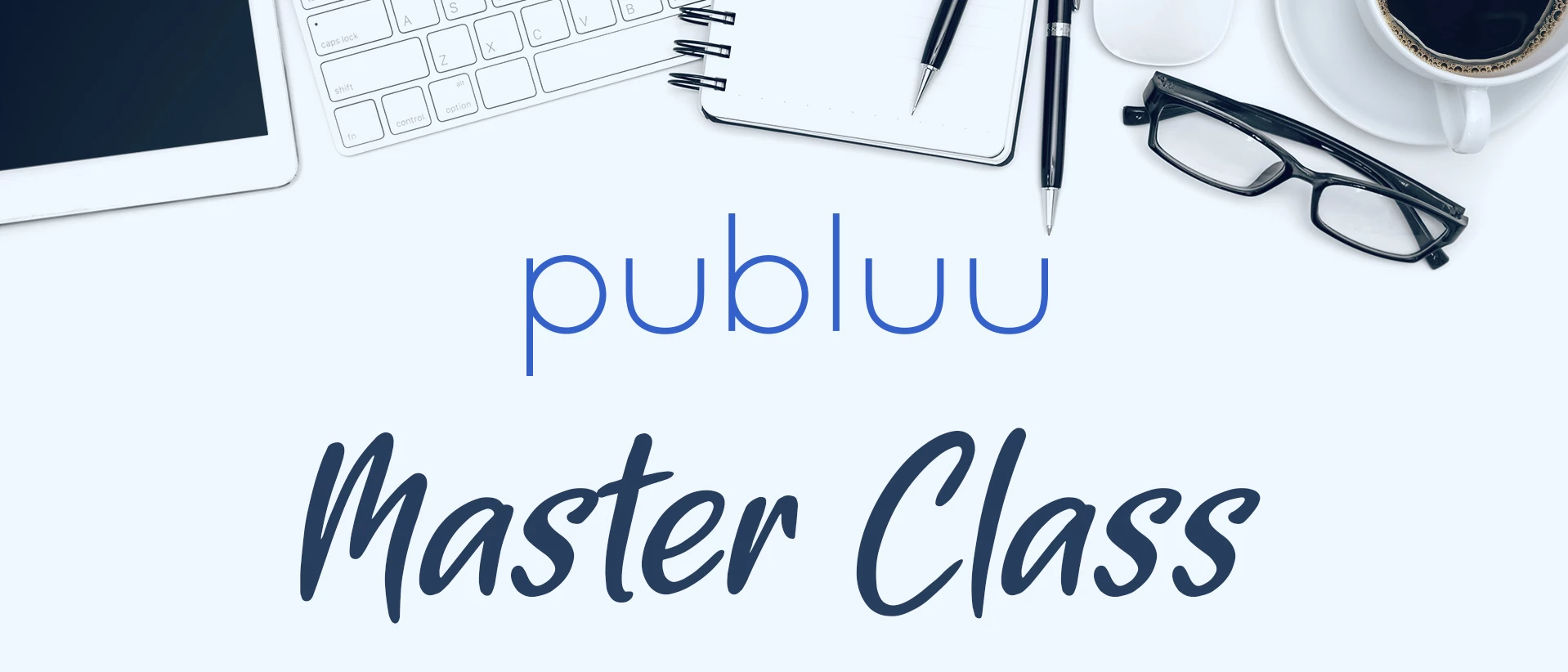 Booklet Maker Tips
How to create a booklet?
A virtual booklet is a great way to offer your product or service to customers and to get your name out there. Take a look at the following steps on how to create a booklet: 1. Create the layout of the booklet. It helps you to envision what your finished product will look like. 2. Add content to the pages of your booklet by typing text into the document or pasting in images and graphics in a program such as Publuu booklet creator that allows you to add images, videos, and GIFs. 3. Save printing costs and publish it online with Publuu using a simple direct link or embed it on your website and enjoy its professional look!
Where to find an editable booklet template?
When you are in need of a booklet template, there are many places you can go to find one – use Google and search for "booklet templates" or "brochure templates". There are many websites that offer free booklet templates for download, such as Canva, Freepik, or Adobe. It is also possible to find paid booklet templates on websites such as GraphicRiver and Creative Market. The templates can help you create professional-looking PDF booklets with ease that you can later turn into online booklets with Publuu booklet creator and share on the web.
Booklet design – the best tips
Booklet making is not as complicated as it may seem. The first thing to do is determine the purpose of the booklet. If it is for marketing purposes, then you may want to have more images and graphics in your booklet design than if it is an informational booklet. Don't forget the cover. It should be eye-catching and include design elements such as your logo or brand name so readers know who you are. The cover should also include an attention-grabbing headline that will make readers want to know more about what you have inside your booklet. A good rule is to keep things simple and clean looking to help readers focus on the content instead of being distracted by flashy graphics.
Join to our happy clients!