MENU
Flipbooks on mobile devices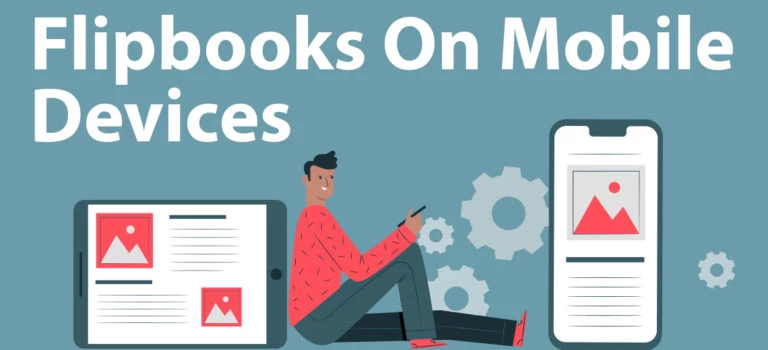 Very often clients are keen to view flipbooks on mobile devices. To make their experience as smooth as possible, we created a separate version of our flipbooks so that they look and work great on all smartphones and tablets.
In this short guide we explain the main differences between the mobile and desktop versions of our flipbooks.
VIEWING YOUR FLIPBOOK
To make our flipbooks look amazing on smartphones, we adjusted them for smaller screens: when viewing a flipbook in portrait mode you will see only one page of it which greatly improves its readability. In a landscape mode, you will be able to view two pages, just like in a desktop version.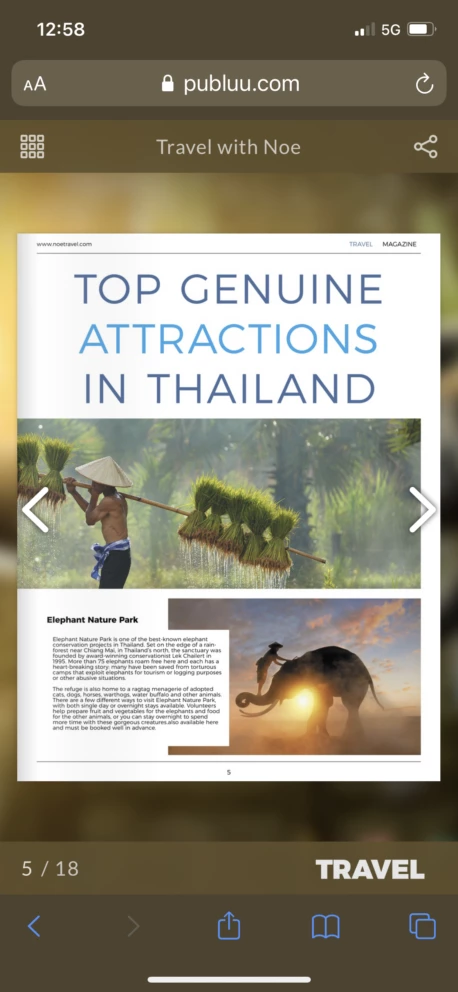 .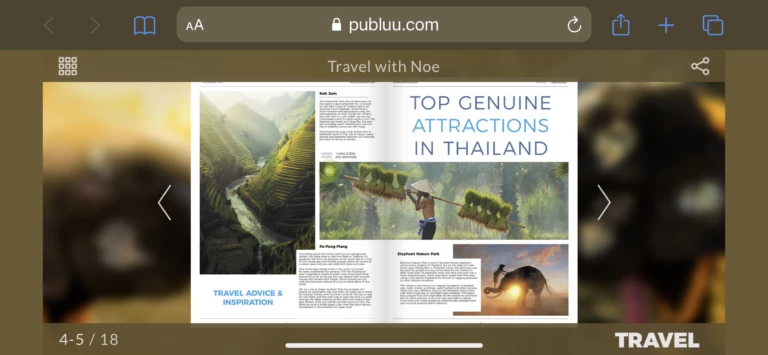 NAVIGATING YOUR FLIPBOOK
Navigating flipbooks on mobile devices is also very intuitive. To turn the page, you need to tap the arrow on the left- or right-hand side of your screen. Please note that our mobile version of flipbook has the same page-flip effect as our regular flipbooks.

PAGE NUMBERS
At any time, you can check which page you are viewing and how many pages there are in the entire flipbook. Just check the numbers visible in the bottom left corner.


THUMBNAILS
To find the page you are after, tap the icon which you will find in the top left corner of your screen. You will now be able to view thumbnails of all the pages in the flipbook and scroll through them. If you find the one you want to view, simply tap it.


SHARING
To share your flipbook when using a mobile device, tap the share icon in the top right corner of the screen.

Now, choose the channel your wish to publish your flipbook on, send a direct link to you flipbook via e-mail or download your original PDF file for printing purposes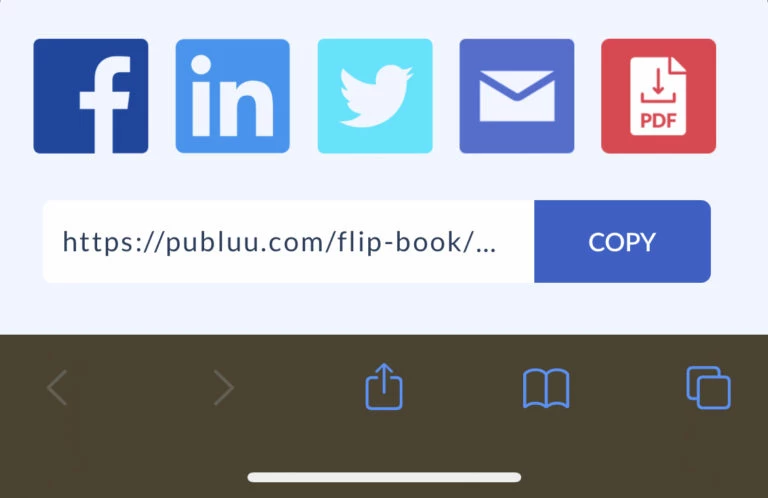 ZOOMING FLIPBOOKS ON MOBILE DEVICES
To zoom the content of your flipbook, use the pinch-zoom: touch the screen using two fingers. Move them apart if you are keen to zoom in and get them closer together if you want to zoom out.
FEATURES THAT ARE NOT SUPPORTED ON MOBILE DEVICES
Please note that page turn sound is being blocked by certain mobile devices and browsers automatically.
The full screen mode. It doesn't work the same way as in our desktop version. Both in the top and bottom part of your mobile device's screen you will see default browser bars. They are very helpful when it comes to mobile navigation.

Our bottom page slider is unavailable for two reasons: the screen of smartphones are much smaller than the screens of desktops, which does not leave enough space for this feature. Also, it would be much more difficult to make use of it without a mouse.

Private notes. They are not available on mobile since changing their location on the screen could mistakenly cause a page to turn when not intended.
You may be also interested in:
How to check your readers' interactions?
How to create lead-capture form?
How to add photos to your publication?