Multimedia Presentation Maker
Create your multimedia presentations with Publuu - online presentation maker. Add real page flip effect, embedded videos, photo galleries and more. Don't spend hours to create multimedia presentation and try Publuu for free today!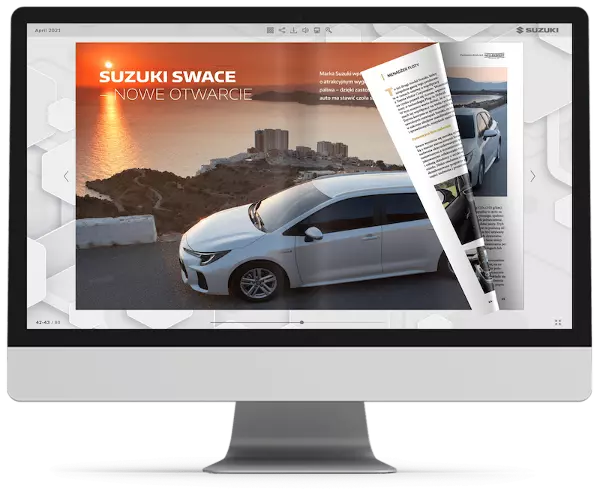 Our latest awards:
Creating presentations with Publuu
Multimedia presentation plays a key role in every product or service introduction and often means the difference between winning or losing a prospective client. Unfortunately, no presentation can be created without a dedicated presentation tools.

With Publuu you can easily make an engaging, interactive online presentation with a few clicks straight from your PDF file. You can easily brand it, customize its look and add interactive elements, like animated custom hotspots with different media files. Your presentation pages will have a realistic rustle sound effect when you flip through them. Finally, you can publish it and track its performance online in real time!
CREATE MY FREE PRESENTATION
How to create multimedia presentations?
Creating online business presentation could not be easier.
Follow four steps below and learn how to get started with our presentation software.
UPLOAD YOUR PDF

Upload your PDF file and Publuu will automatically convert it into an online presentation with realistic page turn effect.

CUSTOMIZE IT

Brand it with your logotype, choose the background design and add interactive hotspots with photos, videos, links and audio files.

SHARE IT

Share your presentation on social media or send a direct link to it. You can also embed it into your website using our simple to use online embed tool.

TRACK

After sharing you can easily track your presentation's performance. Check on your audience activity, like time spent on each page, number of views, interactions and more.
Publuu Presentation Features
Special effects
Each Publuu's made multimedia presentation is truly original and unique. Its pages rustle when you flip through them and give characteristic shadows and reflections. You can also switch the page turn sound on for a more realistic touch.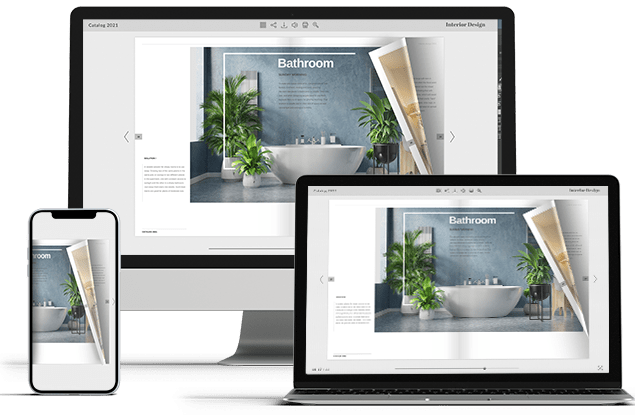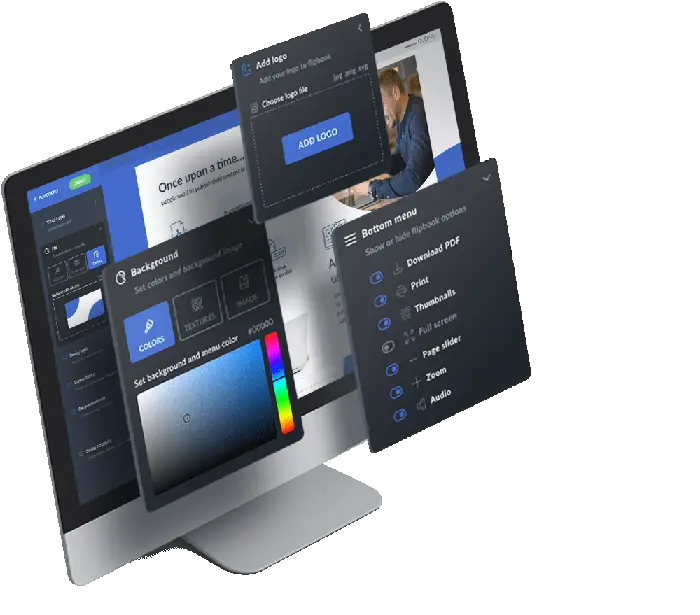 Customize its look
Make your beautiful presentations truly yours. Customize presentation's interface and its background with a presentation template. Brand it with your logotype and choose the best way of sharing it with your audience.
Interactive presentations
Add animated, customizable hotspots and interactive areas with videos, photo galleries, links, or audio files. It will engage your audience and attract their attention.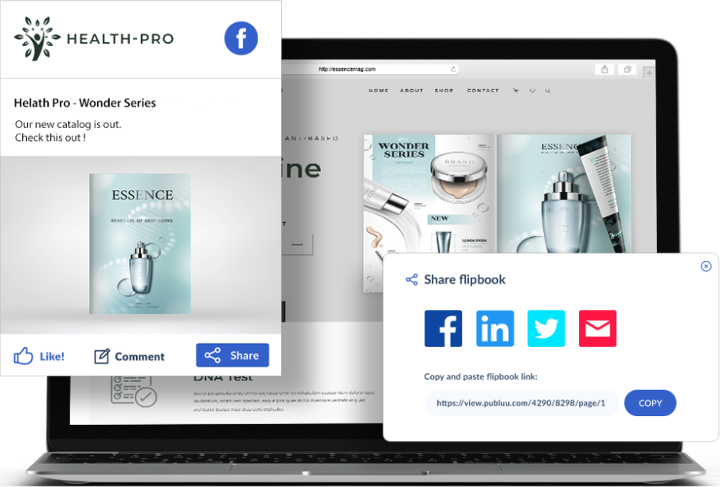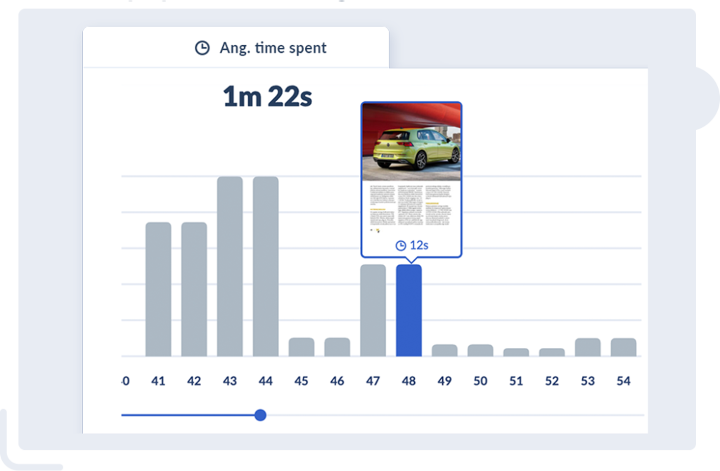 Share your presentation
Go beyond face-to-face meetings and share your multimedia presentation online. Send a direct link by email or post it on social media. You can also embed it into your website or even into your e-mail signature.
Multimedia presentation examples
Our multimedia presentation maker is used by marketers, agencies, educators and executives from all over the world. Join them and start creating engaging multimedia presentations today.
Tracking links
Generate single links to the same multimedia presentation. Assign them to individual clients and send them via e-mail or text message. Enable notifications and receive alerts when your presentation gets opened by certain individual. You can also check how much time your viewers spent on each page, their interactions with your content, and more.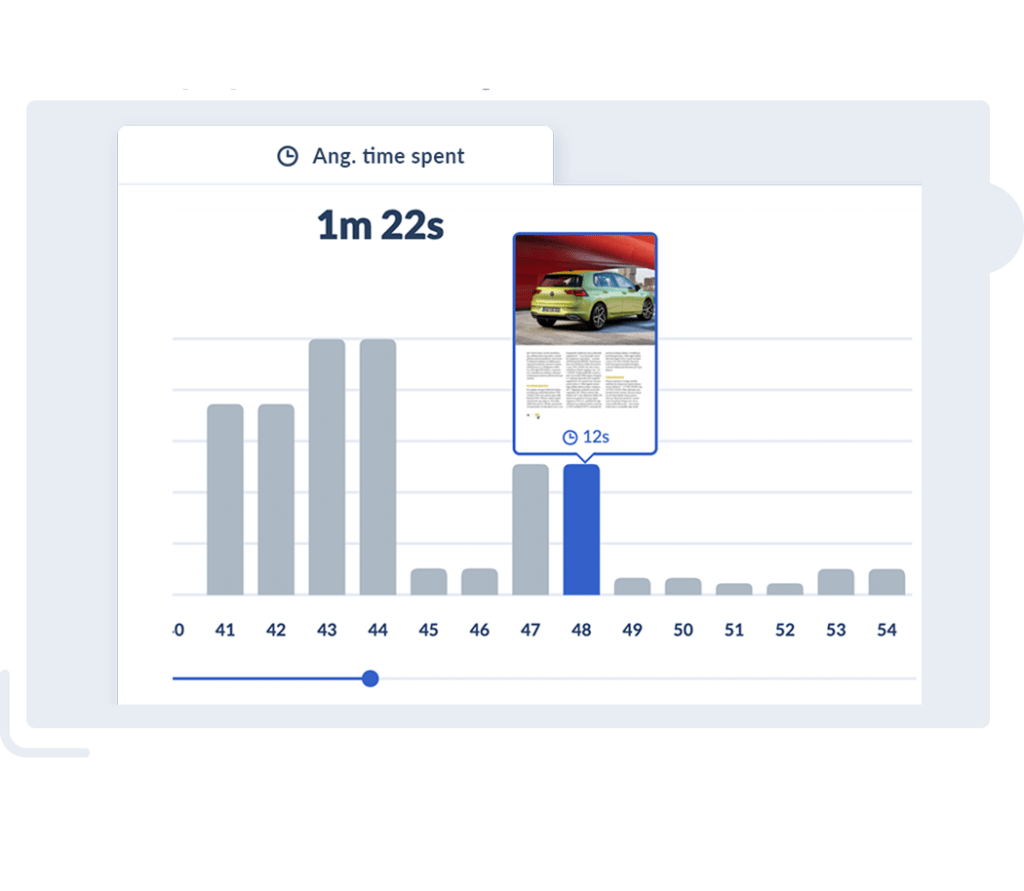 Protect your content
Set a strong and unique password to protect your multimedia presentation. You can also disable the share, download and print presentation tools to keep it private and secure, with access for selected users only.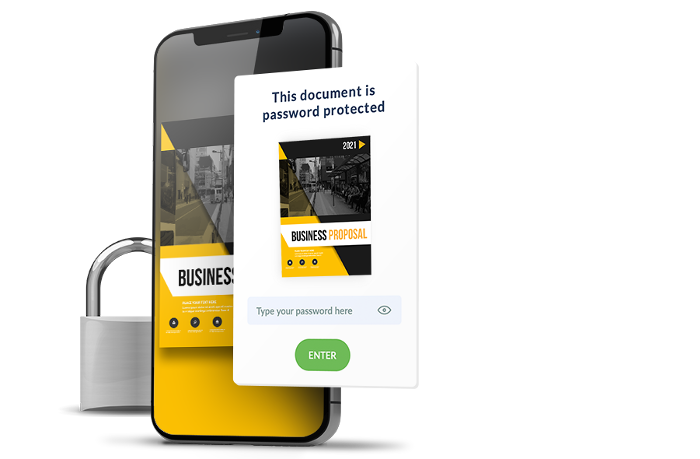 Our customers talk about our
multimedia presentation maker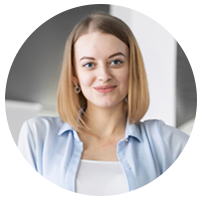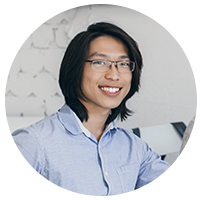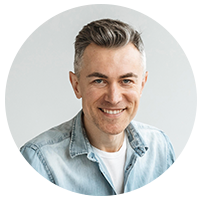 Recognition as a leader!
We are serving customers from over 150 countries and helping over 10,000 businesses grow every day.
We are so proud to be recognized as a global leader for our multimedia presentations performance, easiest setup and easiest to do business with.
We have a 99% satisfaction rate from our customers and we work hard to keep it that way - we value service quality and always make sure that our interactive multimedia presentations answer your business needs.
And we've been awarded for it!
Even more benefits
Check out other smart features below.
Large size
You don't have to worry about the size of your presentation or about large videos and photos you included. To share it, you just have to send a direct link. That's all. No more heavy files sharing!
All devices
Your multimedia presentation will work on any device. No matter if it's a tablet, a smartphone or a laptop, it will look and work great everywhere, and will always keep its quality!
Easy updates
You can update your online presentation anytime. Just replace the existing file with a new one and all your links, photos and videos will stay in the same place. The link will also stay as it was!
Website
Create and customize your own website with an easy access to your all multimedia presentations.
Mobile App
Create your own branded mobile application for your online presentations, and publish it on Google Play and App Store.
Full Access
Make sure everyone will have your multimedia presentations always at their fingertips, even when offline.
What is a multimedia presentation?
Multimedia presentation is a presentation that includes text, graphics, sound, animation and video to tell a story. Multimedia presentations are often used in business meetings or conferences to make a point or to show off new products. They are also used in classrooms for teaching purposes.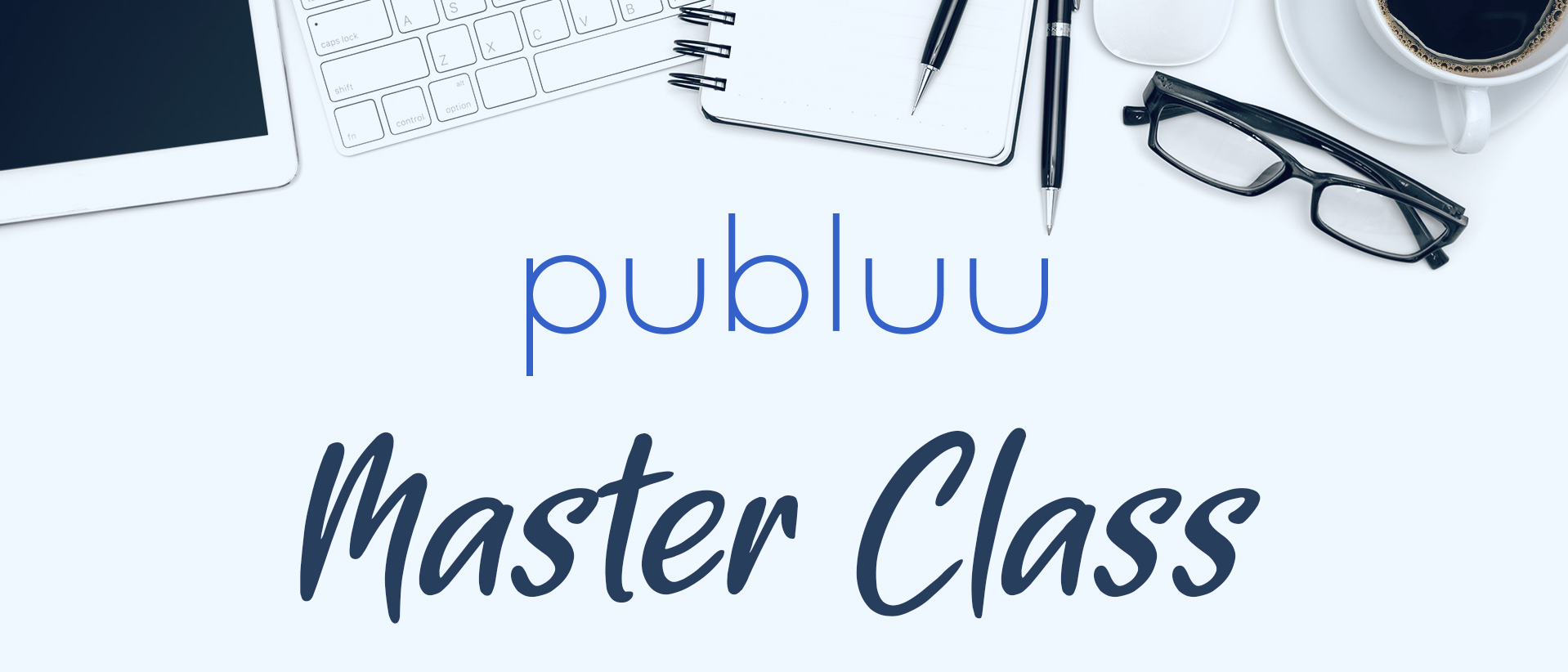 5 simple steps to create multimedia presentation
Design the Framework of Your Presentation
The framework of a presentation is the skeleton that holds up your ideas. It is the structure that keeps you on track and prevents you from going off on tangents. The framework of a presentation has three parts: introduction, body, and conclusion.
Select Your Style and Colors
There are many different styles to choose from. You can use a sequential style where you start with one topic and then move on to the next. You can also use a topical style where you talk about each topic in the order they come up. The last style is called a storyboard style where you talk about each slide as if it were an image with captions underneath it. You can also choose from different color schemes depending on what you are trying to convey and what mood or tone you want to set for your presentation. For example, if your presentation is going to be serious, then using softer shades of blue and green might work better than using bright red.
Choosing Themes for Your Project
Choosing a theme for your presentation is an important step in the design process. You should have a clear idea of the message you want to convey to your audience and also be aware of the audience's needs. For example, if your presentation is about how to make sushi rolls, then you could use Japanese themes such as cherry blossoms and samurai warriors.
Add Images to Your multimedia presentation
Images are one of the most important parts of a good presentation. They can help to make your presentation more attractive and engaging for the audience.
Publuu comes here with a great help and we've got some good tips:
Tip #1: You can use images as a background for your Publuu multimedia presentation
Tip #2: You can also insert images into your embed slides in any place of your Publuu presentation pages.
Tip #3: When you have finished adding all the pictures that you want to include in your slideshow in your presentation, you should arrange them so that they are in the right order and flow well with each.
Add Videos or Animations
Adding videos or animations to your presentation can help you make your point more effectively. The video should be relevant and engaging. It should also have a clear message and a call to action. A video presentation can be used as the introduction, an explanation, or even the conclusion of your presentation.
Conclusion: Creating Multimedia Presentations with Publuu is Easier Than You Think.
How do I make my multimedia presentation interesting?

Making your multimedia presentation interesting is easy thanks to our Multimedia Presentation Maker. It allows you to customize its look, add reflections, page-flipping sound, or branding and interactive elements, and makes it easy to display your multimedia presentation on every mobile device.

Can I see any multimedia presentation examples?

Yes, you can see plenty of multimedia presentation examples in the Examples tab at the top of this page. You can browse them anytime and find inspiration for your own.

How can I make a good multimedia presentation?

A good multimedia presentation is one that provides both a visual and an auditory experience. Multimedia Presentation Creator makes it engaging and informative, with the use of images, videos, GIFs, audio files, and many other interactive elements that can be added to your digital presentation. Moreover, in order to communicate content even more effectively, Publuu allows you to display it on every mobile device in high quality.

What is an interactive multimedia presentation?

An interactive multimedia presentation is a presentation created with Publuu Multimedia Presentation Creator that utilizes more than one media type, such as hotspots, links, audio files, and GIFs to provide an engaging experience for the audience.

How do I embed a multimedia presentation on my website?

Embedding your multimedia presentation on your websites becomes an easy task with our embed code generator. More details on how to do this can be found in the following short guide: How to embed a flipbook into my website
With Publuu you can also create
Use our presentation software.
Create your powerful online presentation today!