Multimedia Presentation Maker
Turn your static PDF into an interactive multimedia presentation. Add animated hotspots with pop up videos, photo galleries, links and audio files. Share and track its performance online.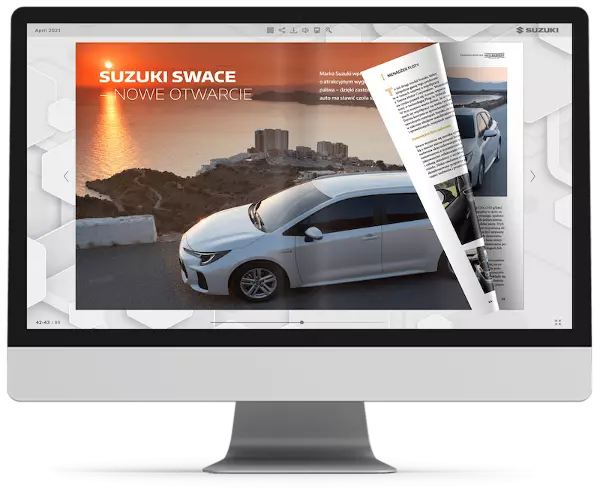 Why multimedia presentation with Publuu?
Multimedia presentation plays a key role in every product or service introduction and often means the difference between winning or losing a prospective client. Unfortunately, no presentation can be created without a dedicated presentation tools.

With Publuu you can create an engaging, interactive online presentation with a few clicks straight from your PDF file. You can easily brand it, customize its look and add interactive elements, like animated custom hotspots with different media files. Your presentation pages will rustle when you flip through them and give characteristic sound. Finally, you can publish it and track its performance online in real time !
CREATE MY FREE PRESENTATION
How to create a multimedia presentation ?
Creating online multimedia presentations could not be easier.
Follow four steps below and learn how to get started with our presentation software.
UPLOAD YOUR PDF
Upload your PDF file and Publuu will automatically convert it into an online presentation with realistic page turn effect.
CUSTOMIZE IT
Brand it with your logotype, choose the background design and add interactive hotspots with photos, videos, links and audio files.
SHARE IT
Share your presentation on social media or send a direct link to it. You can also embed it into your website using our simple to use online embed tool.
TRACK
After sharing you can easily track your presentation's performance. Check on your audience activity, like time spent on each page, number of views, interactions and more.
Multimedia presentation – Features
Special effects
Each Publuu's made multimedia presentation is truly original and unique. Its pages rustle when you flip through them and give characteristic shadows and reflections. You can also switch the page turn sound on for a more realistic touch.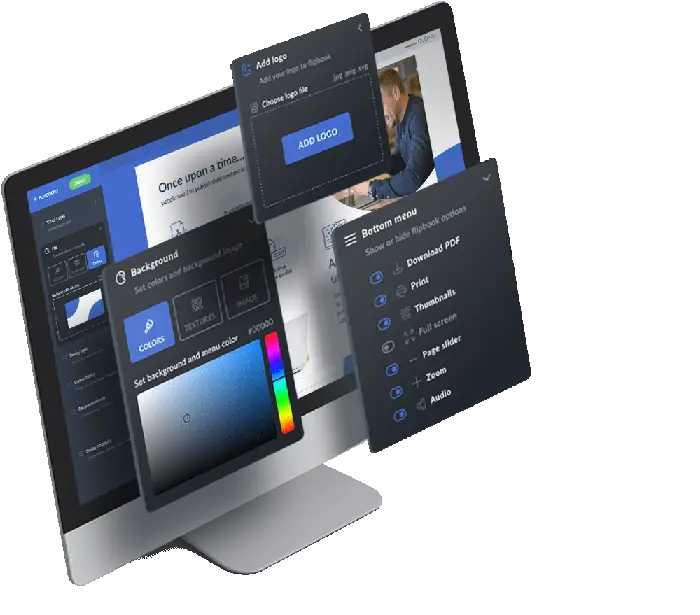 Customize its look
Make your multimedia presentation truly yours. Set your own background or choose one of many presentation's templates. Brand it with your logotype and decide how to show it to your viewers.
Add multimedia
Add animated, customizable hotspots and interactive areas with videos, photo galleries, links, or audio files. It will engage your audience and attract their attention.
Share your presentation
Go beyond face-to-face meetings and share your multimedia presentation online. Send a direct link by email or post it on social media. You can also embed it into your website or even into your e-mail signature.
Multimedia presentation examples
Publuu's multimedia presentation maker is being used by more and more clients around the world. Join them and start converting your static PDFs today.
Tracking links
Generate single links to the same multimedia presentation. Assign them to individual clients and send them via e-mail or text message. Enable notifications and receive alerts when your presentation gets opened by certain individual. You can also check how much time your viewers spent on each page, their interactions with your content, and more.
Protect your content
Set a strong and unique password to protect your multimedia presentation. You can also disable the share, download and print presentation tools to keep it private and secure, with access for selected users only.
Even more benefits
Check out other smart features below.
Large size
You don't have to worry about the size of your presentation or about large videos and photos you included. To share it, you just have to send a direct link. That's all. No more heavy files sharing!
All devices
Your multimedia presentation will work on any device. No matter if it's a tablet, a smartphone or a laptop, it will look and work great everywhere, and will always keep its quality!
Easy updates
You can update your online presentation anytime. Just replace the existing file with a new one and all your links, photos and videos will stay in the same place. The link will also stay as it was!
Website
Create and customize your own website with an easy access to your all multimedia presentations.
Mobile App
Create your own branded mobile application for your online presentations, and publish it on Google Play and App Store.
Full Access
Make sure everyone will have your multimedia presentations always at their fingertips, even when offline.
Our customers talk about our
multimedia presentation maker
With Publuu you can also create
Use our presentation software.
Create your powerful online presentation today!