Product Catalog Maker
Use Publuu – an online PDF catalog creator to attract more clients and get more orders. Convert your static product catalog into an engaging flipbook with animated hotspots, videos, photo galleries and product links.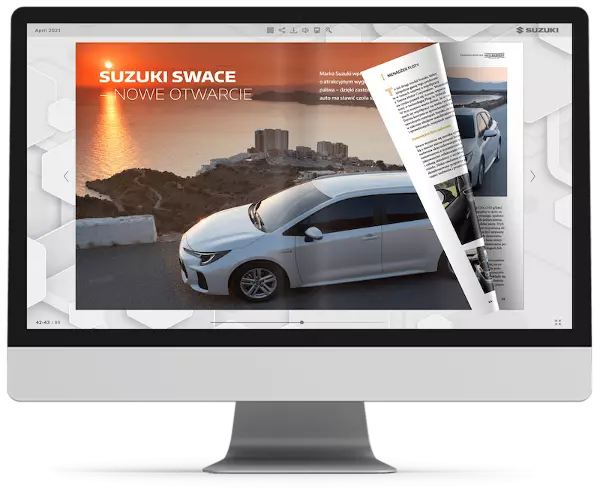 Why do you need a product catalog?
Product catalogs are the most powerful addition to your marketing strategy. You need them to promote your products, widen your customer reach and generate more sales in a cost effective way. So if you want your online product catalog to be reliable, engaging, look great and stay with your recipients for a long time, you need a flipbook!
CREATE FREE ONLINE CATALOG
Digital Catalogs – Features
Responsive design
Your digital catalog will always be at your fingertips. It doesn't matter whether you view it on a tablet, smartphone or a laptop, it will look and work great on any device. Make a catalog and impress your clients anytime and anywhere.
More orders
Improve your clients' online shopping experience by providing extra photos and videos within your digital catalog. Add direct links to your product website to make your clients buy easier and faster. Fast-forward the buying process.
Share your catalog
Share your product catalog with a direct link. No more dealings with e-mail attachments, large files downloads and company's IT security policy. Your product catalog will display instantly on your client's device with just one click. And it's so easy to embed it on any website or post on social media!
Track your catalog
Just sent a link with your product catalog to an individual client? Great! Now it's the time to find out which pages attracted his or her attention! Track document and be notified when your catalog gets opened and follow it up at the right time.
Online catalogs examples
Publuu online catalog maker is being used by more and more clients around the world. Join them and see how easy and business-useful they are.
How to create a product catalog ?
With our digital catalog software creating a stunning online catalog is as easy as it gets!
Follow our guide to see how to create a truly interactive catalog with a few clicks.
UPLOAD PDF
Upload your PDF file and Publuu will automatically convert it into a stunning online catalog, packed with many smart and useful features. It's really that easy.
CUSTOMIZE
Customize your new product catalog. Add your logotype, custom colors or choose a design from many catalog templates.
ADD HOTSPOTS
Add animated and customized hotspots with videos and photo galleries showing each of your products. Insert links to your product web page for faster sales.
SHARE
Share your flipbook product catalog with as many people as you wish. Embed it on a website, publish on social media or send it as a direct link.
Product catalog on a website
Embed your digital PDF catalog into your website so that it looks like an interactive part of it. With Publuu easy-to-use embed code creator you can quickly choose the view method and the way your digital catalog will be presented to your visitors.
Mobile app for your catalogs
Create your own mobile application to keep your product catalogs in one central location. Publish your catalog app on Google Play and Appstore for your clients to always have an instant and offline access to it.
Online catalogs more benefits
Creating an interactive digital catalog from a PDF will promote your products, get you more clients and increase your sales. Check out all the smart features Publuu gives you and make your first online flipbook catalog today!
Custom Design
Brand your product catalog with your logotype and custom colors. Use one of our digital catalog templates to make it unique and engaging. You PDF will never be boring again!
Professional Look
Your flipbook online catalog will combine the world of print and cutting-edge technology, giving your audience a unique professional product experience.
Clean
No Publuu's or other ads near your digital catalog's content. Our online catalog viewer's clean and sleek design was made strictly with users experience in mind.
No download
Downloading and opening static PDF-based catalogs has always been a nightmare. Not anymore! Just send a link and your product catalog will open instantly with one click, without the need of downloading anything.
Easy updates
Update your online catalog anytime with just one click, without having to resend it or change its link. Replace the existing catalog with a new one and all your hotspots with links, photos and videos will stay in the same place. Isn't is easy?
PDF manager
All your product catalogs clearly arranged and stored in one central location available to anyone in seconds. With our search tool your teammates will quickly find a product catalog they are after.
External links
Add animated and custom color hotspots with external links to you products. This way you will bring your client's attention to the product in your digital catalog and then buy it on your website.
Pop up photos
You can insert a pop-up photo gallery into your product catalog. Your clients will be able to see the whole product in full screen mode without need to zoom in.
Social media
With Publuu you can post your product catalog as a stunning 3D cover page with engaging title and description below, where regular PDFs simply don't work.
Our customers talk about our
online catalog maker
With Publuu you can also create
Use our digital catalog software for free today!
Go beyond boring PDF and create digital catalog for free.
Register with Publuu today and check out all the smart options we prepared for you!