MENU
How to disable downloading and printing?
We have created this short guide to show you other ways to make your content safe: disabling downloading and printing your publications.
Keep reading to learn how to turn off both functions and prevent your publication from being used by third parties.
DISABLE DOWNLOADING
Downloading your document is possible by default right after creating it. However, if you create semi-sensitive content, you may not want it to be downloaded or later distributed.
So to protect your content from being downloaded, Publuu lets you disable it with a few clicks.
Log in to Publuu and press the CUSTOMIZE button to enter the editor.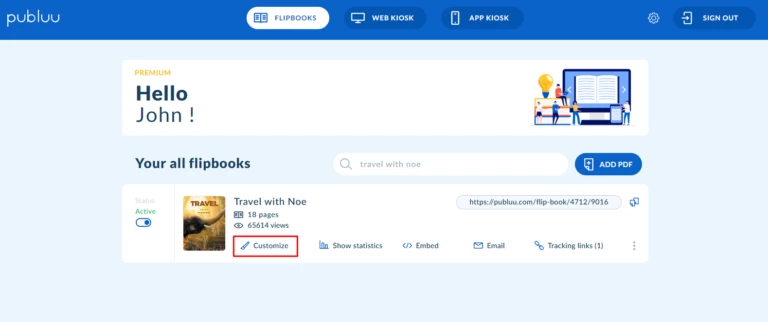 Then go to the MENU tab available in the customization panel, and click it.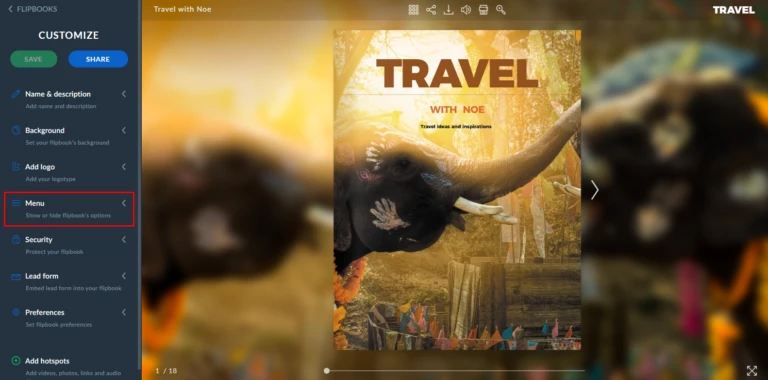 In the drop-down menu, you will see various flipbook options that you can enable or disable for your flipbook's viewers, but focus on DOWNLOAD PDF. As you can see, it is active by default.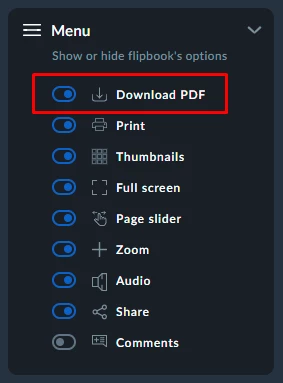 To disable this function, shift the switch next to it. It will become grey, which means this option is turned off.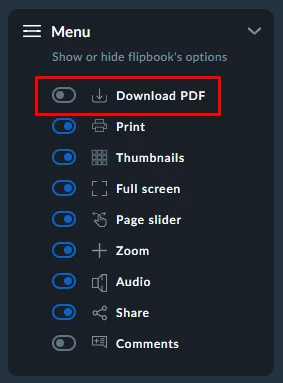 Then press the SAVE button on the left corner.
Notice that there is no download icon in the bar above your flipbook – it will be unavailable until you enable downloading your flipbook again.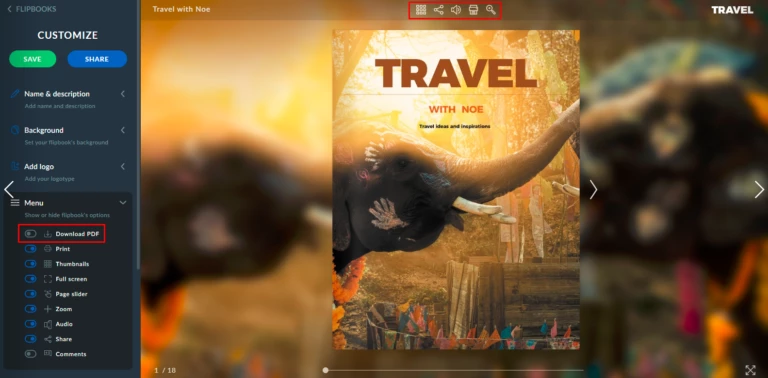 DISABLE PRINTING
Another way to protect your content is by disabling printing. As you know, if printing is enabled, anyone can print your PDF directly from the viewer by just clicking the printer icon right above your flipbook; but if you disable printing your document, this icon will be removed from the top bar.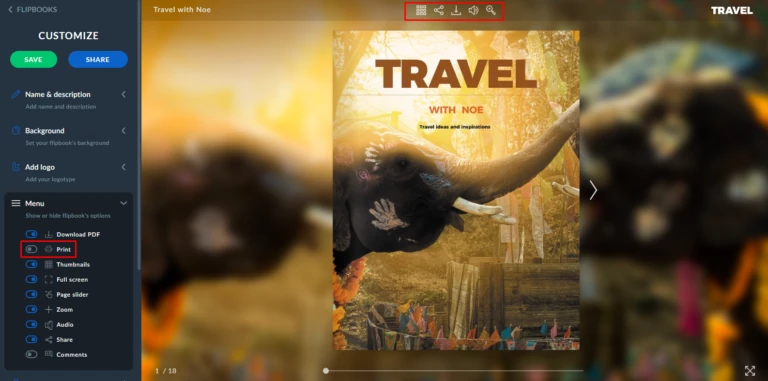 Thus, how to disable printing?
In the customization panel, go to the MENU tab and click it to open. Now find the PRINT option. It is active by default, but if you want to deactivate it, you have to shift the switch to make the button grey.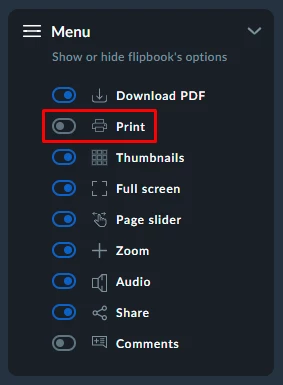 Then press the SAVE button on the left.

If you change your mind and wish to have the downloading or printing option enabled again, just go to MENU and shift the switch to become blue and active again.
Well done, you have just disabled downloading and printing your flipbook. But it is not the only way to protect your publications – Publuu offers you many other ways to do so, visit the articles below to learn more:
How to Disable Sharing and Google Indexing?
How Can I Protect My Flipbook With a Password?