Online Brochure Maker
Create a brochure with real page flip effect and impress your all clients with Publuu - online brochure maker. Add photos, videos and gifs to engage your audience. Share and track its performance on all devices. Impress your clients with your new digital brochure today!
Our latest awards:
Why creating brochure with Publuu?
It's simple. Publuu's digital brochures always look fresh, modern and get the attention your content deserves. You can quickly customize them, share them and track their performance online. Their pages rustle when you flip through them and give characteristic shadows and reflections. It all makes viewing your online brochures a truly unique experience. Create brochure that is eye-catching and one-of-a-kind today!
TRY FOR FREE NOW
Trusted by numerous businesses worldwide
How to create a brochure ?
Working with our free brochure maker is very easy.
Follow our short guide and learn how to prepare and publish your first digital brochure with a few clicks !
SIGN IN AND CONVERT

Log in to your free Publuu account. Upload your PDF file and Publuu will automatically convert it into a stunning digital brochure with a page flip effect.

CUSTOMIZE YOUR BROCHURE

Customize your online brochure. Add your logotype, choose the background and add interactive hotspots. Make it more engaging.

SHARE IT ONLINE

Embed your brochure on your website, post it on social media or send as a direct link by e-mail.

BROCHURE STATISTICS

Check how your brochure performs. See the time spent on each page, the number of views and the kind of interactions your readers had.
Digital Brochures – Features
Mobile Friendly
Make sure that you, all of your clients, team workers and partners have instant access to your brochures. It doesn't matter whether you view them on a tablet or a smartphone, they will look and work great on any device.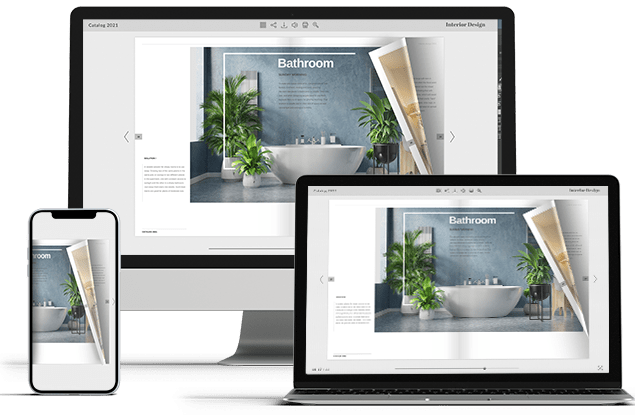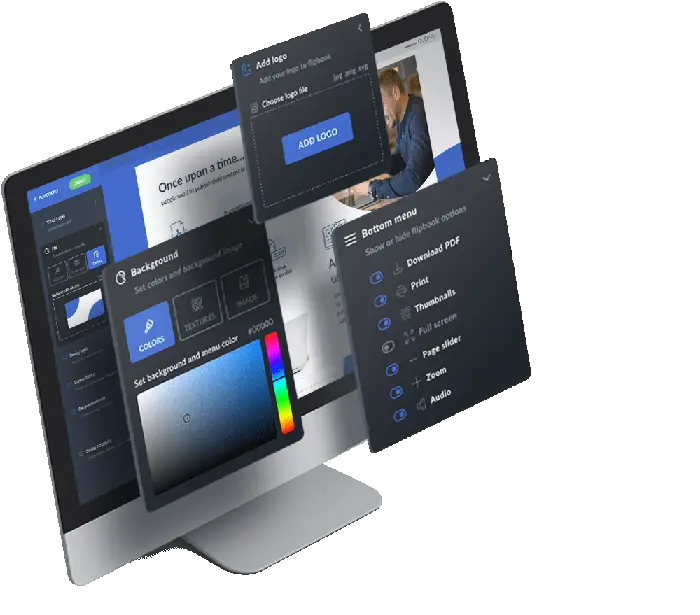 Customize your brochure
Make your brochure truly unique. Choose your custom colors or one of many stunning design templates. Brand it with your logotype and add animated hotspots.
Share your brochure
Share your brochure everywhere. Send a direct link by email or post it on social media. Embed it into your website or your in e-mail signature. Make it easier for your audience to find you!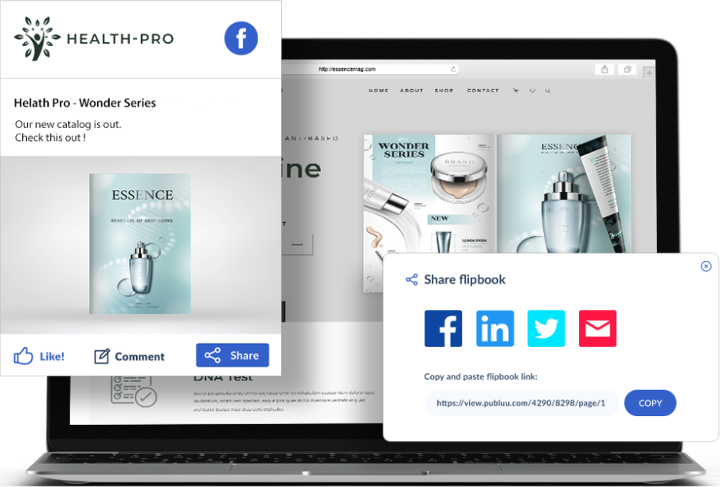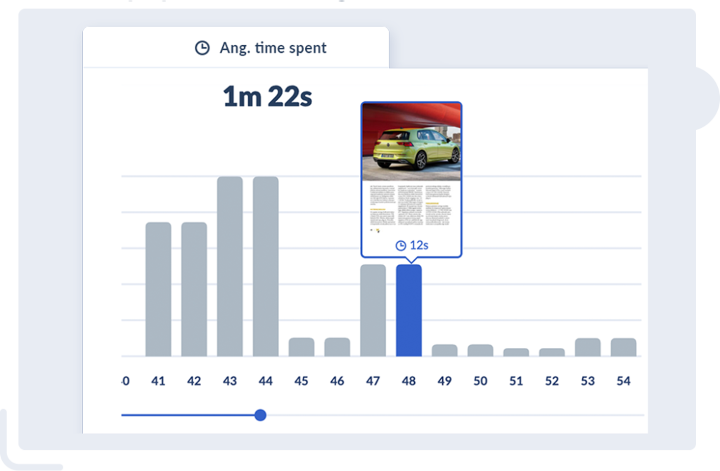 Track and be notified
Track your brochure performance in real time. Check how much time your clients have spent on each page of your digital brochure and which one was the most interesting one them. Be notified when it gets opened or set a reminder if it doesn't get opened by a certain date.
Digital Brochure Examples
Publuu online brochure maker is being used by more and more clients from different industries around the world.
Create brochure with Publuu now!
Drop your PDF file below to create brochure.
Sales improvement
Generate multiple tracking links to one of your brochures and send them to your individual clients. Check how they interacted with your content. Get real time open notifications and follow up at the right time. Get to know you clients and improve you sales.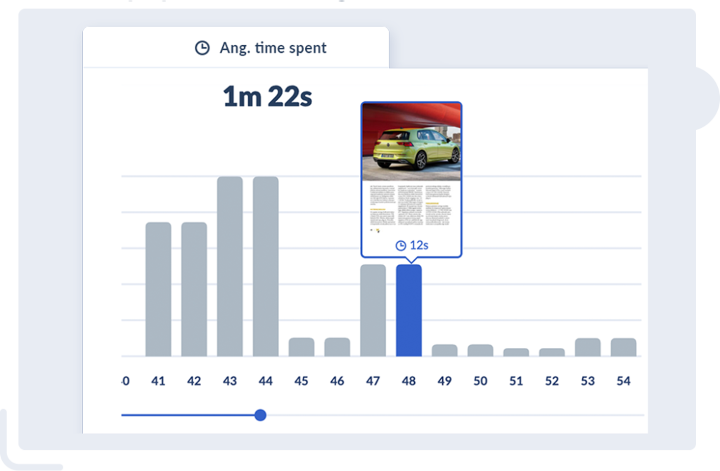 Bookshelf & Flipbook App
Publish your brochures on your own custom designed virtual bookshelf and flipbook app, available to download from Google Play. All of your brochures will be in one central location with access for everyone, even when offline! All that with just a few clicks.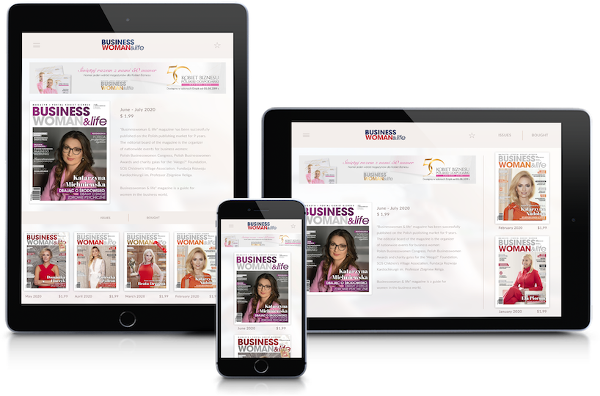 Our customers talk about our
online brochure maker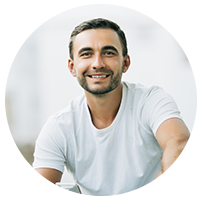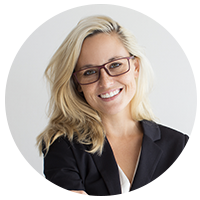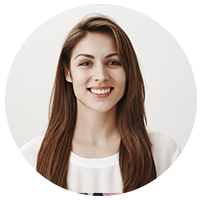 Recognition as a leader!
We are serving customers from over 150 countries and helping over 10,000 businesses grow every day.
We are so proud to be recognized as a global leader for our brochures performance, easiest setup and easiest to do business with.
We have a 99% satisfaction rate from our customers and we work hard to keep it that way - we value service quality and always make sure that our interactive brochures answer your business needs.
And we've been awarded for it!
Brochure benefits
Creating professional and interactive brochure online will take your product presentations to the next level.
Check out other smart features that can help you in your business.
Brochure Navigation
With intuitive page thumbnails it is very easy to quickly find a page you are looking for. Especially on mobile devices.
Mobile Experience
Digital Brochures created with Publuu - an easy to use free brochure maker - mobile optimized and responsive on all devices without loosing on content quality.
Content Protection
Set a password and share your professional brochure privately. Protect its content by controlling share, print and download options.
Background
Set a custom background color, upload your own image or choose one our 30 stylish background design brochure templates.
Hot spots
Add animated and custom colored hotspots with videos, photos, links and audio files to your online brochure.
Page flip
Page rustle when you flip through them, while the characteristic shadows and reflections imitate the print brochures.
Offline access
Make sure your clients have instant and offline access to your all brochures. Once your brochure has been downloaded inside your mobile appliacstion it can always be accessed and read offline!
Mobile Stores
Your mobile application will be published in the Google Play – the worlds largest mobile stores for Android devices. We will handle the complicated submission process for you.
24/7 Access
Make sure that your clients have your brochures always at their fingertips. It doesn't matter if they use tablets or mobile phones with various systems. Let them access your Brochures anytime and anywhere, in their most appealing form!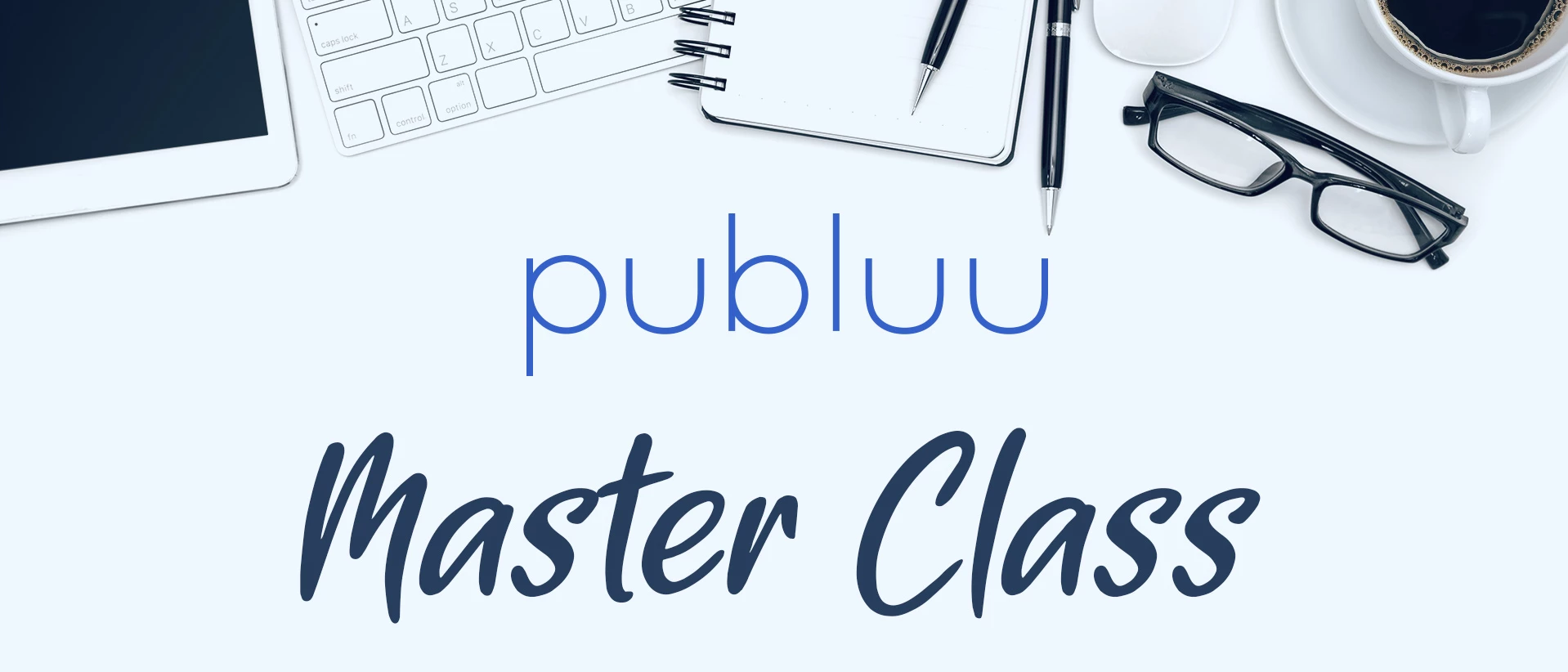 Custom Brochure Design Tips
Brochure Design
A beautiful and professional brochure design can make you stand out from your competitors! When coming up with a new brochure design, you can use a longer piece of sales copy. That means a more effective call to action. But, be careful! Too much text can be a bad thing. Minimalism is all about keeping things simple and focusing the reader's attention on fewer elements. A minimalist brochure design draws attention to your main message quicker!
Brochure Template
Use digital brochure template and save time. You will quickly create a professional looking brochure without having to worry about the layout and design. A simple Google search can show you hundreds of websites with free brochure templates. But, the more you look at it, the more you start noticing that each brochure template is different. Pick the one that has design concepts — layout, color scheme, shapes — that will reflect the best your business.
Share your brochure online
It doesn't matter what kind of brochure creator you use or if you create, for example your new real estate brochures or travel brochures – share them online. This is the most cost-effective way to attract new customers, engage current customers, and increase your brand awareness worldwide.
Be innovative
Be innovative and create brochure that is truly unique. Creativity and innovation are not limited to just one type of brochure design. You can be innovative in a number of ways, such as using the same design but different colors, adding something new to your brochure, or making it more interactive with Publuu.
How do I create a free brochure?

Publuu offers you a free trial during which you can create your first amazing brochure and try all the great functions of our Online Brochure Maker, such as statistics, lead generation form, and much more.

Are there any limitations on the free trial at Publuu?

Publuu offers you a free trial with no limitations regarding your PDF file size or the number of flipbooks you can upload. What is more, during the trial you can use all of the awesome functions of Publuu's brochures and see how they help your business grow.

How do I make a successful brochure?

In order to make your brochure successful, you should take care of its accessibility and content so that it captures the attention of the reader and presents the information in an engaging way. Using Publuu Brochure Maker it is easy to achieve. Embed video or add clickable hotspots with links to engage your recipients, share your digital brochure anywhere on the web, and monitor how the readers interact with it.

How can I improve my brochure?

Thanks to our Online Brochure Maker improving your brochure has never been easier. You can add your brand logo, interactive elements such as hotspots, and multimedia to make your digital brochure stand out from the crowd.

How brochure can boost my sales?

Publuu offers you various functions that allow you to develop your business and boost your sales. One of them is the lead generation form that gives you the chance to collect contact details of the prospects right away in your brochure which helps you to convert them into paying clients in the future. You can find more information on how lead generation form works in the following article: How to Create Lead-Capture Form

I'm a Basic plan subscriber. What kind of statistics do I have an access to?

The Basic Plan allows you to check the number of views of your brochure in total. But if you decide to upgrade your plan to Optimum, Professional, or Premium you obtain insight into advanced statistics, such as individual page views, the average time spent on each page, and much more.

How do I embed a brochure into my website?

Our simple embed code generator allows you to embed your digital brochure into your website in three different ways. The detailed instruction on how to do this properly is available here: How to embed a flipbook into my website
With Publuu you can also create
Join and make a brochure today!
Empower your static PDFs with Publuu - Free Brochure Creator.