Your Content Protection
Your valuable content is safe with Publuu.
By following recent security standards, we stay up to date with mandatory means of security and privacy. This secure approach gives us the needed foundation to assure you, that your data is encrypted, content protected, and information – private.
Content protection solutions
Your teams spend a lot of time creating, marketing, and selling your content. By not securing it properly, your resources are wasted.
Don't let your work go to waste, protect your intellectual property!
General Data Protection Regulation

We stay compliant with the General Data Protection Regulation (GDPR), meaning one of the priorities is to safeguard your data and protect your valuable content against unauthorized access and piracy.

Content protection

All of the uploaded content hosted by Publuu is stored at Amazon Web Services (AWS). Using the most up-to-date encryption protocols to ensure safety. Amazon stays compliant with multiple international security standards and has over a decade of experience when it comes to running data centers.

Secure payments

Publuu is well protected by special protocols to ensure a secure connection. Your sensitive data is encrypted and authenticated through AES-256 protocol to further process transactions by Stripe and Paypal, PCI-compliant digital payment solutions.

Monitoring

We have a dedicated team of engineers that is on a constant lookout to prevent any data breaches, servers overload, and high integrity of our systems. This allows Publuu to further eliminate vulnerabilities to make the system as proficient as possible. Every day the integrity of the system is checked to fully provide the best experience for you and avoid any system interruptions. We also take the necessary steps and replicate all data to our backup storage on a regular basis.

Backups

We like to take more steps than needed in terms of safety, which is why we have our storage space in a different geographical location than our backup one as a disaster prevention practice. This helps us maintain the most up-to-date data with your content saved in case of emergency.

Third-party sharing

Privacy is constantly getting more sensitive. With that, your privacy is very valuable to us, meaning we do not condone any form of third-party sharing of your personal information.

Harming content prevention

We do not support any acts of cheating or deception in our service, so we have specially designed algorithms to prevent creating any content that might be identified as phishing or other forms of unethical behavior.
GDPR

GDPR – compliance requires us to ask for your consent in order to process data, keep your data private and inaccessible to unauthorized parties, or safely handle the transfer of the data. Publuu encrypts all of your data that is transferred and uses the most modern algorithms to provide a secure transfer of any of your data or content.

AWS

AWS – Amazon Web Services are well trusted over the globe for hosting data on their secure servers. We store your data on S3 servers, protected with protocols such as TLS V1.2 and AES-256. Physical access to the data centers is logged, monitored, and retained.

Paypal & Stripe

PayPal and Stripe – all financial transactions that are done on our service are done on reinforced connections by HTTPS and TLS protocols so your sensitive data like credit card information is safe during the payment. Data is encrypted by AES-256 and further processed by either Paypal or Stripe financial services, which are compliant with the highest level of certification in the financial industry – PCI Service Provider Level 1.
Other forms of protection that you may apply on your own
As a digital publisher or creator, your content can easily land in the hands of unauthorized users. Publuu offers additional means of protecting your publications such as:
Embed Protection
Embed protection is a feature in Publuu that allows you to embed your flipbook on a website of your choice and protect it from theft or any form of unauthorized access. Additionally you can disable options such as downloading or sharing to be fully sure, that your content stays in place where it was destined to.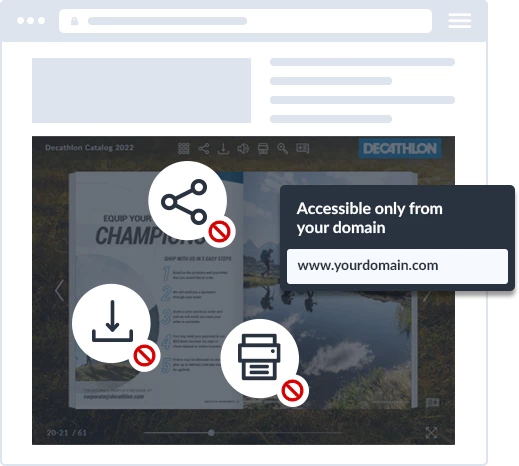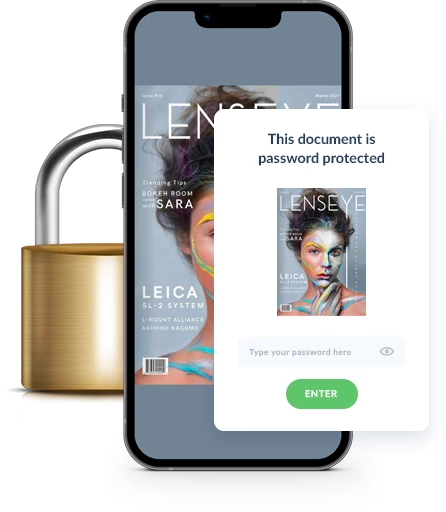 Password Protection
Need to allow only a specific group of receivers to view your flipbook? Password protection may come in handy as a tool that allows you to set up a strong password for your flipbook so that only the chosen visitors can access your shared content by knowing the previously set password.
Even more extra protection features!
Trusted by numerous businesses worldwide
If there are any questions regarding security or privacy, please contact us via email on
info@publuu.com