Online flipbook features
Check out the main features that will make your content stand out of the crowd!
or
Custom Branding
Adjust your flipbook's look to your needs. Set its unique name, description and add your logotype. Customize its background by choosing one of our templates, favorite color or uploading your own image. You can even tailor your flipbook's URL!
Embed it on Your Website
Add flip book to your website anyway you want - as an iframe with personalized background, with no background at all, or as a smart clickable button that will open your content in a pop up window.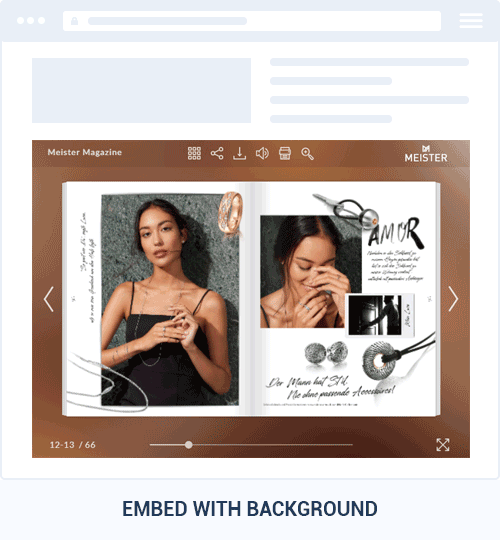 Embedded Videos, Photos And Hotspots
Embed videos or photos right on any of your publication's pages to be seen instantly. You an also add animated hotspots with photo galleries, audio files or links. Draw your clients' attention to your products and services. Make it more engaging!
Lead Generation Form
Collect your viewers contact details to convert them into real buyers. You can build, customize and embed a lead capture form into any of your flipbook's page with just a few clicks. Collect any information you need - it can be an email address, phone number or home address to follow up in the future.