Real Estate Flyers
Create a digital real estate flyers in seconds with our powerful and easy-to-use real estate flyer maker. Make your flyer viewable in high-quality on all devices. Share it in multiple ways to reach a wider audience and check the statistics to see how well your real estate flyer is performing. Simply turn your flyer into an effective marketing tool!
Why use a real estate flyer creator?
Whether you're looking to get your property on the market or rent out your space, we have the solution.
The real estate flyer maker is for real estate professionals that want to save money by creating high-quality marketing materials with just a few clicks. Forget about complicated design programs and hours of work put into creating your next flyer – with a wide range of real estate flyer maker's features, you can make a custom flyer for your properties in minutes with no coding or graphic design skills required.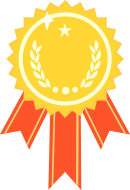 Recognition as a leader!
We are serving customers from over 150 countries and helping over 10,000 businesses grow every day.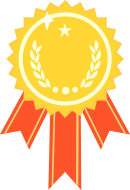 We are so proud to be recognized as a global leader for our real estate flyers performance, easiest setup and easiest to do business with.
We have a 99% satisfaction rate from our customers and we work hard to keep it that way - we value service quality and always make sure that our interactive real estate flyers answer your business needs.
And we've been awarded for it!
Real Estate Flyers Examples
Click on one of the real estate flyers examples below to check what your digital content may look like.
How do I create a real estate flyer?
You don't need to be a pro to make your own real estate flyer and promote your property listings in a quick and effective way. Start creating professional flyers with our easy flyer creator right now!
Firstly, gather all the information and content you need. Then, design your flyer layout from scratch or simply pick a flyer template. Add your own photos, content, and format it. Remember about attention-grabbing headlines and compelling property descriptions! Once you are ready, save your stunning flyer as a PDF file.
Share your real estate flyers online with a direct link, send them via email, publish them on social media profiles or embed them on your website. Show them on multiple channels to let your potential clients notice you!
Now, simply upload a PDF and our system will take care of the rest – it will turn your file into a digital real estate flyer in seconds! Change the background, add your logo and fully customize it anytime you need.
Create your interactive real estate flyer today and share it with your audience!
See how it performs in real-time – check the statistics, such as the number of views, pages viewed, and much more. Analyze how your clients interact with your real estate flyer – you can do this 24/7 from the dashboard of your account.
Show your real estate agency uniqueness
Stand out in the competitive market of real estate agencies and let your stunning flyer represent your brand's aesthetic. Personalize the background – choose from many pre-built background free templates, set the unique background color, or upload the image to get the perfect look. Enrich your real estate flyer with a logo that reflects your realty company's values.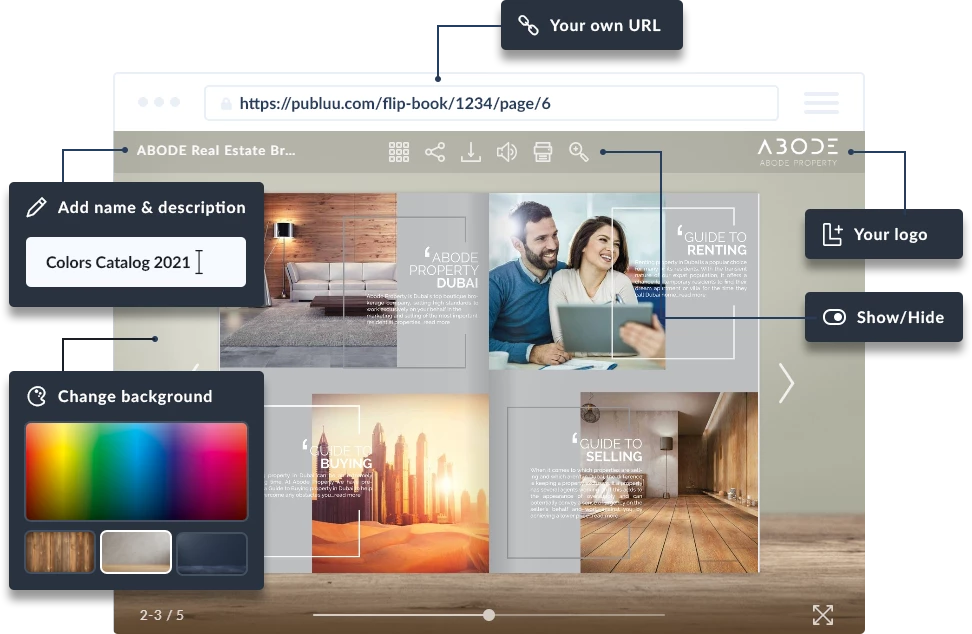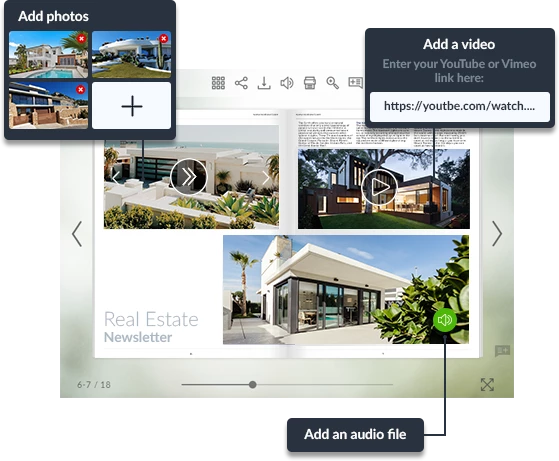 Enrich your real estate flyer
Highlight each property's assets with multiple high-quality images embedded as a photo gallery that displays as a slideshow. Include a video tour presenting your offer in full detail and get potential customers excited about your properties. Add an interactive hotspot with a link to your website to close more deals.
Read like a real publication
Showcase your property listings in the most attractive and engaging manner and create a real estate flyer that looks and sounds like a physical brochure. A combination of multiple effects, such as page shadows, thickness, page-flipping sounds, and much more will give your clients the feeling of reading a real book and make them willing to go further into your real estate flyer.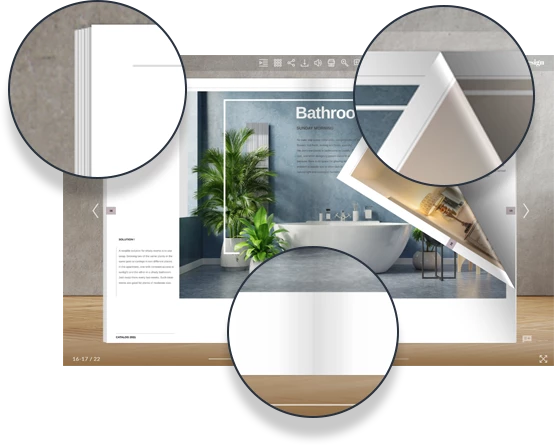 Share your flyers in multiple ways
More views mean more potential buyers - so share your real estate flyer away on various platforms with just one direct link! Post it on social media to get your property listings seen by a large audience. Send your real estate flyer via email without worrying about the attachments . Embed it on your website or blog to maximize the exposure it gets!
Link

E-mail

Social Media

Embed
Make your Real Estate flyer now!
Track and analyze your property listings
Send a tracking link to an individual and monitor his interactions. Check how your real estate flyer is performing with our in-built analytics tool. Be notified when is opened and see which interactive element gets the most attention. Understand what's working with your target, get audience's attention and improve your marketing efforts for the best results!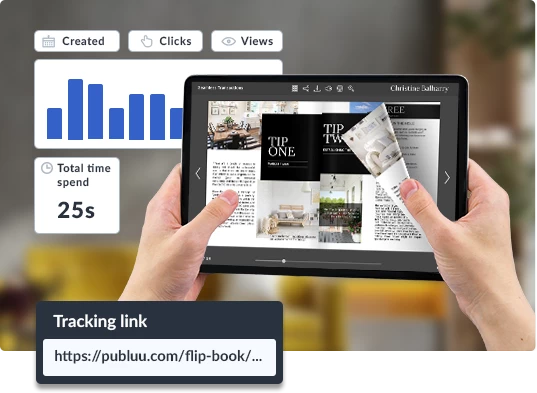 Check real time statistics
Instead of guessing how your flyer is doing, use the statistics provided by our real estate flyer maker. Check the total number of views, pages viewed, or average time spent browsing all your properties- all in real time! Use the data to measure the success of your real estate flyer and make adjustments accordingly if needed!
No more guessing!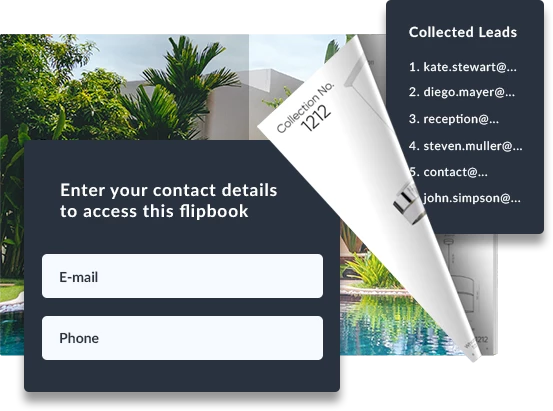 Lead Generation Form
Receive leads that convert into actual property buyers . Keep in touch with people who have shown interest in your estates by collecting their contact details through a lead form that you can add to any page of your real estate flyer. Customize the text of your form to make people more willing to submit their contact information. Export your leads and use them later to promote your upcoming listings. Read more about lead generation here.
Publuu online flyer benefits
Check multiple benefits of the real estate flyer created with Publuu!
No limits

Forget about page limits and include as much key information about your properties as you want. Any text added to your real estate flyer will always be shown in vector fonts that your clients can zoom in and out and read in high resolution.

All devices supported

Make your real estate flyers 100% responsive and available on all devices including smartphones, tablets, and desktops to let any of your customers view your custom real estate flyer without worrying about compatibility issues.

Always up-to-date

Make sure your property listings are always up-to-date. Change the information about your properties anytime you need. A click of a button and your digital real estate flyer is updated and ready to share with the same direct link once sent to your clients.

Eye-catching content

Emphasize key points in your real estate flyer with an animated GIF playing in a loop and see your listings come to life! Choose from numerous GIFs available in our free GIF library to catch the attention of your potential buyers and generate interest in a particular part of your offer.

Navigate easily

Publuu's navigation tools help find the right property with few clicks. It lets your clients move quickly from one section to another with a table of contents imported from PDF bookmarks. They can also use thumbnails or a page slider to find the desired property page at no time.

Add private notes

Allow your clients to add private notes about the properties they like. It may be a comment or a thought visible only to the person who added it. And the best thing is that your clients can access your real estate flyer later and their private notes will still be there!
What's it like working with Publuu Real Estate Flyer creator?
"As a realtor, I'm always looking for innovative ways to market my property and when I found the real estate flyer maker, it was the best decision I ever made. It has completely changed the way that I work!"

"I don't know how I would survive without the Real Estate Flyer Maker app. It's so simple to use and produces killer real estate flyers in just a few minutes."

"I really love Publuu real estate flyer maker. I have been using it for 5 months now and it has really boosted my income."
Trusted by numerous businesses worldwide
What is a real estate flyer?

A real estate flyer is a marketing tool used by real estate agents to advertise and promote a property for sale or lease. It typically contains essential information about the property details, such as the location, features, price, and contact information for the real estate agent.

Real estate flyers can be in print or digital format, and often include high-quality images of the property, along with a description of its unique features and selling points. Custom real estate flyers usually are eye-catching and visually appealing to attract potential buyers or renters.

Real estate flyers can be distributed through various channels, such as direct mail, email, and social media, or displayed at open houses or in local businesses. The goal of a real estate flyer is to generate interest in the property and ultimately lead to a sale or lease.

Are real estate flyers effective?

Real estate flyers can be effective marketing tools when used correctly. They are a low-cost way to reach a large number of potential buyers or renters and provide essential information about the property in a visually appealing format.

However, the effectiveness of a real estate flyer depends on various factors, such as the design, distribution channels, and target audience. A well-designed custom flyer that effectively highlights the property's unique features and benefits and is distributed to a targeted audience can generate interest and lead to a sale or lease.

It's essential to note that real estate flyers should not be the only marketing tool used by real estate agents or brokers. They should be used in conjunction with other marketing strategies, such as online listings, social media, and networking, to reach a broader audience and increase the chances of a successful sale or lease.

Making a perfect real estate flyer has never been easier. At Publuu, you can create flyers with interactive elements, all within just a few clicks.

What should a real estate flyer say?

A real estate flyer should provide essential information about the property, highlight its unique features, and make a compelling case for why someone should consider buying or renting it. So to create flyers, make sure to include these six key elements:

Property information: Include the address, the number of bedrooms and bathrooms, square footage, and any other relevant details about the property.

Selling points: Highlight the unique features of the property, such as a spacious backyard, an updated kitchen, or a scenic view.

Price: Clearly state the asking price or rental rate for the property.

Photos: Include high-quality photos of the property that showcase its best features and help potential buyers or renters visualize themselves living there.

Contact information: Provide contact information for the real estate agent or broker handling the property, including their name, phone number, email address, and website.

Call to action: Encourage potential buyers or renters to take action, such as scheduling a viewing or contacting the agent for more information.

How to make a real estate flyer for free?

Don't worry if you're a novice! With our easy-to-use, intuitive editor everybody can make a real estate flyer for free! Just sign up to Publuu and benefit from a 14-day trial to test all the functions and find out that creating an effective real estate flyer takes only minutes!

What makes a real estate flyer look professional?

The key factor that makes your real estate flyer look professional is the consistency of elements reflecting your brand's uniqueness. So, to make your real estate flyer look effective you should incorporate your brand logo, choose a suitable background color, theme or image and apply realistic effects, such as page flipping sound or shadows.

How to design a real estate flyer?

If you want to design a successful real estate flyer you should take the time to think about what elements to use to attract the attention of the customers. At Publuu you can add multiple interactive elements such as photo galleries, videos, hotspots, and much more to make your real estate flyer engaging like never before!

What should a real estate flyer include?

High-quality images of the properties, relevant information about each of them, and your contact details – these three things should be the cornerstones of your real estate flyer. At Publuu you can easily create a real estate flyer that has all these elements and much more without worrying about page limits.

What is the best flyer creator?

It's hard to find a flyer maker on the web that has all the functions you need to make your flyer successful. However, this is where Publuu real estate flyer maker comes in! It offers a variety of business-oriented features that make your real estate flyer a great marketing tool Try our 14-day free trial to test all!

How effective are real estate flyers?

Online real estate flyers created by Publuu real estate flyer maker are an effective and inexpensive way to advertise a property since they can be shared by a direct link on social media, mailed, or embedded on your website to reach a vast audience and generate leads!

Do you provide any real estate flyer free templates?

Yes, of course! With Publuu you have access to a gallery of various background free templates designed to suit your realty company's aesthetics. What is more, we provide a FREE GIFs library with multiple animated GIFs to make your content more captivating.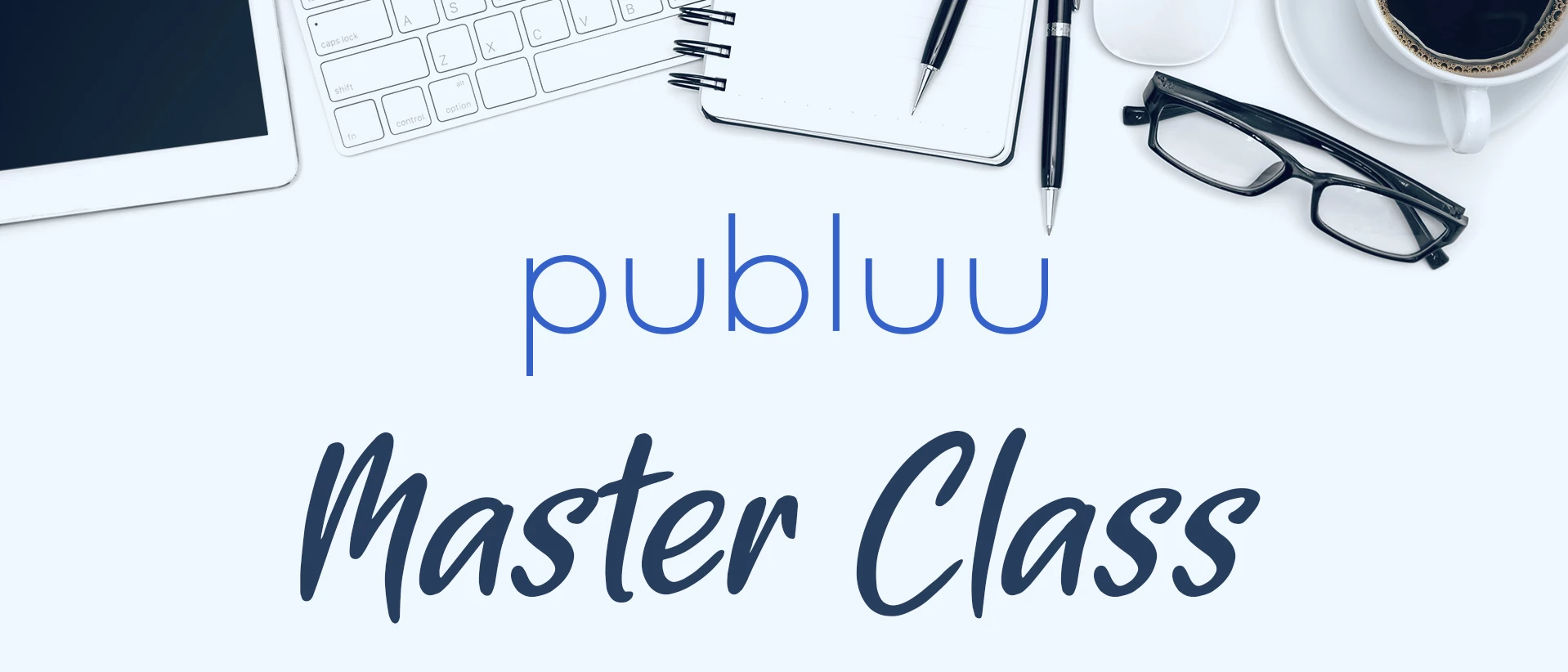 Real Estate Flyer Tips
What is a real estate flyer?
A real estate flyer is a marketing tool used by real estate agents or brokers to showcase a property or a portfolio of properties for sale or lease. It is typically a printed or digital document that provides more detailed information about the property than a real estate flyer.
Usually, several pages of information about the property, such as the location, floor plan, amenities, and features are included in real estate flyer. It may also include high-quality photographs, virtual tours, and maps that provide a better understanding of the property's location and surroundings.
Real estate flyer may be designed to highlight the unique selling points of the property, such as a stunning view, a spacious yard, or an updated kitchen. They may also provide information about the local area, including schools, parks, shopping centers, and restaurants.
Professional real estate flyers can be used in a variety of ways, including distribution at open houses, mailings to targeted audiences, and as part of a comprehensive marketing campaign. They are designed to provide potential buyers or renters with a more comprehensive understanding of the property and ultimately encourage them to take action, such as scheduling a viewing or making an offer.
In summary, a real estate flyer is a more detailed marketing tool that provides potential buyers or renters with a more comprehensive understanding of a property's features and benefits. It is designed to be an effective sales tool that encourages potential buyers or renters to take action.
Real estate flyer free templates
Finding the right template for your flyer can be a time-consuming task. Luckily, there are many free templates available on the Internet right away. A simple search on the internet will show you some of the best places where you can find these templates: Canva, Adobe, and Xara. You can also visit sites like Pinterest or Behance to get ideas and inspiration for your own custom flyer design. Once your flyer is ready, you can publish it online with Publuu in multiple ways, send it via email or embed it on your website. Remember to choose free templates for personal or commercial purposes that you can edit without any restrictions or copyright issues.
Best online tools for real estate agents
Having the best online tools is crucial for a successful career as a real estate agent. There are so many real estate agents with unique marketing strategies, so you need to get ahead of your competitors. What online tools can you use to make your job as a real estate agent easier? First, you need Google Maps which can help you find out information about a property by searching for landmarks or nearby streets. Another great tool for real estate agents is Publuu – it provides all the helpful functions that a modern real estate marketing material should have.
Real estate flyer design tips
A well-designed flyer can increase the conversion rate of a real estate company. A real estate flyer design should be not only attractive but also provide all the necessary information about the property. To design a real estate flyer, you should first consider the audience and what they need to know. Remember that flyers are distributed online, so you will want to make sure that your message is clear and concise. Next, choose a layout for the flyer. Finally, you should add some color to your flyer with text boxes, shapes, lines, and more!
Join to our happy clients!