MENU
The Best 15 Free Graphic Design Software For Everyone

If you're in marketing and advertising, you probably want to create beautiful digital brochures, catalogs, presentations, and other high-quality designs. To do this, you need the best graphic design software you can find. However, it is known that the prices of such software can be high, but the investment is probably worth it. On the other hand, small creative businesses may simply not be able to afford to subscribe to robust software packages like Adobe Creative Cloud. Free graphic design software might be the answer they seek.
In this guide, we will discuss the best free vector graphics software, image editing programs, 3D software, and the best DTP tools for a budget-conscious graphic designer. The free graphic design software on our list can be open-source, basic versions of complex tools, or rarely it offers graphic designers a chance to use a free trial.
Who can use free graphic design software and how?
In particular, people just starting in the industry may not have the resources to invest in the best graphic design software. Another group that may not be able to justify the investment in high-quality graphic design software is people who do it as a hobby or small companies or employees who just need the occasional flyer or poster. Fortunately, there are many alternatives on the market – for example, open-source free graphics software you can find with Google.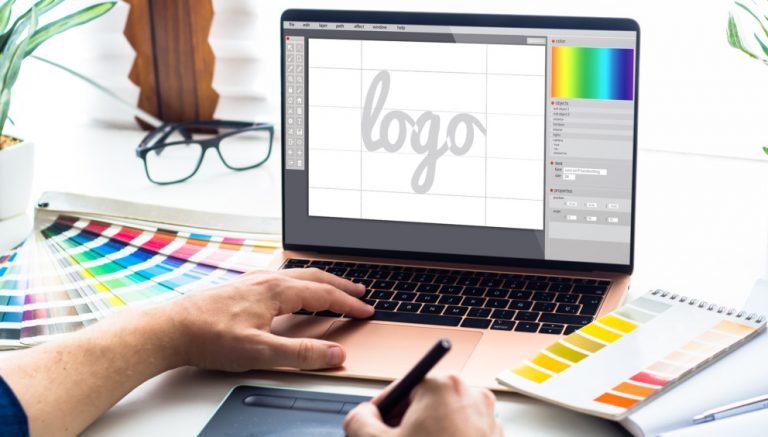 The open-source movement involves making the code of a program available so that others can develop it themselves freely. This means that you can find many free graphic design tools people modified and made available online.
There are many open-source programs among free graphic design software, but this is not the only option for designers. Many companies provide a stripped-down version of graphical software or a free trial period. You can use free graphics software on specific terms determined by the creators.
Publuu – a great choice for graphic designers!
Publuu is a great system that can turn your documents saved in PDF format into interactive brochures, magazines, or catalogs. Just upload your PDF file and the Publuu brochure maker will create a wonderful brochure with a page-turning effect. If you create a PDF using the free graphic design software we described below, you can make it even better!
Publuu's brochure example
View more brochure examples
Moreover, you can easily share your brochure and open it in seconds on any device. Publuu lets you attach galleries of illustrations, animations, and links to your website – all in high resolution without the need to download a file.
Publuu also gives creators a rich statistics suite – you can measure how your brochure performs in real-time, and who viewed what content. Additional features such as the ability to collect leads or embed the file in the page or email content make it one of the best tools for graphic designers.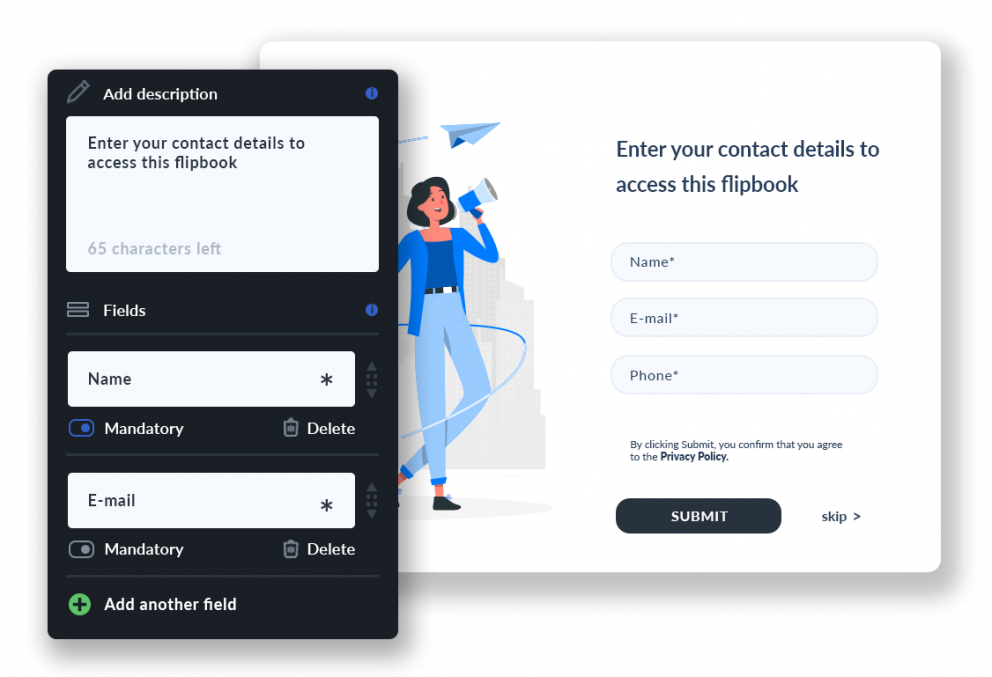 You can enjoy the free trial of Publuu – this free version offers you an opportunity to try out its tools and capabilities.
Free graphic design software for logos and icons
Many people use vector graphics editors in web design, designing apps, images for social media posts, or icons and logos. In simplification, vector graphics are based on shapes and shape tools – it tells your computer to "draw a triangle". It means that it can be used to design templates and graphic elements, but they will never be realistic. The main commercial tools in this category are Corel Draw or Adobe Illustrator (with Affinity Designer also being popular).
But you can create vector graphics easily with the tools below!



Lunacy
Lunacy is a free vector design software for desktops. It works on Windows, macOS, and Linux. Created by designers for designers, this professional software ensures an easy design experience for everyone. It's filled with features that graphic designers and illustrators dream to find in one place: intuitive interface, multi-language toolkit, online and offline working modes.

With Lunacy, you can open an app and start working immediately. Even if you see Lunacy for the first time. Its interface is intuitive and minimal. It contains only essential controls, so you don't have to spend much time learning how to interact with it. Moreover, Lunacy is available in English, Chinese, Spanish, and 19 other languages.
Gravit Designer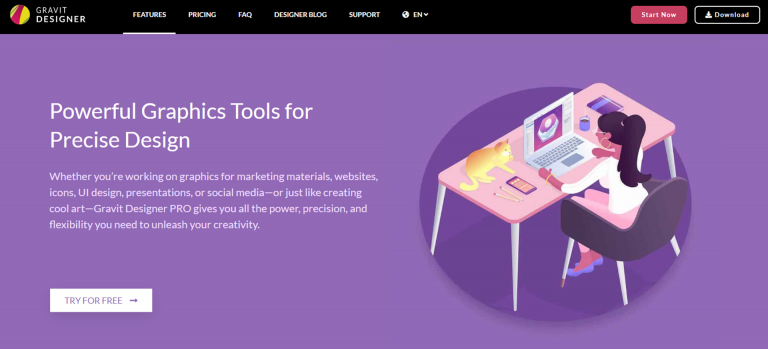 Gravit Designer is one of the best free vector graphics software. This program allows you to design icons and logos with a simple interface. If you choose a free subscription, you can save your documents as PDF, SVG, or BMP files. Moreover, Gravit Designer is available online and allows you to save files to the cloud – with 500 MB of space if you use the free tool.
The basic version of this vector graphics editor is free, but Gravit Designer Pro features are available with a free 14-day trial period – allowing you to export files for professional printing, importing EPS files among other features and many graphic design professionals find it a great replacement for Illustrator at a far lower cost.
Inkscape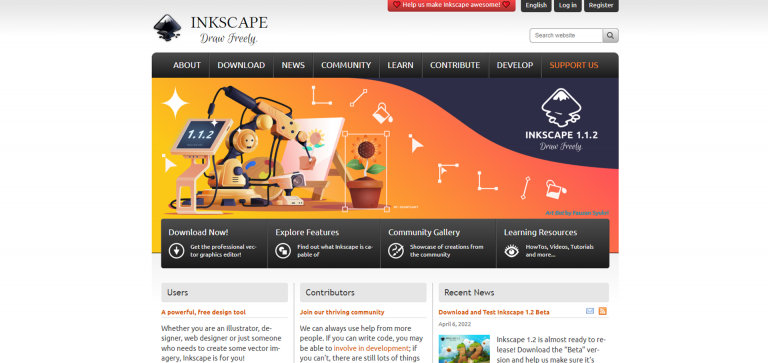 Inkscape is one of the more popular vector editors in the world. It has advanced features such as a library of filters and effects, cloning, and alpha blending that you won't find in commercial graphic design software!
Thanks to a user-friendly interface, Inkscape is easier to use than Adobe illustrator and provides high-quality work. You can use the extensive effects library and import AI and EPS files – although they won't always work perfectly. The downside is that it can be quite slow. Still, it's a great free design tool and a great complement to commercial software.
Adobe Spark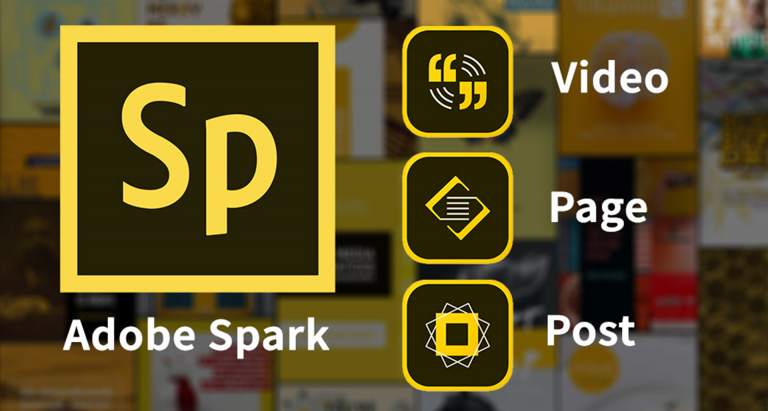 Adobe Spark is a trimmed-down version of Adobe Illustrator, the company's most popular and widely used paid product. There are many free effects to choose from, and this desktop cross-platform tool is easier to use than the large, complex Illustrator. You can use the library of free templates and effects, which is still impressive for a free version of a tool.
The capabilities of this free graphic design tool make it perfect for small businesses, you can design anything you need, for example infographics or brochures. However, the program itself is less useful for those working on more complex projects or advanced users with more knowledge. Fortunately, Spark can be used both online and on mobile devices, so you don't need a big, powerful computer.
Vectornator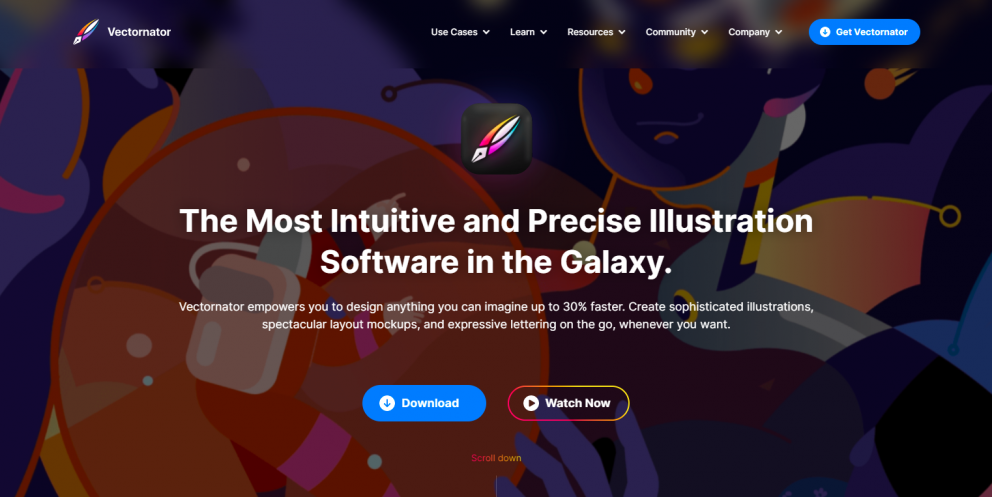 Vectornator is a free graphic design and illustration software that offers designers a wide range of handy features from typography design, creating artboards, various pen tools, and more. The platform is intuitive and the project creating process is fast and delivers professional illustrations. Vectornator can be used by professional and beginner designers alike.
Raster free graphic design software
Unlike vector graphics, raster graphic design software works on pixels – raster graphic is illustration or photographs. If you find yourself working on these complex images, you'll need graphic design software capable of editing pixel art. Many people are familiar with simple graphic design software like MS Paint – but a professional tool should have the capability to use layers, cloning, or other features.
The most popular raster graphic design software is Adobe Photoshop, but tools like Corel PaintShop Pro, PhotoDirector, ProCreate, or Affinity Photo is also popular. However, even users of these programs can use the free software we present below.
Krita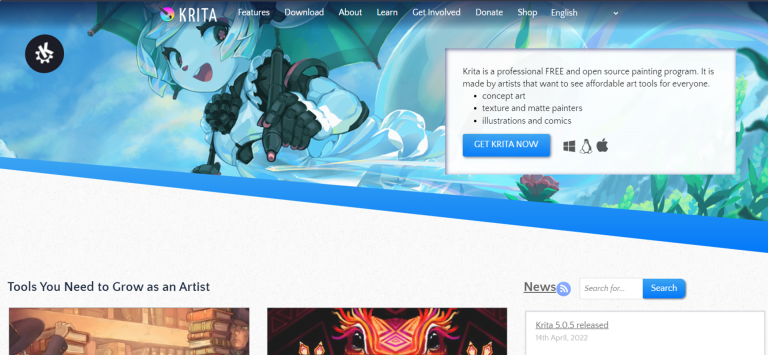 This free, open-source painting program is developed by artists for artists. With contributions from illustrators and painters, Krita is fun to use thanks to the intuitive user interface. This free software contains a ton of useful features and tools, especially if you create using a graphics tablet, and is comparable with Corel Painter. Krita is a great tool if you have some drawing experience.
This free graphic design software requires a bit of practice, and if you are looking for photo effects, you will find many other tools on our list. Krita is mostly for concept artists and painters rather than photo editors, UX, or layout designers. However, it is the best tool for creating graphics from scratch – with over 100 brushes this makes it one of the best free graphic design software to try out!
Gimp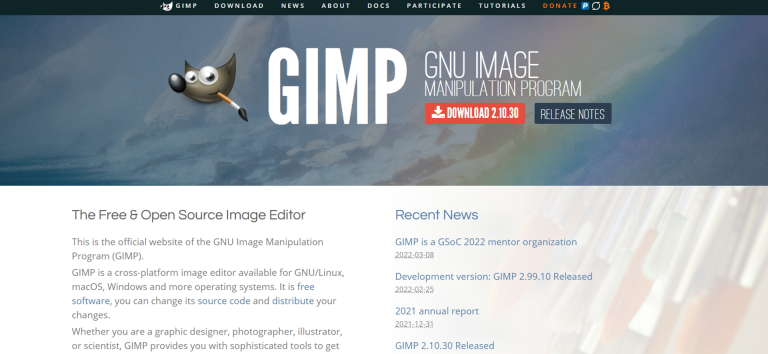 Gimp is often referred to as the free Photoshop – the name means Gnu Image Manipulation Program, but even though it has been designed for Linux, today it's a popular cross-platform image editor for Windows and Mac OS as well. For many professional users, it's the best graphic design software they use daily.
Although the interface is different, this free graphic design software supports almost all file types. In GIMP, retouching is simple, and new projects can be easily created from scratch.
More experienced graphic designers can realize the potential of the tool thanks to the customizable interface. Unfortunately, Photoshop add-ons are not compatible with Gimp and the program can sometimes be too slow. However, it's more than enough for small companies. Since GIMP is free and open-source software, there are variations of the program with a more user-friendly interface, like Glimpse.
Canva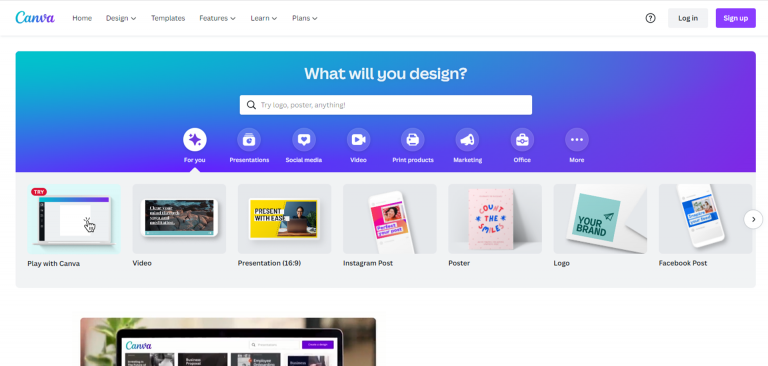 Canva is a popular free graphics software online that offers a wide range of design tools that you can use to create PDFs, presentations, and infographics. This is one of the best graphic design software available in a browser – and thanks to a large number of free templates it's very versatile, both for small businesses and independent graphic designers.
Their website has a user-friendly layout that makes it easy to use even for the non-tech savvy. Everything works in your browser and there are plenty of templates available to you. You can use the free functionalities or try out advanced features for a month free.
Paint dot net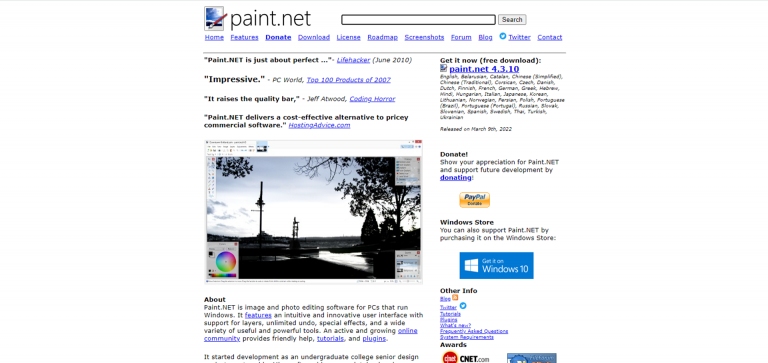 Paint.net is a modern, better version of the Paint application you might know from Windows. However, it's a more robust tool with many additional features, most notably working with layers. It doesn't have a lot of brushes, but it works well as a photo editor – in particular if you use many available free plugins and add-ons.
Paint.net is a very good tool if you are used to simple free graphics software like MSPaint but need more features. Many people recommend this free app to people new to graphic design – the learning curve in programs like Photoshop or GIMP can be steep but this software offers a very intuitive interface.
Blender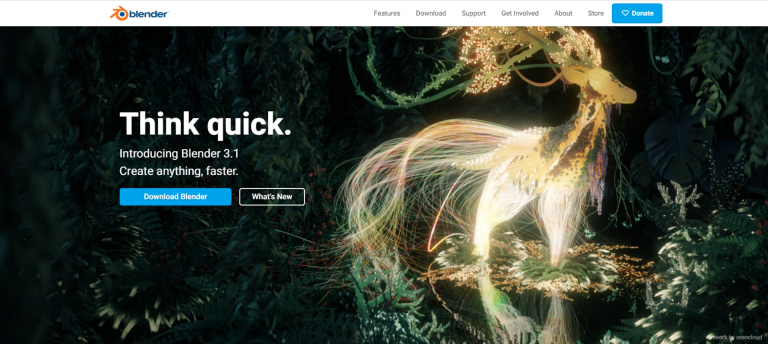 Blender is by far the largest free 3D design program available online. You can achieve almost everything 3D-related with this free graphic design software, from modeling to texturing, animation, rendering, and compositing. Many animated movies have been made with this free program. Since it works with 3D it's also good for creating 2D graphics and animation – though it requires a little bit of practice. This free and open-source software is available to everyone, so you can easily try it out yourself.
DocHipo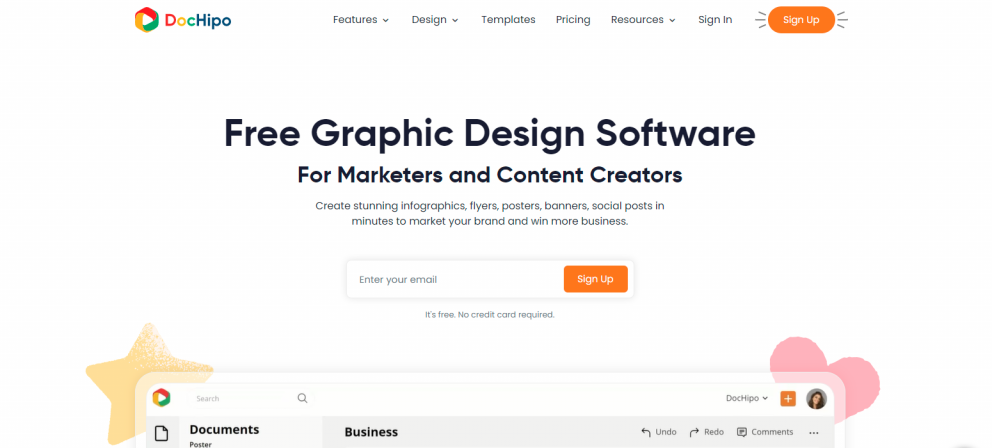 DocHipo, crafted for marketers and content creators, helps you create stunning designs in minutes. The software comes preloaded with professionally designed templates across a variety of document types – infographics, posters, banners, social media graphics, and various others. It offers a pleasing interface that makes it easy for everyone to design with almost zero learning curve. The one-click image background removal capability makes it a popular choice amongst non-designers.
DTP and other free graphics software
DTP is short for desktop publishing – creating print-ready designs using desktop computers. Related to it is web design – creating a layout of a web page is similar to creating a page of text. The industry leader for DTP is Adobe InDesign, although many people use Quark Xpress, Xara tools, or Affinity Publisher. Below you'll find free graphic design software that can replace some of the functions of these programs.
Scribus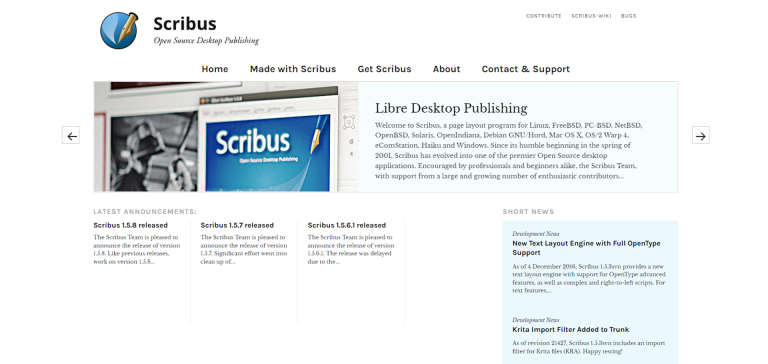 Scribus is a powerful, multiplatform authoring software suitable for smaller companies. It can let you edit books, leaflets, and ebooks, prepare the document for CMYK printing and work with vector art (although it's not a perfect replacement for vector software).
Like most sophisticated tools, Scribus works with master pages for headings, borders, and page numbers. However, it has limited graphic design software capabilities, and it's criticized for its sharp learning curve. Scribus requires some experience, but it works with most operating systems and lets you create projects for commercial printing and web use.
LibreOffice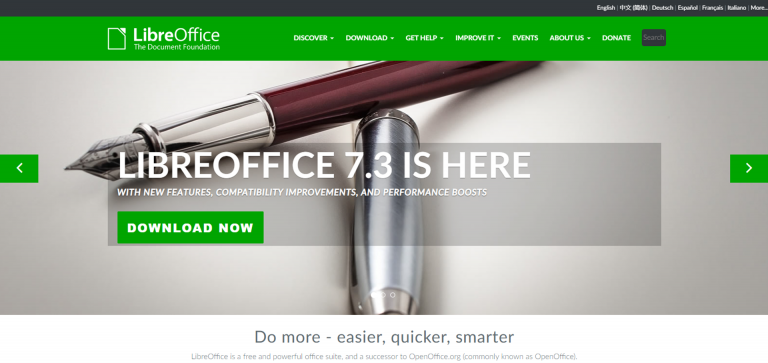 Libre Office is mostly an office package, containing tools for spreadsheets or presentations. But Libre Writer is as useful for creation as is MS Word – casual users can use it to design reasonable art and PDFs. Basic layout and shape tools are more than enough for many casual non-designers.
Unlike Microsoft Office, LibreOffice contains simple drawing tools in the basic package. You can use Libre Draw to work with more advanced tools for editing vector graphics or preparing files for layout. If you don't want to use this package, you can choose OpenOffice instead – it also contains some free graphic design tools.
iStudio Publisher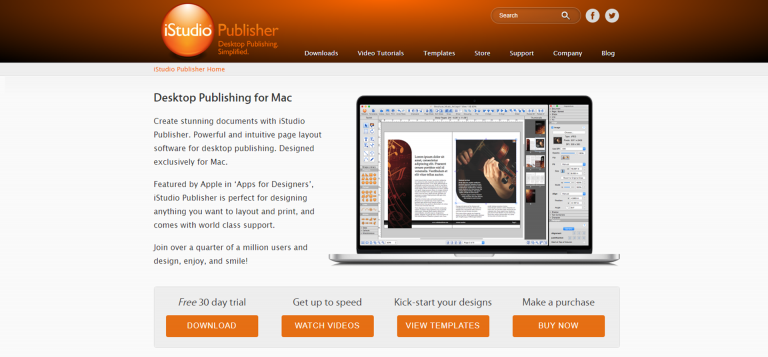 This simple free graphic design software is very versatile for desktop publishing. The basic, free version can export files using the PDF, EPUB, or RTF file formats – and is very easy to use. For many people it's InDesign's main competitor – however, it's only available for Macs.
Best free graphic design software – conclusion
There are many great free graphics software packages online – and they are more and more available for casual users. Most graphic designers rely on paid software, but you shouldn't overlook free alternative solutions – sometimes they have features commercial programs won't offer. Among the best graphic design software, there are open-source options, limited freeware versions, and trial editions like access to Publuu.
You may be also interested in:

The Best Booklet Maker Software Online
Brochure Design Tips and Tricks
The Best Brochure Templates Websites