MENU
How to Become a Content Creator – a Complete Guide for Beginners

Being a content creator is more than creating good company posts or controlling trends on TikTok. Did you know that more than ninety percent of marketing professionals actively use content marketing? Content creation is fundamental in online marketing, considering that most of the activities focus either on social media or search engines.
In B2B search, content is king. It's a way to get your message out to the world and create buzz around your brand, product, or service. On the Internet, you need to create content and demonstrate your expertise relentlessly. Without content creation, many companies would not know how to manage their product.
So, to succeed as a content creator, you need to know much more than how to take a picture, upload it to Facebook and Twitter, write a blog post, or record a video for your YouTube channel. To become a content creator, you need to have more than just good writing skills. You need to stay on top of trends and know how to conduct market research and analyze your customers, and how to formulate a coherent content strategy.
In this article, we'll introduce you to who a content creator is, what they do, and what skills they need, and we'll talk about how to become a content creator, publish your content in a form of an online flipbook and make money producing content online.
Who is a content creator and what does he do?
Any person who creates text, audio, video, or visual content for a blog, social media platforms like Twitter, Facebook, Instagram, TikTok, and YouTube is a content creator. The content this person creates can be anything. It can be a long blog post, a video, eBooks, images, or infographics. Social media influencers can be content creators as long as their work is archived. To become a content creator, you do not only have to create text, many are responsible for social media and direct interaction with the company's potential and current consumers.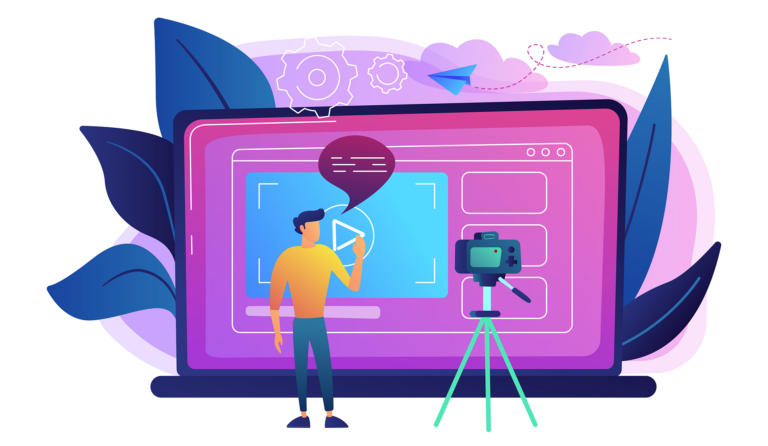 A content creator can be a full-time employee of a company as a specialist, work for a marketing agency, or be a freelancer for his or her own brand. Nor does he or she have to be 100 percent professional – influencers, bloggers, or indie game designers are also content creators, working on content creation for their personal brand. The content that creators make often depends on their target audience and niches. Freelancers often make money by selling their own products like eBooks online, promoting their personal brands, or showing content that was paid for by other groups.
Most often, content creators create content, whether for a company's marketing platforms or for newsletters and blogs. A content creator may also be familiar with eBook creation, layout, or ePub file creation. The basics of content creation today, however, are social media. Social media content creators are responsible not just for posting and photos – they also often develop entire social media strategies for their own brand or the customer.
Many content creators also create videos for platforms like YouTube, TikTok, or Instagram. These YouTube videos can be advertising clips or very comprehensive presentations of a topic. To make advertising clips or videos effortlessly for YouTube you can use a video maker for YouTube. Social media influencers often use wide access to influence their target audience. Others also design podcasts and record interviews, often supplementing the video content. Professional photographers are also content creators — as long as they create engaging content.
Publish your content online as a Publuu flipbook
Whether you're a designer, brand editor, or podcaster, you probably have a lot of material you'd like to share.
Publuu allows you to present your material in a more professional and elegant way than just converting it to PDF. With Publuu, you can turn your work into a stunning digital flipbook, that has a clear design, and is ready for social media publishing.
Publuu's interactive flipbook example
View more online flipbook examples
Simply upload the file on Publuu's website to convert it to an interactive flipbook that can be accessed on all devices. This online flipbook can be published on the web, on social media, and viewed on smart TVs or smartphones.
Your digital magazines, eBooks, portfolios and much more can be complemented with video and audio content, integrating all content thanks to Publuu.
You can enter the industry relatively easily. In general, you don't need a relevant education. Today, however, agencies and marketing departments often place requirements on education in marketing, writing, or video creation. However, you don't need impressive credentials—proof of experience is often enough when you apply for the job as a content writer.
How to become a content creator? If you have a BA or MA in journalism, marketing, public relations, or English, you have a much better chance of getting the job, as often stated in the job description. However, a freelance content creator doesn't need to have a degree, but it's a good idea to have a well-developed portfolio and resume, as well as gain knowledge of industry methods and trends.
You can also get this education yourself, as long as you prove that you have a portfolio and can create interesting content. To gain more knowledge, you can use an extensive online library of materials and courses. You can use paid courses like Lynda or Skillshare. However, Google Ads has a lot of free lessons available, and it's worth starting your education on content marketing strategies there.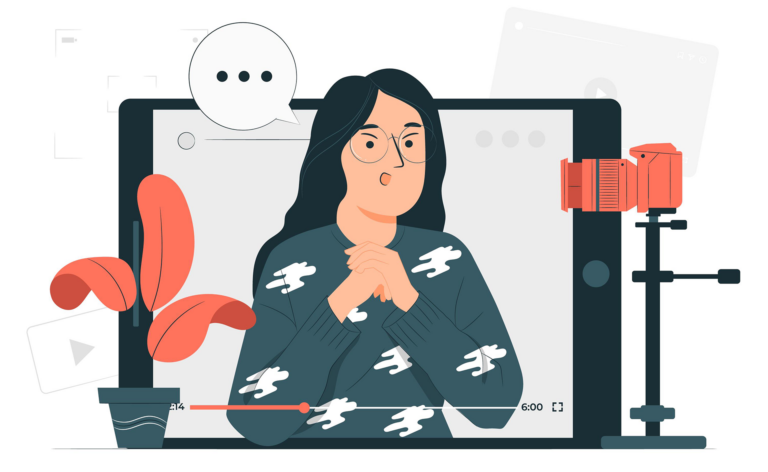 Large companies and corporations often pay TikTok influencers to promote their content. This very popular app helps content creators reach new audiences and quickly increase a brand's fan base. In many industries, the target audience is already on TikTok!
TikTok has democratized influencer marketing more than other social media channels. Anyone can become a content creator on TikTok and can benefit from a program called the TikTok Creator Fund, which rewards content producers. However, you need 100,000 followers and 100,000 video views in the previous month to join the program and start producing branded content.
You need a brand partnership to be a TikTok influencer, and you can earn anywhere from $200 to as much as $20,000 per video—if you're good enough, of course. If you want to become popular, you can tag the brands you want to partner with in your videos. If your video content is popular and generates interest, they may contact you directly after some time to create sponsored content for them.
Instagram content creator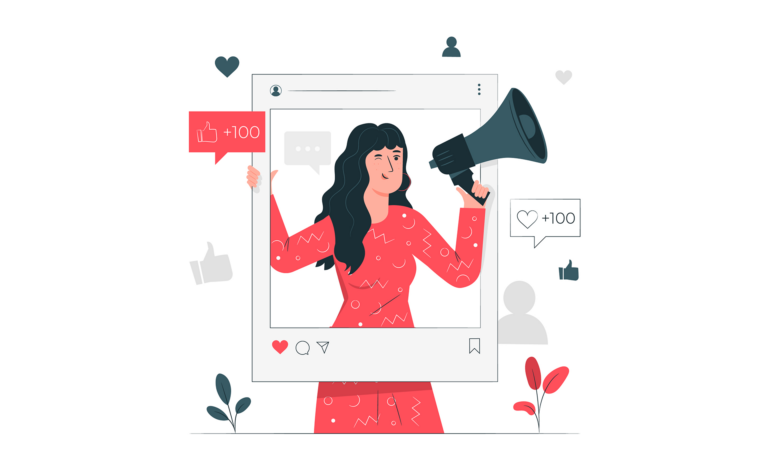 Instagram users can also earn by creating blog texts, images, eBooks, videos, or social media posts for external marketing efforts. Through agreements with your partners, you can earn money as an influencer and become a content creator using this popular app. To generate money in these areas, you need an engaged audience that wants to buy what you offer – creating content on your Instagram requires a well-thought content marketing strategy.
Success on Instagram requires a business account, not a creative or personal account. A business account identifies your Instagram as a corporation and provides you with the tools to generate leads. A successful content creator needs to activate a business account so that you can track statistics on Instagram, or customize and distribute social media content in a timely manner.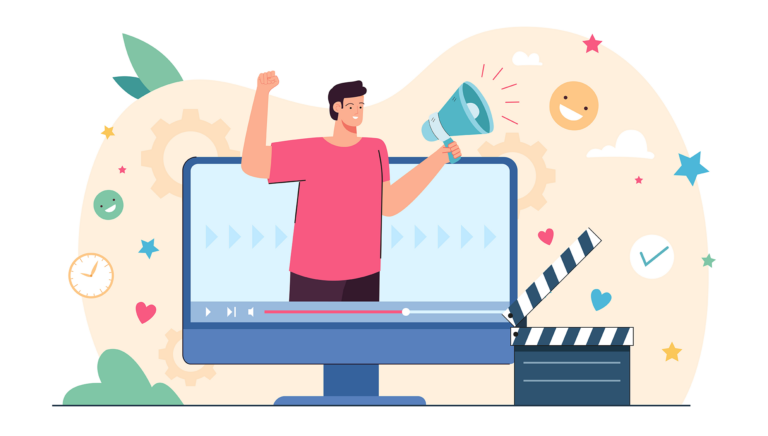 YouTube content creators above all need communication, editing, and technical skills. After gaining these skills, many people want to make YouTube videos, then give up when they don't gain fame. This is the biggest mistake.
Like any career, YouTubers improve with practice. You always improve on your mistakes and improve your video content. It's worth it to gain audio and video editing skills, and charisma and occupy a niche. The content creation process is hard to learn if you want to become a content creator using videos.
YouTubers with 1,000 subscribers and 4,000 hours of views can join the affiliate program. Members of YouTube's affiliate program can monetize their videos with Google AdSense, and earn money from ads. 100,000 YouTube views can typically earn $150 per video using AdSense.
Brand sponsorship on YouTube is also common. Brands pay YouTubers to advertise their products. You can also consider funding using sites like Patreon, as long as you create content directly for your viewers and listeners.
The best tools for content creation
Creating content can be daunting. It's easy to get lost when your initial idea changes and you have to create a lot of spammy text and boring images. Fortunately, with the right tools, content creation and planning will become easy. Using the right tools speeds up the process, and improves the quality of the content. Remember that many business accounts like Instagram Business or Facebook Meta already have many useful tools built in, and if you want to be a content creator you need to familiarize yourself with them as well.
Google Trends and Analytics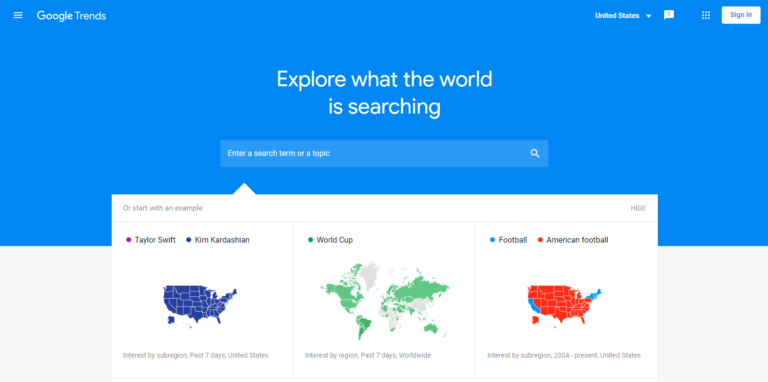 Google Trends allows you to check the popularity of a keyword among Google searchers. Since most online users use Google, you can identify special trends. Other Google tools help you in keyword research, allowing you to spot keywords and find interesting ideas for content and articles.
AnswerThePublic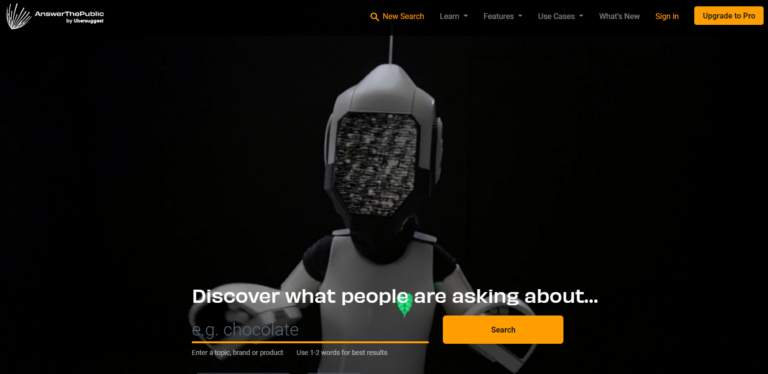 This tool visualizes search questions and recommended phrases. When you select a topic, location and language, all possible questions about "why, when, what, how, etc." appear, in multiple languages. This way you find the questions people are actually asking.
BuzzSumo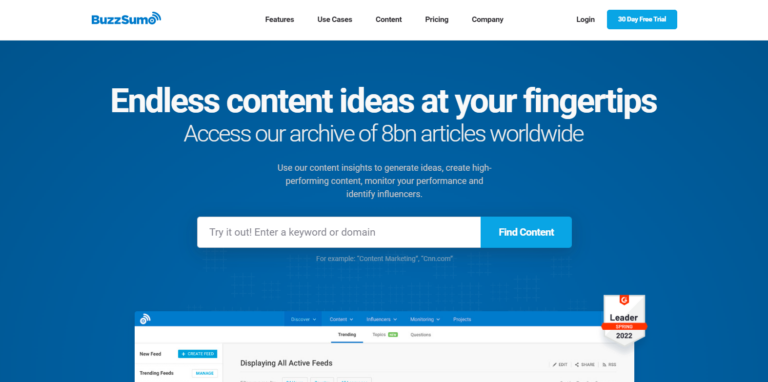 BuzzSumo generates content ideas. This tool pulls popular posts based on keywords from popular social media. You can see what topics are very popular and what is selling well.
Audacity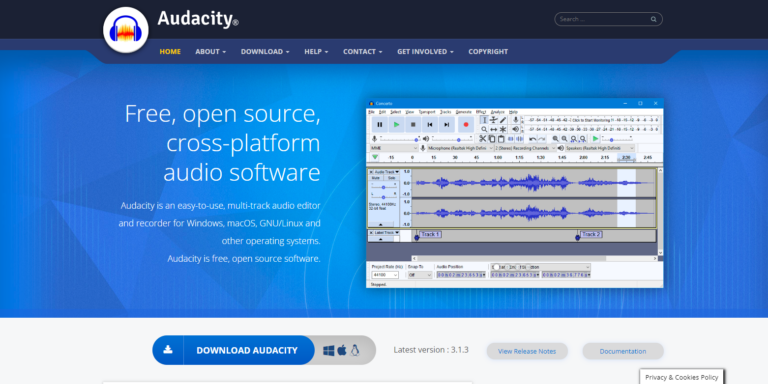 Audacity is a free open-source audio editor and recorder – it offers options comparable to commercial solutions. With it, you can record a podcast, modify it (remove noise, change speed, etc.) and export live audio.
Canva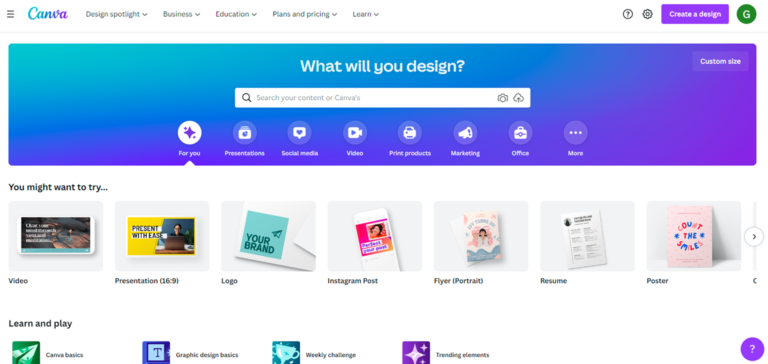 Canva is a recommended beautiful project that can design presentations, social media posts, infographics, resumes, newsletters, logos, and even short YouTube video clips. The free option is very common, and the entire tool runs in the browser. Even the basic option includes stock materials, an image library, and various templates.
How to become a successful content creator in 6 steps
1. Identify your specialty
Finding your specialty is especially important for freelancers because you want to stand out. What topics do you want to write about? What do you know particularly well? You can use your professional experience or hobbies, especially if you are just starting to create content. You should use your knowledge or skills to demonstrate your unique value and stand out from the competition.
2. Thoroughly understand potential customers in your industry
Connecting with people and creating content that matches their interests is the main goal of content marketing. You can't do this if you don't know who your audience is.
To create stronger, more successful content, take the time to better understand your industry's audience. You don't have to fund expensive research – many tools have analytics features that will allow you to get to know your readers. Check your audience demographics, and how they spend their free time. The success of your marketing strategy depends on it.
3. Constantly evolve
Observe what's going on around you as you work, intern or act as a freelancer. Take advantage of opportunities that come your way; you may discover a whole new aspect of content production that you enjoy, or learn a useful skill. If you've been doing copywriting, you can start creating ebooks and layouts in InDesign. Learn the basics of HTML, CSS, analytical principles. And don't forget soft skills like interpersonal skills or openness.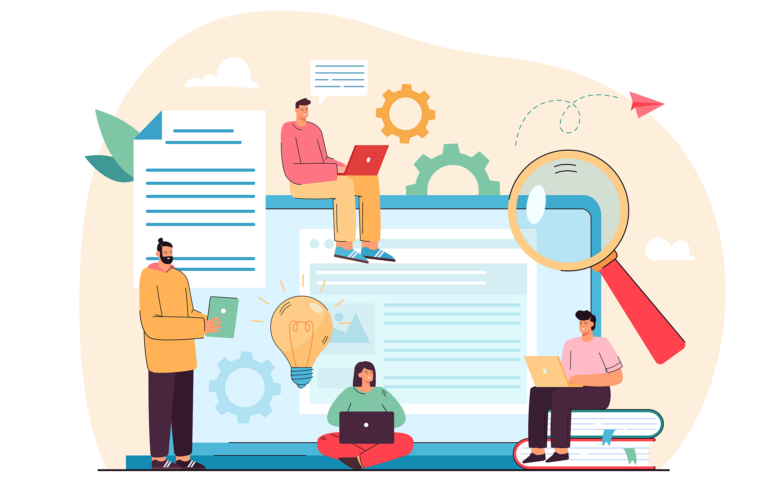 4. Create and maintain your personal brand
Personal branding is not only for rich people. Having your own blog or vlog, podcast or social media page to share your knowledge can help you develop your own expertise. You'll be easier to find online and build your own brand.
5. Take advantage of different revenue streams
Many content marketing professionals start out as freelancers or part-time at their content creation companies. If this is the case, it's important to have multiple sources of income while developing your brand. You can do copywriting, but to strengthen your position you can also do web design or eBook creation. This way you can strengthen your content portfolio and diversify your income sources.
6. Be professional
You need to approach content production as a career, not a hobby if you want it to be your main source of income. Accept the truth that content creation requires a lot of effort and should be a full-time job. You need to plan your responsibilities, manage your materials, monitor statistics and analysis, find clients and partners, and complete paperwork such as filing taxes. Good work organization and a systematic schedule can make this a lot easier.
Successful content creators – how much do they make?
You might have heard that top YouTubers and content creator stars can earn tens of thousands of dollars per year. Some of the most popular YouTubers earned millions, but even very popular ones can earn only slightly above average salary. Truth be told, chances are you will make just the average rates until you find your niche.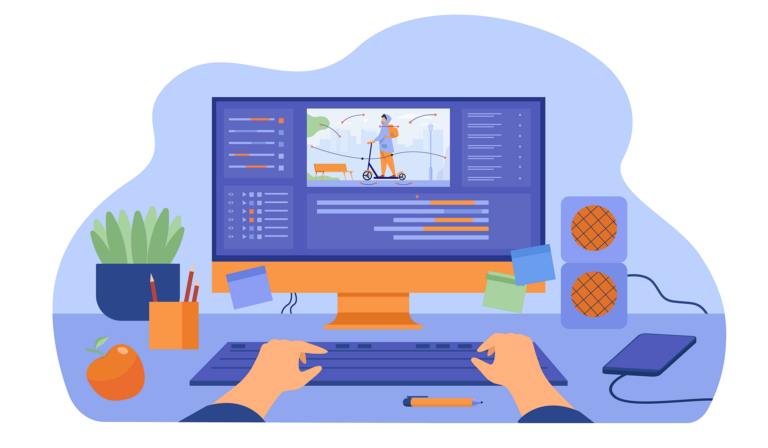 A very successful content creator can make a living using their content, but it entails numerous costs and research of your target audience. The average annual salary is around 50-60 000 USD per year – slightly above medium wages, but we are talking about professionals here. Specialists and social media managers might make more than a typical social media influencer – but if you have organized your social media strategy, you don't have to share your income with anyone… except the tax office, of course.
This is a very popular career path in the upcoming creator economy. The more high-quality content is out there, the more interesting and competitive marketing becomes.
A summary
A content creator must constantly evolve. You need to stay abreast of changes in your industry specialty, the platforms for which you create content, and learn new skills. Additionally, you must constantly monitor what your audience wants to see.
Eventually, you will become a professional as you learn more and more. An experienced content creator knows what works well and what doesn't. This is what will set you apart from the tens of thousands of other novices and content producers.
Of course, being a full-time content creator takes time. But you'll be on the right track if you have a strong goal and strategy, as well as a supportive community and multiple revenue streams. Creating a viral post is a matter of luck, but sustaining yourself and making a career depends on your skills.
You have many chances for a successful and rewarding career as a content producer, regardless of the platform you use! We hope that with our tips you will become a successful content creator in no time!
You may be also interested in:
12 Tips to Create a Powerful Lead Magnet
21 Best Content Marketing Tools For Every Business
How to Gain More Clients in 2022 For My Online Business?