MENU
Online Magazine Maker – 7 Simple Tips!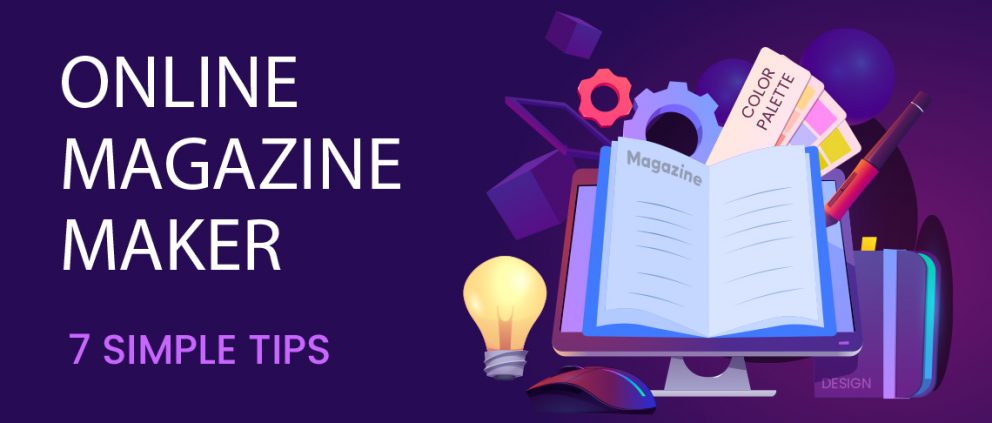 Publishing an online magazine or catalog is pretty easy if you have the right business software.
Digital magazine is a great alternative to regular blogging. It conveys your message but in a visual way. But to do so, you need to know how to write blog posts and how to turn them into magazine.
In this article, we will talk about how to do that.
How to design an online magazine?
Creating an online magazine for the first time can be a daunting task. There's a lot of decisions to make and it's easy to waste time on minor details. In this article, we won't get into the design specifics, but instead we'll focus on the process behind creating an online magazine and some of the challenges you might encounter along the way.




Pro Tip: Use Publuu – Online Magazine Maker
A successful online magazine needs a lot of planning and careful consideration, and that's where Publuu comes in. It can help you create magazines that not only look great but that happen to perform better too. Here, at Publuu we offer a wide range of features for all different kinds of businesses.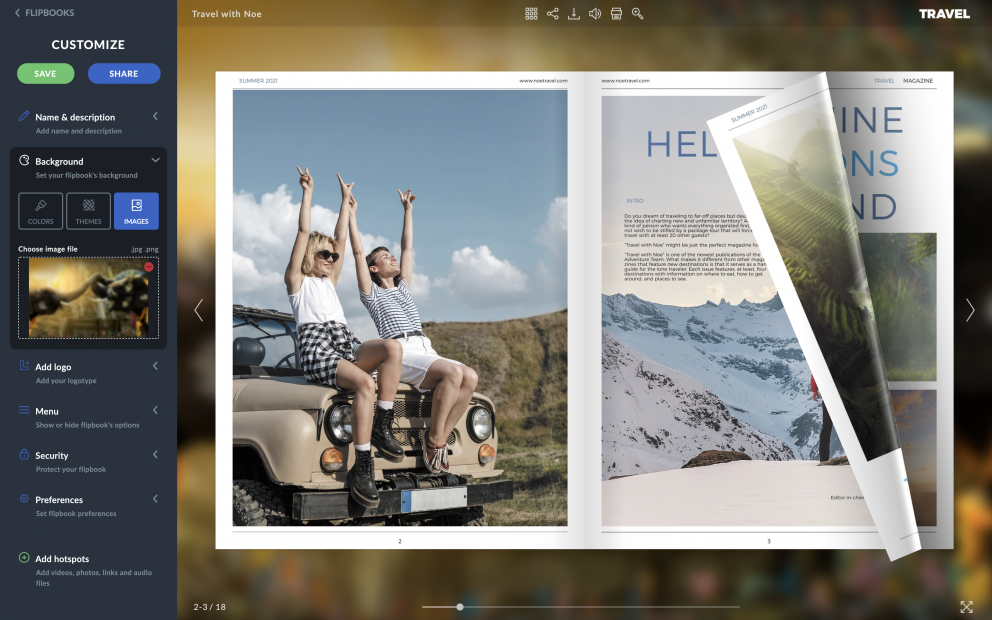 Publuu is great online magazine maker for small to large scale businesses. With simple, easy to use interface it allows you to publish a magazine, brochure or catalog in no time.
With Publuu's flipbook maker feature you can turn any blog post into newest page of your digital magazine! All you need to do is to safe your blog post as a single PDF file and upload it to Publuu.
This way, your online magazine will gain interactive features – it will look, move and sound like a paper magazine. After few issues you can put your magazines together- in a form of virtual bookshelf. This way, your readers will be able to see every issue of you online magazine in one place
Also, Publuu allows you to embed your magazine into your website. This way, your readers will be able to browse through multiple articles – without going to a different page, like an example below:
Publuu's magazine example
How to promote your digital magazine online?
Publuu wouldn't be a complete online magazine maker if it didn't help to promote your articles. You can post pages of your article as links on Facebook. Your followers will be see their previews – and will be only a click away from you page.
Make your first issue for free right now!
Blogging basics -become an online magazine creator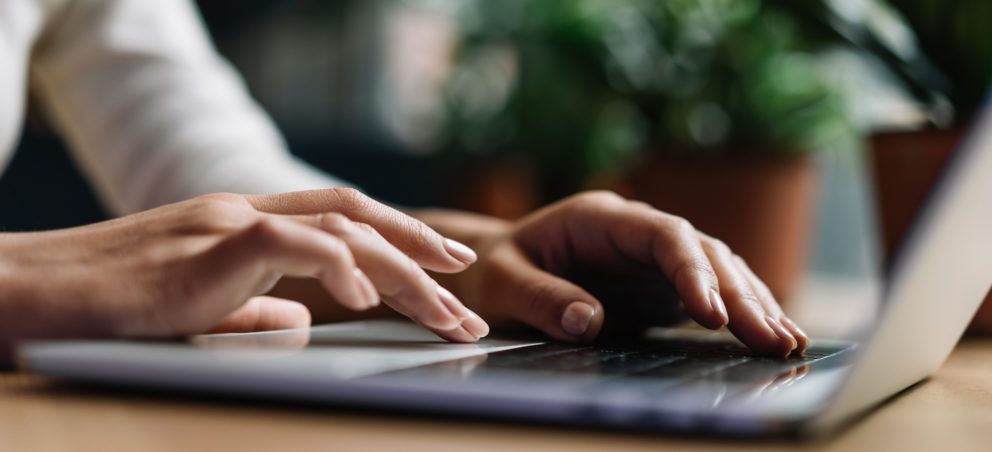 Running a digital magazine is a great way to get your ideas out there, no matter who you are. Whether you're a struggling entrepreneur, an A-list blogger, or even a seasoned freelance writer, blogging can be an engaging adventure. Being a magazine maker works best when it's simple, strategic and you know what you're doing.
It takes very little time—it can be done without any hassles at all! The trick to performing the task well is to ensure that it is aimed at your target audience. What content should you create? How can you get visitors to your website?
To ensure you reach your target audience, it is important for you to understand blogging basics. So, let's have a look at them now.




Make a list of all the things you want to write

If you're going to write a blog, for an online magazine, you've got to come with a strategy.
The strategy will help you decide what niche you want to blog about and how you will make a blog a business and make it work for you.
Researching an article topic for your blog is a really great first step, but think about what comes after. What if you don't have time to write right now? Or you just don't want to write at the moment, but you want to work on another blog post? You might have come across other bloggers saying "make a list of all the things you want to write on your blog."
One of the heart breaking part about writing a blog is that at times you feel like you have absolutely nothing to write about. In the case where you find yourself in this spot, make a list of all the topics you want to write about. The next time you sit down to write a blog post, look at the list and choose one that appeals to you that day.
How to start the actual process of blogging
Yes, the setup is important. However, don't forget about what comes next.
The actual process of blogging. All setup is complete and now you need to make sure things are working correctly. Every great online magazine creator knows how to stay on top of your blog content.
You've started your own blog, but are finding it hard to develop content regularly? This is because you are missing the bigger picture, the whole process of blogging. Every good blogger has a plan that starts at setting up their blog then moves along to developing content for their website.




Big picture
If you are blogging for your business, this could be "showing our customers that we know our craft". You could do that by creating a series of articles and how-to's that the an average Joe could understand. Prepare list of potential topic an ask real experts to give you feedback on what you should include in them. Don't forget to use your online magazine maker software to give your content a final touch!




Pick a schedule
Let's be realistic. How many quality articles can you write? 1, maybe 2 a week. And that's considering that your business is slow at the moment. Don't push yourself to write more if the quality of each article would suffer. Also, not every blog needs to be updated daily.
Focus on quality over quantity! Readers of your digital magazine will appreciate it.

Write a post
What is the difference with banner advertisement in the digital magazine in the way of quality? How to choose an appropriate topic for writing in digital magazine? What are the material is needed before publishing in digital magazine?
These are the questions that every aspiring online magazine maker asks themselves. And rightfully so. Writing for a digital magazine is a mix of art and craft. Still, there are some general tips that you should keep in mind.
Becoming a better writer and online magazine creator
Becoming a better writer is not an overnight process. It is an ongoing journey that can be fun, if you are up to the challenge. The key is in 2 kinds: rewrites and feedback. No one, even the best writers don't get it right on the first try.
Luckily, if you are writing for an online magazine you can come back to your articles and change the wording where it's necessary. Also, don't be afraid to ask you peers to criticize your writing. Feeback, while can be harsh, is an essential part of a learning process.

Inspiration
Inspiration is nice to have, but one can never have enough. Where do you go to find more? Good place to start is to see what other businesses are doing. Even it they are not your direct competition, they might be using storytelling techniques that you can use in your digital magazine. Case study article? Comment on newest technology trend? The world is your oyster!




Seeking and giving knowledge
As a blogger you want to be read. Having many views of your post or website is great and that's why we try to get as much visitors as possible. But it is probably not the only thing you should care about. It will feel better when someone reads your content and comes back next time.
Keep applying our tips and you'll have customers wanting more after every page flip. But, is there anything you would like to add? Let us know in the comments below.
You may be also interested in:
What is Digital publishing? Short Guide
How to Start an Online Magazine?
How to Create Interactive Magazine?