MENU
Brochure Design Tips and Tricks

A beautifully designed brochure can make you stand out from your competitors!
It's the first thing people will see – it doesn't matter if they are buying products via phone or visiting brochure stands. But, putting a few images together is not enough. How to start designing great-looking brochures for your business? Read on further to find out.
Brochure design for business

If it doesn't sell, then it's not working. That's how we can summarize every business strategy that was ever implemented.
So, what to do if your brochure design is not working the way it was supposed to?
Get to the heart of the problem. Work on the design itself.
Brochures are great marketing pieces that give you the opportunity to bring your message to a large group of people. Whether you're a freelance graphic designer, a business owner, or a freelancer, brochures allow you to leave a lasting impression on readers.
There are several ways in which a brochure design can be used for promotional purposes including trade shows, conventions, and events (like fundraisers). Businesses often give away brochures with coupons attached. They do it to increase customer loyalty and attract new customers.
So, If you want to know more about brochure design for business – keep reading!
Use Publuu to improve your brochure design
If you've ever made a single brochure, you know how much work it takes.
Once the design is finished, your job is far from over. You still have to take care of printing, shipping and distribution. It can be a nightmare for small business owners who don't have the time or budget to print as many brochures as they would like. Luckily, they don't have to. Because in 2022, the most effective brochures are the ones that you can see online. And this is why your business needs to start using Publuu.
With Publuu- online brochure maker , you can transform your existing PDFs into interactive brochures that look and feel like the real thing! All you need to do is to upload your brochure and let the algorithm do the rest. After that, you can customize text, change colors, and upload images!
Publuu's Online Brochure example
View more brochure examples
Your brochures will look just as good as they would on paper. With Publuu's vector fonts feature, your product descriptions will look good on any screen – no matter how big it is.
What are the benefits of making your brochure digital?
There are many benefits to turning your brochures into digital flipbooks. First, you get an unlimited supply of them. With Publuu you can generate a single URL link – and use it to share your brochure on social media. Also, you can put the same link in your footnote. This way, every single person that you are emailing, we'll get the chance to see your full offer.
And here's where the digital brochure beats the paper one: with Publuu you'll get to see who was looking at your brochure. Is it someone you know on Facebook? Or maybe one of the suppliers that you have emailed recently?
Get started for free TODAY and make the most out of your brochure design.
Prioritize design over saving money
When designing a brochure, it's tempting to go the cheap route and get a free brochure template in Publisher. However, it's better to hire a designer. It's not as expensive as you might think. A few dollars more for a professional-quality brochure will look better than a cheap one that looks like something you made at home. After all, your brochure is like a business card – many will see it, and everyone will judge you for it.
Use simple color schemes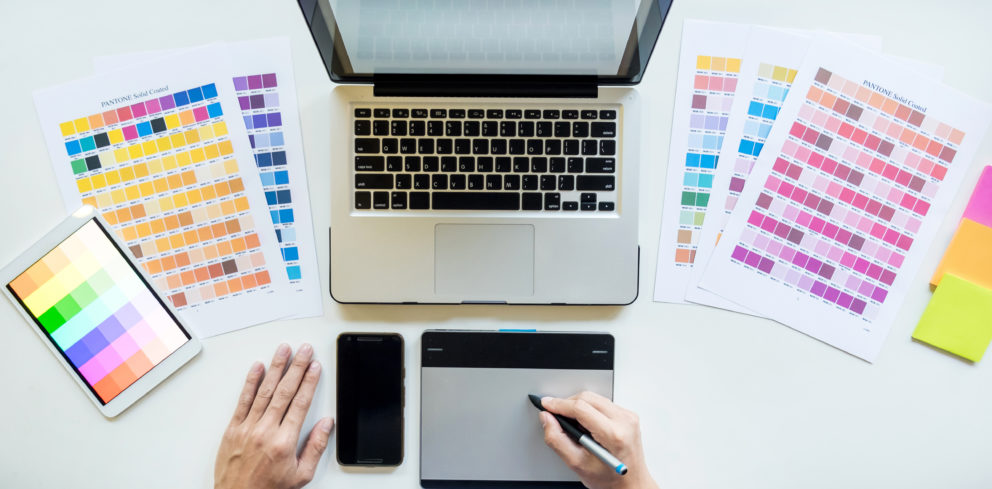 Different colors evoke different feelings in people. A color scheme will determine the mood of the brochure and how potential customers will feel when they see it. When designing your brochure, choose colors that are not too bright or too dark. Also, it would be great if it was consistent with your current logo, or website design. A simple combination of prime colors would be ideal.
And don't worry about your brochure not being colourful like a fashion magazine. Why? Because, at the end of the day, it's not a fancy color scheme that will get your sales going. It's your sales copy, your prices, and the quality of your service.
Ditch the clichés
There are many common clichés that keep appearing in every brochure design that we have come across. Ask yourself this: do you really want your design to look like every other brochure your prospective customers have received in the past? The answer is "no", right?
So, avoid big words that everyone is using, like cheapest, newest, best, etc. Unless it's genuinely true. People tend to double-check these things – and if they figure out that you are not the cheapest store in the state, they will stay away from your business.
Keep it consistent with all other communication channels
An effective brochure design project will require all the same considerations that are needed for effective web design or business card design projects. It is, in essence, a variety of visual elements combined with content to communicate a message. Your brochure does not exist in a vacuum – not only will it be shared electronically, but it's likely to serve as a face-to-face introduction as well. That is way, the brochure should be consistent with all other communication channels.
What are your channels? It's your social media page, your posters, banners, and your website. It's everything that your potential customers can see. It's worth keeping in mind when designing your brochure.
Test your headlines before you print them
The first thing we come up with when we design a brochure is the headline. But very few really test it. This is not always bad and we usually believe our first idea will work. How to test your headline? Simple – make a few different ones and show them to your loyal customers. Their reactions will tell you a lot about the direction that your brochure design should go in.
So go ahead and make a few drafts.
Tri-Fold Brochure – how to make a good one?

If your business is still using paper brochures, that's fine too. Everyone's different. After all, if it works there's no need to change it. But, a paper brochure design will be different from the one that you will post online.
So, if you are looking to make a great brochure, here's a couple of things to remember:
Keep it short and to the point
When coming up with a paper brochure design, you can use a longer piece of sales copy in your advertising material. That means a more effective call to action. But, be careful! Too much text can be a bad thing. Just remember: it's ok to write less, as long as it's on the subject.
Make sure the design mirrors your brand
When designing your brochure, you're sure to want it to reflect your brand.
The way in which you present yourself online is a part of your brand, but it's still just as important as showing your customers that you care about their needs. It's easy to overlook the smallest parts of the design, like color and spacing, but if you do, your customers will notice something is off.
And even if they're not exactly sure what it is, they'll know something isn't right with what you're offering. That's the biggest risk of the paper tri-fold brochures – you can only print them once. After that, there's no room for editing. So think twice before you print. For the sake of your brand.
Be innovative with your brochure design
It can be hard to get your message across. Especially when brochures are your media of choice. Despite the fact that brochures have been around for decades, there is still a lot of room for creativity and innovation. So don't be afraid to experiment!
What are your best tips for a great brochure? Let us know in the comments below.
You may be also interested in:
How to Make a Brochure?
Digital Products Brochures. All You Need to Know
The Best Online Brochure Maker in 2021