MENU
What is an E-book?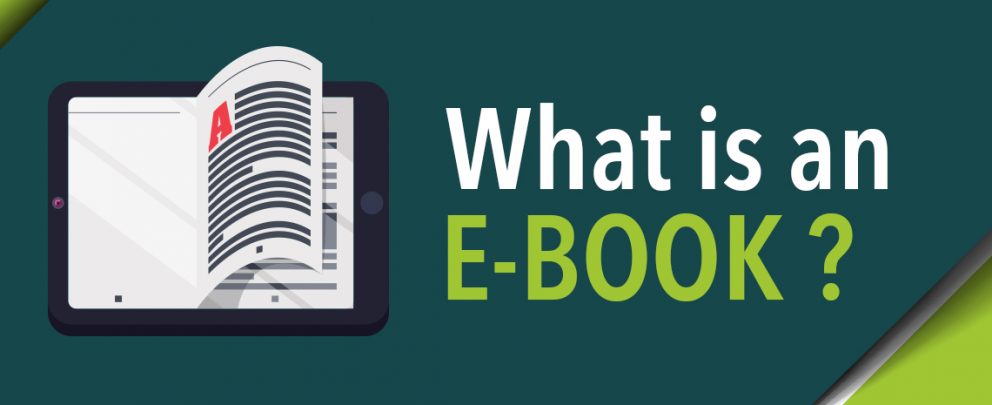 An e-mail is an electronic mail, whereas an e-book is an electronic book. It won't electrocute you when you try to read it… an ebook is simply a file containing the text of a book, formatted so that it can be visible on electronic or digital devices like laptop screens, tablets, or dedicated ebook readers. You don't need an ebook reader to enjoy an e-book, however. These books can be enjoyed in many ways.
This article will tell you what are eBooks, how to find the eBook reader that will help you enjoy the most, and what is the most popular e-book creator for publishers to offer their titles online. Read on to learn what are eBooks!
What is "ebook" supposed to mean?

E-books are just text files you can read on any digital device – but this doesn't always imply that any book in digitized format is an e-book. An e-book is supposed to be blocked from edits: a manuscript of your novel on your computer is not an e-book yet! An ebook is read-only, you can change font size and take notes on the screen, but the format shouldn't allow edits.
An E-book should also be able to fit your screen. Like a website, it should be optimized and adjust to the size of the electronic device you read this on. The paragraphs must stay together intact, and the chapter endings and images will resize. This isn't hard to do – but the popular PDF file format does not allow it. Some people hesitate to call the digital files eBooks, but this format is nonetheless great for comic books or other graphics-heavy books like graphic novels, art books or tourist guidebooks making this digital book format superior to the typical ebook formats.
Of course, eBook doesn't mean that it's a version of a printed book already on the market. These days people create books on their computers and thanks to self-publishing few people bother to print them on paper.
What are popular e-book formats?
EPUB or MOBI

The most popular eBook format is probably EPUB – short for electronic publication. It can be read on most devices, including computers, smartphones, tablets, and most e-readers. EPUB e-books are compatible with Windows (you'll need an app like Microsoft Edge to open these eBooks, however), Android, and iOS – but not with the popular Amazon Kindle. To use these files on your Kindle, you must convert the EPUB to the proprietary Kindle format, MOBI (or AZW) – luckily, there are plenty of converters available online or offline.
Amazon worked on its ebook reader before the publishers in the industry established that standard. As a result, while both of these formats are based on the HTML format (like the one used in website or page design) there are many differences – MOBI format lets you take bookmarks, annotations, or highlight the text. Usually, you can buy such e-books only from the Kindle digital bookstore. You can also download free MOBI eBooks or convert EPUB to MOBI. (The native format for Kindle is actually AZW, which is slightly different from Mobi but it doesn't matter for an average e-books reader that much!)
Flipbook
If your device does not support the PDF eBook format, you can use the popular Flipbook format to convert your PDF and allow viewing it on any modern browser. Flipbooks are e-books that have been formatted to resemble actual books – it's called that because of the effect of flipped pages that looks very memorable on any electronic device. They are a very convenient option for web-based material distributed in a browser, but they also look good on an iPad and smartphones.
Publuu's ebook example
Unlike the ebooks which you have to scroll, flipbooks offer you the ability to customize their appearance. You can disable sound of the page-turning effect, set the background or add music – all to make the reading of your eBook a perfect experience for the reader.
Publuu offers an option to convert any PDF to the Flipbook format – creating an e-book that's easily distributed online. You can send the link to your Publuu Flipbook and be sure that it will look good on any document and no formatting will be lost.
Publuu Flipbooks, unlike most other formats, allow you to track your ebooks – you can monitor who has opened your eBook which is especially valuable if you want to distribute PDFs for your co-workers or editors.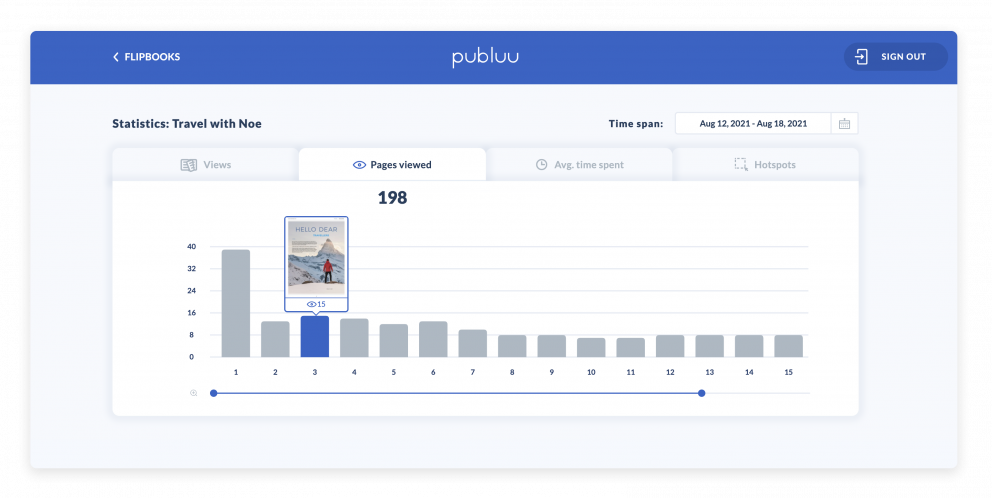 Is PDF essentially an ebook?
Not quite- let us explain. Created by Adobe, the PDF format allows you to save a file that looks the same on all electronic devices, regardless of whether they have installed the fonts, have the appropriate software, and so on. However, this format is designed to reproduce fixed-layout pages in the digital form – that is, a Letter/A4 page will stay the same regardless of the screen size. It means that they are harder to read on devices like smartphones or e-readers. You can't change the font size, but you can usually zoom in on the book content.
However, many devices like Kindle or Nook still support this format, and there are many books and documents that use this type of formatting. PDF is very popular for delivering electronic books, especially ones that rely heavily on color.
Ebooks on the other hand, by using formats such as MOBI or EPUB, are much more adjustable and user-friendly in terms of reading experience, compared to PDF files. Files made with ebook formats can be adjusted to reader's preference in regard of fonts, font's size, line spacing and other features that make a book more readable and accessible for a broader audience.
Other formats
There are other formats out there – and it's a good idea to choose an app or a device that can handle them. Comic books fans will appreciate comics that are often saved as CBR or CBZ. Until recently Microsoft software promoted their proprietary LIT file format, but ultimately that corporation did not create its own e-book reader device. Many ebook apps also let you open books saved as DOC or RTF formats, which is a nice feature, especially for business users.
How do I read e-books?

In general, many people read a lot of books off their PC screen. You can use software for reading e-books on Windows like Adobe Acrobat Reader. Microsoft Edge browser can also open EPUB eBooks. Sumatra PDF is also a fantastic program that can let you read EPUB and MOBI files using your regular home computer. If you buy books from the Kindle store, you can use Kindle software to read them on your Mac or PC. You can manage your e-book library using a free program called Calibre. Reading eBooks from the computer screen is the best option for work-related documents or items with a lot of details, such as comic books.
Another popular option is mobile devices. There are numerous free apps available on the market on Android and iOS that can change your smartphone, tablet, or even TV into an excellent e-reader. Even Amazon Kindle has mobile apps – and you also use its analogs from companies like Barnes and Noble or Kobo Books. It's a fantastic option for comic-book readers or when you want to use the PDF or Flipbook format rather than EPUB files. The option is comparable though e-ink readers, though it offers greater strain on your eyes, it balances out with the availability of detail in high resolution.
However, most people when hearing "eBooks," think of Kindle or similar e-paper devices. The screen of these readers does not emit light, unlike the computer screen. The pixels on such e-paper screen are two-sided – instead of lighting up, they flip, changing from grey to black – this lets them function as a regular paper book, without causing eye strain. It also does not require a lot of power, since once the page is displayed on a screen it stays this way. These devices are also easier to read outdoors, where LCD or computer screens become completely unreadable.

As a result, e-readers are becoming more and more popular. However, they are much more limited than mobile apps, even though some book formats, most notably PDF do not look good on them. E-readers are your best choice if you want to read eBooks like novels, long stories rather than guidebooks or instruction manuals.
Finally, there's one extra option on reading your eBooks – on paper. Print-on-demand allows you to purchase a printed copy of a PDF, delivered just to your door. Print-on-demand usually uses cheap digital print and many bookstores use it as an option, you can even buy an electronic book and for a small fee get the physical copy as well. Buying a print book is especially useful if you want to read the text as soon as possible, and want to enjoy the illustrations later.
Why read e-books on e-readers
Ebooks and e-readers have numerous advantages over traditional printed books.
First and foremost, they can be bought and delivered instantly on your e-reader. You don't have to stand in lines or go to the brick-and-mortar bookstore anymore – you can buy a new book once you hear that it's out!
Ebooks are often cheaper than the printed books – and if the book is digitized, it will never go out of print. Libraries offer eBooks of books that aren't in the Public Domain yet, but they are available to be read even if they're somewhat forgotten or haven't had a new release in decades.
Furthermore, e-books are weightless, and most e-readers are fairly small, portable devices like the popular Apple iPad. You can carry an entire library on a single device, and have much more texts in the cloud. This also means less dust and ease of access anywhere in the world.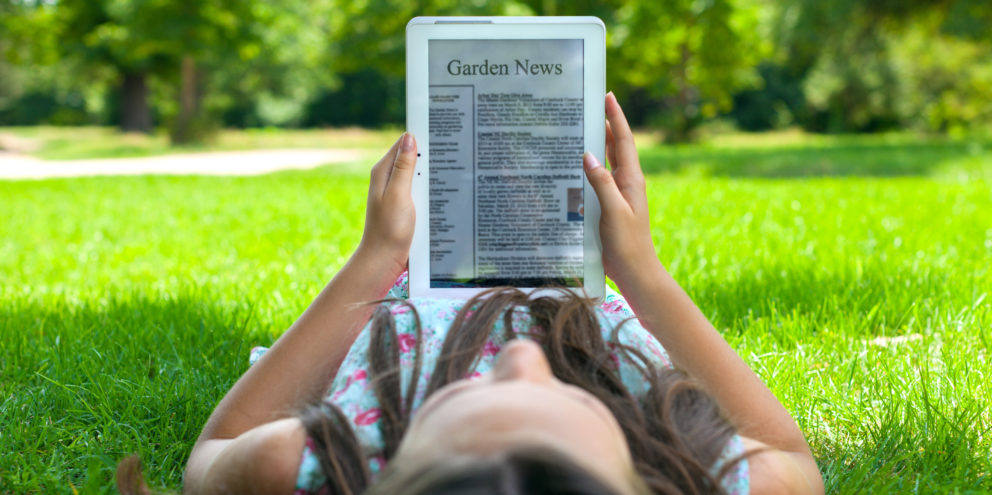 As the reader grows older, they can tailor the e-books they read to themselves and their specific needs. Most devices have the option of regulating font size and style, adjusting the backlight. You can also take notes, make adjustments while using an e-reader or a book-reading app.
There's no need for bookmarks or folding pages – most e-readers and similar devices remember where you stopped reading. You can also listen to music on your Apple iPad, check the definition of an unknown word with a single click – Kindle is particularly good with this – or post your favorite quotes on your social media in an instant. Many modern eBooks allow for all sorts of online connectivity – for instance, they can provide links to various content on Wikipedia.
And finally… eBooks have revolutionized the market. There are many small-press writers that put their content out themselves – which means self-publishing has become easier than before, especially with free writing guides on how to become a better writer. Even if you're just a reader, you can find plenty of titles that can fulfill your specific niche, there are plenty of them out there for free.
Publuu Flipbooks also give you an opportunity to publish your eBook online – whether for free as a promotional tool or as a useful product. A flipbook does not require an e-reader and looks just as good as any online ebook, especially since you can customize the background.
Where can I find e-books?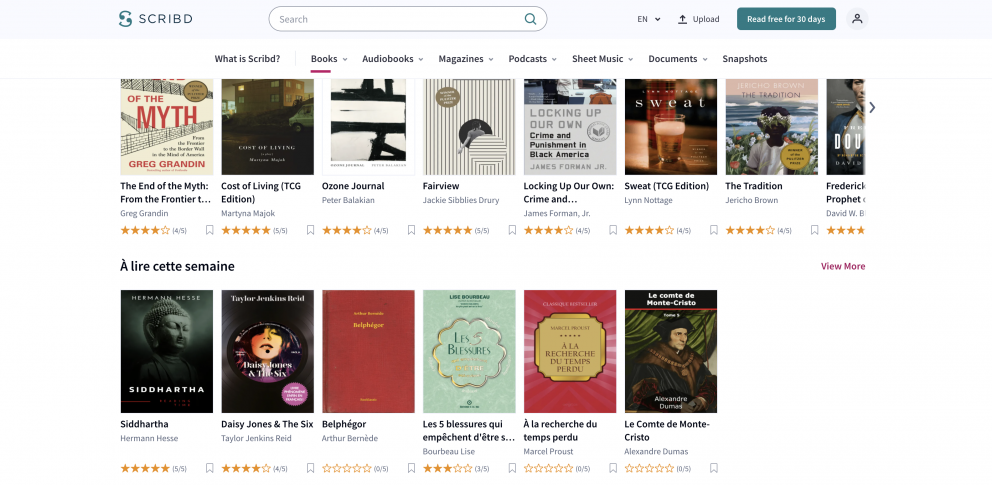 Source: scribd
There are many e-books available for free download. Especially during the Covid-19 pandemic many libraries allowed the public to borrow digitized books in e-book format. You can find them using the Internet Archive at archive.org.
Another great option for discovering free e-books is Project Gutenberg. Even before the first e-reader was created, people have been digitizing books in Public Domain. Project Gutenberg has thousands of free e-books available for free download, from classics like H.G. Wells to obscure gems.
Many publishing houses, writers, and other companies also allowed the users to read their works using an e-reader or off the computer screen during the Covid pandemic. Some are still available for download – look for "free ebooks". And of course, many writers use sales of their collection to offer some free titles available for purchase. Independent writers or creators might offer EPUB files to download off their blogs or websites.
Many people who own an e-reader like Kindle usually get their eBooks from the Kindle store. It's a great opportunity to find eBooks, many of them free to access. Usually, you can buy these eBooks off your device or at your computer. Amazon offers millions of titles and its competitors aren't far behind.
The main competition website is Barnes and Noble who offer Nook devices or the Rakuten's Kobo book reader – which are also a fantastic way to enjoy eBooks. Usually, books from one store need to be converted using some software to be displayed on another e-reader – it's safe if you're doing it only for your own convenience, but you shouldn't distribute this type of software.
You can often use an online bookstore or buy eBooks directly from publishers. These files are usually saved in EPUB format – they will work on an android reader, but you'll have to convert them if you use Kindle. Many people also create two versions – one for readers using android software, another for Kindle readers.
And if you use an electronic device like a smartphone or a tablet, you can buy eBooks from the related app store – like Google Play or Apple iBooks. These also come with an app to make your eBook purchase and reading feel convenient.
You can also try and look for special offers – if you want to publish an eBook yourself, you can publish your electronic book using the Publuu flipbook system, offering you a lot of conveniences.
What e-reader is the best option?
There are many devices available on the market. We can't say what is the best available eBook reader, but Kindle is probably the most popular one. It offers you access to the entire Amazon library and you can easily download more titles.
Rakuten Kobo or Barnes and Noble nook are also great devices and allow publishers more freedom and more royalties – as a result, there's plenty of self-published good eBook titles on both of these devices.
Many people decide to buy a third-party hand-held portable e-reader. Often, these devices are very versatile – many are basically Android tablets with an e-ink screen. A lot of libraries, both in the US and in the EU, offer them for borrowing – if you register at your local library and pay a deposit, you can obtain a great, versatile device for free!
And you can of course read your books on a digital device like Apple iPad or an Android tablet! It's a great option, especially if you want to read eBooks from various publishing brands. On your tablet you can have multiple apps from many publishers and libraries, to have access to multiple titles and exclusives.
There are many eBook apps and options out there, and they wait for you to be able to discover them! Enjoy the digital revolution on your portable device!
You may be also interested in

How To Publish an Ebook?
How To Write an Ebook? Short Guide.
The Best Tools for Ebook Creators