MENU

Catalogs, ebooks, presentations….
You probably have a ton of them. They are all saved as a PDF file type and take up much of your space. Collectively. It's not a big deal if you are keeping them on your hard drive. The problem starts f you want to share them. You can reduce their size by compressing them. But that's not the only way.
In this article, we will take look at different methods of reducing the size of a PDF file.
Can't reduce pdf file size? – Here's a solution
Short answer: Don't do it.
And here's why.
Even the best tools that reduce the size of a PDF file have some drawbacks. They are not 100% efficient. They affect image quality. And they are not completely free.
Instead, find a way to send your original files. Without changing the size of your PDF.
Impossible? Not, if you use Publuu.
Publuu can reduce ANY PDF FILE to a single URL.

This way you will never lose even a fraction of a quality. All you need to do is to upload your PDF file to Publuu. It gets safely stored on the cloud and you can access them from anywhere in the world.
Your PDFs will become the best-looking attachments you have ever sent! Every file shared with Publuu, becomes a flipbook.
What's a flipbook? It's a way of presenting your PDF. Whoever gets your URL, will see a flipbook that reads, moves, and sounds like a real book. No other method of compressing PDFs can do that!
Publuu's online flipbook example
Publuu – is it safe?
Every file stored on Publuu's server gets an additional level of encryption. It protects them from being hacked, stolen, or corrupted. Can your computer be really that safe?
If you decide to share it, ale you need to do is to generate a single URL link. Whoever has this URL can read or download your PDF file. All you need to do is to send that URL – via email, Facebook, or WhatsApp .
With Publuu, the size of a PDF will never be an issue again.
How to reduce the size of a PDF ?
Still, there are few ways to get your PDF file to weigh less, without losing much of its quality. One way would be to compress a PDF using WinZIP, WinRAR, or something similar.

This method has a drawback though. If you ever want to access your PDF files, you will have to reverse the process. It takes time. So if's a file that you know you will be using from time to time, we recommend that you find a different way to reduce the file size.
Compress pdf size without losing image quality

PDF format is known as a file type used by Adobe Acrobat products.
That is why, when you need to compress a PDF it's a good idea to come back to the source. Adobe knows its creation well. That is why they created a tool that can reduce the file size of any PDF. All you need to do is to pick your file and upload it. Adobe will reduce the PDF file size for you.
You can find it HERE.
There's a drawback though.
This method is good enough if you want to compress PDF with an ebook. Or any other pdf file that is mainly text. When it comes to PDFs with complex graphics you might see a drop in image quality.
Luckily, there's more than one way to compress a PDF. You can simply try to reduce the size of your PDF with a different tool than Adobe. What other tools are there? Let's have a look.
Alternative ways to reduce the size of a PDF
If one tool affected image quality does it mean that every other will do that too?
Not exactly. There are different tools for reducing the size of a pdf. And while they were made to do the same thing, they have different ways to get there. Different algorithms, different procedures.
SmallPDF.com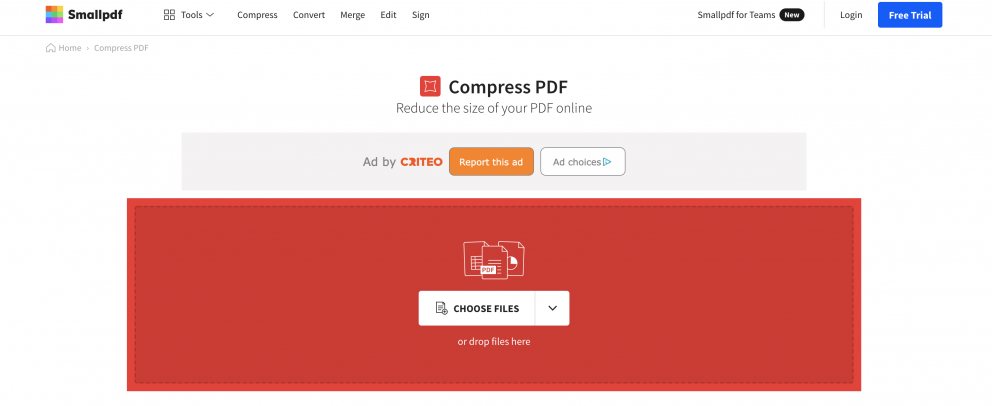 SmallPDF.com is exactly what the name would suggest. It takes "PDF" and makes it "small". It's completely free and works in your browser. It has an interesting feature of different levels of compression.
For example, you can have a high level of compression for the price of quality. Or, you can reduce the file size just a little bit, but keep it intact. There's also a "medium" option. It lets compress PDF a little but also loses a fraction of a quality.
Overall it's a pretty good tool. You can try it yourself, by clicking HERE.
PDFCompressor.com

Another online tool that can compress your PDF into something smaller. While at first glance, it's a simple "drag and drop" type of tool. But, it has a few nice features. First of all, it tells how much the file size is gonna reduce BEFORE you compress PDF. Second of all, PDFCompressor can do a little bit more than compress PDF.
You can use it to convert files between different formats. PDF to JPG? Done. JPG to PNF? Not a problem. If you want to see it for yourself, you can do it, by clicking HERE.
DupliChecker.com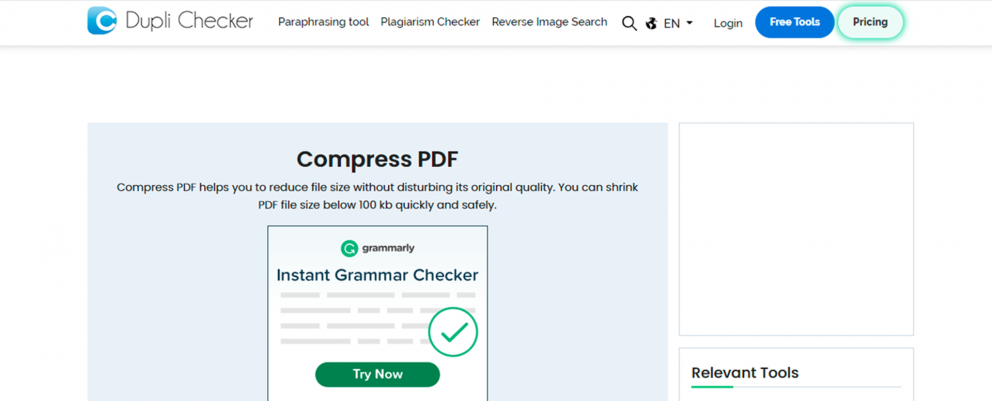 This PDF compressor is known for its quality and user-friendly interface. Sometimes the PDF compressors are very tough to use – you have to close multiple pop-ups and other ads to use the compressors, but this is not the case with DupliChecker's PDF size reducer. Besides, it doesn't affect the alignment and text or image quality while reducing the file sizes. What you need to do is simply access the tool and upload the file for which you want to reduce size.
How to reduce pdf size in mobile

If by any chance, you prefer to keep a tool for compressing PDF files on your phone, there is one thing that you should try. "Compress PDF File" is a simple app that you can download for free. Once you do it, you will no longer need to be online to compress your files. It will also mean faster uploading times and better security.
If you are curious, and you are an Android user, you can get it HERE
You may be also interested in:
How to Embed a PDF on Your Website?
How to Post a PDF on Facebook?
How to Send Documents Securely Over the Internet?