MENU
How to create a URL link for a PDF document

The PDF format is widely used to share documents thanks to its significant flexibility and versatility. A PDF file is compatible with almost any device and they're simple to create, view and print. While they're a bit harder to create, you can convert your docs to PDF files using apps like Google Docs or Microsoft Word software. You usually edit PDF documents using more complex, professional software like Adobe Acrobat Pro or Microsoft Publisher.
Some PDF documents, on the other hand, might be slightly more complicated to share, especially in a busy workplace. Many people scan physical papers they have and save them as PDF files without OCR – Optical Text Recognition- which makes them take a lot of drive space. As a result, some PDF documents might be too large to e-mail.
But there is a solution – you can send your documents as direct links without any attachments! It is even possible to create a link for a PDF file straight from this place – just drag your file and drop it in the area below!
If you create PDF documents only to discover that they can't be sent online, it's probably best to upload them to a hosting service. The file then will be able to be opened online and all you have to do is provide the URL (short for Uniform Resource Locator – web address, what you type in the browser bar) to the actual file to anyone willing to download or edit PDF content.
Our service, Publuu, offers multiple functionalities available to create a PDF link, but other pages that can share files are also available. We can host your document and display it online as an HTML5 flipbook you can embed in your website or e-mail newsletter.
In this article, you'll not only learn how to create a URL link for a PDF document but also how to create a link within a PDF you have already uploaded online.
How to create a URL link for a PDF document using a file sharing service
If you wish to share and distribute a PDF document, the file must first be sent to a site that allows public access. The most popular choices are apps or sites like Google Drive, Dropbox, or Adobe Cloud that powers Adobe software like Adobe Acrobat. Publuu is a great alternative to all of those if you want to create a link to your PDF.
Often you can upload the PDF file to these services simply by dragging and dropping it into the app window. You can also select the "upload" or "send file" option from a drop-down menu on the site – so that you can directly send the PDF file to the website. After a while, it will upload to the site.
Then, you click or right-click on the PDF file and look for the "share" option. The link that is displayed in the URL box might not be the one that is used to direct others to the resource. URL links are usually leading to the HTML file – you might want to create the link that allows the reader to view the PDF in their browser, especially if they might be using mobile devices.
On some of these sites, you have to set up the permission level to decide who can open, download, or edit the PDF you're linking to. It can be a little complicated, but in the end, creating links to your PDF resources isn't hard.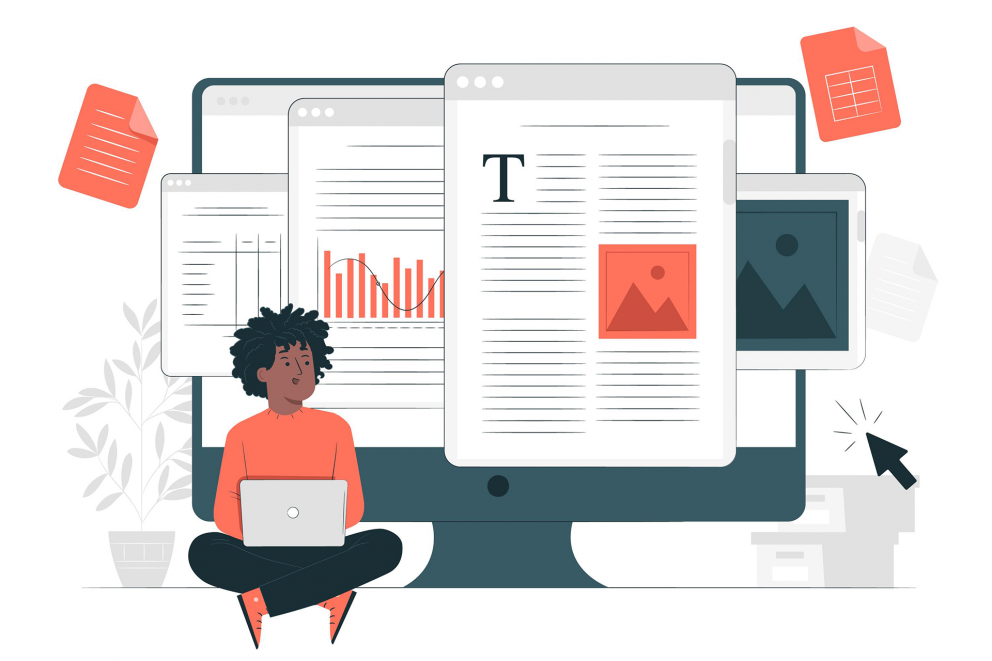 Publuu – how to create a URL link for a PDF document using flipbooks
To upload a PDF file to Publuu flipbook maker, simply sign up, create an account and select the document to upload using the menu that appears when you open the site. It will be quickly uploaded to our website and converted into a flipbook format. Then you'll be able to freely share PDF documents.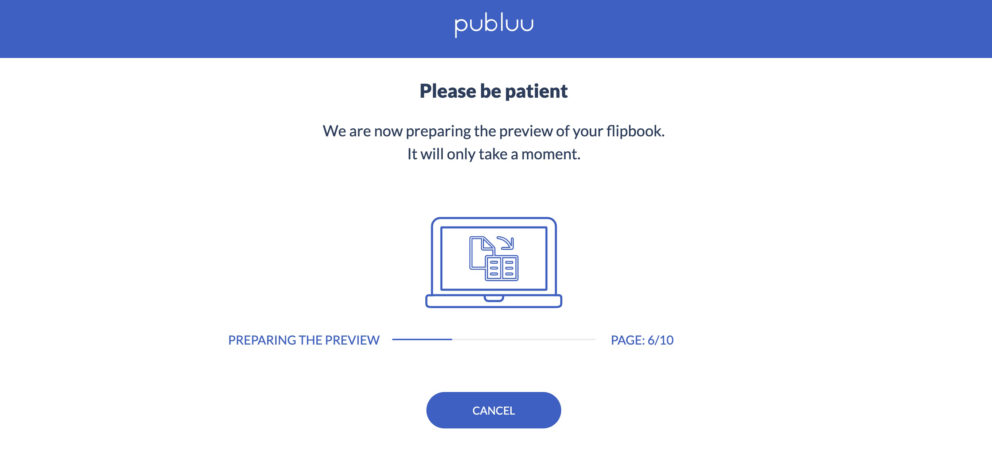 When the uploading and conversion are finished, you should see a ready document in your browser – Publuu presents the list of uploaded PDF documents. On the right side of the list, there is a link for sharing PDFs. It's enough to click on it, and it will be copied to your clipboard. You can paste this URL into your e-mail or social media messages to send it to your coworkers or subscribers, without being worried about reducing PDF file size.
Why choose Publuu over other pdf file sites?
Publuu's flipbooks are very easy to share – some file-sharing websites can't open PDF files online, but Publuu converts your PDF file into a gorgeous interactive flipbook. The effect of flipped pages is something you won't find in Google Drive or Microsoft Word online.
Besides sharing, you can make your PDF interactive! It used to be a tough task to accomplish back in the day, but now with the accessible resources you can engage with your readers easier by using interactive elements like photo galleries, videos, and more that aren't necessarily available in other PDF editors. You can find many use cases of such elements online and look for examples of interactive PDFs that stand out, to apply these solutions in your own interactive PDF.
That is why a digital flipbook is a fantastic way to show your PDF document to others. Unlike other services, it's simple to upload the document to Publuu, and you can embed your PDF file on your web page, which can't be done on sites like Google Docs. You can share the document link through social media and Publuu will generate a cover – something that won't be done with OneDrive or other Word document sites.
Thanks to easy access to Publuu, people won't have trouble accessing your PDF link. They can read your flipbook on any device, including an iPhone, iPad, or Android tablet/smartphone. All our users can easily create and distribute PDF content and share it easily with the world.
Our analytics function lets you see who opens your links and create a URL that sends you the message whether a person opened your PDFs – which can be very useful when sending PDFs to coworkers or supporters.
Publuu's flipbook example
View more online flipbook examples
Publuu lets you add hyperlinks to existing PDF documents!
Some people prefer to add hyperlinks inside their PDFs – if you add links inside your Adobe PDFs, the document becomes much easier to navigate. If you want to add hyperlinks to the existing PDF, it's not so simple – in a way, the PDF is "locked" once you have created it. Deleting sentences or changing font size is harder in such a document.
Most casual users try to create a URL when designing their content in software like Google Docs or Microsoft Word and exporting it to PDF. However, depending on the method used, these URLs to web pages might not work properly, on some or all browsers. Some conversion methods might cause your links to disappear or be converted to ordinary text.
You might not be able to add a URL link to an existing PDF document without specialist software. Luckily, Publuu is here to help you add hyperlinks to your content, without the need to completely edit PDF documents. Our hotspot technology can help you in adding hyperlinks to your PDF, and is simple and fun to use!
How to add a PDF link to your Publuu flipbook
To add hyperlinks, go to the top bar and choose LINK. Hotspot customization options also may be found on the right side of your screen, in the drop-down menu. You can mark an area of your PDF where you want to create a link, whether by choosing one particular spot or a rectangle (like some words or an illustration).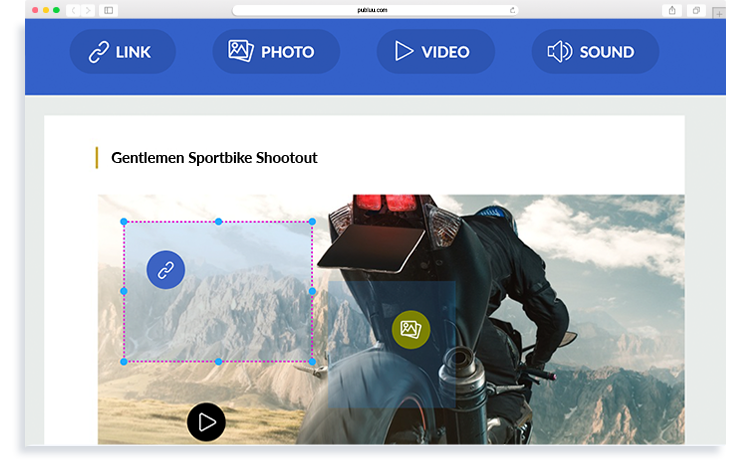 You may choose whether you want your hotspot to be visible right away, thanks to an actual spot, or if you want to show it as an active area that pulsates when the reader will move their mouse over it. By clicking on the blue dot next to the "Show hotspot" link button in the edit views, you may conceal the hotspot (it will become grey when hidden).
Then, choose whether you want your link to lead to another web page or a page in your PDF document. Publuu lets you also embed images, videos, and sound in your document – you can find out more in our knowledge base. To create a URL, just paste the target link into the pop-up window.
How to create a URL link – a summary
The PDF file format is often used to share documents and to do it, it's easy to upload your file to the website that hosts such resources. Publuu offers numerous functions other services lack – such as the ability to add a hyperlink to the PDF file, create interactive galleries, or the animated, gorgeous page-flipping effect.
If you decide to create flipbooks with Publuu, you'll receive not only a tool to upload your PDF to the cloud, but a powerful tool to publish an online catalog, a magazine, or work-related documents!
You may be also interested in:

PDF or Flipbook? What Is Better?
How to Reduce PDF File Size?
How to generate leads?