MENU
Top 13 best PDF editors for Mac

These days, editing files using the PDF format is a necessity. Many people still fill out PDF forms by printing them, filling them out by hand, scanning them as documents, and then uploading them—to the cloud, for example. Fortunately, there are better ways.
There are many applications on the Internet that make it easy to modify PDF text. With them, you can add a signature, add comments, and edit the material. In addition, such free PDF editors let you combine multiple PDF files, rotate pages, minimize file size annotate PDF documents, and convert PDF files to Word, Excel, and other formats. The best part is that there is no cost involved.
Other PDF applications let you, for example, enhance your PDF by using an online flipbook maker. One of these services is Publuu, where you can easily turn your PDF files into stunning flipbooks with real page-turn effects, various interactive elements, and other features that turn your ordinary PDF file into a stunning piece like the one below:
Publuu's online flipbook example
View more flipbook examples

MAKE YOUR OWN

Some of the PDF editing applications perform certain tasks better than others, so choosing the best PDF editor for Mac will depend on your specific requirements. For example, if you're looking for a PDF editor that can use OCR (optical character recognition) to read the text on a scanned page and allow you to modify it, it makes sense to choose the more powerful applications. Many free PDF editor apps, however, restrict access to more advanced functions – sometimes you have to buy a more robust PDF editing software.
PDF is a common file type, so the ability to interact with them effectively is essential. You can use an online conversion service or a Mac editor to convert files on your Apple computer.
Online PDF editors for Mac, in particular, offer special advantages and are free, but you can't always rely on them. You may not have an online connection on the bus or in the store. Therefore, if you want to edit PDF files on your Mac, you will find many applications available. In this text, we will describe both free and commercial PDF editors for Mac.

How to edit a PDF?
You can easily edit PDF files online using a web-based free PDF editor or by downloading Mac apps. Some of these apps are also available for free, while others require a membership fee. However, it is possible to modify a PDF file without using potentially harmful sources. On the Mac, there's a free Preview program that allows simple editing, but you can also use software like Microsoft Word or Libre Office available on the Mac.
Start Word or Writer and open the PDF file you want to convert; (File > Open). Word will create a copy of the PDF file and warn you that it will convert the contents of the PDF file to a format that Word can read. The original PDF file has not been changed. Select OK.
Keep in mind, however, that this method is suitable only for PDFs with a small number of graphics, preferably a few pages long. Therefore, it is a very good idea to use the tools described below.

Best online PDF editors for Mac

Publuu

At times, you may need to modify a PDF file by inserting missing images or links. If your aim is to effortlessly add, animated graphics, hyperlink hotspots or add videos to your online PDF, you can use Publuu since it is capable of adding multimedia features. You can use it as well as an online PDF editor for Mac to make your PDF files more alive like the example below.
Publuu's online flipbook example

Publuu is not a complete PDF editor, but it does enable you to edit hotspots and make minor adjustments to your documents online. Publuu can quickly and conveniently modify PDF files while retaining the text's original content. In Publuu you can also make use out of the realistic feature of flipping pages that will look fantastic on any screen. There are lots of ways you can improve your PDF files, but converting your PDF documents into an attractive online flipbook is surely one of them.
Although Publuu flipbook maker does not allow for the modification of PDF text or page size, this Mac PDF editor does provide the ability to include extra details in the form of an image gallery or multimedia content. If this is what you were hoping for in the first place, then Publuu is a viable option for you.

Pros:
Quick and easy way to edit PDF files and add links or multimedia effects.

Transform PDFs into beautiful online flipbooks.

Flipbooks don't need a PDF reader app.

Innovative hot-spot feature.

Low cost and many useful features.

Works in your browser.

Cons:
Cannot alter PDF text or change page size.

Not a full-fledged PDF editor.

Relies on an internet connection.

Sejda PDF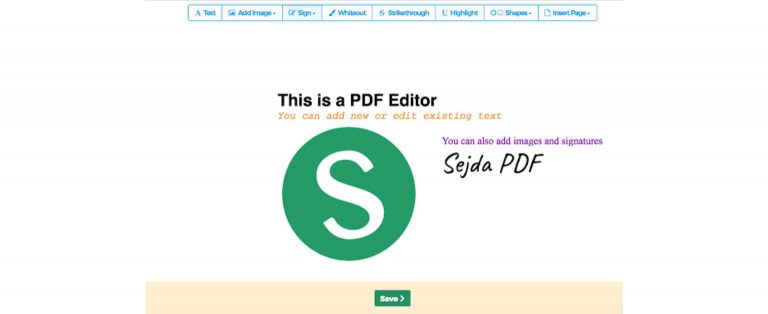 Sejda PDF Desktop is a multifunctional editor for PDF documents on MAC and PC. The free PDF editor allows you to can not only add, delete, and move text while working on a document, but you can also change the font size and color. When you have a large document, you can compress it to make it smaller.
With Sejda PDF Desktop, you can split your document into sections or combine multiple PDFs into one. You can use the application to convert PDF to Word, Excel, or even a graphic file. This option also works in reverse, so if you have a project in JPG, DOC, or XLS format, you can convert it to PDF using this free PDF editor. This might be the best free pdf editor with the most functions, outside the large apps like Adobe.

Pros
Easy and secure to use.

Supports all platforms.

Integrates with cloud storage services.

Practical editing tools.

Free for teachers.

Cons
Limited processing of three PDF files per hour.

Limited to PDF files containing no more than 200 pages.

Does not convert formats like epub or TXT.

iLovePDF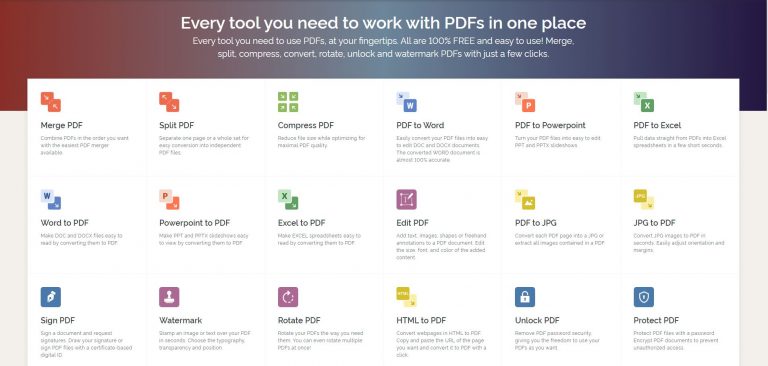 I Love PDF is a software that allows users to edit PDF documents, organize multiple PDFs, extract files and pages, and compress massively sized files while maintaining their quality. It also offers unique features such as converting PDFs to Word documents, PowerPoint presentations, and different image files.

Pros:
Free to use (with ads).

Offers useful PDF editing options such as compressing, adding watermarks, converting from other formats to PDF, and splitting or merging PDF files.

Integrated with Google Drive and Dropbox.

Cons:
Reader mode is not great and lacks continuous reading and search functions.

Limited editing tools compared to other free PDF editors.

Outdated look and feel of the app.

Smallpdf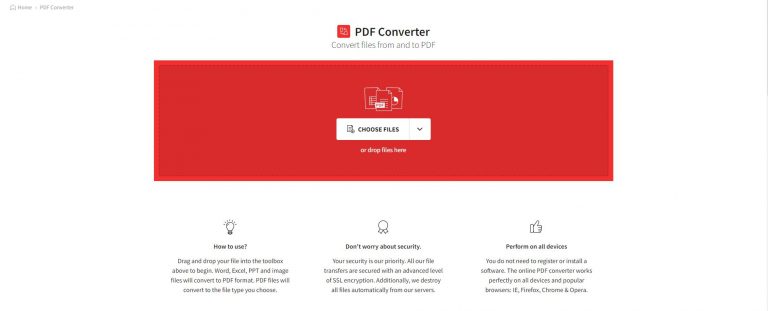 Smallpdf is a popular online PDF editing software that offers a wide range of tools for editing and manipulating PDF documents. The platform offers a free version as well as paid plans for teams, making it accessible to both individual users and businesses.
Users can easily merge, split, edit, and compress PDF files with Smallpdf, which makes it a convenient and user-friendly tool for those who regularly work with PDF documents. The platform's website is easy to navigate and offers a range of options for users to accomplish their tasks.

Pros:
Can convert PDFs to Microsoft Office files or images and vice versa.

Provides editing tools such as merging, splitting, rotating, signing, and unlocking files, can annotate pdf documents as well.

Has an effective compression tool that can reduce file sizes by up to 90%.

Offers a cheap offline desktop solution.

Cons:
The lack of prepaid options.

The monthly fee may not be justified for those who only need to convert a small number of files weekly.

The free version limits users to two operations per hour.

SodaPDF Online

Soda PDF software provides various features similar to Adobe Acrobat. However, some users may find it challenging to assess its capabilities, as most features are only available in the paid version. The "free version" of Soda PDF only provided the basic functionality of viewing PDFs, which can be done on any modern browser. The paid version is a powerful PDF editor that offers many useful features to edit, copy, and merge pdf files.

Pros:
Easy to use with little to no formal training.

Converts documents to various file types, including PDF to MSWord.

Allows document upload for PDF filler access, creating professional-looking typed forms.

Works seamlessly on multiple devices, including Mac/PC, tablets, and phones.

Cons:
Free version is very limited.

Can be hard to locate a file once it's complete.

Best free PDF editors for Mac
These apps don't work online – you need to download the PDF editor app and install it on your Mac computer.

Acrobat Reader DC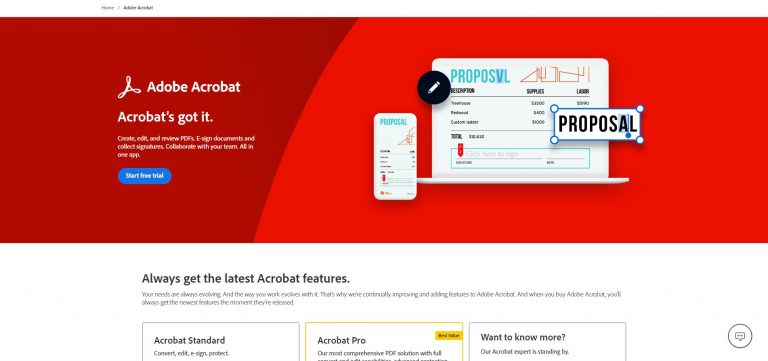 Adobe Acrobat Reader DC allows you to edit PDFs, print, add comments, and highlight selected fragments. It works with all PDF files while preserving their original appearance, fonts, colors, and graphics. The program's basic version allows you to view files, comment on them, add certificates, and use the "ruler." The more advanced features, like editing PDF files and their text, necessitate the Adobe Cloud subscription.

Pros:
Available for free.

Opens all PDF documents.

Tools for teamwork and digital signatures in the free version.

Cons:
Advanced features require an expensive subscription.

Must sync content with the cloud.

Preview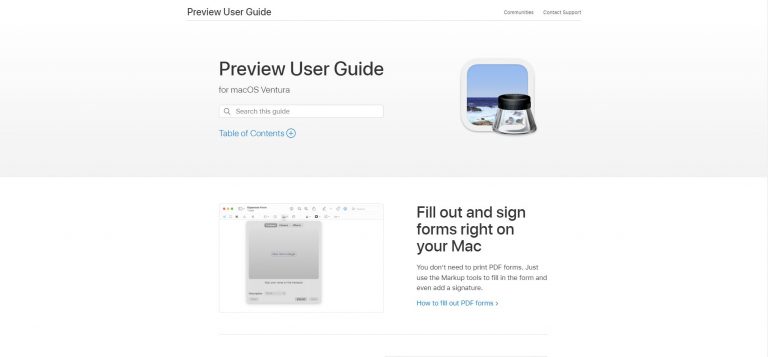 Preview is an image and PDF viewer for macOS. Users can use this pdf editor to view and print digital images and PDF files. It has a simple interface that makes it ideal for beginners. Since you usually have it bundled with your Apple computer, it might be the best free pdf editor you already have!
Preview allows you to edit a PDF document without the need for additional software such as Photoshop. You can change the color of any object image, crop it, rotate it, and even copy and paste a section of an image from one to another. You can also resize and export PDF documents before uploading them to the internet.

Pros:
Comes pre-installed on every Mac.

It offers a full set of markup tools for adding text and shapes, redacting content.

Preview allows you to combine PDFs, reorder, add, and delete pages, as well as fill in forms and add signatures.

Supports password protection.

Preview integrates with Apple's iCloud and allows sharing of PDFs with other iCloud users.

Cons:
The free option may not be enough for users who require more advanced features.

LibreOffice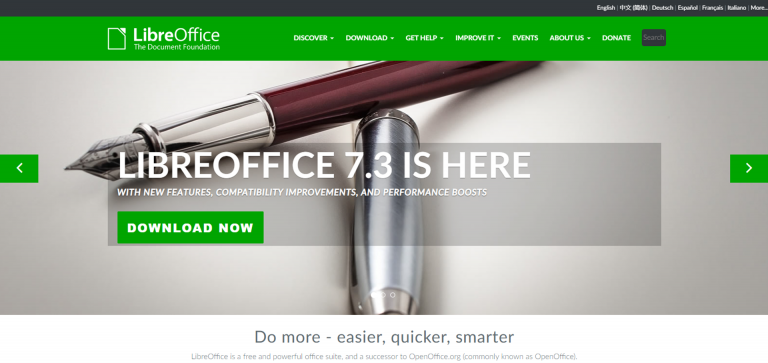 LibreOffice is a popular open-source office suite that has tools such as a word processor, spreadsheet editor, presentation app, database program, and math formula editor for free. Libre Draw and Libre Writer can serve as free PDF editors for some Mac users. You can open and edit pdfs, add images
While it can be one of the best PDF editors out there, able to compete with some of the free Mac PDD editor, its interface can be cumbersome and the performance can be buggy. It also lacks collaboration features, web-based versions of its apps, and mobile apps.

Pros:
You can use it for free and have access to its open-source software.

Large complex software with many uses.

Versatile and one of the best PDF apps on market.

Cons:
Stability issues on Macs compared to other competing office suites.

Large complex and hard to use.

Confusing interface.

Foxit PDF Editor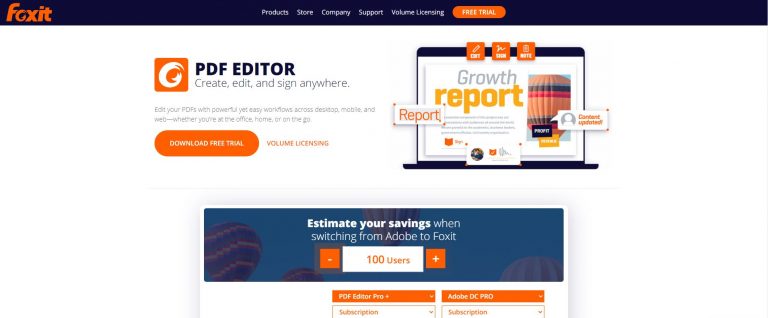 Foxit PDF Editor for Mac offers an affordable solution for editing PDF documents. It provides a user-friendly and simple website interface, which is perfect for those new to pdf editors. With its intuitive word processor-like interface, users can easily create, edit, and convert PDF files, fill out PDF forms or use various annotation tools.
One significant advantage of the Foxit PDF Editor for Mac is that it can convert data between different file formats, making it easy to work with various types of documents. This software is a great alternative to the expensive Adobe Acrobat. With Foxit PDF Editor for Mac, users can save both time and money, allowing them to focus on creating the best products for their customers.

Pros:
Enables editing and creation of PDF documents in a WYSIWYG mode.

Built-in editor for editing documents without the need to print.

Offers popular editing functions such as adding, deleting, and modifying text, as well as inserting lines, geometric shapes, and images.

Enables easy and quick changes to the basic attributes of text and graphic objects.

Foxit pdf reader app is free and faster than Adobe.

Cons:
Issues with HTML conversion.

Full version can be expensive.

PDFElement Pro

PDFelement Pro is a PDF editor with a simple and powerful user interface. It provides easy access to its main features from its home screen and offers a range of PDF editing and management functions. The toolbar offers several choices, such as commenting, editing, converting, and security.
You can also edit text, insert photos, links, headers, footers, and watermarks. You can create and convert PDFs from pictures, HTML, and text files. The app also has several reviewing tools and supports digital signatures, batch encryption, and passwords to safeguard documents.

Pros:
Allows digital signing of PDF documents.

You create PDFs from scratch or templates.

Can convert PDFs into various other formats.

Cons:
No smooth annotation features.

Confusing user interface.

Inkscape

You can use Inkscape to create and edit vector graphics for free, but this open-source program can also serve as a free PDF editor for Mac. You can use traditional tools for drawing, such as freehand lines, Bezier curves, and text tools. You can also manipulate objects in various ways and control line parameters like patterns and shapes.

Pros:
Great, open-source program.

Flexible intuitive interface.

Many tools and object manipulation.

Cons:
Issues with converting PDFs and other file formats.

Steep learning curve.

Scribus for Mac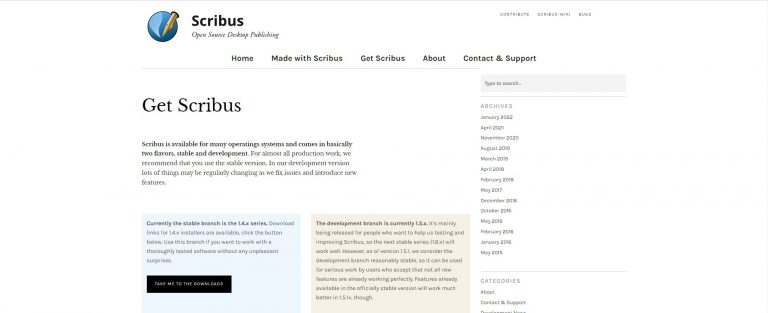 Scribus is a free layout program with a clear interface that can compete with many paid PDF editors. Scribus for Mac allows users to create various types of publications such as brochures, newsletters, newspapers, and books. It allows users to use different types of fonts, define colors in RGB and CMYK standards, and use graphic files in popular formats like SVG, EPS, PSD, TIFF, JPEG, and PNG. Users can also generate electronic publications in PDF format, including forms.

Pros:
Versatile and powerful.

Free PDF editor – Mac users can easily download it.

The program has a well-designed interface with intuitive user interactivity.

Cons:
Pictures integrated into a document must stay in the same location on the computer to avoid losing track of them.

Switching fonts does not look elegant.

Can be very slow on mac.

The program is not intuitive enough for some users.

Skim

Skim is a free PDF viewer for Mac OS X that allows users to add notes and highlights to documents. It offers various functions, including full-screen mode, zoom, bookmarks, and navigation via a table of contents or thumbnails. Additionally, Skim allows notes to be exported as text, all notes and highlights to be displayed and is highly configurable.

Pros:
A free, open-source free PDF editor – Mac only.

Unique features for PDF viewing and annotating.

Allows highlighting, underlining, and adding notes.

Table-of-contents display and reading bar functions.

Cons:
Notes and annotations won't show up in other apps unless saved as a PDF with Embedded Notes.

Snapshots are temporary.

Choosing the Best PDF Editor – What to Consider?
When choosing a PDF editor, it's important to consider the features that are most important to you: maybe you focus more on the ability to annotate, highlight, or maybe you just want to and edit text or PDF forms then the free apps and services should be enough to suit you.
If you are looking for the easy-to-use interface, have a strong security options to choose from and more advanced features like interactive elements other than links or adding a video to PDF, service like Publuu flipbook creator is a far better and more modern solution for you and a great alternative for the outdated PDFs.

FAQ

When do we need a PDF editor?
PDF editors allow you to edit PDF documents or modify their content. We usually need them the most to fill out forms, sign documents electronically, protect our files with a password or convert other files to PDF files. They can be useful for editing professional documents like resumes, presentations, or contracts.

How do I enable the Print as PDF option on Mac?

The "Print as PDF" option is a built-in feature of macOS and should be available in the print dialog of any application. If you don't see the option, you can enable it by turning it on in the Printers and Scanners menu.
To open printing windows, use the keyboard shortcut Command+P or click on "File" and choose "Print" option. Look for the PDF dropdown in the window and choose "Save as PDF".

Can I edit a PDF file?
You can use the built-in Preview app in your Mac to edit your PDF file for free or use other services to do so. However, when using PDF editor apps, there could be some problems with formatting the PDF, so you may need a dedicated PDF file editor or the specialized software like Publuu or other services.

Is there a PDF editor on Mac?
There are many PDF editor apps for Mac. You can use either the built-in Preview or a third-party program such as Adobe Acrobat or Skim, which often has more advanced editing features.

How can I edit a PDF file on a Mac for free?
Use a paid or free PDF editor, like Preview, Libre Office, or any other app described above. You can use a free online PDF editor. Mac computers are compatible with most software out there.

What is the best PDF editor for Mac?
You can use an app like Adobe Acrobat or Preview. We can recommend Publuu to create online flipbooks since it helps you create documents that are viewable online and work across different devices- both desktop and mobile.

Can I convert a PDF to a DOCX file?
PDFs that contain mostly text and simple shapes can be relatively easily converted. On the other hand, interactive, feature-rich PDFs might be problematic.
You may be also interested in:
Top Best Free PDF Converters in 2023
How to Sell a PDF – The Complete Guide