MENU
Top 10 Catalog Maker Software For Your Business

If you own a business, especially an eCommerce business then you need to invest some time and money into a product catalog because it can work wonders for you. It's one of the most effective marketing strategies out there and believe it or not, it can drive sales for you like nothing else. Yes, other marketing methods like social media marketing etc do play an important role but so do catalogs because that's the best method to reach out to your prospects and showcase your products and offerings.
Luckily, with an online catalog maker, you can easily create some great catalogs for your customers. As of now, the internet has a solution to all our problems and the same goes for making the best online product catalog. You can find multiple websites and platforms to design yourself the best digital catalog possible and this is what we are going to talk about today.
Top 10 Best Online Catalog Maker
The first place is not for typical online catalog maker. This is publuu.com. Solution for converting your static product catalog into an engaging flipbook with animated hotspots, videos, photo galleries and product links. With Publuu, you can change boring pdf files (pamphlets or business proposals etc.) to outstanding flipbooks. It's like a hub where all the marketers can use their creative design skills to create something unique for their business and their prospects.
Publuu's company presentation example
Here are some features offered by one of the best catalog makers:
➔ Responsive catalog
No matter which screen size or device you are using to access the catalog, it'll always be on your fingertips. The responsive design feature means that you'll be able to market your products to masses no matter what devices they use.
➔ Boost Your Sales
For business, boosting the sales is the biggest challenge but luckily with Publuu's online catalog maker you won't have to worry about that. Outstanding flipbooks definitely help to stay ahead of the competition.
➔ Sharing And Tracking The Catalog
You can use the direct link to share your catalog with your prospects without getting into the hassle of using emails or other platforms. Moreover, once you send your link to any one of your prospects, you can then easily track and monitor it to check which product page attracted the prospect more and how much time did he spend on each page.
In a nutshell, if you really want to try the best online catalog maker of 2021 then you should head to publuu.com right away and give it a try. We assure you that you won't be disappointed with the results.
2. Flipsnack

The second position on digital catalog maker list is for Flipsnack. You can either publish the PDF file of the catalog that you've already made or simply build one from scratch. This catalog builder offer some of the best catalog templates that will give your business a boost. Moreover, you can use different unique text fonts and style elements to decorate the catalog and make it just in accordance to your business requirements. The flipbook viewer on Flipsnack.com is not that advanced and intuitive as it is on Publuu.com. For example they don't use vector fonts. In addition, the paid plans are significantly more expensive than Publuu.com
3. LucidPress

LucidPress falls on number 3 of our top best online free catalog makers list and well, it's worthy of this position because of the ease and convenience it brings to the users. With this free catalog maker, you can showcase your products in a very professional and unique way using some of the best and visually appealing design templates. It's a drag and drop editor that allows you to customize your catalog and make it look just as you wanted it. It's a web based platform so to use it, you won't have to download or install it. Just head to the official website of LucidPress and start working on your catalog right away.
4. FlippingBook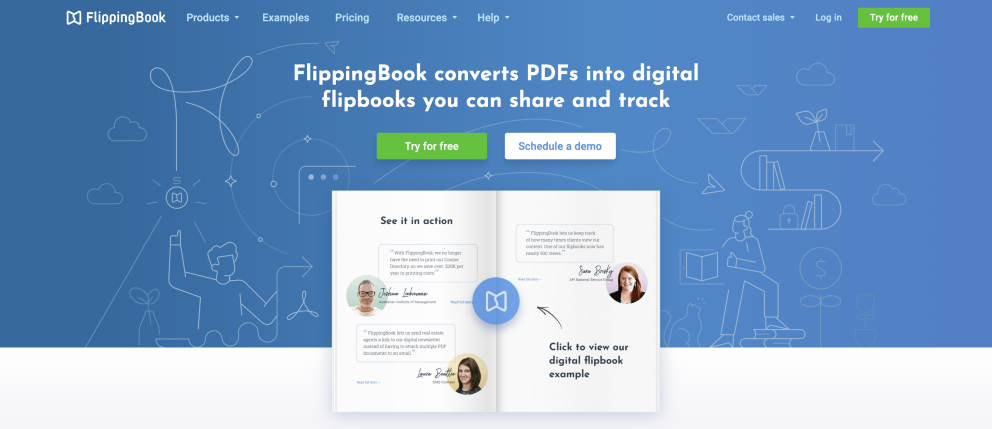 With FlippingBook you can convert your simple PDF catalog into an attractive and catalog. With it you can add different videos and links to your catalog to catch the attention of your audience. It's good solution but in our opinion publuu.com is a little bit better. The fact is that only FlippingBook and Publuu.com have vector fonts. But Publuu.com is much cheaper and has a much more intuitive interface. In our opinion, simply the use of Publuu.com is more convenient.
5. Drawtify

On number 5 we have the all famous Drawtify for you. It's one easy online catalog maker that can work wonders for you if you want to build an attractive catalog with an intuitive design. The design features and templates offered by this catalog are one of a kind and you probably won't be able to find such design elements any place else. If you really want to add value to your product catalog to boost your brand then try Drawtify because with it, you'll enjoy the process of making an online catalog.
6. Publitas

The next catalog maker is an impressive one. Here we are talking about none other than Publitas. With it you can create a mobile and a desktop shopping experience for your customers by designing the best online product catalog. It's one of the best catalog software that can make a huge difference for you if you use it the right way to create an intuitive catalog for your brand.
7. WebPublications

Want some easy platform to create the most useful digital catalog? Try WebPublications because we assure you that with it, you won't ever have to worry about displaying your products in front of your customers. The reason why we are mentioning this catalog maker to you today is that it's quite useful especially considering all the features and customization options it offers.
8. iPaper

For your catalog to look professional, there's nothing as good as iPaper. It can turn all of your print catalogs into online catalogs for your online audience. Especially because nowadays, most of the businesses have to target their prospects online, iPaper can really come in handy here. It allows you to have multiple checkout options and the best part is that you can add direct links to your catalog to drive sales.
9. DCatalog

On number 9, we have DCatalog, that will help you create a product catalog that's exactly in accordance with B2B operations. You can integrate it with multiple APIsso that the publications are easier and faster for you. It provides you the features to create an immersive online catalog for your users so that you can stand out of the crowd.
10. Akeneo

If you want the best software that helps you collect, arrange and develop some attractive product lists then try Akeneo because this one won't disappoint you no matter what. With it you can boost market expansion and opt for time to time market.With it you can easily manage your products and all of the information of the products across all your sales channels. So give it a try if you want to work with an impressive catalog software for your brand.
These are some of the most impressive free catalog makers and paid online catalog makers that you should try this year. Especially when it comes to our recommendation, we'd suggest that you go for Publuu.com. It's impressive, it's easy to use and it comes loaded with all the features you'd need to stay ahead of the game.
You may be also interested in:
5 Tips to Make Your Catalogs Stand Out
Catalog Design Ideas
Online Shopping Catalog vs Paper Catalog