MENU
What is a Pitch Deck?

If you're an entrepreneur, you may have heard of the "elevator pitch." Imagine that you have a fantastic business idea, but you can't push it through to investors. But one day you get on the elevator with the Big Boss – and you have 20 seconds during the elevator ride to tell him about your idea and explain what's so great about your business model.
This is the elevator pitch: a brief summary of your idea and what distinguishes it from others. But what if Big Boss likes the idea and invites you to meet with him later? That's when you'll need a pitch deck.
The pitch deck picks up where the elevator pitch leaves off, but it is more elaborate. It's a brief presentation created for potential investors to get them interested. As the name suggests, it's a presentation that, like a deck of cards, you always have on hand – slides and materials help you demonstrate your business idea to people who've never heard of your company or business model. Since the investors are busy people, you can use Publuu interactive presentation maker to showcase your pitch deck to them
Pitch decks are brief presentations that provide venture capitalists, investors, and customers with information about your company's products, services, goals, and plans. They are visual tools that businesses use to attract investors and customers, and so, understanding the components of a pitch deck can help you achieve your company's objectives.
In this article, we'll explain how a pitch deck works, how to prepare a pitch deck for investors, and how to choose a presentation style to highlight the best aspects of your startup.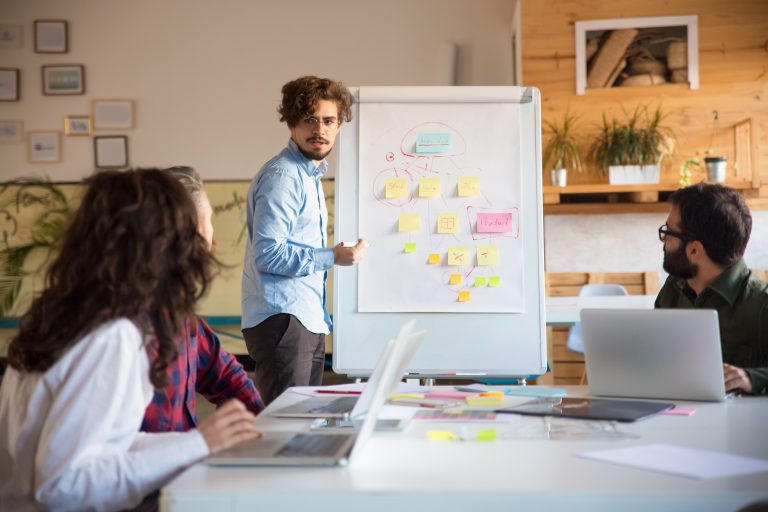 What is a purpose of a pitch deck presentation?
The main goal of a pitch deck presentation is usually not to obtain funding, but to explain your goal, gain the curiosity of potential investors, and meet with them later. Getting potential investors to invest in your idea can take a long time – and a successful pitch deck is the first step.
In many cases, you may not even want to reveal too much about your business model at this early stage of collaboration. Many people are afraid that if they are too forthright, someone will steal their idea. It's understandable – as long as you can persuade potential investors to attend a follow-up meeting.
Pitch decks are frequently presented in person, but they are just as often sent via e-mail for investor to peruse in their spare time. You can learn more about how to embed a multimedia presentation in your e-mail here.
A great pitch deck does not overwhelm the reader with information, but rather shows them the general gist of your product or service. The entire presentation should take no more than five to ten minutes.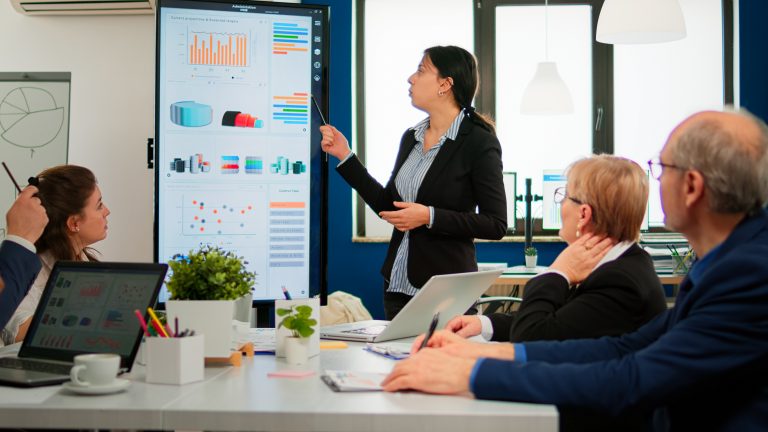 What are pitch decks for investors?
A pitch deck for investors is a short presentation of 10-20 slides to give a brief overview of your company, your business plan, and why your company is worth investing in. Your startup pitch deck should include the general idea and the business model you are going to use to fund your company and bring in profits.
As a general rule, your pitch deck should be very visual and contain a minimal amount of text. Since it usually accompanies an in-person presentation, you can explain the slides without too much detail on them. Often you may have 15 minutes for the meeting – and you want to leave yourself time for questions and to set up another meeting. In many ways, crafting a pitch deck for your business is like creating an executive summary or a business proposal.
Pitch decks aimed at busy investors must be simple and straightforward. Keep in mind that people who might see this presentation deck are not specialists and won't understand technical buzzwords. For example, if you want to create an app, you don't have to mention the programming API or language you're going to use – your investor pitch deck might just state that it'll be available on iOS and Android.
You can see a sample presentation prepared with our multimedia presentation maker below:
Company presentation example
View more online presentation examples
Pitch deck structure
Many experts recommend using a good pitch deck template – a nice design style for your pitch presentation. According to many presentation experts, a good startup deck should have ten slides.
The first slide is crucial; if you don't capture the attention of potential investors straight away, you might miss out on a later opportunity. Begin by introducing your company and showing what makes it different from the competitive landscape.

Then go to the problem slide – show opportunities that exist in the market and why your product or service is necessary. This slide should present to the investors that there is a serviceable obtainable market for your goods.

Then, demonstrate your value proposition – what makes your product or service special? Why you're sure it'll be your app that will be successful? A pitch deck presentation should make the investors wonder, "Why didn't anyone think of that?".

Tell them the underlying magic – what makes your company unique and what are your unique qualities. Solve the problem you have introduced before – and show your company's strength.

Then, present your business plan – business model, market research, and competitive analysis of customer segments. Demonstrate that you did your homework and have a deep understanding of the topic at hand. Here we present a guide on how to write a business plan: but you'll have to condense it for your audience!

You might want to finish with the team slide introducing the core team members you work with – especially if they're acknowledged, specialists or well-known people.

Finish your pitch presentation with a slide showing contact details, in particular, your phone number and social media handle.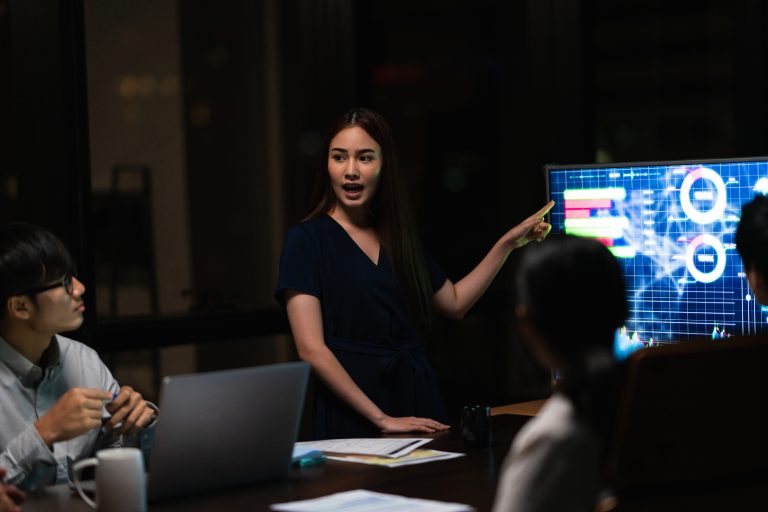 How to make your pitch deck successful in 5 steps
Your pitch deck must tell a story
The best pitch decks tell a consistent story. You need to grab your audience's attention from the first word – so demonstrate why you yourself are excited about the opportunity and why others should be as well. Try to condense the quick overview of your business plans into a succinct statement – for example, "We're Tinder, but we connect employers and employees" or "330% faster way to manage logistics." With this vision statement, you will show the clarity of your value proposition.
Sell your product from the very beginning
To find investors it's worth explaining what you do. It seems obvious, but you need to show what it will be like to use your product and service. This is a good lesson to learn because you not only need to convince the investor but also the first customers.
Try to sell your product to an outsider – if they are interested, ask them to explain the product in their own words. These words should serve as the foundation of your sales pitch deck message.
Don't tell, show
Nothing boosts investor confidence like seeing how your product or service works. Display any prototype photos or animations you have. Use graphics and videos to demonstrate the effectiveness of your product. Publuu allows you to easily embed galleries and videos within your presentation, which you can use to demonstrate your products in action.
Showcase your staff
You need to convince investors that you have the necessary core team to implement your idea. You can show them their track record and credentials – but that's not always enough to show that you have the best team for this particular task. Your team slide needs to show why they are important to this particular company, not just their accomplishments. You can even demonstrate how close your team is by posting photos and videos from paintball outings.
Create your pitch deck with a specific investor in mind
A pitch deck may seem very generic, but it needs to be tailored to your target audience. Don't blindly send it out to every bank or angel investor in your area. Familiarize yourself with the areas of interest of potential investors, desired investment size, current portfolio, and investment climate. You should also be aware of rumors regarding how these investors treat startups and who they are. Investigate their background and tailor your startup pitch deck to their preferences.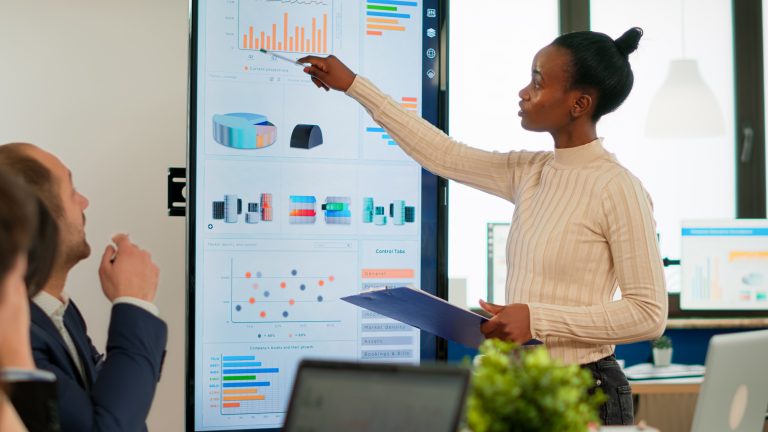 Create your pitch deck presentation with Publuu!
Publuu multimedia presentation maker is an excellent presentation software that will assist you in creating the perfect digital pitch deck presentation to captivate your audience. You can easily convert your PDF document into an interactive flipbook that is securely stored in the cloud rather than creating a new document or PowerPoint slide.
A static, boring presentation may not attract the attention of investors in today's competitive landscape, but if you use Publuu to present your pitch deck as a flipbook with a realistic page-turning effect, your clients will definitely pay attention.
To keep your viewers interested, you can include interactive hotspots that link to your website or provide additional information. You can add more information by embedding a gallery and interactive video players, or you can use music and editable background to set the mood for the listeners.
You can share these pitch ideas with prospects online by embedding them in an e-mail or on your website or posting them on social media. They look great on both a small screen and a large projector.
Furthermore, Publuu's analytics feature will assist you in determining whether the investors opened the presentation or which pages piqued their interest. You can change your future goals based on the information we help you collect.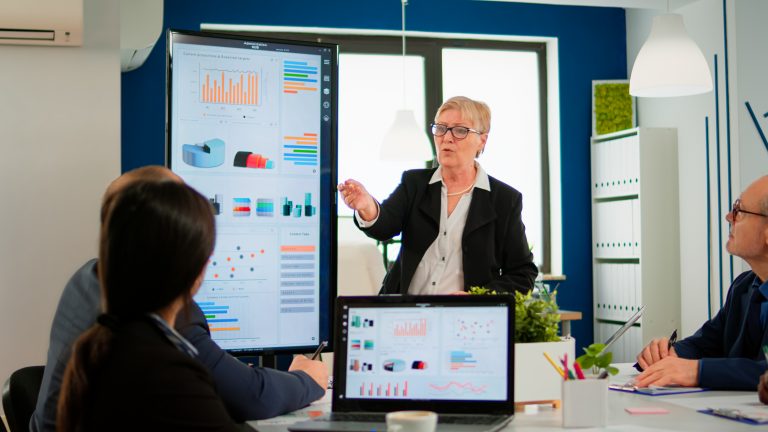 Summary
Pitch decks are brief presentations that showcase your company's products, services, goals, and plans to potential customers, venture capitalists, and investors. In general, these are condensed presentations designed to attract investors that last 5-10 minutes and serve the primary purpose of establishing interest in your offer.
A pitch deck should be to the point and avoid technical jargon. Instead, it should be a short summary of your plan, market research, and competitive analysis. Demonstrate your team's abilities and the application of your product by utilizing Publuu's interactive features.
Publuu presentation software can help you create the perfect digital pitch deck. You can quickly convert your PDF into an interactive flipbook instead of creating a new PowerPoint slide, and draw the attention of very busy businesspeople.
You may also be interested in:
10 Tips on How to Start a Presentation and Impress Your Audience
Top Tips To Prepare Virtual Presentation
How to Create an Effective Business Presentation?