MENU
Top Business Proposal Template Websites

When making a business proposal, it is important to know that you need to follow a certain format. A single mistake can lead to your business proposal being overlooked. At the same time, a well-crafted one could make all of the difference. But where do you get the best business proposal template from?
We have prepared a list of websites with all the templates you need.
How to get the most out of business proposal templates?
Before we get to the list, let's talk about what will come after.
You will need a way to show your proposal to the world. Are you going to put it on paper? If we were living in the 1950s then your answer would be yes. But, in 2022 your business proposal will face different challenges than it would back then. Companies work remotely, your investors live on the other side of the globe. The business is evolving. And your business proposal needs to evolve too.
With Publuu, you can take your business offer and easily convert it into an online proposal with a real page-flip effect. Your business partners will surely appreciate the extra effort you put into presenting your ideas in a more captivating manner.
What makes flipbooks so easy to read?
Instead of scrolling through your business proposal up and down, you get to click through pages. And each time you do, the page will turn over, while making a satisfying sound of a fresh sheet of paper. It's that attention to little details on your business proposal makes all the difference. The difference that can turn "no" into a "yes".
But, even more so, your business partners will appreciate how easy it's going to be to receive your proposal. No more oversized email attachments or messy video calls. All you need to do is to send a single URL. It doesn't matter if they are using Slack, WhatsApp, Gmail, or WeChat. It's all the same.
Share your business proposal with Publuu. Try it out NOW.
Publuu's business proposal example
View more flipbook examples

Business proposal template websites
There are dozens of pre-made business proposal templates that you can download for free. But whether they will meet your needs is another matter. Here, we have prepared a list of websites that you should check out first. Not all of them are free – but every single one of them is worth your attention.
Envato.com – a source of business proposal ideas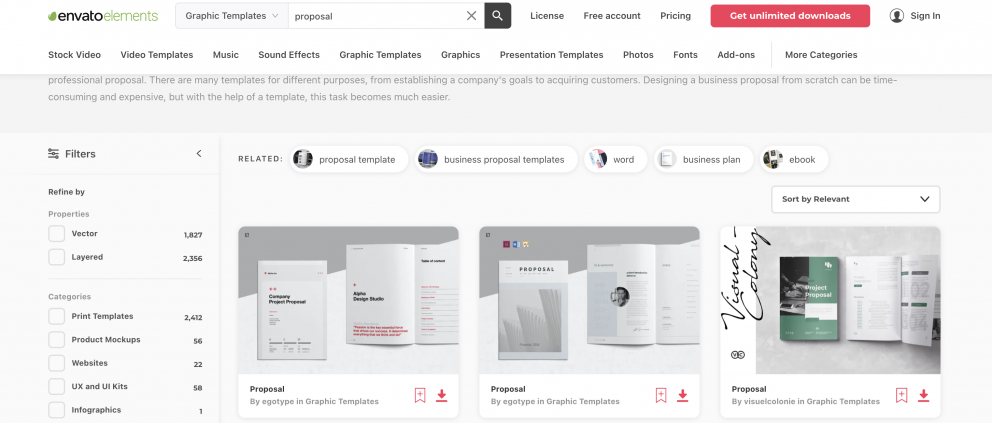 At Envato.com you can find hundreds of business proposal templates and examples to help you create a professional and eye-catching business proposal in minutes. You can choose from a range of templates and resources to help you in every stage of the process: from planning and creating an outline to promoting and presenting your business proposal to your partners.
Pandadoc.com – 14 days worth of free templates


Pandadoc.com offers a free trial for 14 days. During that time, you can see for yourself how well-formatted and highly detailed each of their proposals is. You can use one of the free templates to create a quality business proposal for your team. Pandadoc.com has a huge base of satisfied customers – maybe you could join them too?

Unblast.com – business proposal templates for InDesign


If you're looking for a professionally designed business proposal template then you're in the right place. Unblast.com focuses on a very specific product: a business proposal template for Adobe InDesign. It's a powerful tool, and combined with a talented graphic designer can do real wonders.

Graphicriver.com – make your business proposal 16 pages long

Being in the business world, it's difficult to create a perfect business proposal. Even if you have all the expertise and know-how, creating a detailed and impressive document could be quite challenging. But, if you are willing to power through – Graphicriver.com was made for you. It has templates for every aspect of business – from general and marketing proposals to sales proposal templates.

Behance.net – business proposal for the corporate world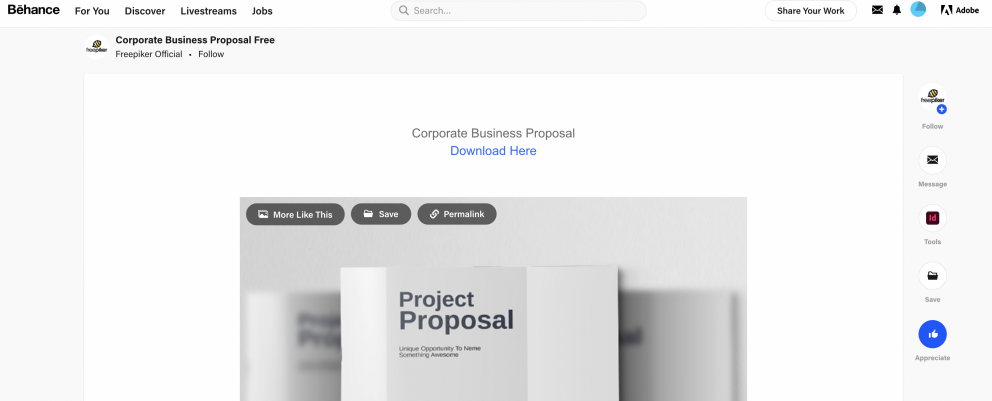 Being able to write an impressive business proposal is an important skill if you are climbing the corporate ladder. This type of document is often used as a way to win new contracts or secure funding, so by following this corporate style of writing you can dramatically increase your chances of success. With Behance.net you can find the perfect business proposal template that will impress your colleagues – and your bosses.

Templatelab.com – where business proposal template meets the real world

You have probably heard the phrase "content is king". It's a common marketing slogan. With Templatelab.com you can change "content" to "proposal" – and it would work just as well. If you are looking for a business proposal template that will get your point across, then look no further. Templatelab is THE place to go.
Canva.com – more than just Social Media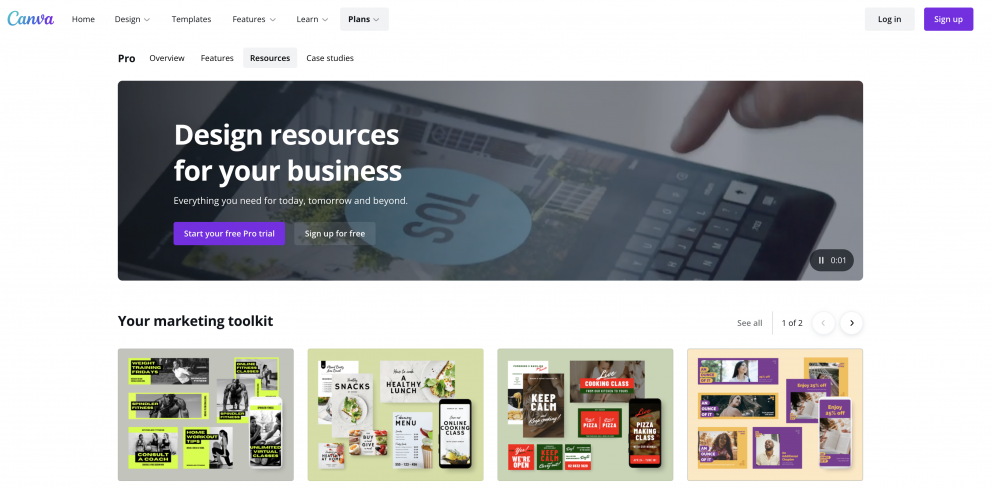 Have you been looking for a tool that allows you to create professional presentations and business proposals on the fly? If your answer is "yes", then Canva.com is the right tool for you! Canva is everyone's go-to tool for creating posts for Facebook and Instagram. But now, you can use Canva to make your business proposal look like the latest viral post.
What's more – you can easily make a stunning flipbook with Canva too !
Are you working on a business proposal right now? Is there a template that you like using?
You may be also interested in:
Tips For a Good Company Presentation
How to present a business proposal ?