MENU
PDF Design – The Best Software to Create a Professional PDF

Many people need to use PDF files in their work, and increasingly they need PDF editors to be able to create, edit and introduce them. The best PDF editor software can allow you to access virtually any portable document file and edit, change, describe, add or remove various content from it.
PDF files are a universal file format that was created in the early 1990s to make life easier for DTP (digital page layout) professionals. It allowed for the creation of high-quality designs and layouts similar to the physically printed pages. Document files, like those created in MS Word, can look different on different computers, depending on fonts or program settings – but a PDF file looks the same regardless of the device.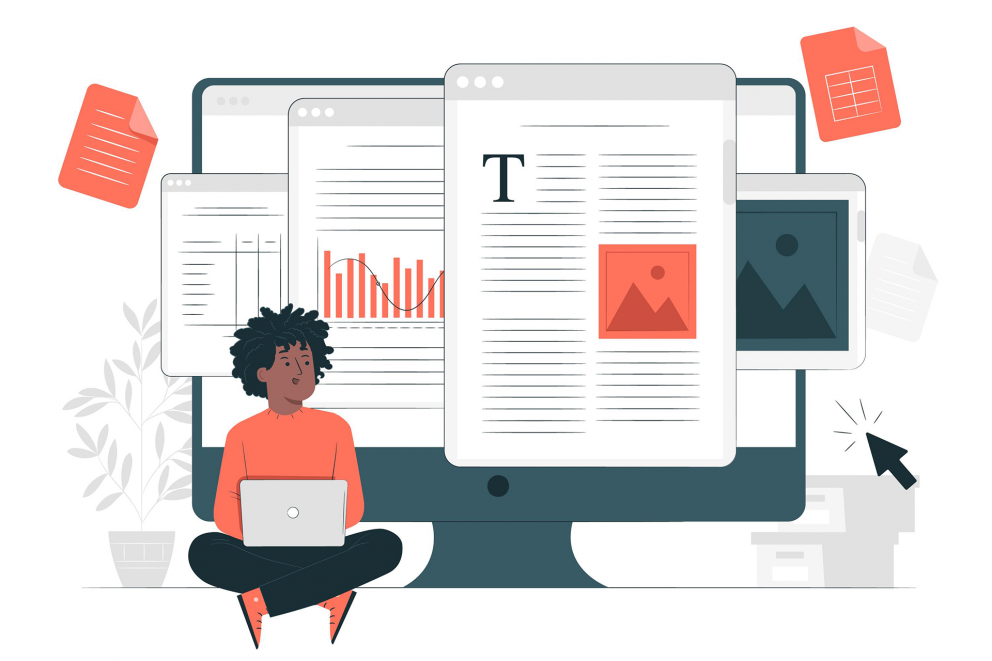 You need a good-quality PDF editor to create PDF files. The best PDF editors can identify text in scanned documents with OCR, allow you to modify text and graphics, and let you tag files and add notes so others can alter the original PDF document.
In this article, you will find a list of the best PDF editors for modifying text, changing graphics, and annotating documents. We will help you to find the best PDF editor for making a stunning PDF file that then can be converted into a fantastic online brochure and act as a great marketing tool.
How to create a professional PDF?
Using a PDF file to save content makes your document look good – but that doesn't mean it can be edited. To learn how to create PDF files, simply follow the instructions below.
The document you generated in a word processor such as Microsoft Word can usually be saved as a PDF in newer versions of Windows or Mac. Select "Save as PDF" or "Export to PDF." However, many people create documents in a publishing program such as InDesign or MS Publisher, these too need to be exported/saved as PDF. You can later edit the same document using more complex layouts in PDF editors.
When it comes to "being professional," this is a skill acquired over many years by graphic designers. It is difficult to briefly explain how to make a document look professional. When you edit documents, the experienced designers recommend that you keep it simple, pay close attention to the text and graphic alignment, use a limited number of fonts and be consistent with font height, and avoid overloading text with colors.
Publuu makes your PDFs stand out from the crowd!
You can use Publuu to create beautiful brochures with a realistic page-turning effect, available on all mobile devices. You don't have to be a PDF expert to upload and use PDFs – that don't require downloading. By using this technology you can convert PDFs quickly and efficiently!
Publuu's brochure example
View more brochure examples
You can enrich your digital brochures with multimedia, such as images, videos, or hotspots with a link leading to your website or online store. Thanks to Publuu's analytics tools you can generate a tracking link to check how your brochure performs in real-time.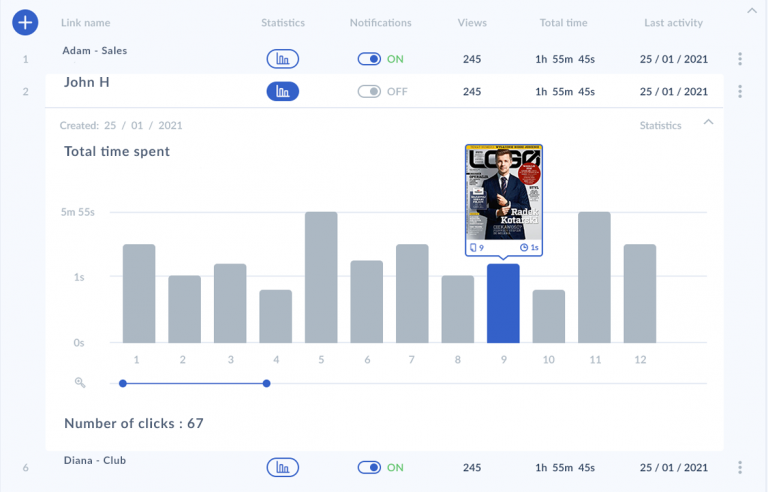 What is more, Publuu allows you to add a lead capture form to your brochure that helps to gather the detailed information (such as an email address or phone number) of the prospects and as a result, generate leads.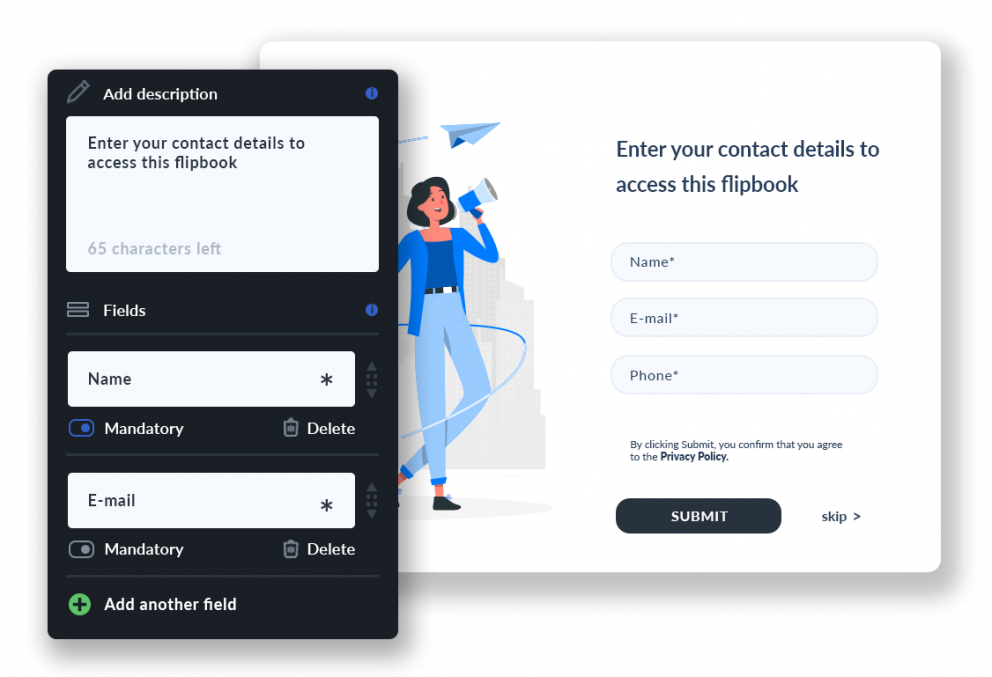 What are the best 11 PDF design editors?
Adobe Acrobat Professional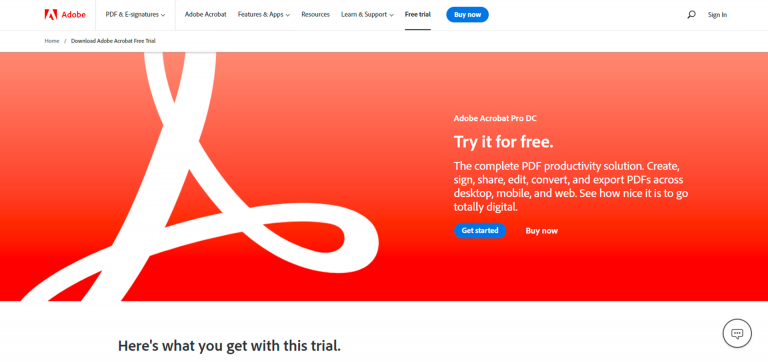 Adobe Acrobat is, in the minds of many, the quintessential PDF editor. It offers extensive editing capabilities and a familiar, simple user interface. With its mobile app feature, the program allows you to edit PDFs on the go. It's ideal for advanced users who want extensive editing capabilities. It is part of Adobe Creative Cloud – so it can be quite expensive.
Most people are familiar with Adobe Acrobat Reader – which as the name implies is created to open files. But even this free version allows you to add PDF annotation or mark the text and save the changes. You can try out Adobe Acrobat Pro DC for free for a weekly pass.
PDFpenPro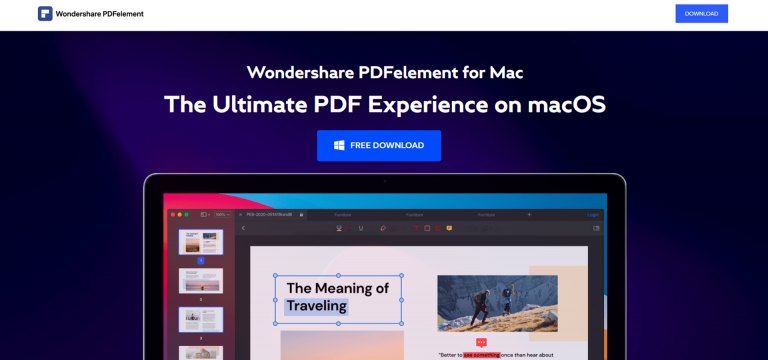 PDFpenPro is a PDF editor that has long been available exclusively for macOS. You can also find a trial version that has fewer features. The full version has very powerful features, including an exceptional OCR engine (scanned document recognition) for text recognition, and rivaling Adobe Acrobat.
With full PDF editing, PDFpenPro can modify text and graphics in PDF documents. Additionally, it allows you to generate PDF documents from scratch, create or update forms, and add tables of contents to your ebooks.
PDF Candy
One of the best free PDF editors is PDF Candy because it has an OCR tool for scanning text that many other free programs don't have. It's a big site for PDF conversion but access to the editing tools is limited for free plan users. Nevertheless, you can reorder pages in the entire document, combine documents, apply watermarks, password protect PDF files, change the information contained in a PDF file, split or add pages to documents, and extract images.
Foxit PhantomPDF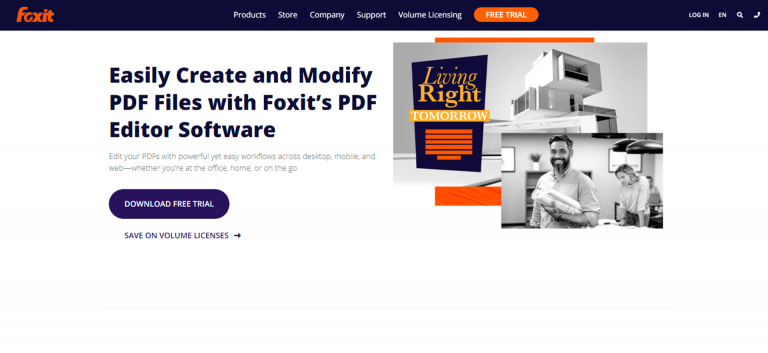 Foxit PhantomPDF includes a cloud-based service that allows users to share and collaborate on PDF documents, as well as monitor user activity. It is a very powerful editor that allows users to work together online, thanks to support for electronic signature and great collaboration tools. It also offers OCR of scanned images for most users.
Many users praise the program for working securely and seamlessly with printed items as well. You can change the layout of the page, such as reordering text boxes and scaling pages. You can also trim, delete, add, replace, flatten and rotate PDF pages.
LibreOffice Draw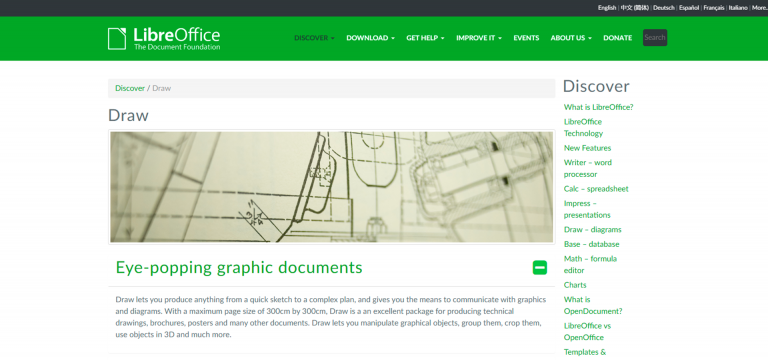 For a free open-source tool that is not primarily a PDF editor for Windows, LibreOffice offers a very large number of editing features. You can edit text, fonts, size, and color of typefaces, as well as easily insert new pages, and add images, comments, and notes. It is a very flexible tool that works well with other components of LibreOffice.
Preview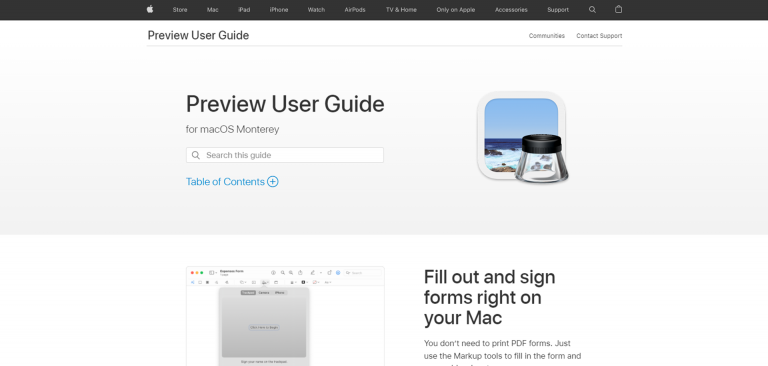 If you use a Mac, you have a small but useful collection of tools for annotating any PDF file. This is a pretty limited program, not a complete and comprehensive PDF professional-level design software. However, if you just need a simple set of tools to highlight or redact text, make notes, or add comments to a document, you won't need more than what your Mac currently offers.
Mac users can also enjoy software like Pages, which is a great PDF tool not available for Windows users – with a gentle learning curve.
Qoppa PDF Studio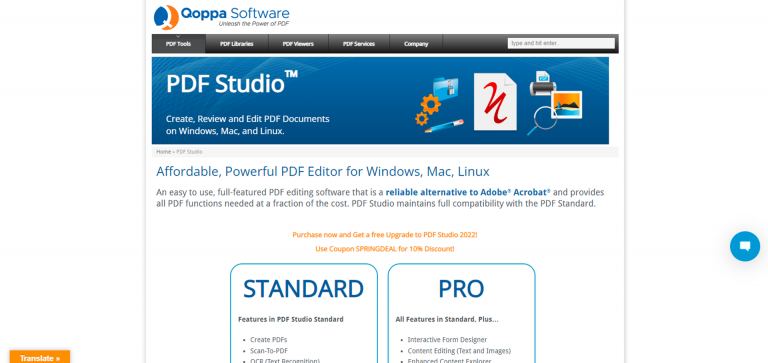 This full-featured PDF editor can perform all the necessary PDF tasks at a fraction of the cost of Adobe Acrobat Pro DC. It allows you to convert to PDF, create and scan OCR, annotate and tag PDF files, create and fill forms, secure PDFs, and many others. The editor is compatible with various computer systems, including Windows, macOS, and Linux.
Nitro PDF Productivity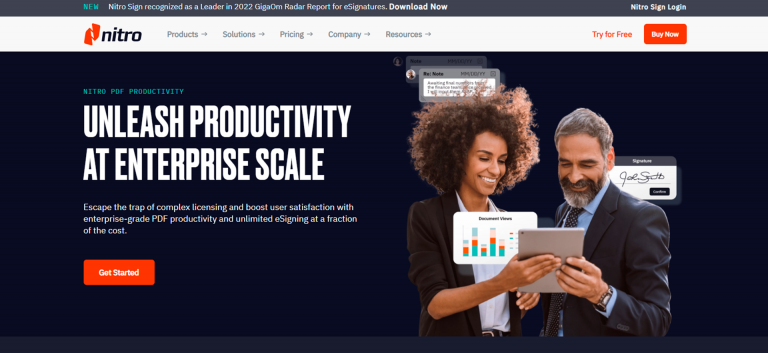 Nitro PDF Productivity is a comprehensive platform, that includes unlimited e-signing, best-in-class PDF performance, and analytics, all backed by exceptional customer support. The full version can OCR the scanned documents, lets you sign documents, and rearrange pages. Nitro provides maximum collaboration flexibility at work with an always-on, browser-based, mobile-ready app. With a wealth of tools, you can easily develop your own PDF.
Smallpdf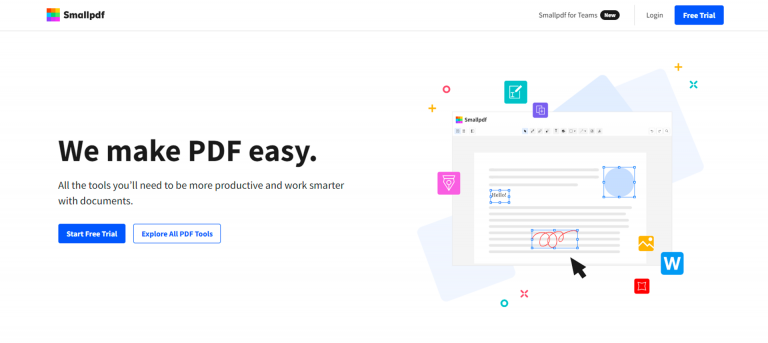 Smallpdf provides a range of innovative document management applications. The main advantage of the app is the ability to freely edit and reduce file size and the intuitive drag-and-drop interface. You can export individual sheets for signature and quickly convert file formats between documents. Its free version is excellent and extremely handy.
PDFescape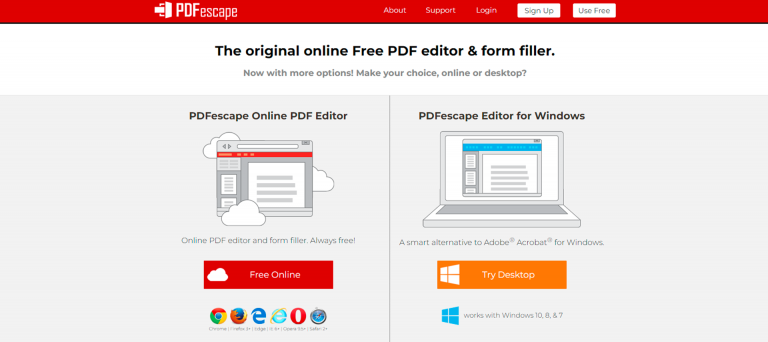 PDFescape is a completely free online PDF reader and editor that also includes a filler and creator program. The program allows users to access and modify PDF files online in a whole new way through web page software. All that is required is a current web browser and an active internet connection. You can create PDFs without the need for installing any extra software.
Kdan PDF Reader
Kdan PDF Reader is great for simplifying PDF viewing and editing functions. Some of its features include editing, converting, signing, and merging PDFs. You can annotate PDFs and make use of a slideshow feature to showcase your PDFs in an organized manner. The platform allows you to work on PDFs in comfort, with different contrast features available to assist with eye strain and easy page scrolling. All files are password-protected, so you can be sure all important documents are kept safe.
PDF design free software
Many of the tools for editing PDFs we described above are available for free, but the ones below can be found on most operating systems (Mac, Windows, and Linux) and are available as Open Source, which means that they will stay available forever. If you need a free pdf editor, you can create PDFs with the help of this PDF software!
LibreOffice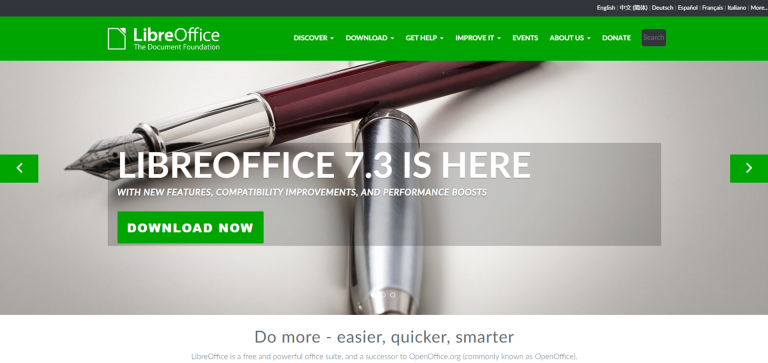 LibreOffice is one of the most widely used office suites available for Windows, Linux, and macOS. You can use LibreWriter instead of Microsoft Word – this program allows you to create and edit PDFs, and allows you to create more complex files. You can import PDF files into DRAW and make simple edits.
Inkscape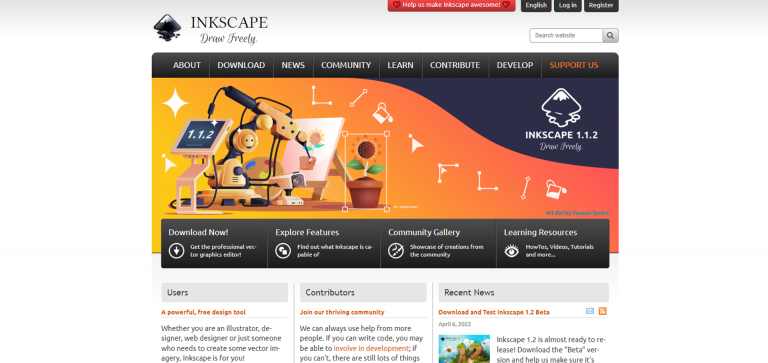 Inkscape is a free open-source vector graphics editor comparable to other popular vector graphics editors like Corel Draw, Xara, Adobe Illustrator, and others. You can use it to edit images saved as SVG (or popular EPS format). You can also use it to edit PDFs. Text, images, and links can be edited and added as needed. Inkscape also lets you split a document into multiple pages, annotate, comment, and perform a host of other tasks.
Scribus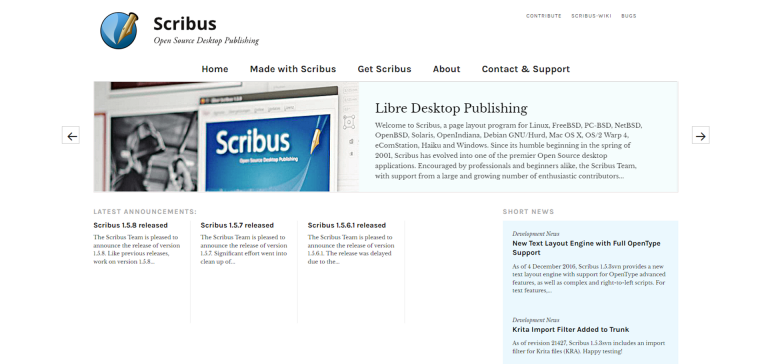 Scribus is a program that allows you to create interactive PDF files and modify them. It is mainly used in publication design and DTP, and there's a slight learning curve in learning how to use it. However, it can also be used to make changes to an existing PDF file – adding PDF annotation and virtual post-it notes, editing text, adding graphics, even creating forms. If you find yourself creating PDF forms, this free pdf editor is a must-have!
PDF document templates
There are many document templates available online – usually, these are PDF documents you can open in your PDF software and edit to your liking. Below you'll find some of the best PDF templates we found online.
Business PDF template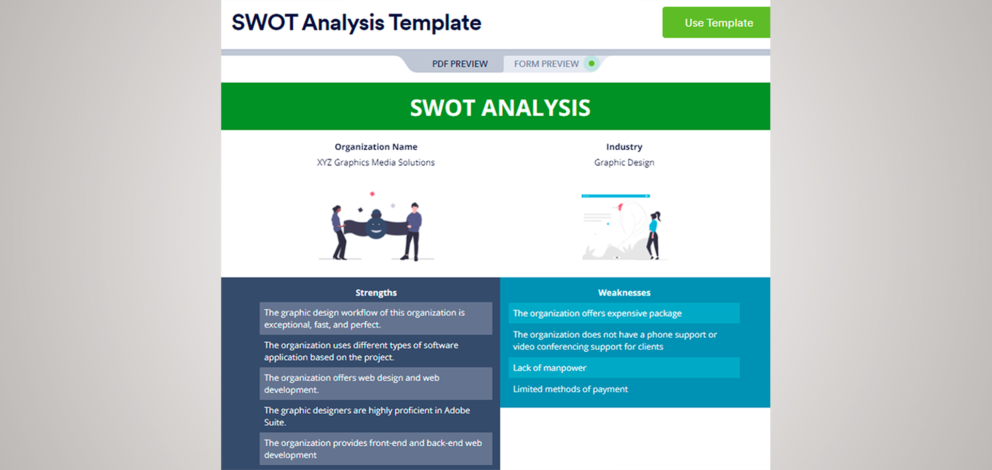 This SWOT analysis template uses colors to great effect. Use your PDF software to fill in your Strengths, Weaknesses, Opportunities, and Threats!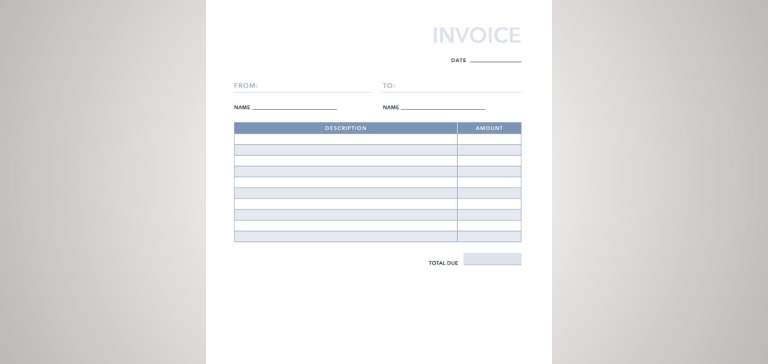 This basic invoice template is customizable and lets you add your company logo and website URL to add a professional look. You can convert it to Excel to customize it easily.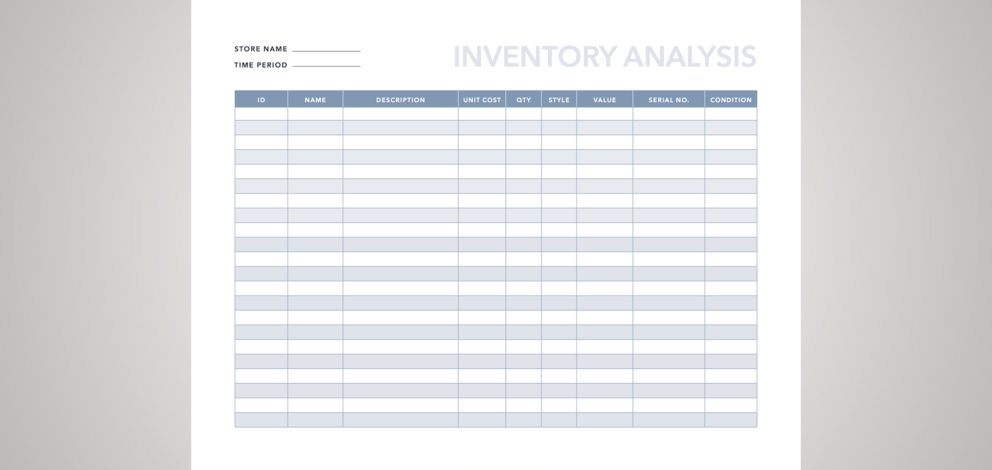 Thanks to this inventory template you can have total control of your stock. It's available in different file formats, so you can convert it to PDF easily.
Creative PDF templates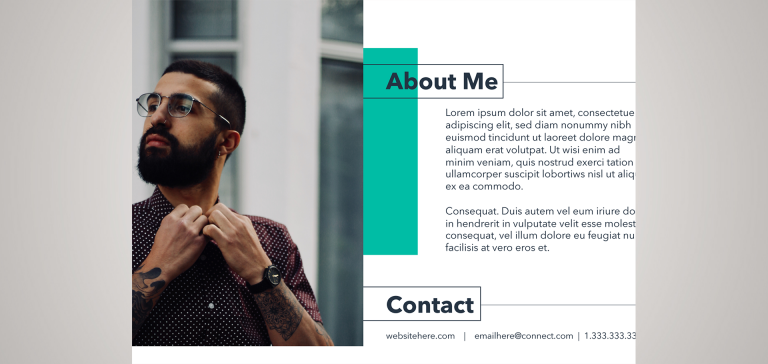 This template lets you create a media kit – a set of information sent to the media to publicize your project. You can place compelling content like case studies, statistics, or the history of your company. This pic can be downloaded as a PowerPoint file or you can convert it to PDF.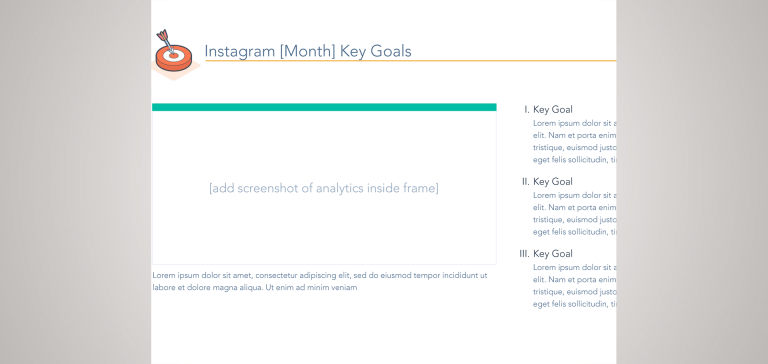 This versatile social media report template is available in doc, ppt, and pdf formats – you can use it to describe your social media strategy. Add your own stock photos and images to make this attractive template stand out.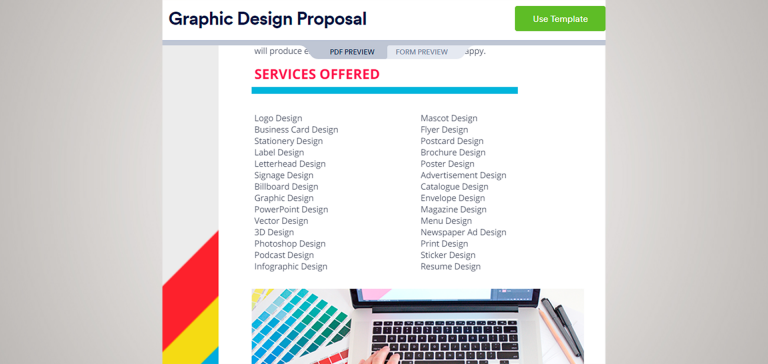 You can use this template to advertise your graphic design company. Add your own text and image content to the original file and send it to prospective contacts!
Beautiful PDF templates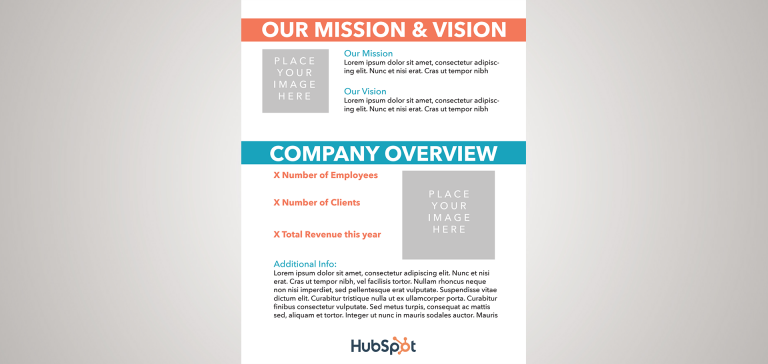 This simple annual report template will help you showcase your yearly achievements and the activities of your company. It's only available in PDF file type, so you need your PDF software to customize it.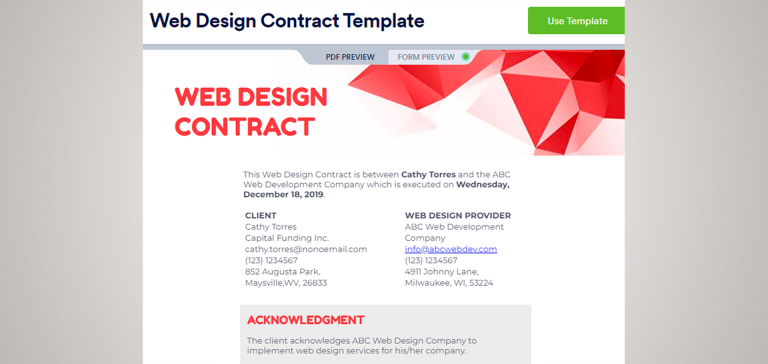 You can use your PDF editor to use this stylish web design contract – it showcases the deal you make to create a web page or an entire website.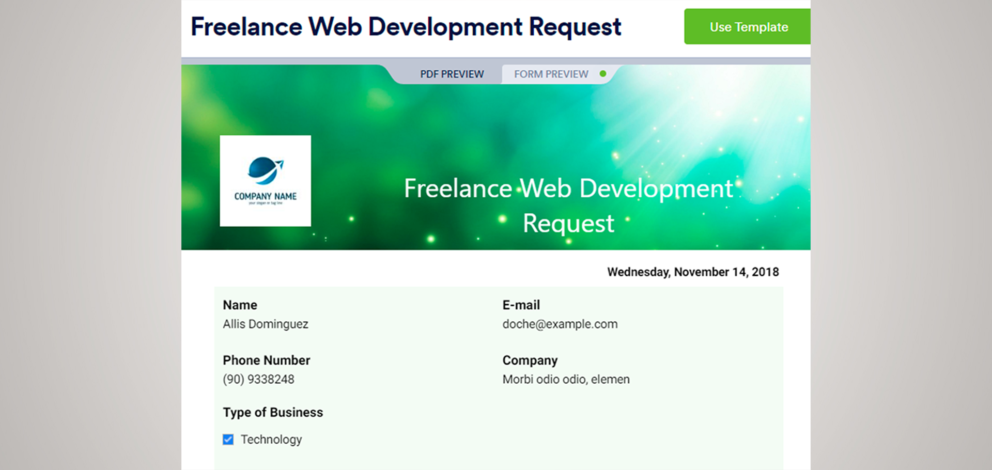 This clear and legible template lets you find new clients for your web page design business! You can swap the background to create all sorts of PDF documents.
Free PDF templates
These 5 templates are available without payment so that you can create documents right out or convert them using your PDF software on any device. Like many templates online, they, too are also available in different formats.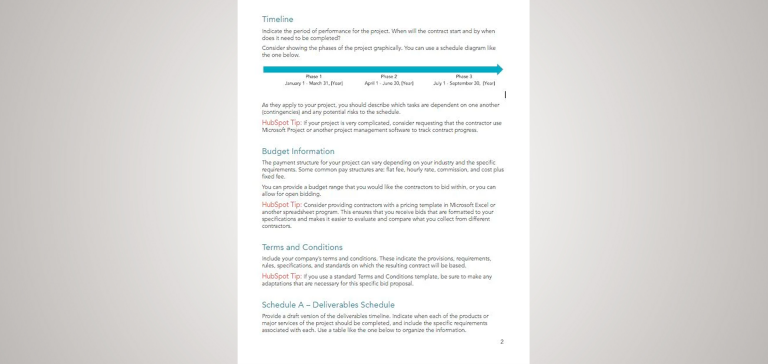 This simple template lets you create documents that help you hire contractors.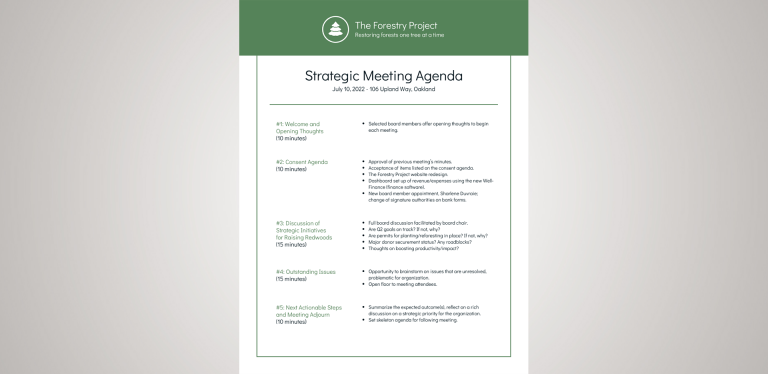 If you want to edit this template in PDF software, you can create an agenda for your next company event.
This template will allow you to create PDFs presenting your business contacts in an easy-to-read way.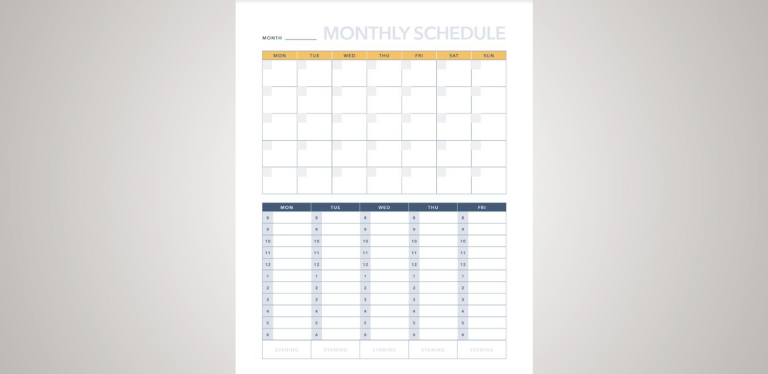 This PDF monthly schedule template lets you plan ahead for your company or employees, letting you create your own calendar.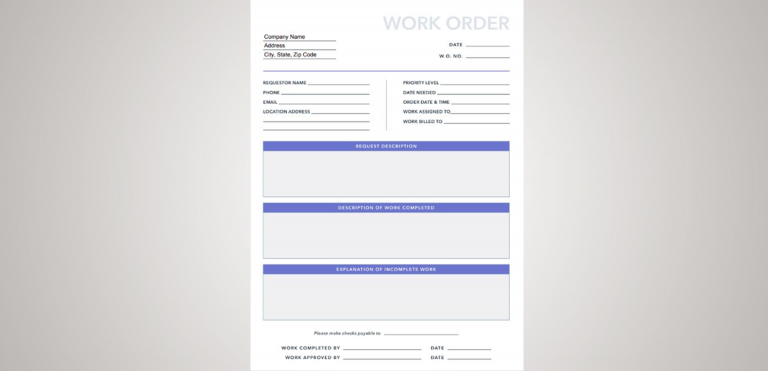 This work order template lets you document the work you've done and showcase your achievements.
A summary
If you're creating sales brochures, catalogs or product offers for your company, you probably need a PDF editor. There are many software proposals available on the market, from Scribus to Nuance Power PDF! Once you have created your documents, you can use Publuu to publish them online as a beautiful brochure with realistic page-turning effects.
You may be also interested in:
How to create a URL link for a PDF document
Brochure Design Tips and Tricks
How to Create an Interactive PDF With Just a Few Clicks