MENU
Personal Branding – All You Need to Know

Personal branding is a concept that has been around in the marketing world only recently, and it is difficult to find experts who are well versed in personal branding. However, once you learn how to promote your own personal brand, this can influence the branding of your entire company.
There is also a common opinion among marketers that personal branding is only for politicians, famous people, or people in important positions. Nothing could be further from the truth. In fact, we can all benefit from personal branding, no matter how old we are, what we do for a living, or how many employees we have.
In this article, you will read why is personal branding important, learn some of the greatest personal brand examples around. You will also find out how to work on your personal branding strategy on LinkedIn and publish the online flipbook there to stand out from the crowd!
What is personal branding and why is it important?
Personal branding is the building of one's own brand by taking care of one's position, personal appearance, and style. Many well-known brands are sometimes associated with a single person's face – like Steve Jobs was the face of Apple – but many companies build their branding on the personal styles of their employees and important people. A personal brand does not have to be worldwide – sometimes it's enough to showcase a particularly strong personal brand in your community or industry.
The most commonly talked about personal brands are those of people in the entertainment and political industries. In fact, personal branding is a very important, even essential, part of media promotion. We all want to be the best at what we do, and let our personalities shine through, not just celebrities or politicians. Of course, all personal branding activities must be well planned and executed to boost interest in your products or services.
To promote your activities effectively, especially in today's competitive job market, you need to take the right steps in the area of personal branding. This will help people recognize your personal brand and strengthen your position, whether as a worker, partner, or employee.

Many marketers believe that personal branding is at the heart of how any individual operates in the job market. Ultimately, when you're looking for a job, you want to stand out from the crowd – and that's already your personal brand. An exceptionally glamorous or unusual profile photo on a resume can already be an element of an effective personal branding strategy.
When you want to create your own personal brand, you have to rely on months of hard work. You need to include your habits, personality, advantages and disadvantages, likes and antipathies, as well specific things you like to do. It might happen that the brand of the phone or car you use means that people won't buy your books. Everything depends on whether you can reach your target audience.
Why do we need personal branding? If you are constantly watched by customers then every step you take is closely scrutinized. Even if you are not famous, it is worth knowing at least the basics of running an image management campaign.
What are the types of personal branding?
Personal branding consists of two elements: branding and marketing. Regardless of the type, these activities have the same goal: to make a person look attractive to a certain group of people. You can promote your image in many ways – depending on your activity and target group.
With branding knowledge, you know what kind of image should be built for your personal brand and what methods and tools should be used for this. Here you need to consider the details of the industry in which the person works, especially your competitors.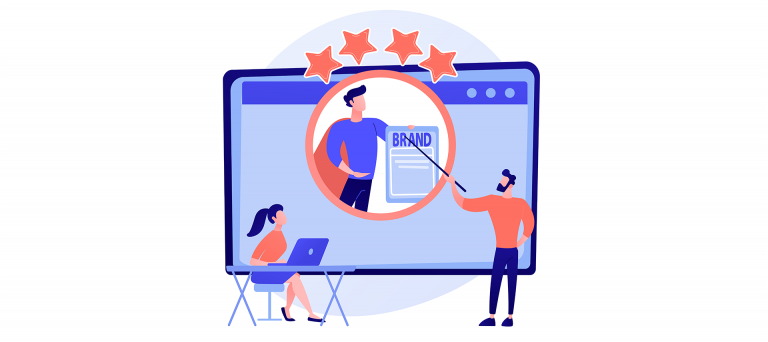 Building your own image is not enough. You still need to promote it using personal branding tools like SEO, sponsored link campaigns, content marketing, social media, or mailing lists. Your personal brand needs to be present online, and match your company.
In the group of image building, two methods can be distinguished depending on the target group. These are employer branding and expert branding.
What is employer branding?
Employer branding means building your image as a boss. At work, employer branding is a long-term plan to gain, engage and retain employees in an organization. It is a very important part of branding your own company!
Employer branding consists of two parts: internal and external.
Internal employer branding refers to activities that target a company's existing employees. You want to create a friendly work environment, and a path to growth and competitiveness among employees – so you need to present yourself as a good boss or a thought leader.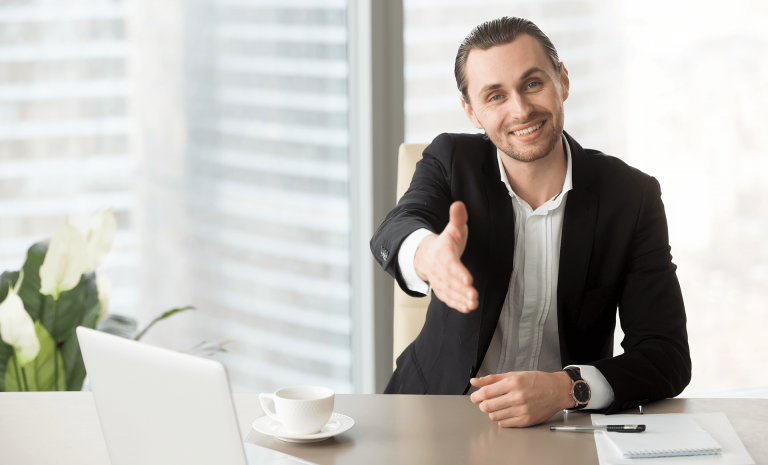 To build an effective personal brand as a boss, you must provide employees with training and development, leisure, and work-life balance. This is based on organizing training, and courses and creating development programs. So, the goal of these activities is to attract and retain the best employees.
External employer branding, as you can easily guess, is aimed at attracting new employees. This type of personal branding involves making the company look like an attractive place to work. You need to make a name for yourself as an influencer and appear at job fairs, for example.
What is expert branding?
If you want to make a name for yourself as an expert, your target audience needs to perceive you based on your knowledge and experience. With your skills, people will be convinced that your goods and services are of excellent quality.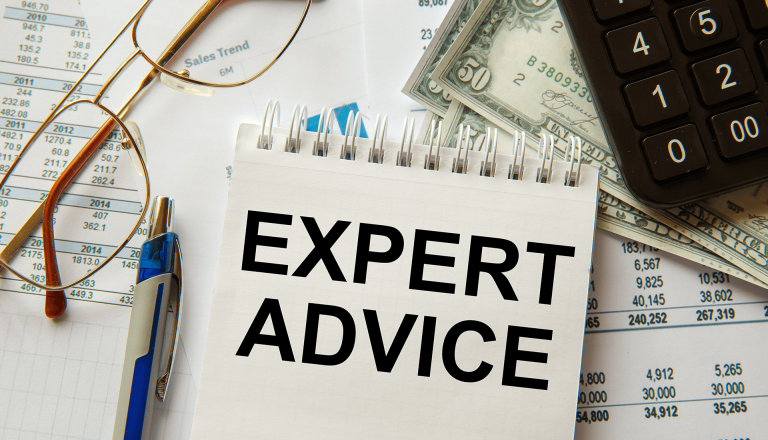 A successful personal brand must showcase your capabilities and unique combination of skills and experience. In many ways, creating an expert self-branding image is like crafting a brand story – only the story you're telling is your own.
Building a reputation as an expert includes showing success stories and recommendations from reliable partners and customers who have gained tangible benefits from working with you, a skilled professional.
One of the best ways to build a reputation as a professional is to build a personal brand based on facts and good reviews. People value other users' opinions more than college degrees or certificates.
Personal branding examples
These personal brand examples are known all around the world – but almost every industry has a face that's instantly recognizable to the professional. Remember, personal branding is not about being a celebrity – it's about having a consistent brand voice and presenting yourself in a consistent matter. This is why we chose these people as some of the best personal brands known around the world.
Bill Nye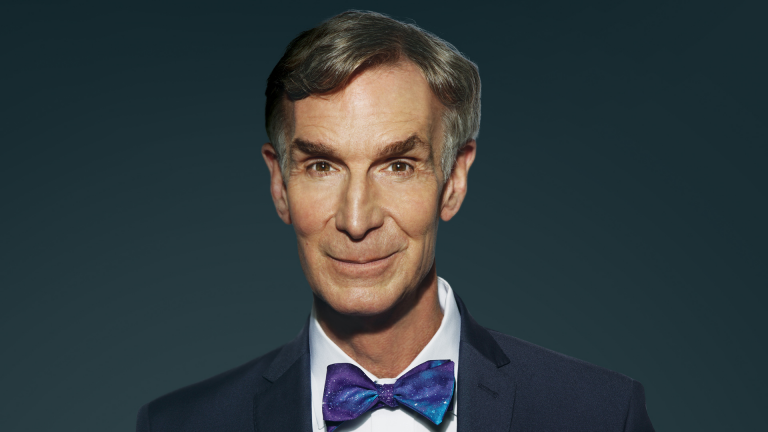 Bill Nye is known as "the science guy" – a TV show host that presents and popularizes science. Bill Nye is consciously building a comedic image, but behind his popularity is a man who cares about making people more informed and interested in science. Just as important to his personal brand as his skills as a performer is his passion for reason and objective thinking.
It's worth noting that Nye is not only a great showman – he's a mechanical engineer, so he's an example of how a flashy, comedic showcase can be helpful in you an expert brand building.
Elon Musk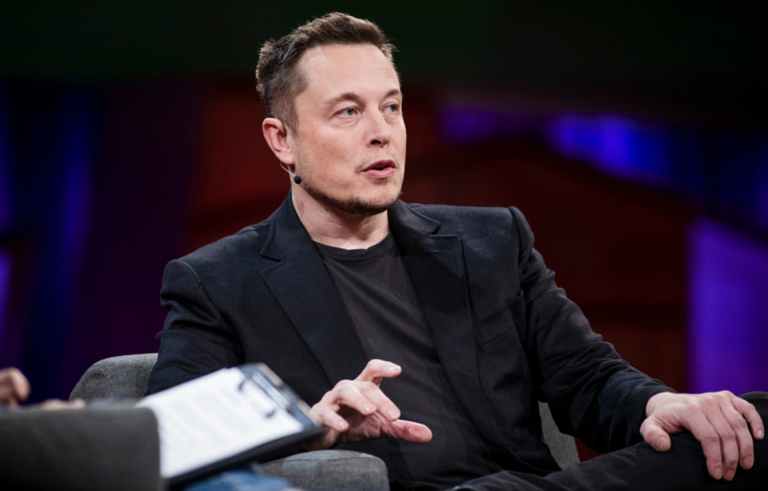 Almost everyone interested in technology has heard of Elon Musk. Musk became one of the richest people in the world thanks to his controversial practices related to the popular PayPal app. Today, he is the face of many innovative companies, such as Tesla, which makes electric cars, SpaceX, which makes rockets, Neuralink, which conducts brain research, and others. Some consider him a great engineer, but he is first and foremost a successful business owner.
Although many of these companies are only partially successful and Musk himself is a controversial figure, there is no denying his successful personal branding skills. He has consciously modeled his media presence on the fictional superhero Iron Man – and pumped millions of dollars into building a personal brand. Regardless, whether you see him as a great inventor or as a clever businessman, you can't deny that he is recognizable.
Oprah Winfrey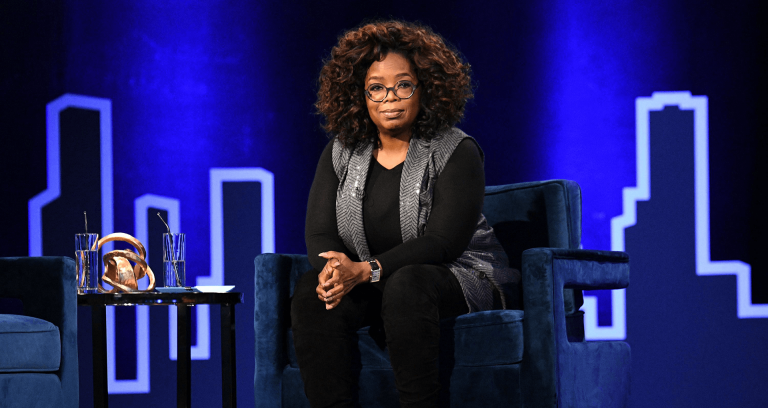 Oprah Gail Winfrey is an American actress, New York Times bestselling author, talk show presenter, and television producer. She is known as the Queen of All Media. She was the first black woman in North America to be worth more than $1 billion. In the early days of her show, Oprah's audience grew because she was frank, honest, and always offered good advice.
Over time, she built and maintained a strong brand image, creating a realistic media personality in line with her personal values. Many people agree that Oprah cares about people and can connect with them, which is evident in her attitude and body language. In the nineties, her self-branding skills were top of the game, and to this day she's one of the top influencers in the media.
Personal branding strategy – top tips
Learn your strengths and weaknesses
Personal branding is in many ways similar to creating a brand identity for a company or NGO. In this case, you can also start with a SWOT analysis – only the product is you. Think over what are your strengths and weaknesses – and don't be afraid to think outside the box. There are times when your experience as a dog walker could help you with managing finances – because you can instantly start new bonds. That's a Strength and it's worth including in your personal brand.
Determine your objectives and methods
It's hard to write a mission statement for a person – but your own values and goals have always been there. Write down your personal goals, and your business goals, and think about how could you build a personal brand around them. You can write down a personal brand statement to refer to in the future – if you want to create a motto for yourself, this is a good starting point.
Make your brand visible
Once you know how you want to be seen, now it's time to actually show yourself to the target audience. Optimize your website, and use social media accounts to show your new strong personal brand. If you get noticed, underline it. Show interviews and reviews everywhere – perhaps including interactive flipbooks.
Build a community around your personal brand
Once you get popular, you attract fans. You have to give your followers a place where they can congregate and give you ideas. Use various social media channels to promote your profile and create content that could interest all sorts of people.
4 best personal branding courses platforms
If you want to build your own personal brand, the guidance of an experienced mentor can help you shape your image in the modern influencer-focused society. That's why we have prepared a list of the best personal branding courses for business owners, social media influencers, and people with entrepreneurial aspirations. With proper guidance, you, too, can build a personal brand and craft a public persona of your own.
1. Coursera – Introduction to Personal Branding

Coursera is a well-known online education platform. This course, prepared by professor Kimberly Barker, discusses how you can identify your values and enhance their presence online.
2. Udemy – Personal Branding Mastery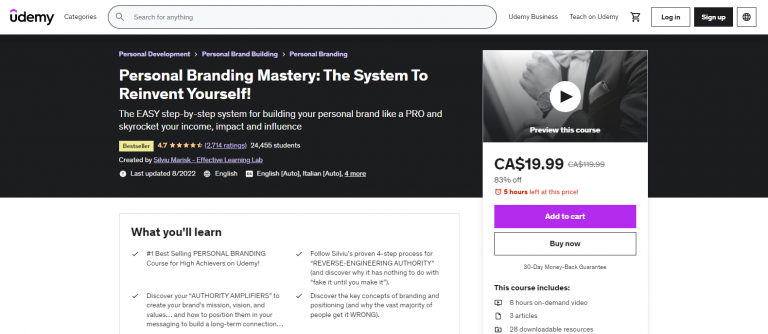 This bestselling course on Udemy lets you prepare for any opportunity to promote your personal brands and become more visible in your social circle. New subscribers can count on discounts for the entire course.
3. Kellogg Colege – Personal Branding Strategy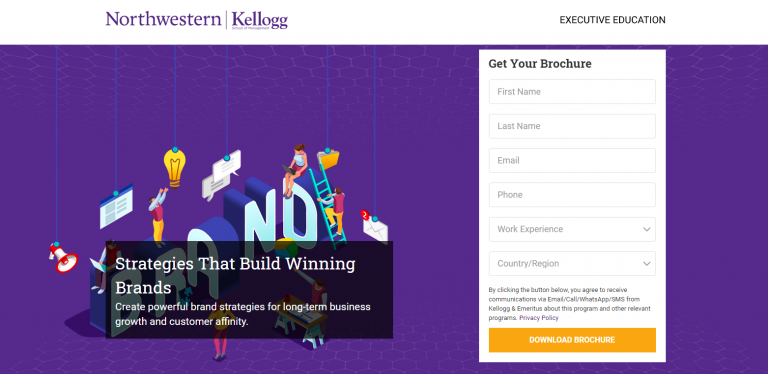 This online college teaches you how to develop your own self-marketing strategies and tactics to develop your personal brands and other means of self-promotion on social media.
4. OpenLearn – Personal branding for career success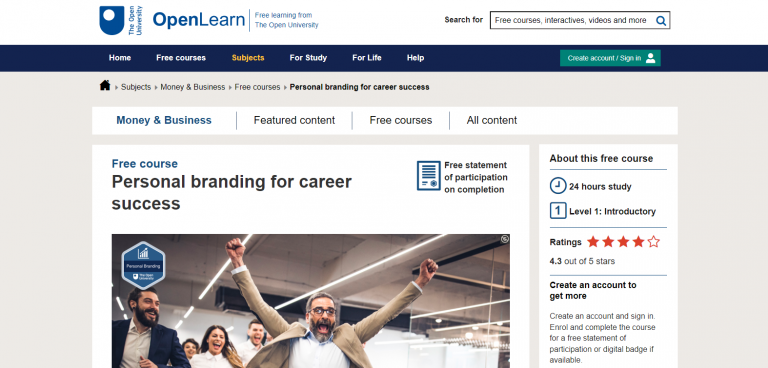 This course is completely free – and it teaches you how to understand the concept of personal branding, how to develop your own personal brand, and use your own values and strengths.
6 ways to make your personal branding on LinkedIn successful
The professional social media networking site LinkedIn is becoming a great place to meet new people and build a professional network. There are many heated discussions, and opportunities for a personal connection, and to promote yourself. At any point in your career, it's good to create a strong personal brand in this community.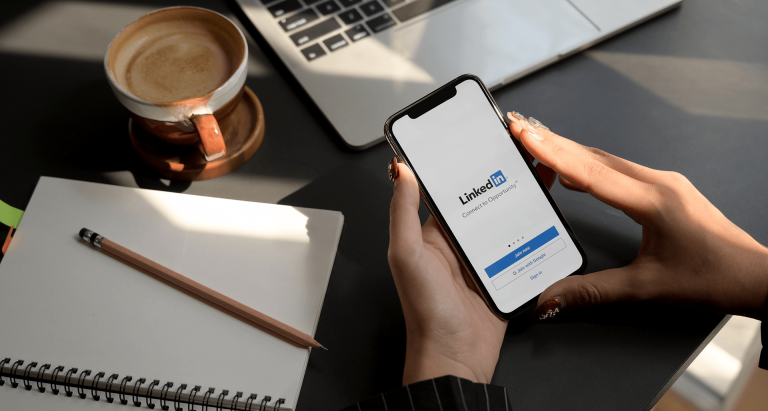 The vast majority of employers will use social networks to find new contacts – this applies not only to employees but to business leaders, young entrepreneurs, and headhunters.
For example, it is a good idea to pay attention to your social media profiles and not post photos or information that could make you look bad. This is an important part of your own personal marketing.
Add a professional photo
A profile photo is the foundation of your personal brand. Avoid the selfie, the party photo, the shadow in the photo, etc. Wear business clothes on it, or clothes that you wear every day to work. Professionals make many mistakes when building a personal brand, but one of the biggest is not having a profile photo.
Work history
You can describe your current job and list all your professional activities, from most important to least important, in just 120 characters. This is an important part of how your profile appears in database search results, so don't forget it. It's a good idea to add a video or photos – an interesting option is to use a link to an interactive flipbook on Publuu.
Describe your experience
Here you can list all your professional accomplishments, in a list or as a bullet point list that shows what you've done in each job you've had so far. Don't forget to write down where you are working now.
A good self-branding profile should include a brief summary of your current career, a list of your most important accomplishments, information about the areas you specialize in, and information about your career preferences.
List your skills
This is the section where you can list your strengths, such as your ability to use certain specialized programs. Consider whether you also have non-quantifiable skills: do you work well in a team, know animals, or play basketball well? Put more emphasis on your advantages.
Add a unique element
Think about what sets you apart from your professional colleagues – what do you have that others don't? Knowledge of an important technology? A pleasant personality? Or are you highly mobile? Add it to your profile! Building a personal brand is all about standing out from the crowd.
A few sentences of praise or a description of a person's work from a trustworthy person, even if it's only because of their business position, can make people who look at that person's profile think better of them. Such recommendations are often the best part of personal branding.
You can add a few more things to your LinkedIn profile, such as education or accomplishments. You should think of this platform as your virtual business card. It won't replace a resume but it's worth preparing an elaborate, professional profile.
A summary
Personal branding might seem like a difficult issue, but any business person or freelancer can create a personal brand of their own if they carefully examine their profile, advantages, and disadvantages. Look at industry leaders – not just celebrities – to see how they built their personal brands and educate yourself on this matter.
Moreover, a good online presence is always a major bonus, whether you think of it as of a personal brand or not!
You may be also interested in:
How to Create an Online Course? The Ultimate Guide
How to Become a Content Creator – a Complete Guide for Beginners
Creative Low-Cost Marketing Ideas For Your Business