MENU
What is Lead Generation?

A lead is defined as someone who expresses an interest in a company's product or service in any way, shape, or form. Leads are not "potential customers" yet, but neither they are someone who's has never heard of your company. Lead generation is the first step in obtaining final sales.
What is a lead?
Leads are a component of the larger lifecycle that consumers go through as they go from "visitor" to "customer". Leads are not all made equal (nor are they considered the same). There are several sorts of leads dependent on how they are qualified and where they are in the lifecycle. The entire lead generation process depends on discovering potential customers and including them in your sales pipeline. You might be interested in cold mailing or hot contact, for example, to keep the leads ready, but there could be more complications than that.
Leads are more likely to hear from your company or organization after you initiate contact (by providing information for an offer, trial, or subscription) than after receiving a cold call from someone who acquired their contact information somehow. What would you rather do: respond to a random e-mail from a stranger or check out a special offer you got from a store you recognize? This is why a lead generation strategy is an important element of any marketing effort.
New leads that are interested in your product or service and are in the market to make a purchase are considered good or qualified leads. These high-quality leads may help businesses increase sales, qualified leads also increase your ROI. When it comes to generating leads, however, many businesses continue to prioritize numbers above quality.
What is lead generation?
The process of recruiting potential customers and turning them into customers who are interested in actually using your company's goods and services is known as "lead generation." Blogging, email marketing, social media marketing, networking, and coupons are just a few of the lead generation strategies used by modern marketing specialists to obtain potential customers.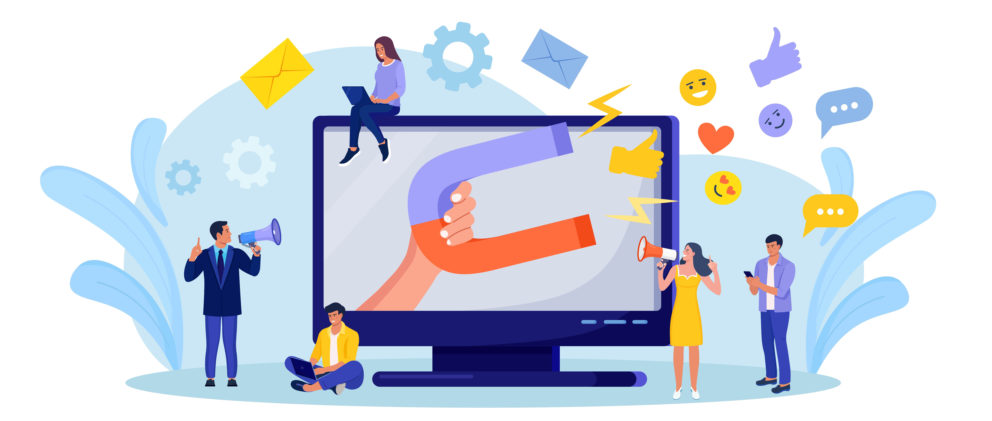 These are just a few ways you and your sales team may attract new clients to your product or service. Lead generation strategies can vary widely amongst industries and companies, so most organizations stick with what works best for them. For instance, if you have a tourist agency, you can create brochures and share them online with Publuu. The more often your prospects see your logo, the more likely they are to engage with your content… but they also can be put off by your spamming. The secret to the great lead generation campaign is the golden mean between lead scoring and overwhelming your target audience.
How to create more potential leads?
Lead generation may take place in a number of ways, both online as well as offline. The more potential customers your lead generation efforts can reach, the more leads you have in your sales funnel as a result of expanding your marketing capabilities. The sales staff saves a lot of time by using lead generation tools, which allows them to concentrate on the most valuable relationships and transform them from an outsider into a valuable customer.
Digital technology has made it possible for sales teams to produce leads based on precise, specific criteria, rather than relying on cold calls and hoping that your lead generation effort will bear fruit. In general, this is an outdated method of getting high-quality leads – today with the Internet in our cell phones in our bags and pockets, we should ask the potential contacts to engage with our company directly! Content marketing, website forms and search engine optimization (SEO) are the greatest ways to attain this goal, which is best accomplished via inbound marketing.
Tools for lead generation – Publuu
Thanks to the new feature of Publuu Flipbooks, you can easily capture high-quality leads from your readers. Lead forms, a great new marketing tool on our website, will let you establish a database of reader emails for newsletters, contact, and more complex marketing efforts.
Publuu's lead form extensions lets you gather personal data from your readers, subscribers, and business partners. Converting your PDF into a digital flipbook will become a simple and effective lead-generating tool for you.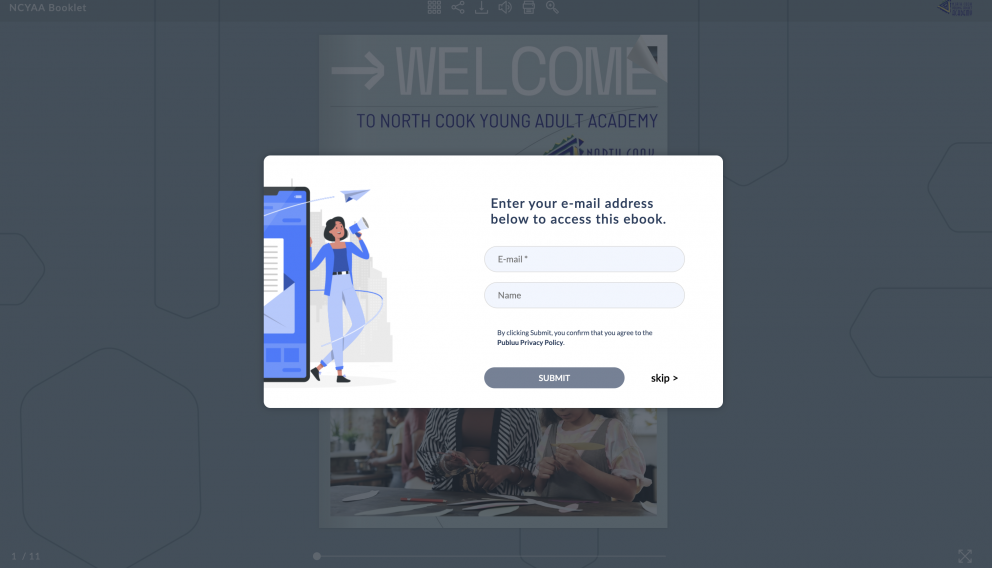 Thanks to this lead generation tool you will improve the efficiency of your lead-generating marketing campaigns. It allows you to collect leads right inside your content. This kind of form may be added immediately to your online magazine or e-book so you can simply upload your material, add a lead form and ask people to exchange their contact information for access to great content.
In addition to collecting information about prospective customers, the lead form in your flipbook also helps you to obtain new subscribers and produce more leads. A good lead form may help your internet marketing strategies in many ways. If you haven't updated your flipbook with this great lead generation tool, do it now!
Publuu's embedded lead form example
View more online flipbook examples
How to generate leads and types of leads
To generate interesting leads your marketing and sales teams should understand the five main sorts of leads.
The main sorts of leads
Any new prospective consumer that you have any knowledge about is considered to be a new lead. This could mean, for example, clients who joined up for your mailing list after visiting your website and entering their email address, saw your poster, or got a tote bag with your logo.
A lead with whom you are currently engaged in dialogue is called a working lead. This person follows you on social media and might have sent you a contact e-mail.
A lead that isn't interested in purchasing right now, but might be in the future is called a nurturing lead. You should keep in touch with this kind of person, reminding them about special offers or the capabilities to contact, so that you could change a nurturing lead into a high-quality lead.
A lead that is not interested in what you have to offer is considered unqualified. Dead leads are another term for this kind of person. Qualified leads are interested in working with you and purchasing what you have to offer.
The entire lead generation process is to convert new leads into qualified leads. Identify valuable quality leads, nurture your image and create successful lead generation campaigns.
Your lead generation process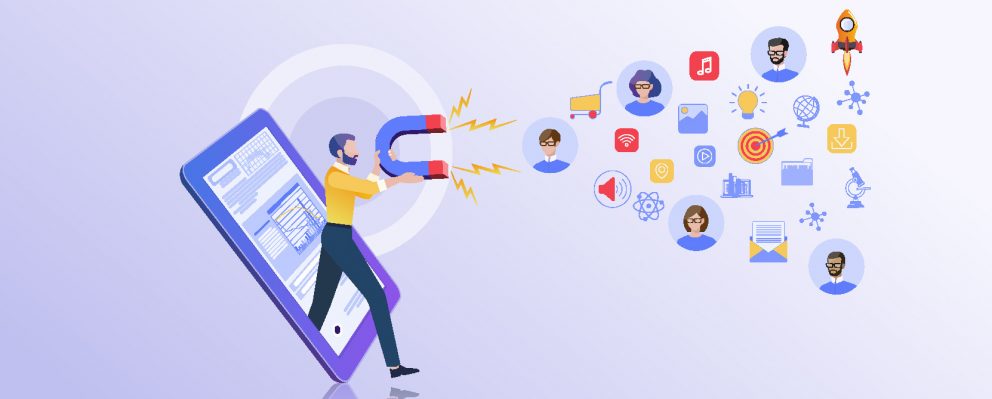 In order to connect with prospective clients and begin producing leads, you can try a variety of lead generation strategies out there. You can choose between the so-called inbound marketing and outbound marketing, and understand how your lead generation campaign can fit inside each of these categories.
Inbound marketing
Inbound marketing is a kind of marketing that attracts customers to you before they are interested in your product or service. The main goal is to build brand awareness. With inbound marketing, the objective is to assist the consumer in learning more about the value that your organization delivers, rather than help them find a solution to the current problem.
Content marketing is a kind of inbound marketing that uses written content to promote a product or service. This process might rely on the creation of blog posts, infographics, videos, and eBooks. These lead generation efforts focus on delivering helpful and important information to your target audience so that they will recognize your brand in the future. This communicates the gist of what your firm offers and assists in building trust with your potential customers
Social networking is a big deal these days. Another kind of inbound marketing is maintaining social media profiles on Facebook, Reddit, Twitter, LinkedIn, or any other social media site where you can find quality leads. Memes and other shareable content that can be easily shared on social media platforms can drive your company's sales funnel and can easily attract quality leads.
Outbound marketing
Outbound marketing is when a company proactively contacts a consumer in order to raise awareness. This assumes that the potential customers already know who you are and can recognize your products. This type of marketing is often targeted – analytics like the one you find on Publuu is just the beginning- and is often focusing on clear call-to-action. Often, this involves telemarketing and hot mailing. This is a tried-and-true method of raising awareness and encouraging people to respond to flash sales or engaging with your prospective leads.
How to generate leads?
Start your journey to generate quality leads with lead generation tools. One of the best ways of generating leads is a form you can create in Publuu online flipbooks. You can also embed this form on your webpage or include it in an online quiz or survey.

Gather the leads
But how will your flipbook help you to generate leads? Well, your lead generation strategy should rely on that old basic – a potential customer wants something and you can exchange lead information for something useful for all the leads.
In Publuu flipbooks this could be access to premium content in an e-book, but it could also be a podcast, a funny movie, the main award in a contest, or even access to beta testing of your software. If you allow your new leads to see that lead capture form as a form of a game where they can win, you will definitely improve lead quality of the entire process and attract potential customers.
Now that you have gathered a database of all leads, you can start building a lead generation engine. You don't need lead management software – an Excel spreadsheet can hold prospective and qualified leads, and you can use this with your e-mail program or social media to start a new campaign. Determine what's your objective and start targeting your new leads. After a couple of weeks after gathering a significant number of new leads or closing your lead capture form, start to drive traffic on your landing page by addressing new website visitors.
Maintaining your leads – lead management
Outbound marketing is making people notice you – very hard in these competitive times. However, even harder is lead management and lead nurturing – keeping your quality leads interested in your content. You can convert leads into customers only if they will understand your product and will be interested in maintaining a brand.
Make your products count
Some products, like food and perishables, are one-time purchases. These industries must rely on creating a recognizable brand and customer generation for them relies on transforming existing customers into fans and brand ambassadors. You can drink any soda, but the fans of Pepsi will advertise Pepsi and share it on social media.
For other industries, you need to add nurturing to your lead generation strategy. Add special offers to your marketing leads and allow them to learn more about your product or service. Engage with them and don't push unwanted content to your quality leads. This should help you in lead generation.
Why is lead generation important? A summary
Lead generation is critical to the success of any marketing campaign, and you shouldn't give up when trying to generate leads.
The contemporary market is very competitive, regardless of your industry or product or services. What's more important than when a potential customer wants to establish a connection with your company, they want to have control over this relationship. Your lead gen strategies must match their needs and satisfy their demands. That's how lead generation works these days!
While quality lead generation strategies can assist you in identifying quality leads and nurturing them, you also need to remember the reason to maintain this marketing funnel. You need to gain prospects to build the growth of your business and fulfill the needs of the customers, not just to inform the most people around. Lead generation should not overshadow your main activities.
You may be also interested in:
What is Publuu lead form feature ?
What is branding? Simple Guide
20 creative presentation ideas