MENU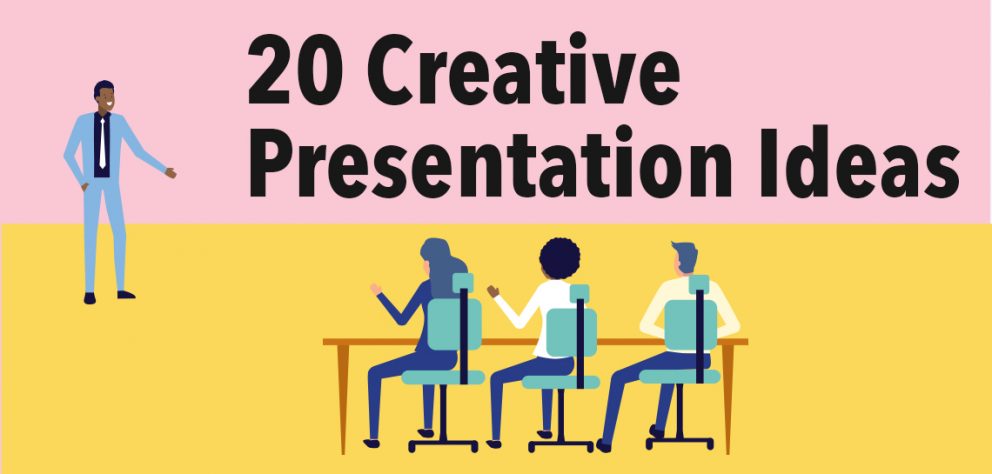 For some corporate workers a presentation is an opportunity to learn something new and improve their skills. But if the presentation is boring it becomes another snooze fest and most of the audience won't be able to focus on your presentation. A good presentation isn't just PowerPoint slides and great templates – it relies on fresh, new creative ideas to present your excellent content.
This article contains a list of twenty great presentation ideas for any occasion- whether business, product or new season launch. Look through it for great ideas to how to create a fun presentation without any issues or problems.
Presentation Idea 1
Use Publuu – presentation maker
If you package your creative presentation ideas into an appealing and interesting format, you can easily make the most of them. Publuu's optimized, realistic flipbook creator can quickly transform your PDF presentation into a one-of-a-kind experience for your audience. You can create great flipbooks that are fun to preview and browse through.
Publuu's presentation example
Not only can you make your presentation look like a book with realistically flipped pages, but you can also turn your slide deck into a fantastic booklet using the flipbook format. Your presentation can also be turned into an HTML5 publication that can be viewed on a PC, Mac, cellphones, tablets, and even smart TVs.
You can send your audience a link to your presentation and let them flip through the pages on their own. Because your presentation slides are now stored in the cloud, your audience members will be able to access them from anywhere – you don't even need to bring your laptop; a link to your Publuu presentation will suffice.
A flipbook is more interactive than a slide deck. You can use it in conjunction with other presentation ideas such as images, multi-media capabilities, and even links to social media profiles to allow your audience to contact you right away. Thanks to these helpful features, your presentation will have a greater impact on your audience.
Presentation Idea 2
Tell a story
The human brain is designed to respond to stories. We visualize many ideas as stories, and that's why human language evolved in the first place. This need for storytelling has helped it evolve into one of the most powerful communication instruments ever devised by humanity.

We learn about ideas through stories, and we find it very difficult to separate stories from facts. Facts tend to be boring, but stories are fascinating. Storytelling holds the audience's attention. It helps the audience understand and remember the ideas explained long after the story is over.
Instead of showing your presentation as dry facts that will bore even the most sympathetic audience to death, weave your findings into a narrative.
What is the best way to tell a story? A story has a beginning, middle and an end – make sure you have a clear line running through all parts of your presentation. When delivering your presentation, you want your audience to put themselves in the shoes of the subject, to identify with the ideas you're trying to showcase, rather than stare on your slides.
A story must involve some element of change. There can't be a presentation without comparison of what has changed. Begin your presentation by describing how something used to be, then shift to a new situation. This will determine the main message of the presentation you're trying to create.
When presenting a product, tell a real story of how it changed your customers' lives. When presenting a new solution, explain how it came to be and what problems it solved. Tell your audience how you feel – stories are all about emotions!
Presentation Idea 3
Use illustrations
One of the most effective ways to make your presentation more engaging is to use illustrations. Many people think visually, so using images and cartoon illustrations to illustrate your points will make it more accessible to your audience. Even a corporate presentation can benefit from the use of images.

You can add an interesting visual cue to your presentation template by contrasting the otherwise dry presentation with a vibrant color scheme. Adding some great illustrations on your slide will make it instantly the focus of your visual message – and will look very fun! You could also need a mood board to support your presentation which can use graphics, pictures and much more! Many flat icon graphics can be found on stock sites, and if you create a presentation for a small group, Fair Use will usually cover it.
Your slides should be as visually appealing as possible. Don't write things you're saying, instead use charts, photos, illustrations, and other graphics and explain your points as they pop up in your slide show. This way you can keep your audience focused on you. Visual presentation ideas also rely on colors on your slide show, and use colors and fonts – as you see below.
Presentation Idea 4
Go mobile
More and more people are viewing your presentation on their mobile devices, especially in times of remote working. It's more likely that you'll give your presentation online, where your audience members can watch it from the comfort of their own homes.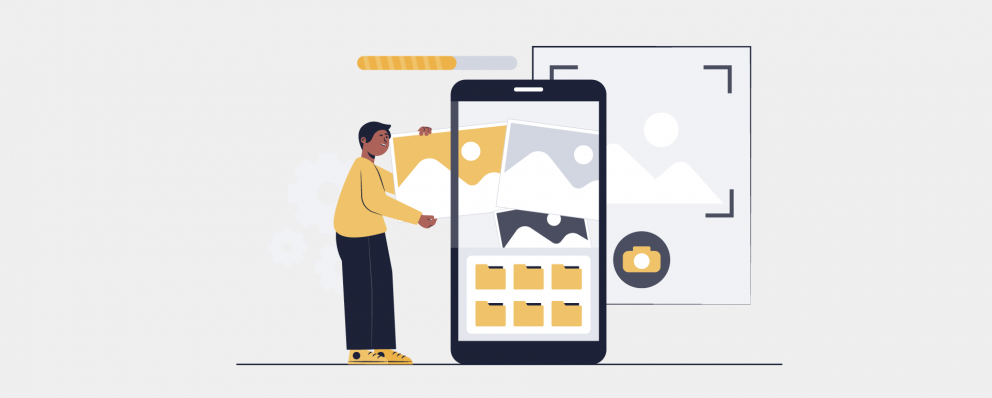 To use this presentation idea, consider about how your presentation will look on smaller screens – Publuu is a good option because it doesn't require any app downloads and the HTML5 flipbooks look great even on small screens. Make sure your presentation slides and illustrations fit on a smaller screen and that iOS and Android devices don't have any issues.
Presentation Idea 5
Commit to the bit
A great presentation idea is to stick to a single graphical motif throughout your presentation if you want your presentation to look consistent. If your company's logo is bright yellow, for example, use it in some elements like decorations, text boxes, and headers. Use your corporate font styles and images that have established presence in your business.
Instead of a random jumble of images, you can use a mascot, a specific gradient, or a color palette. Publuu's unique flipbook appearance, which replaces traditional slide deck, provides interesting creative presentation ideas that will only add to fun of creation.
Presentation Idea 6
Start strong
You want to capture your audience's attention right away. Nothing beats a provocative statement for grabbing the audience's attention. Begin with a good one-liner or a question, such as "I bet I can triple your productivity" or "I know a dog who can fly." You're halfway there if you have an engaging story or example that will pique your audience's interest in what will happen next.
Presentation Idea 7
End strong!
If you started your presentation with a powerful one-liner, make sure you finish it strong. You can go back to your beginning, but if you create a strong ending, a great way is to end with that one thing you want your audience to remember. Leave them with a visual representation of successful users or a list of additional questions that they can find answers on your website.
This presentation idea is based on the assumption that you want to leave a lasting impression on someone you've never met before. They will be able to contact you if your audience is your coworkers and superiors.
Presentation Idea 8
Be interactive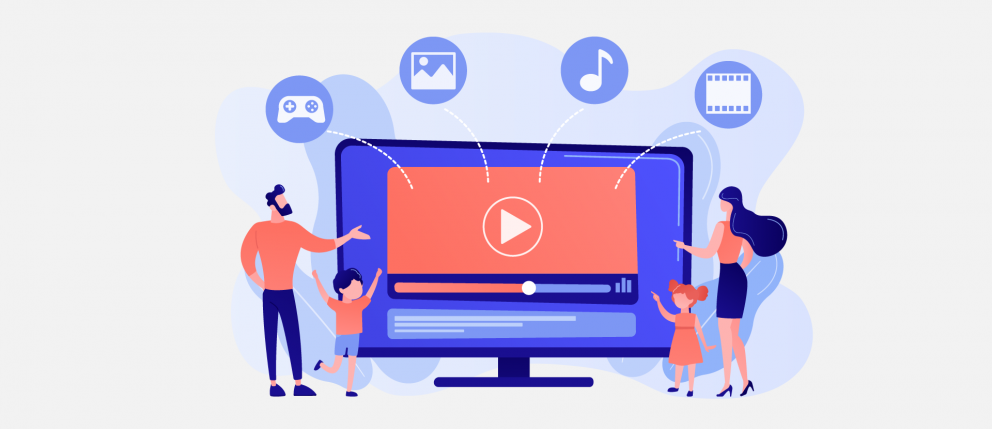 Your presentations don't have to be in the form of a video game or a social media quiz to be interactive. What we mean is that the people in your audience shouldn't just be there to listen. Engage them, ask interesting questions, and converse with them about topics that pique their interest. Maintain eye contact with the audience throughout your presentation, and ask them what they think of your ideas. Make their time fun! There's no reason they can't have a good time.
Presentation Idea 9
Rely on infographics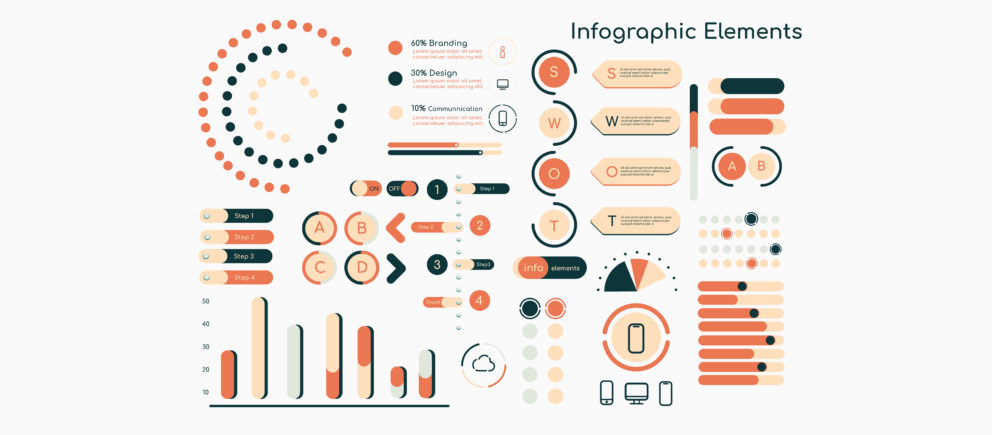 Source: Freepik
Infographics are a fantastic, great way to visualize complex data. To make your presentation more interesting, use large graphics and combine them with icons instead of boring pie charts. Attractive infographics can be a great example of engaging content if they have good visuals and a well-thought-out business presentation design. Make your presentation legible at first glance by using bold, eye-catching fonts and recognizable images.
Presentation Idea 10
Don't be afraid to abandon the slide deck
Some of the most effective presentations defy your preconceived notions about what makes a good presentation. With the flipbook functionality, Publuu allows you to break the mold, and you can use some creative presentation ideas to make your presentation look like a comic book, a woman's magazine, or a black-and-white children's book.
You can build your entire presentation around this concept and use your imagination to come up with a unique theme. This is an excellent way to distinguish yourself from the sea of identical presentation molds. If you can get creative and change your style abandoning template schematic, it's a great way to stand out and connect with your audience.
Presentation Idea 11
Be funny
When developing your creative presentation ideas and delivering your presentation, don't be afraid to be amusing and crack a joke or two. You don't have to make a joke once per slide, but a strong, unexpected joke can have a powerful impact on your audience. If you use jokes to illustrate key points, you can make a point and have a greater impact on your audience.
To illustrate your points, use visual metaphors and humor. People remember ideas that are linked to strong emotions. They will return to a contrasting illustration in the future if they have one. Include some memes and pop culture references in your presentation! Even a formal business presentation can use a couple of amusing, fun elements.
Presentation Idea 12
Use consistent fonts
Another important aspect of presentation design is the use of readable fonts. Your font choice, like your color scheme, may be influenced by your company's branding or the presentation template you use. Consider legibility when selecting a layout and typeface for your presentations. Your font should match your style, background and other visual element you added to the presentation.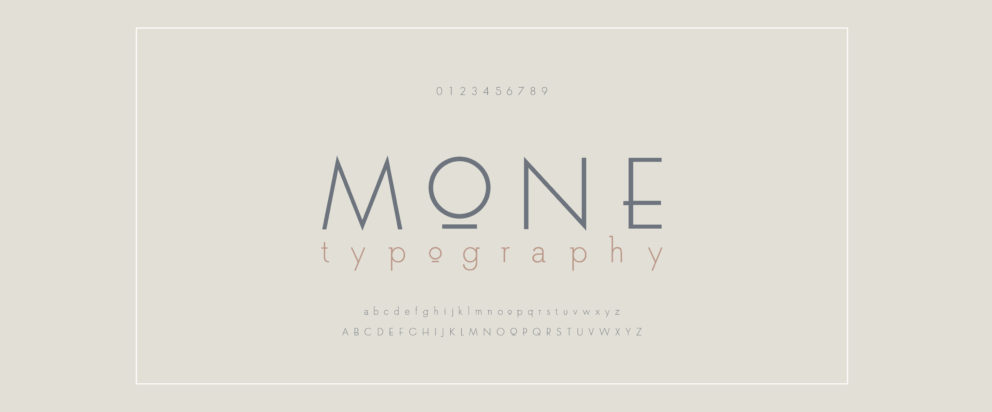 Limiting yourself to only a few fonts is always a good idea; pair sans-serif with serif fonts to create a nice contrast. To make your font choice count, use good, legible typefaces in your presentations. If you want to showcase data on your presentation, use sans-serif fonts like Arial or Roboto for example, and if you need to create text boxes, serif fonts might be a good font choice.
Presentation Idea 13
Rely on contrasts
Colors that contrast, such as black and white or a similar color palette, can be very effective. You can get creative with color combinations and contrasting schemes if you know how to use the color wheel or the template that relies on visual contrasts. To show important visual points throughout your entire presentation, you can switch between three main colors: red, green, and blue. You can make use of the contrast between fonts and the background of the text. Contrasts are a great way to add punch to your visuals while also engaging the audience.
Presentation Idea 14
Use photo backgrounds
Backgrounds can be simple blobs of color, but don't be afraid to experiment with more complex graphics and photos in your slide deck. These photographs are a great way to add some style to your presentation, especially for splash pages and similar visuals. You can make these backgrounds very inspiring by pairing them with vibrant fonts or icons, but be careful: you don't want to create a type of presentation that looks like a discredited social media post format, so don't use it for every slide. Your audience can get in the right mood if you use the visual cues to make your point.
Presentation Idea 15
Example, example, example
Don't be afraid to use examples in your presentations. A great example is a great way to create a story, inject some humor into your presentation, and give your audience tangible proof. Each key point you make should be accompanied by an interesting story, visual proof, or something your audience can relate to and engage with. Don't just say your ideas are correct; demonstrate them to your audience!
Presentation Idea 16
Question and answers
A question-and-answer format is also one of the best creative presentation ideas. You can construct your slide deck around the concept of a problem and a potential solution to the problem. You can use it on every slide or just the first few chapters if your presentation is all about problem solving, for example. This is a great way to respond to frequently asked questions or to make your presentation more engaging!
Presentation Idea 17
Add an outline!
A table of contents is an excellent idea, and your presentation template may already have one. Publuu flipbooks' interactive hotspot feature allows you to create an interactive table of contents that can also be used as a presentation outline. To return to the main page, you can use Publuu hotspots to add quick navigation and a backlink to the table of contents on every slide in your slide deck.
Adding time stamps that explain how long each presentation will take is another great way to create a simple and engaging presentation that is also easy to navigate. You could allot 5 minutes for an introduction, 10 minutes for your main points, and 15 minutes for examples and additional metrics, for example. This is a great way to break up your presentation and make it more interactive.
Presentation Idea 18
Talk with people!
Involving your audience in the presentation is one of the best presentation ideas out there. This is more about how to present it and the event itself than it is about coming up with creative presentation ideas. For example, you could begin your presentation with a fun icebreaker exercise, such as asking them to name the most colors and then passing the task on to the next person. These activities bring your audience together and can be a lot of fun.
Depending on the type of presentation, ask your audience to talk amongst themselves, encourage discussion, and tell them to ask questions. When there are some natural groups formed in the audience, for example if it is comprised of people from various companies, brainstorming is great way to involve them in working together. You can also ask an audience member to serve as an example, step out and answer a question or two. Participation from the audience is a great way to deliver your presentation quickly and keep it interesting.
Presentation Idea 19
Add some star power
Presentation ideas are similar to sitcom scripts in that nothing beats a celebrity to improve your presentation. No, it doesn't have to be a movie star or a social media influencer in person. You can simply rely on the authority of someone in your industry who is well-known to your audience. You can invoke their quotes or recall their visual example.
If you do know someone who could contribute content to your presentation, you could ask them to help out with some tips or contribute with their message, but you can also use quotes in a flashy font to inspire your audience. Many people trust authorities more than data, so keep that in mind when giving presentations.
Presentation Idea 20
Add some music

When you think of a presentation, you probably picture a slide deck with static images and someone giving a speech to the audience. However, since most presentations these days are delivered via computer, why not use some creative presentation ideas and add a musical background or a full-fledged sound effect to each slide? Publuu already adds sound of flipped pages per slide or page, for example and they can be very palpable to your audience.
Good music can give your audience emotional cues, and Publuu knows how to do it. It's easier to incorporate mp3s or videos into Publuu flipbook presentations than it is to do so with a standard PowerPoint slide deck. These flipbooks can use music to highlight important ideas and points. Music can also be used to inspire creativity, as well as to encourage audience participation and conversation.
Creative Presentation Ideas
These are just a few of the creative presentation ideas that can help you create engaging content while also ensuring that your audience understands your point. One of the most important aspects of marketing and self-promotion is business presentation, which includes both creating the document and delivering it in an engaging manner.
We hope that thanks to our tips and ideas your content will stand out and become more interesting!


You may be also interested in:

Top Tips To Prepare Virtual Presentation
How to make a PowerPoint presentation that will stand out?
The Best Online Presentation Tools in 2021