MENU
The Best Online Marketing Tools that help your business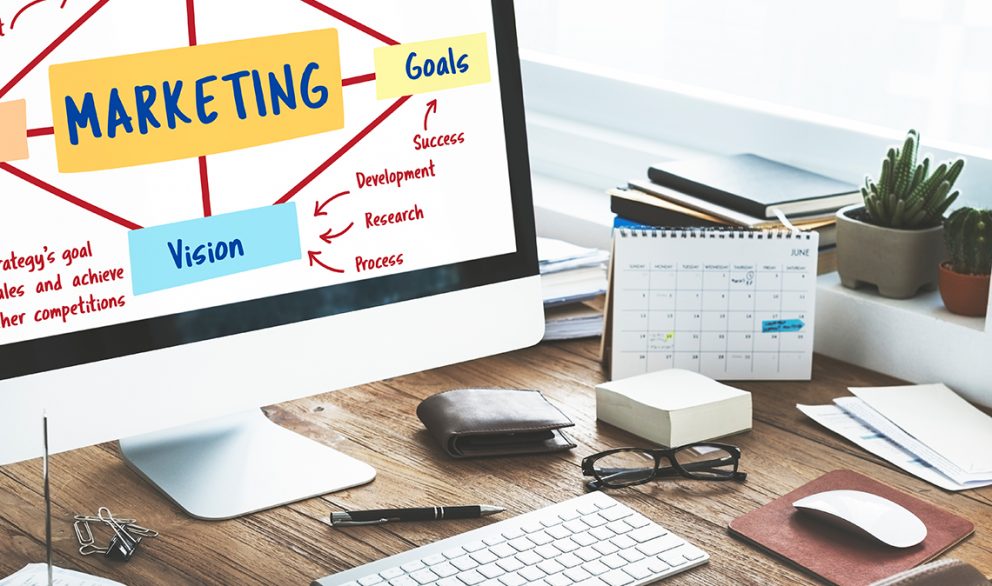 Learning new tools is one of the best aspects of learning a new job. You can become more efficient and discover whole new worlds. Digital marketing tools, however, can be a bit daunting. Many budding businesses discover that social media marketing is much more complicated than "we must have an Instagram and share memes with kittens." There's Google Analytics to consider, and all the major social media platforms have their own marketing tool system systems. Every business needs a good digital marketing strategy these days… and to use it effectively, you need the best digital marketing tools.
To drive more visitors to your landing page, convert them into customers, and keep those customers, you need a good, well-thought-out marketing strategy. Without a good plan, using these online marketing tools is like grasping at straws. Determine your overall online marketing strategy. What do you want to achieve: gain more visits to your landing page? Increase brand recognition? Improve your search engine optimization? Do you want more people to use your free products or gain more paying customers – because these two goals can be very different…
To help beginners and newcomers come on their own, in this article we present 15 best digital marketing tools we could find. You can use them for social media management, content marketing, keyword research. Digital marketing is a very wide topic and below you'll find a host of tools that reflect all aspects of this business, from SEO tools to e-mail marketing tools to help you create amazing marketing campaigns.
15 best digital marketing tools for your business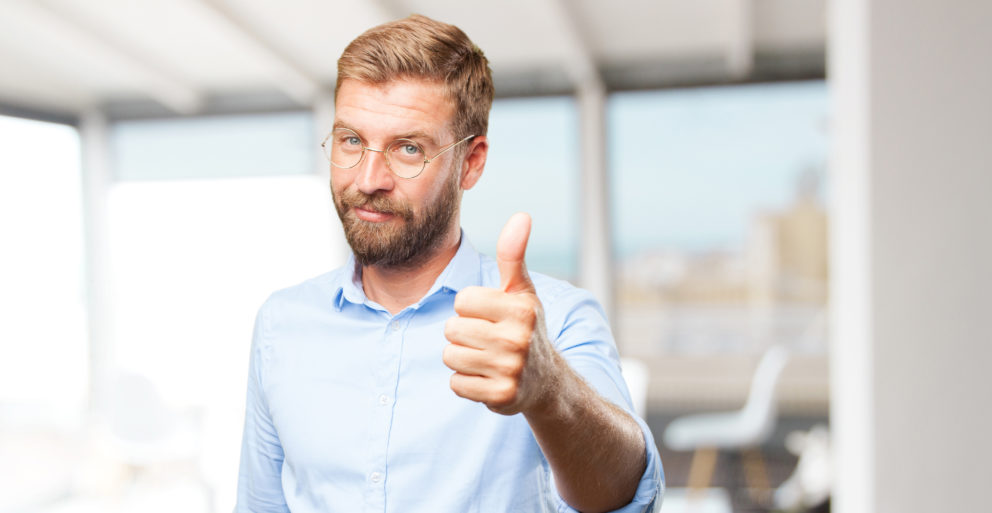 Publuu
Digital marketers are constantly looking for the best way to make others aware of their brand. To this end, they often use PDFs to showcase their products or services, whether on their landing pages or in social media. Publuu is a great digital marketing tool that allows you to distribute content across the web, email, and social media by presenting it in a beautiful flipbook format. It's a great publishing platform that allows sharing your content and offers many great marketing analytics tools.
Publuu's flipbook example
Google Analytics
Google Analytics is a quintessential marketing tool that needs no introduction. Digital marketers use online marketing tools like this to track traffic and monitor conversions on their website. Whether you run your own blog, online store, website or a simple introduction website that's just your landing page, this should be one of your essential digital marketing tools.
It can provide you with all sorts of demographics analytics. You can easily learn the location, age, or gender of the users, what browser do they use. Google Analytics also provides you with additional data such as frequency of visits, engagement and the most visited areas on your website. This tool lets you learn from which social media websites do the visitors come from and what websites link to yours quite often. You really can't run a good web-based business without Google Analytics.
Mailchimp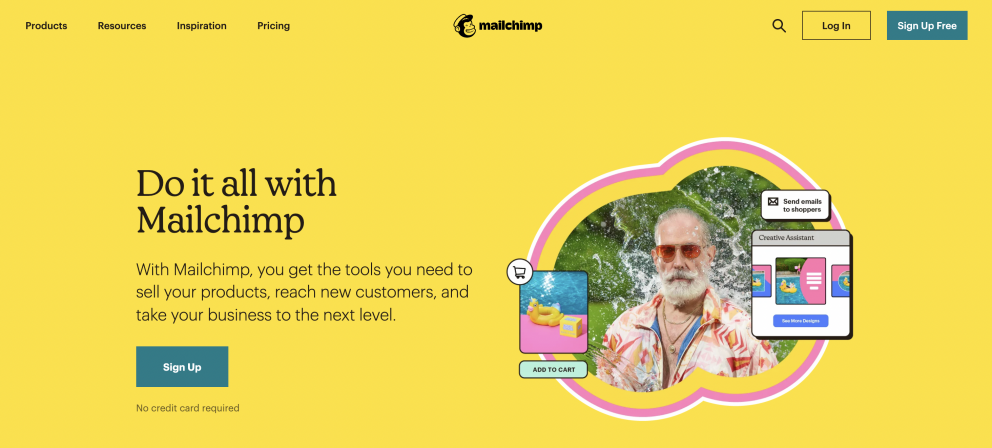 Email marketing can have many various meanings. At its absolute core it's simply all about sending messages for your potential customers, but it can be used for so much more. Email marketing tools help you target your customers, engage them, inform customers about special offers or promotions, or ask them for feedback. You could even use the Publuu's Flipbooks to present your offer or catalogues within their e-mail inboxes.
Mailchimp can help you in all of these things. With over 12 million clients, MailChimp has established itself as one of the world's leading digital marketing tools. This company are among the best-known email marketing automation providers and digital marketing solutions. The Mailchimp website manages databases of your subscribes, lets you divide them into groups to try out different strategies for e-mail marketing. This marketing tool works great for both cold mailing and lead capture as well as contact with your customers With Mailchimp, digital marketers like you don't have to worry about email marketing anymore.
This email marketing tool is free for people with less than 2,000 subscribers or who send fewer than 12,000 emails each month. This is ideal for beginners and small companies, which can get started with email marketing early and for free.
Hubspot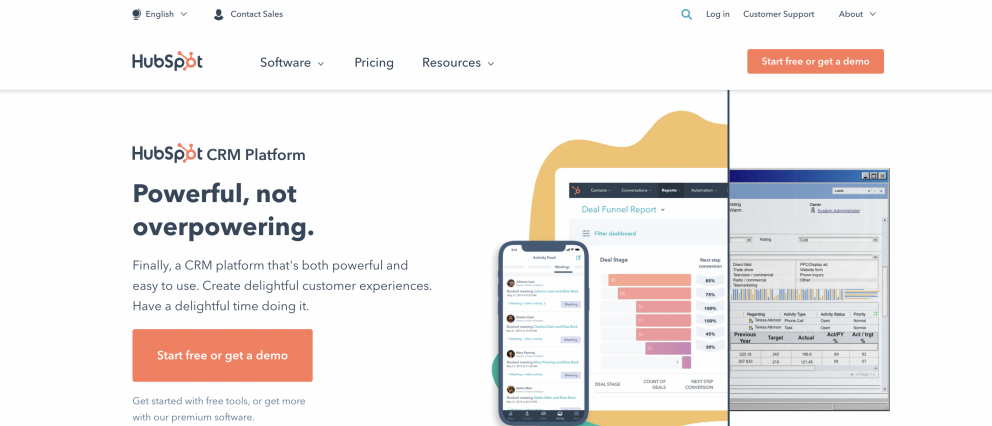 HubSpot is more than just one of the best digital marketing tools on the market: it's a marketing, sales, and customer support software package with a completely free CRM program at its core. Each of these online marketing automation solutions is complete on its own, but they work best when used as part of an integrated suite of digital marketing tools.
In Hubspot, everything is based on the same database – marketing, sales, service and IT all use the same basic system. This digital marketing tool allows for better team communication and a much-improved customer experience. With packaged digital marketing tools like Hubspot, you have everything you need in one place and save time when using the entire marketing system in your marketing department. This helps you get started on your path to success and gives you new options as you grow your business. Hubspot can't compete with more dedicated email marketing tools like Mailchimp, but that's also an option in this file management tool suite.
Hubspot offers a free trial and a variety of paid plans. This platform that allows coordination of your content and information flow is great for larger businesses.
Trello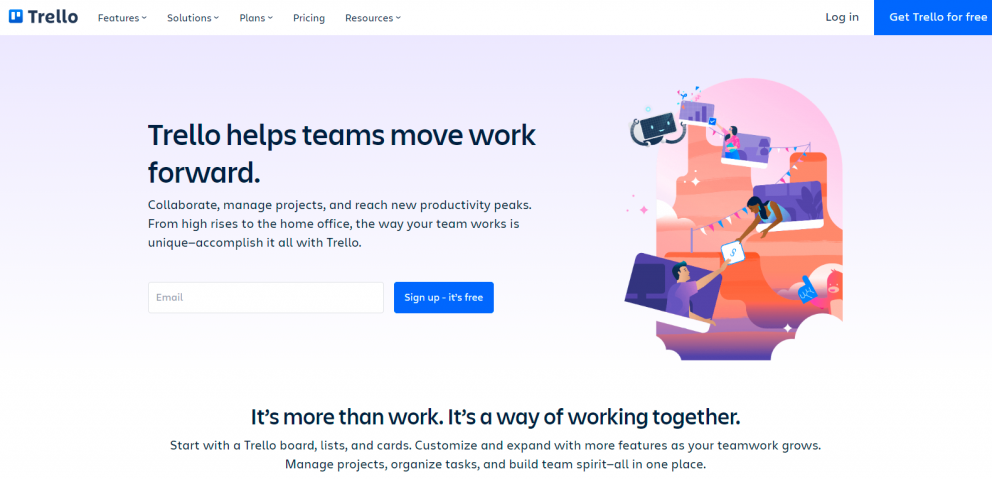 This digital marketing tool lets you organize projects and communicate with your team – which is a good digital marketing strategy if you want to save time and stress. Trello has been created basing on the Japanese Kanban technique, where each task is visualized on a special board. It is a great marketing tool for managing the flow – whether of responsibilities, tasks or even wares and content. Marketing efforts are especially important, given that they're usually worked on independently. This tool lets you coordinate your efforts.
You can share a post on social media as a Trello task. This allows other members of your marketing team to use these tools to rate the post, provide feedback, and make adjustments to improve the content before it's published. If you use Publuu to present your content, it can be integrated with HTML5 so your team can quickly browse an e-book.
Trello or similar digital marketing tools like Asana are great if your group works in a task system – when one task arises from another and one person needs to work on a variety of tasks. It's best to discipline your group to use this team management system. Like some of the best digital marketing tools, trello offers a free version. Free plan is adressed to small comanies, and ti does not allow you to use the more advanced functions.
ProofHub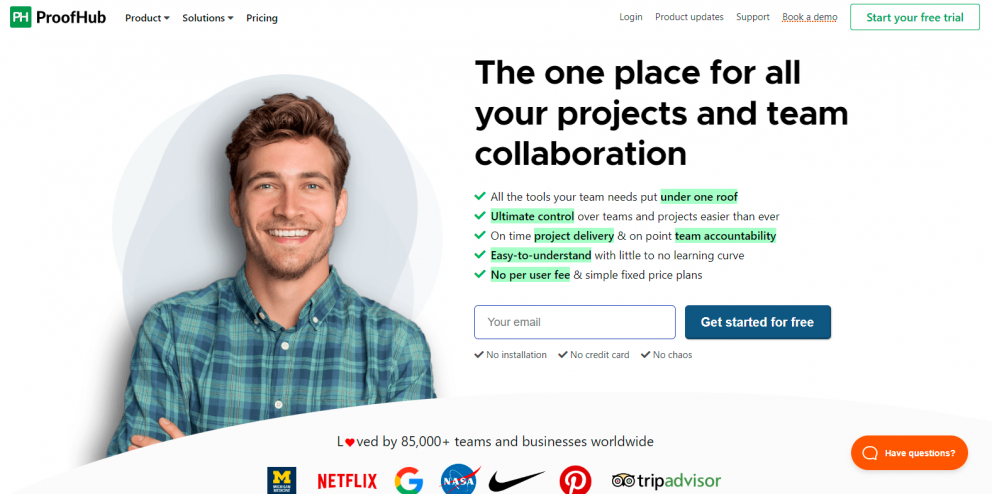 ProofHub is an online marketing tool that offers an array of advanced features under one virtual roof to provide marketing teams with ultimate control over tasks and projects. ProofHub has a simple learning curve and offers fixed pricing plans with no per-user fee, which makes it ideal for marketing teams of startups and small businesses. Advanced features, like task management, file management, multiple views, and much more enable marketers to save valuable time as they plan, organize, and execute their projects efficiently.
What are flipbooks?
Flipbooks are interactive books or magazines that can be viewed online without the need for additional software. They are very beautiful, user-friendly and easy to share on social media. Let us say you are a salesperson and you are meeting with a potential client. Instead of coming with a bunch of printed marketing materials, you go to the meeting with a tablet or laptop and present the client with a flipbook with an interactive presentation.
Your potential client is sure to immediately show interest in the topic of the presentation. The same goes with many other examples of content marketing. People react in a different way when they see a realistic, beautiful e-book than when they see a blog post or an animation. A flipbook presentation is a better way to grab attention than printed marketing materials.
Flipbooks work on many devices such as desktop PCs, laptops, tablets, smart TVs, and smartphones. Since they are online, you can use your client's computer to prepare your presentation without having to bring a laptop.
Why use flipbooks as digital marketing tools?
But you can use flipbooks in many ways. They are a great tool for engaging customers. With their interactive content, they will engage customers and showcase your brand. Then, you can share these beautiful ebooks, magazines, product catalogs and additional content with people who have signed up for your newsletter, social media profile or browser-based push notification messages. The intuitive drag-and-drop interface lets you quickly embelish your pdf at no extra cost. Thanks to these tools you can give your prospects access to a beautifully designed flipbook that contains expert knowledge from professionals.
Publuu marketing analytics tool gives you detailed information about individual customers and leads through link tracking. Personalized links and email notifications let you know when a reader opens your flipbook. You can analyze who is reading your content, what page they are reaching and at what time. All of this is invaluable knowledge for digital marketers.
Publuu offers two weeks of free trial, offering great functionalities for anyone willing to try out flipbooks, in particular small businesses. There are no hidden costs and the whole site is easy to use and intuitively understand.
Ahrefs
Ahrefs is really a set of some of the best digital marketing tools out there. You should start, however, with the Ahrefs' free backlink checker if you want to investigate backlinks. This free tool is linked to its premium database of over 16 trillion links. You can see the top 100 backlinks to any domain or page, as well as a comprehensive breakdown of each. After a free trial, paying users can expect more content and more advanced tools.
There are many similar digital marketing tools for SEO, like Moz or Semrush – but ahrefs remains one of my favorite online marketing tools. It lets you examine the link profile of any website, including those of your competitors, to understand which content is performing best and which keywords they are targeting. You can see the keywords you should use in your article, as well as their ranking system – the higher the ranking, the better. Another useful feature for digital marketing professionals is the broken backlinks notification. They will even notify you of an inbound link that leads to an "error 404" page.
The analytics platform's Site Explorer feature lets you examine each URL's top organic keywords while calculating how much traffic a competitor is getting for a particular keyword. It's easy to monitor your competitors with this digital marketing tool. You can also find your top performing content and backlink sources including popular social media posts. Your site dashboard displays anchors, link status, domain and page ratings, and the amount of monthly organic traffic to the site.
When it comes to brainstorming keyword ideas and ranking opportunities, Ahrefs is the gold standard. This is one of the best digital marketing tools out there: useful not only for monitoring competition, but also for making sure your existing material is search engine friendly. Many functions on this website are free, and it offers you a free trial. Some competitors of Ahrefs also offer free digital marketing tools, but not every SEO tool is this intuitive and easy to understand.
Slack
Slack is a business chat tool that lets you manage all of your teams separately. For example, the marketing department has a channel where they can communicate with one another, and they may join the logistic department chat to ask a question about when will the goods arrive. Digital marketing tools like this provide a centralized location for you to direct your marketing activities, set campaign deliverables, and discuss outcomes. You save time by using chat tools that let you coordinate your marketing efforts, especially with work from home option.
More than 60,000 teams have established a presence on Slack, utilizing it for anything from project management and job assignment to social and professional communication. Slack is fantastic for fostering community and improving participation. Slack is free to use for small businesses and it offers very reasonable rates for larger companies.
HootSuite
Social networks are now part of everyday life. Not everyone has to like this fact, but there is no denying that they are a great place to advertise, attract prospects or find customers. With third-party social media marketing tools like Hootsuite, it's easy to manage multiple accounts in one place.
Hootsuite is compatible with all the popular Social Media platforms: Twitter, Facebook, LinkedIn, Instagram, YouTube and Pinterest. One of the many features of this app is the advanced post scheduling option. Apart from simply setting the date and time, the developers have prepared some interesting solutions for social media management. For example, you can automate it completely: The software automatically displays the posts so that there are no too big "gaps" during the day.
The only option for small-scale users, which unlocks access to the basic plan, costs $19 per month. This allows a user to manage 10 different social media profiles, which is probably enough for a small business.
OneNote
OneNote is a program for collecting notes, images, screenshots or audio files. It allows you to link them together and create handy databases on topics that are important to you – which makes it invaluable for content marketing purposes. The whole concept is similar to Evernote and similar note-taking apps. However, OneNote is free and integrates well with MS Office, which is standard in many offices.
The app used to be part of Microsoft's Office suite, but Microsoft has decided to narrow down the available features, tweak the details, and make it free for mobile device and Windows 10 users. Note editing will be familiar to anyone who has used Word or similar tools – the app can serve as a free mobile word processor. The selection of options has been kept to a minimum, making it much faster to work with.
Still, it offers Word styles, font and size selection, bold and italic fonts, colors, drag and drop functionalities, lists and titles – everything you need. You can insert graphics or photos taken with your phone or found online, like memes found on social media. That's one way to do research and prepare your e-book you will then publish on Publuu.
OneNote is a great, free alternative to competing note taking and data entry apps, especially if you work in a Windows environment on a daily basis. The ability to share notes with others makes one of the better digital marketing tools, even though it's useful for anybody!
Coggle
Coggle is an app for creating mind maps. A mind map is a popular method of recording information that helps you learn and activates the connections between the two hemispheres of your brain. Such a mind map is a great way to learn and record information, but it could make a great content marketing tool. Thanks to coggle, mind maps can help you and your colleagues plan, brainstorm, and take notes effectively. And if you want, you can use such a mind map diagram to create an infographic for your clients too!
Coggle is easy to use, fairly intuitive and all the information you need can be found in the program's help menu. As you create more branches, you can zoom in and out and organize them according to their importance. Basic editing options, such as bold and italic text, are also available. That's one way to prepare content for ebooks or catalogues to publish as Publuu flipbooks – or on a brainstorming session for your marketing department.
The basic features of the service are available for free, but the free plan is quite bare-bones. The basic fee is $5 per month or $50 per year. With an advanced subscription, you can go beyond the three chart limit, merge branches, add multiple starting points, and some other additional options. This is the perfect tool for fans of the mind map method, with all the necessary options that are useful for a graphic designer.
AddThis
Many internet users may not even realize that they use AddThis tool on a daily basis. It is the most popular platform for adding links to social media platforms. If you click the Facebook or Twitter icon anywhere on the web to share interesting content, it is very likely that the code needed to list the available social networks has been created in AddThis. You can easily add this plugin to your landing page.
One of the most valuable functions of useful digital marketing tools like this is that once the code is published to the site, you can not only change options and add new tools from within AddThis. You also have access to marketing analytics so you can see, for example, which buttons are used most of the time. The basic functionalities of AddThis are free, tools that let you add new content might require a subscription. It's one among the best free small tools available on the market.
Ubersuggest
Keyword research based online marketing tools like UberSuggest help you find keywords related to your business or area of interest. This is especially useful if you have advertising and search engine optimization in mind. Good linking using keywords is also crucial for inbound marketing that drives people to your landing page.
Ubersuggest shows you not only the average number of searches for a given keyword and the difficulty of your competitors' searches, but also how much you are likely to pay per click with Google's paid advertising service – it's also useful for other popular search engines like Bing, Yandex and Seznam.
The data presented by Ubersuggest is not as meaningful as that presented by moz or ahrefs, but the app is still free. This tool simply gathers available data and analyzes them from Google Analytics perspective. The availability of this data makes it easier to work on SEO issues for your website.
Sumo
Sumo is a powerful set of plugins and tools that will keep users interested in your website, blog or store. A set of digital marketing tools helps you collect user email addresses or gather more information on their needs and goals. Sumo lets you create form that can collect email addresses, enable browser notifications, draw attention to a specific link, increase social media engagement, or receive other data on your prospects as you build your marketing campaigns.
The app will be particularly useful to the people who own an online store: among many digital marketing tools it helps you in remarketing, investigates emptied carts, rejection rates, collect emails, increase the average order value. Its email marketing functions can even automatically send emails to people who have left the store without buying anything to remind them of their purchase.
Google Trends
Google Trends is a free tool that offers statistics regarding the most popular search terms. Using this tool lets you discover information on the most popular subjects, search results, and their popularity all over the internet. You can easily analyze who is googling what – and most importantly, why.
If, for example, you want to create a series of blog posts on a specific topic as part of your content marketing strategy, you should consider how popular it is based on data from this tool. It shows you what keywords are the most popular in a given time and how their popularity increased and decreased. It's useful for social media marketing, especially in larger agencies. You need to use such tools to help you understand how internet marketing works and changes over time.
Keyworddit
Keyworddit is a free SEO tool that analyzes reddit.com, one of the largest forums on the Internet. You can select a subreddit (a subforum on a specific topic) and get the most popular keywords used in users' posts and comments… i.e., your potential customers. These keywords are actual phrases used by people discussing the services you offer, not extracted from search engine data like google.
Take plumbing services, for example. People googling for plumbers are not interested in "content" – they just want a specific service. Most plumbing websites are landing pages only, so they cannot provide good, quality posts that you can use for content marketing. That means a blog for plumbers would mean boring, repetitive SEO spam…
However, if you use Keyworddit to analyze subreddits like r/construction or r/DIY, you'll find a lot of useful keywords. After a couple of minutes of browsing I discovered great keywords related to plumbing, like "health and safety", "high quality tools" or "union politics". All of these would be great for blog posts or video series. If you are looking for specific long-tail keywords… Keyworddit is a fun and inspiring option that is free.
Remember to discover new marketing tools
There are of course many more tools and resources available online. But if you want to create content for a particular service, promote that content, whether on social media, you can easily find platforms that will assist you. Marketing tools online were created to assist you in lead capture, creating effective marketing campaings and so on. But there's only one thing that can't be replaced by these marketing tools – your own creativity.
You may be also interested in: