MENU
10 ways how to get real estate clients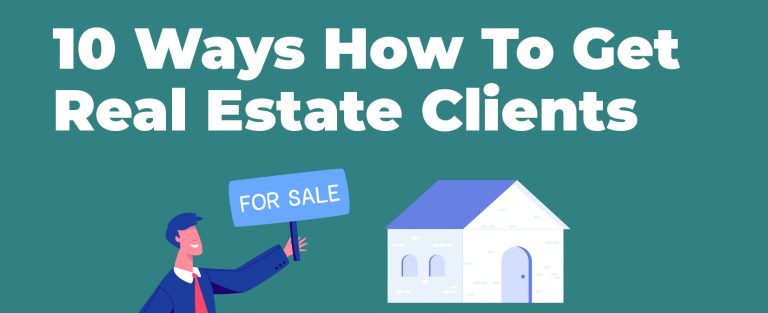 There is no way to talk about a successful real estate career without a way to obtain real estate clients. You must do more than just get clients for your real estate agency to succeed – you have to work hard to find potential clients, nurture them, and maintain a good relationship with both past clients and those who haven't decided on the purchase yet.
You must learn how to attract clients, identify potential clients, nurture them until they convert, and stay in touch with those who have already made a purchase. Customer acquisition strategies are more important in the real estate industry than in any other.
You can collaborate with other agents and share potential deals. Another great option is to get real estate clients by using an online real estate flyer maker, which is a convenient way of introducing your local offerings like in the presented form below:
Publuu's real estate flyer example
View more real estate flyer examples

MAKE YOUR OWN


Real estate flyers from Publuu
One of the best ways to attract clients online is by making digital real estate brochures or flyers and publishing them with Publuu. Flipbooks allow you to display your real estate listing as a beautiful ebook with a realistic page-turning effect!
Our online PDF creator allows you to quickly create and customize a beautiful brochure based on HTML5 technology. Such stylish online real estate brochures are sure to grab your readers' attention with their clean style, interactive elements, and beautiful design.
Brochures allow you to embed links to relevant websites and external content to showcase your luxury property. You can also enhance the content with embeddable videos or animated gifs that allow you to present the details in a whole new way. The real estate client needs only to see your offer on the screen of their smartphone to learn more about your offer.
Publications created with Publuu can be viewed instantly in any browser and on any device that supports modern HTML standards, without the need to download the file. You can also share them on social media for free – just paste the link and we'll do the rest. A beautiful cover used as a profile picture will definitely get new clients to read your content.
You can easily find out who has read your brochure: create links to PDFs that can be tracked, and find out which pages of your brochure have been read the most thanks to our analytics. With this knowledge, you can tailor your brochures to your real estate agent needs.
The features above might appear very useful to most so even if you do not work in the real estate industry but you are running your own business, you can still follow the tips and tricks on how to use universal programs for creating a flyer for your business, such as Canva, MS PowerPoint or even learn how to tailor it for a Facebook post!


10 tips to get clients in real estate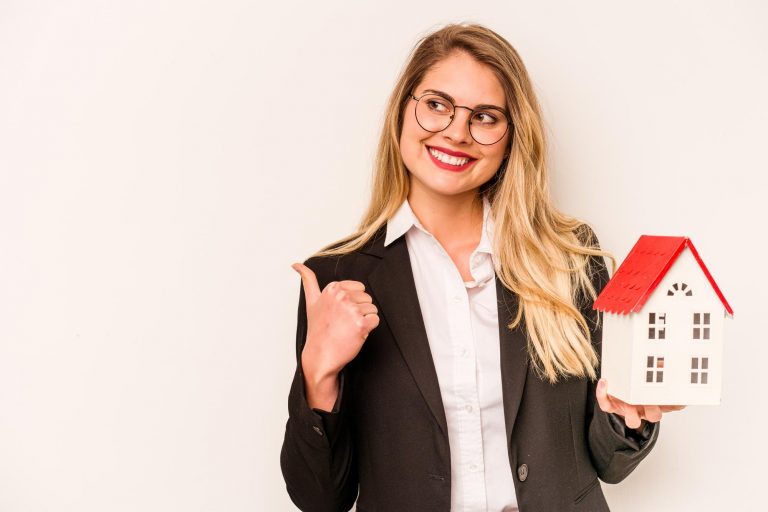 1. Always be selling
Being prepared is one of the best ways to get clients in the real estate business! A good real estate agent can be reached at any time and from any location, ready to sell even in the middle of the night. You must have constant access to hot listings, whether through personal contacts or through a real estate website such as Zillow.
One of the best ways to sell real estate is simply to be where your clients need you. Anyone looking to buy a property is likely to have many questions and concerns. Respond promptly to all phone calls and emails, and schedule specific consultations with a specific real estate client – for example, always meet with Martinez on Tuesdays and Thursdays. Open communication reduces client stress and builds trust which is crucial for successful real estate agents.
Real estate customers often search for information about properties and homes before deciding to buy or sell their own homes. Today, more and more people are turning to social media – asking on Facebook groups or browsing YouTube for answers. The more individual interactions you have with people on social media, the more likely you are to ultimately close the sale. Be where they are looking for you.
Likewise, prospective clients in real estate are not just home buyers. Many professionals are in the lookout for offices and might want to hire a locale near you. Real estate professionals should also monitor LinkedIn and similar sites to find clients outside their real estate niche.


3. You must be present offline.
The truth is that the more involved a real estate agent is in their community, the more likely it is that they will gain a new customer. This job, more than any other, is focused on talking to people around and knowing your local events and people.
Attend all sorts of community business events, charity events, and social gatherings. A real estate agent must be present at major events in their community, such as school picnics and village festivals. Where people meet, there are new businesses or newcomers looking for a place to live. Even if you don't meet any potential real estate clients, you will meet people who will spread the word about your real estate company. If you present yourself as an active member of the community, other real estate professionals will look up to you and you will establish yourself as a real estate industry leader!
The local Chamber of Commerce is also a good place to network because, depending on the local government, they can hold meetings, attend events, and participate in all sorts of business outreach programs. You can, for example, buy real estate leads simply by registering with the CoC and asking them for a list of new clients who opened their companies recently. It can sometimes also provide information about potential customers in the commercial real estate sector.


4. Use marketing materials such as real estate flyers and business cards.
Distribute flyers and business cards when you are out and about. You never know when you'll meet someone looking to buy or sell a house or potential real estate investors. In offline space, you can make your business card unique, using unusual designs or materials.
Online, you can use flyers from Publuu real estate flyer maker. With real flipbook software, you can showcase your real estate offer using realistic interactive images and videos, linking to any offer inside an interactive PDF like this real estate flyer below.
Publuu's real estate flyer example
View more real estate flyer examples


You can publish your leaflet online on all social media platforms so that interested home buyers can peruse it at their own pace. You can even place QR codes on printed leaflets so that interested customers could learn about your real estate profile using their own cell phones.


5. Building the right website
It's estimated by various real estate professional agencies that 97% of all homebuyers use the Internet to search for a home. That means you can't just rely on sites like Zillow – it pays to have your own property website with your listings. You should also have a real estate blog, which can help you gain authority in this competitive market.
As well as the listings on the site, you can include a history of the area, local events, important phone numbers, property statistics – anything that shows you have knowledge about the market. Write engaging, interesting content to establish yourself as a professional real estate agent.


6. Create content for local media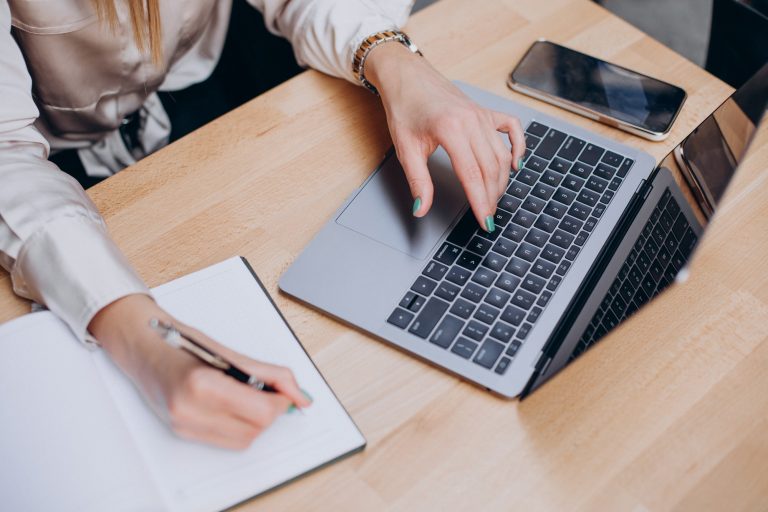 Consider writing articles for local newspapers and magazines or online portals. This is also a method to gain real estate clients – because you get your name out and establish yourself as a person who knows the entire city.
A good real estate agent knows the town, its history, and its people like the back of their hand. Try to sell yourself as an expert: you can tell stories about the town or write advice for house hunters. Remember to always showcase the name of your real estate company so that your name is visible in the media – whether in local newspapers or neighborhood groups.


7. Diversify your marketing strategy
Get into the real estate marketing game and be where your potential customers are. For instance, if you have a young audience, you can start with social media marketing or text messaging to reach young customers. Such a fast market requires creative marketing – like online leaflets that can be involved in social media posts. Other groups, in particular mature homeowners, will respond better to flyers or postcards, and other traditional media to generate new leads.
In the meanwhile of getting new leads, you can consider creating a real estate newsletter. Once you decide to make one, you can include a whole bunch of things such as an introduction to a certain neighborhood which for some clients may be a perfect place to move in. You can share some valuable tips on how to manage a home's space or even announce local events that you will participate in where potential clients can meet you.
Property newsletters are worth considering. You can distribute them as printed booklets or as digital pdf files in the form of Publuu Flipbooks. Such newsletters contain relevant and up-to-date information for your local audience. You might add house-hunting tips, the history of the area, or anything related to your real estate business that might interest potential and past clients.
Also consider other ways of advertising, such as Google Ads, Facebook, and email marketing in conjunction with newsletters. Publuu flipbooks are a great tool to generate clients and real estate leads, regardless of how you want to use them!


8. Hold an open day
Open houses are one of the most effective ways to generate leads for real estate agents. Invite potential clients to your property – let them imagine themselves living in the space. If you host open houses, you can easily make your customers interested in the hot property.
On an open house meeting show them the interiors of the properties, even let them fantasize – and if you can't do this during the rush, you can put videos of the interiors on your website. Instead of an open house event, you might create an interactive event on your website – or maybe even use new social media platforms like Twitch which is underused by real estate agents these days!


9. Go out there and meet people
Visiting people in person is a great idea! New real estate agents can actually gain more potential contacts… just by knocking on doors and visiting every flat or house in the district!
And yes, this sounds like a lot of work, but a new real estate agent who does his or her legwork might find new contacts or might find out if someone wants to move. Sure – maybe 99% of people won't want to talk to you, but what about that 1%? You could invite people to meetings, hand out leaflets or books – just to get them interested in making contact. Even if you don't find any leads straight away, you'll broaden your acquaintances, and will show that, unlike other real estate agents, you care about the personal touch!


10. Host live streams on Facebook/Instagram/YouTube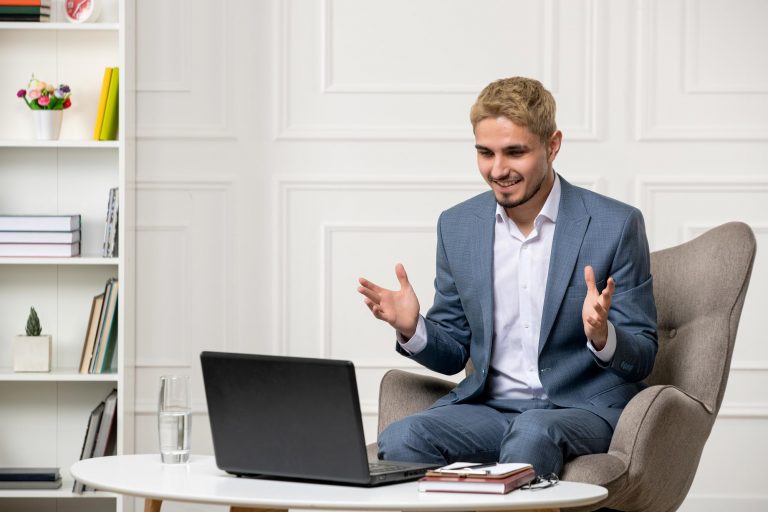 Live streaming is one of the most promising new marketing channels. Try live streaming an open day, showcasing a preview of a property, or even a specific area.
There are some real estate agents who use drones to present their property from the air. It's worth considering – you record a live stream, your customers can comment and discuss with you, and when it's recorded, they can come back to it or to your real estate website, so you get double the return on investment.


How to impress clients in real estate?
As a real estate agent, you want to get the best price for the house you are selling. On the one hand, you want the real estate client to spend as much as possible, and on the other hand, you want them to be satisfied.
This is why it is so important to keep trying to impress your clients. You can negotiate with the buyer's agent or have a list of ways to soften the deal for the buyer, such as including furnishings or a home warranty in the price of the property. You can help your real estate client to maximize the value of their purchase by adding value to the investment – for example, by offering a neighborhood package: discounts at local businesses, invitations to events, or other useful offers for people buying a new home in a new city.
Think of earning your real estate agent provision not as something you deserve, but as something you need to earn by having a good report with your customers. However, remember also that sellers are important for your work.
Selling a home and moving can be emotional for many people, so show support and understanding. This can include providing funds and loans to find a new home, advice on cleaning and preparing the home to attract buyers, or just being there. A real estate agent needs to be a good psychologist. Your sincere, friendly demeanor will make both buyers and sellers feel more comfortable and can help you easily build trust with the people around you.
Another way to impress potential clients is through creative marketing. This can include a virtual tour on social media, an unusual property website, or an open-door policy for the entire neighborhood. However, one of the best ways to attract attention are still the real estate flyers.

Final Thoughts
In conclusion, there are various ways to attract real estate clients, both online and offline. From being always prepared, being present on social media, participating in local events, using marketing materials such as real estate flyers and business cards, building a website, and creating content for local media, the options are endless. We hope that you have learned how to find new clients in real estate – and maybe you have more ideas of your own!
However, success as a real estate agent requires more than just acquiring clients, it requires hard work, dedication, and building strong relationships with clients. The key to success is to find the strategy that works best for you, learn from it, and continuously adapt and improve. So, take action today and start attracting and nurturing real estate clients for a successful career.
You may be also interested in:
How to Launch Real Estate Business? A Complete Guide
15 Most Impressive Real Estate Flyer Templates
Real Estate Social Media Posts- The Best Ideas and Examples