MENU
How to Raise Brand Awareness: Creative Ideas & Tools
Boosting brand awareness requires an integrated approach. Consistently presenting your brand across platforms, championing values beyond just products, actively supporting communities, employing omnichannel marketing, collaborating with relevant influencers, showcasing thought leadership, making informed advertising choices, considering sponsorships, and measuring brand performance using AI-driven tools are pivotal strategies. These steps ensure brand visibility, recognition, and long-lasting recall among consumers.
Building strong brand awareness is an absolute must for companies that want to succeed in a competitive market. Brand awareness campaigns require more than just brand identification; they encompass the degree to which consumers perceive, remember, and differentiate a particular brand from its competitors. As a result, it translates into customer loyalty and advocacy, which leads to increased sales and revenue growth. Putting a catalogue online might be the first step in raising brand awareness – but you need to work on brand recognition to make this catalog consistent with the other elements of your brand identity.
In this article, we will explain how to increase brand awareness, why it is important, and how companies can use various strategies and metrics to improve the visibility, reputation, and perceived value of their brand. By understanding and creating brand awareness, your company can improve its competitiveness, increase market share, and build sustainable, long-term growth.
Why is brand awareness important?
Publuu's brand-book example



View more online branbrand bookmples

MAKE YOUR OWN



Being aware of a brand provides a competitive advantage
You're competing with hundreds of brands – and you need to differentiate yourself from the competition. Consumers, who have many options to choose from, tend to select brands they already know and trust. A great brand strategy allows you to differentiate your offerings from those of your competitors and gain a significant presence in the minds of your target audience.
Brand awareness builds brand loyalty and trust
How does building brand awareness work? Well, as people become more familiar with a particular brand, they develop a sense of attachment and commitment to it. They begin to associate certain values, benefits, and characteristics with the brand, which strengthens customer loyalty and trust. For example, people these days are increasingly avoiding brands associated with cutting down the Amazon forest. Your brand voice determines whether your target audience will be sold on your ideas!
Awareness of a brand affects who you can hire
In addition to influencing consumer behavior, strong brand awareness can also affect the decisions of job seekers. After all, working for Barnes and Noble looks better on a resume than working for a small corner bookstore, right? Position yourself as a responsible company, and you have a lot of talent just waiting for you!


Being aware of a brand integrates it
Consistent delivery of quality experiences, products, and services reinforces the perception that the company operates cohesively. A good brand awareness campaign creates a unified image of the company. Such trust planted in the minds of the public increases stakeholder confidence, making them more inclined to support and invest in the organization.


Brand awareness promotes trust
Trust is essential in any relationship, including that between buyers and sellers. Brands that have built a high level of trust through extensive interactions with their customers enjoy greater loyalty and support from existing customers while attracting new customers. You need to build brand awareness so that everyone knows that you're a respectable institution!
An association creation
An integral part of creating successful brands is linking their names, logos, and other visual cues to specific ideas and concepts. You can achieve brand recognition through repetition, consistency, and targeted messaging, resulting in solid associations that resonate deeply with consumers. For example, Mickey Mouse ears are immediately associated with childhood and happiness, and Disney has successfully built their brand awareness so that much of their marketing efforts are automatic!


Awareness of a brand builds strong brand equity
Building on the previous points, as brand awareness and associated positive perceptions increase, so does brand equity – the intangible value attributed to a brand beyond its functional attributes and financial value. A good brand also has a value that affects the prices of goods and services! If you raise brand awareness, your company grows in value – and the target audience sees it and can invest money. This is only one of many steps for increasing brand awareness – you can learn more about it in our guide to branding.
Brand awareness leads to more customers
Ultimately, the main goal of investing time and resources in developing brand awareness is to generate more sales and increase revenue. Greater brand visibility makes the brand build a legend – people have heard of Burger King from movies and TV, for example, even though the chain's restaurants may not exist in their country. When the brand arrives in a new market, you don't need to establish brand awareness for new audiences – you're already there!


Ideas to increase brand awareness


Maintain consistency
When creating brand awareness campaigns, ensure a harmonized brand presentation, from visuals to tone, across all channels. Remember, consistent branding can improve recognition by up to 80%. Ensure your logo, colors, typography, and overall style remain consistent across all touchpoints. Use the same voice and tone in your communications, on your website, social media platforms, emails, packaging, or signage in physical locations
Champion authentic values
To increase brand awareness, sometimes it's enough to simply move beyond product-centricity. Embody values like sustainability or community welfare to distinguish your brand. Go beyond products and services and reflect on core beliefs and principles. Whether it's environmentalism, fair trade practices, animal rights, gender equality, or cultural sensitivity, embody these values in your actions and marketing messages to increase brand awareness.


Support communities actively
Beyond mere words, make tangible contributions to societal causes. Avoid superficial actions; genuinely embed philanthropy into your brand ethos. Ideally, get involved in local initiatives, charities, and community events related to your brand's mission. Some companies donate money, and others volunteer, sponsor, or partner with nonprofit organizations or educational institutions to show commitment and care. Involvement in community activities not only helps you build brand awareness but also generates positive PR.


Adopt omnichannel marketing
Engage consumers where they spend time. Diversify your presence across different platforms and social media: In a brand awareness campaign, you must reach potential customers wherever they are active, whether on social media posts on Facebook, Instagram, Twitter, Linked In, YouTube, blogs, podcasts, or mobile apps. Respond immediately to comments, inquiries, and reviews, to boost brand awareness among various viewers.
Publuu flipbooks can be embedded in emails, and linked to using social media channels, so they can greatly help you build brand awareness. Interactive flipbooks with realistic page-turning effects can help you draw attention to your content and help your brand awareness efforts.


Collaborate with strategic influencers
Partner with influencers whose audience aligns with yours. Mutual values can amplify trust and awareness. Work with influencers who are already well-established in your target market. Choose influencers whose image, personality, and values match your brand's ideals and personality, and work closely with them to develop sponsored content, contests, or giveaways that authentically and subtly promote your products or services. Offering incentives, exclusive access, or joint promotions can further cement the success of the brand-building partnership.


Showcase thought leadership
Position your brand's experts as industry pioneers. Regular insights, panel participation, and whitepaper can bolster authority. Establish yourself as an expert in your field by regularly publishing valuable, insightful, and original content. Being seen as a thought leader elevates your brand status, attracting more attention and admiration.
Publish your whitebooks, reports, and guidebooks using Publuu to build brand awareness online. Publuu lets you create content in a virtual library that can help you improve brand awareness as a thought leader. If you use Publuu you will get your brand message across easily.
Make informed advertising choices
Measuring brand awareness helps you boost your marketing campaigns and push them in the right direction. Use cutting-edge platforms to tailor advertising for brand awareness. Periodic A/B testing and leveraging data insights can refine strategies. Research and compare different ad types, sizes, destinations, and budgets to determine which ones provide the optimal return on investment. Use analytics tools to measure brand awareness continuously monitor campaign effectiveness and adjust strategies accordingly.


Consider impactful sponsorships
Associating with notable events or venues can offer significant returns on investment and increase visibility. Your brand can be associated with popular events like sports games, art festivals, academic programs, or scientific research. Such partnerships help you gain publicity, association, and favorable public opinion. Before committing to long contracts or large sums, carefully measure the return on investment. Prioritize sponsored events that involve your target audience, rather than just seeking broad coverage!


Stand out and be memorable
Create distinctive campaigns that break the mold and stay in the consumers' minds. To boost brand awareness campaigns, you must stand out and be memorable: create innovative and exciting campaigns that capture people's imagination and leave lasting impressions. Implement unconventional methods such as gamification, interactive experiences, and AR/VR technology to go viral online – and beyond.
Publuu flipbooks stand out from the sea of PDFs – these flipbooks let you embed interactive content like movies or animated gifs, add links to e-mails, or boost website traffic thanks to intuitive hotspot features. Publuu cloud guarantees security and your materials can become a crucial part of your brand awareness strategy.


Measure, learn, and grow
Employ AI and machine learning tools to track and analyze brand metrics. Tools like Qualtrics' Brand Tracker provide actionable insights, helping brands make data-driven decisions. Measuring brand awareness means learning how big a share of a market you have penetrated and you can adjust your brand awareness strategy based on the data you find out.
Publuu flipbooks also offer excellent analytics that can help in increasing brand awareness. You can easily check how often your ebooks are read, which pages are most interesting, and even how often people share your content. Your flipbooks can help you measure brand awareness thanks to interesting content.
Raise your brand awareness with Publuu flipbooks
Attractiveness: With Publuu, you can create visually appealing, informative, and engaging ebooks for your brand awareness campaign. Your flipbook doesn't have to be just another boring PDF, add interactive illustrations and a page-turning effect to make your catalog or brochure stand out. Use high-quality images and videos, and write clear and concise text, to raise brand awareness.

SEO optimization: Unlike many PDFs, flipbooks from Publuu are indexed by search engines which can also help brand-building campaigns. Our flipbooks allow you to use relevant keywords in the titles and text of your flipbooks. This will help others find your flipbooks and products when searching online and can boost your brand recognition.

Promote your flipbooks on social media. With just one click, you can share your flipbooks on social media platforms and encourage your followers to share them as well. You can also display ads on social media to reach a wider target audience as part of your brand awareness campaign.

Website integration: Place your flipbooks on your website so visitors can easily browse them. You can integrate your catalog with your online store and let your target audience buy things with a single click. Your flipbooks can also be included in your email signature and marketing materials.

Flipbook as newsletter: You can embed your flipbooks in the body of your email, creating an interactive newsletter. This will allow you to create a bond with your customers and readers. You can also offer subscribers exclusive content and discounts. Use interactive elements such as videos, GIFs, and surveys to make your flipbooks more engaging.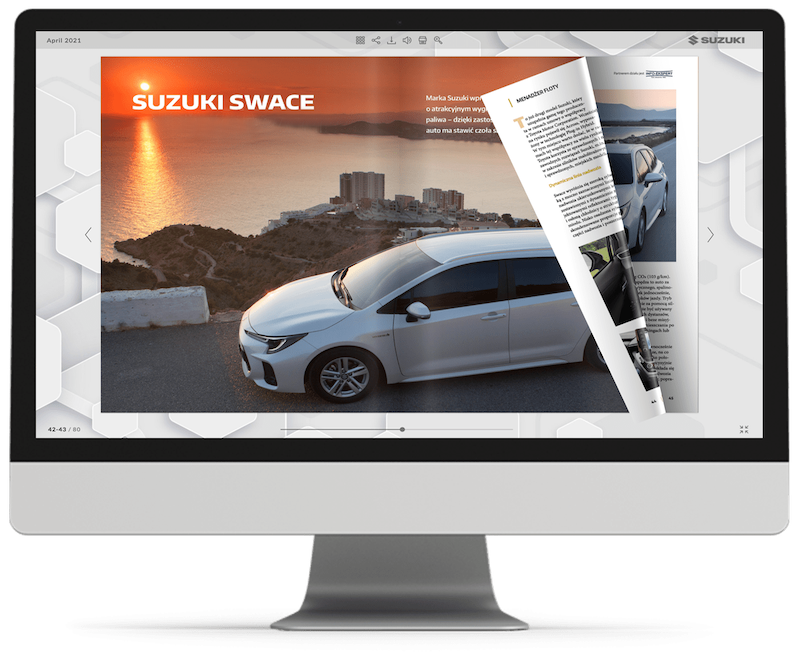 Summary
Now you should know how to increase brand awareness for a successful company. Promoting authentic values, using many channels for marketing, and boosting presence in real life can all help in building brand awareness for your company.
One of the best tools for improving brand awareness is Publuu flipbooks – they can be used to create engaging e-books, which can help you interest the audience. Publuu analytics can help you track brand awareness if you focus on important brand awareness metrics and integrate them with AI tools.

You may be also interested in:
20 Sales Skills That Will Change Your Career
18 Great Marketing Ideas for Small Businesses