MENU
Lead Form – New Publuu Feature is Ready!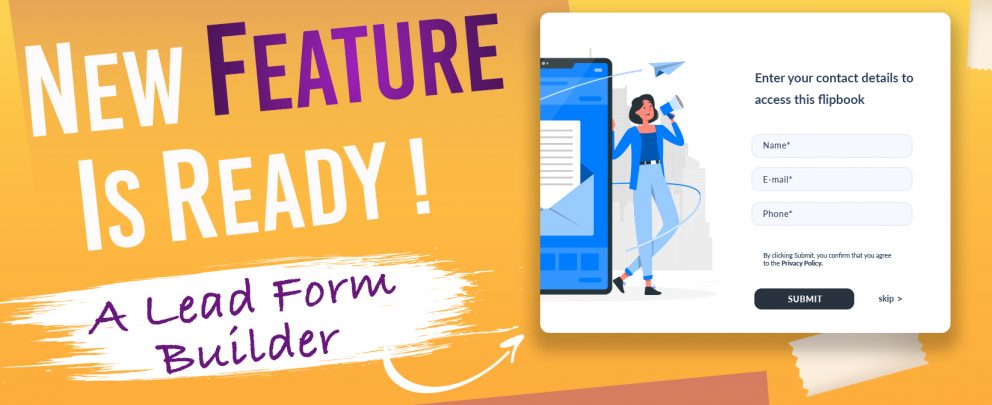 We are pleased to announce that our new feature, a Lead Capture Form, has been completed and is ready for use. You, our users and partners, have often asked for the ability to embed forms to collect e-mail addresses and other information within your flipbook… and now, we're officially announcing our new lead form extension!
You can quickly and easily collect high-quality leads from your readers with the help of Publuu Flipbooks. This marketing tool we have just introduced to our website, will help you create a database of reader e-mails you can use to build online newsletters, contact them or create more advanced marketing campaigns.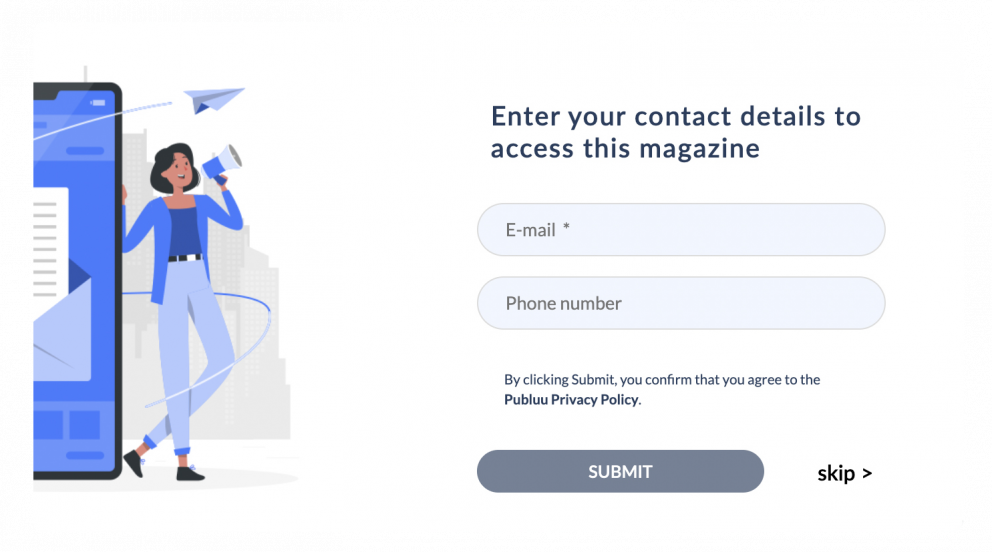 As a result of our new feature, you will be able to improve the effectiveness of your lead generation marketing efforts. This new lead form extension will allow you to capture leads directly within your content. You can add this kind of form directly to your online magazine or e-book so that you can easily publish content and ask the readers to pay for it using their contact information.
We've added the new lead form extensions that allow you to collect the personal information of your readers and other audience members – subscribers or business partners. It's child's play to convert your PDF into a digital flipbook, being also a great tool for integrated lead generation.
Leads contact details – sample report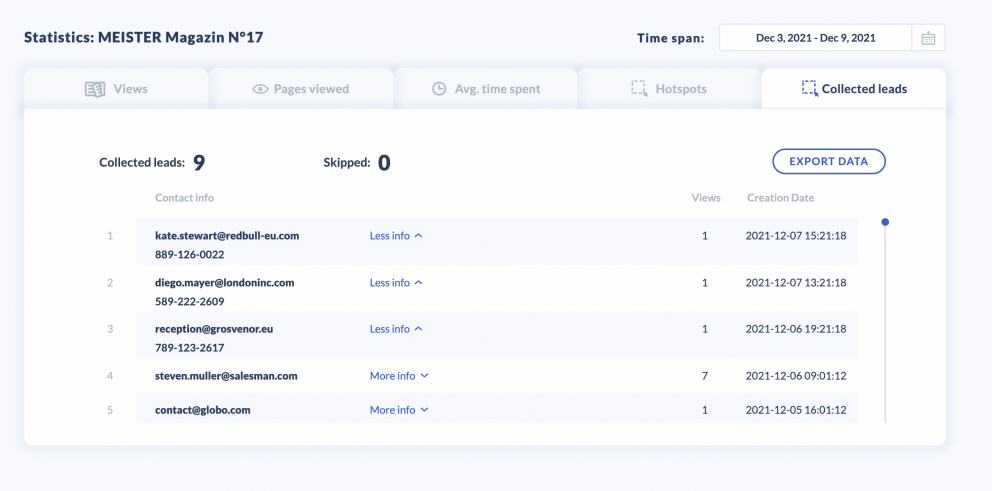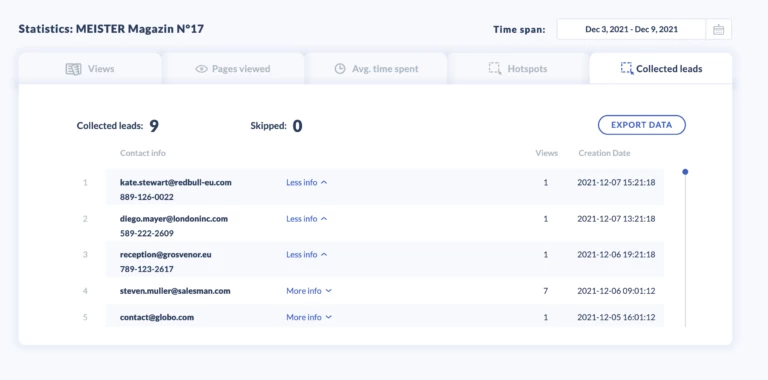 If you need to make changes to the lead form, you can do so without restriction. After doing this, you can collect and analyze the lead data to ensure that your follow-up efforts are successful and you can coordinate the gained data with your marketing campaign type. Publuu enables you to easily create lead form extensions that generate leads for your cold mailing or contact department without the need for coding expertise.
Lead generation form for your company
Publuu simplifies the process of generating leads for your company without the need for a web form or Google lead form extensions. Forms for collecting marketing leads are now integrated into the system for publishing flipbooks. The PDF to online flipbook converter will allow you to collect more leads from potential customers and easily increase your conversion rates. In addition, our new lead form extension feature will assist you in obtaining more leads from existing customers.
How to change your PDF ebook into a lead generating flipbook
In just a few clicks, Publuu can convert your PDF ebook into a flipbook that you can share with your audience. Thanks to our new feature, your e-book can now also easily include a lead form that allows you to contact your readers and gather additional information about them.
Magazine with embedded lead form example (page 3)
View more online flipbook examples
You can now include a form in your PDF ebook, provided that you have already uploaded it. To do so, simply select the option "Lead Form" from the "personalize" toolbar.
You have the ability to specify the page on which your form fields will appear. It is possible to create a free introduction in your online magazine to pique the interest of your readers thanks to a free content or first free pages. If the introduction can attract attention of your audience, you can now ask them to provide their contact information in exchange for access to the rest of the content using this function.

The new lead form allows you to collect information about potential customers that you can use to distribute additional issues of your magazine or comic book, gain new subscribers, and generate more leads. A high-quality lead form can provide a variety of benefits for your online advertising campaign.
Your website visitors will be encouraged to leave their contact details or other personal information if you include descriptions and the intent to use them on your website. A well-described form submission message can assist you in generating more leads, especially if you include a call to action or another effective phrase in the message.
Leave it to Publuu to take care of your lead form extensions!
Our lead form extension includes two fields by default, which are used to collect contact information. You can request that readers provide you with their e-mail addresses so that you can contact them in the future or as part of the sign-up process. In order to target mobile users, you can request their phone number in addition to any other information that you want to collect.
Adding additional fields to your lead generation forms will improve the quality of customer service. For example, if you plan to have people sign up for your newsletter, you can ask for their first name to ensure a higher level of customer service. You can ask them for their company name if you prepare a campaign type that's focused on B2B marketing or if you want to target corporate users only.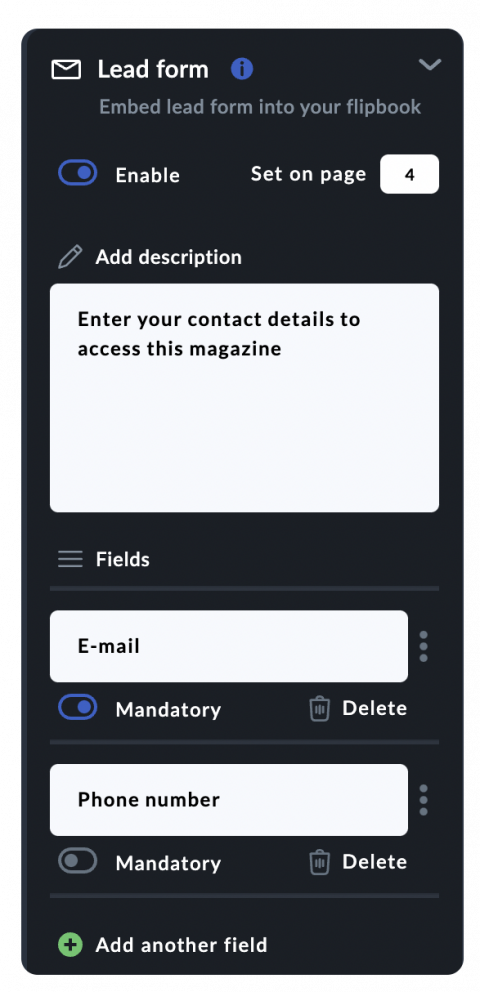 Readers can also choose to skip your lead form extensions if they don't want to receive new content – provided that you set up this option. While this results in fewer leads, it can be useful in situations where you want to gather people who are simply interested in receiving new content. If you want to generate leads from people who are interested in more great content like yours, you could prepare a free issue of an online magazine and then create a new lead form to obtain their contact information.
Finally, your readers can click on the Privacy Policy link to learn more. You must make the condition of storing data on your new leads clear if you are doing business in the EU, in particular. Lead generation forms should include helpful links to your Privacy Policy (which we have provided for you), which outlines how you intend to use the personal contact information that you have collected from your leads. You also have an option to create your own Privacy Policy – especially useful in certain industries like healthcare.

Analytics and Publuu Lead form extension
If you are a professional user of our flipbook creation service, you are probably aware that our website is equipped with sophisticated analytics tools. You can effortlessly keep track of how many times your online catalog or newsletter was opened, by whom, and for how long.
Lead form monitoring has now been integrated into our analytics platform. You'll find them in our Statistics panel for your e-book. When you create lead forms in the control panel for that book, the forms will automatically sync with the lead monitoring panel. In that tab, any qualified leads entered by the readers will be displayed. They can also be easily exported to a CSV format that can be opened in programs such as Excel, and then converted to other file types. It's incredibly simple to use your lead form to create a database of new leads that can be accessed offline.
However, our lead form extension can be used for a variety of purposes other than simply collecting e-mail addresses or distinguishing legitimate, qualified leads from bogus ones. You can also use it as a tool for data analysis. You can use this tool to determine at what time of day your lead forms were completed, for example – this is a great tool to learn when do the people read your content.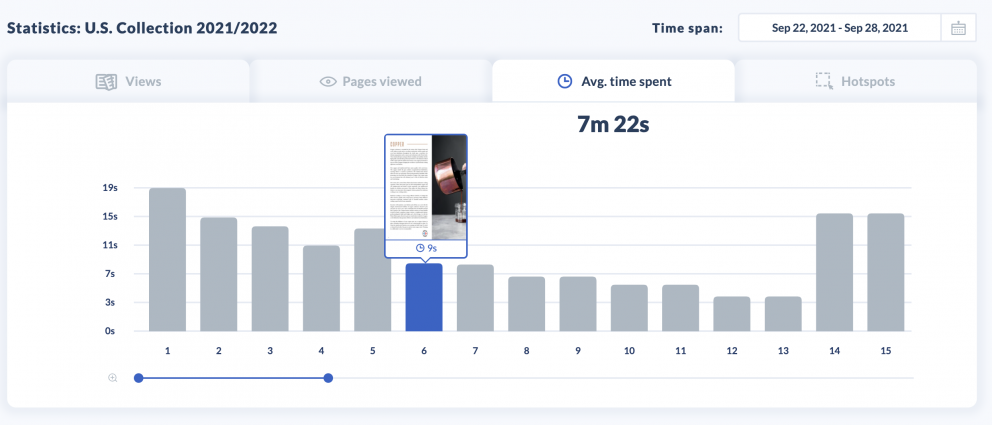 The analytics feature can also be used to determine how many times your e-books have been accessed. The tool also displays how many times a particular customer has opened the e-book, which can be extremely useful for running a successful campaign.
Summary
If you want to make your campaign a true lead magnet, you should experiment with our new lead forms. A variety of tools are available to our users, all of which can assist you in increasing your form conversion rates and transforming your eBooks into effective marketing tools.
You may be also interested in:
How to send documents securely over the internet?
How to Create an Interactive PDF With Just a Few Clicks
The Best Document Tracking Services