MENU

What exactly is a pitch deck? It's a method of presentation that can turn a small, struggling company into a large multinational corporation and win viewers' approval. Such a presentation is tailored to quickly present your company to bankers, business angels, and other investors, so as to convince them that your business model is worth their money.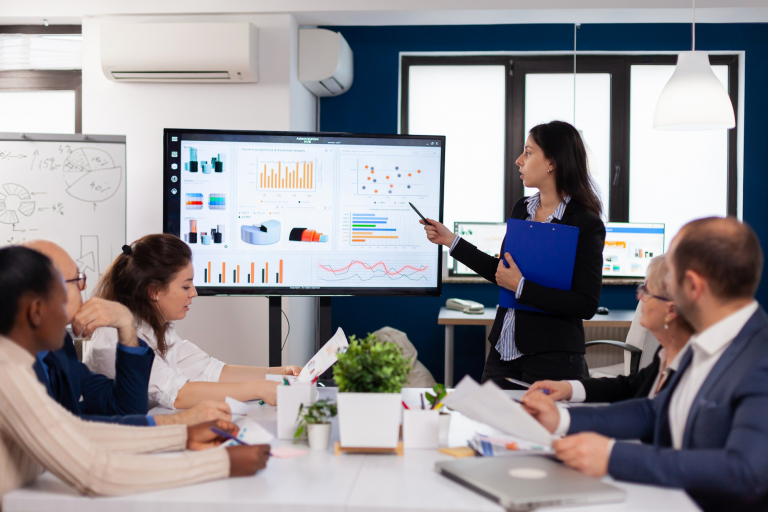 A pitch deck is a visual presentation in the form of PowerPoint slides that provide an overview of your business strategy or business idea and takes only a few minutes. The goal is to connect with investors and convince them to sign up for funding for your company while presenting your business in a way that others can understand. You can use pitch decks to make a sales pitch, represent complex data and showcase everything interesting that you're selling.
This article will present a collection of useful tools that can help you create a winning pitch deck multimedia presentation, whether for a large or small company. At the end you will start a pitch deck template gallery to use with the apps we present below.
The best pitch deck creator in 2022
Publuu – Digital Pitch Deck Creator
Publuu multimedia presentation maker allows you to convert a pitch deck in PDF form into a beautiful multimedia presentation modeled after a real-life book or magazine. Users turn the pages by clicking or tapping on their device screen, and the document responds with an animated page-turning effect showing you next slides. That way you can make an outstanding multimedia presentation like shown below:

Publuu's pitch deck presentation example
View more online pitch deck presentations
Pitch deck presentations made with Publuu look like real magazines, so the format is familiar, and they are very intuitive to use. Your potential clients can go through the pitch deck at their own pace, on their own smartphones or PCs. You can share such a pitch deck with them on social media, websites or embed them in your emails.
Multimedia pitch deck presentation from Publuu can be innovative, they are innovative and very memorable for potential investors. Publuu can make your pitch deck stand out from the crowd of other slides. What's more, it's easy to add interactive content elements to them, like videos or photo galleries. You can also check what potential investors have opened your presentation and much more with powerful analytics tools.

Canva
Canva is a fantastic online design tool that runs in your web browser. Small businesses can use the free plan based on free images or get access to paid assets using the premium plan. Canva has a very easy-to-use interface and thousands of free customizable pitch deck templates, free or paid.

Canva allows you to create a presentation such as a compelling sales pitch deck, and integrate these presentations with your branding. Free plans (using limited design resources), pro ($12.99 per month), and corporate ($47.99 per month) are available. Below you will find a gallery of pitch deck templates for use with Canva.
Free pitch deck creator examples
Slidebean AI
Nowadays, modeling based on artificial intelligence is becoming increasingly popular. Slidebean can generate a lot of material for your pitch deck on its own, just based on your financial data. It provides a wide range of easily customizable presentation templates that you can easily customize. It is available whether you are interested in the basic price plan ($8/month) and full access ($19/month).
Visme
Visme is also, like Canva, a graphic design studio in your browser. With dozens of themes and creative tools, Visme makes creating presentations, slides or pitch decks very easy. This cutting-edge website offers an array of infographics resources, icons, and pitch deck templates that anyone can use to start editing a powerful pitch deck presentation from scratch. Visme allows for team collaboration within a company. Plans start at $14 per month and are invoiced annually.
Google Presentations
Every Google account includes this useful presentation software- Google Slides or Presentation. With a PowerPoint-like interface, anyone can find themselves creating exciting pitch decks. What's more, these presentations are integrated to other Google applications which saves a lot of time as you can quickly import data from Gmail, Drive, Sheets, or search results into your presentations.
Both free and premium programs are available. The premium costs $12 per user per month and is designed for business teams. But the free design allows 10 GB or more of disk space – no credit card required!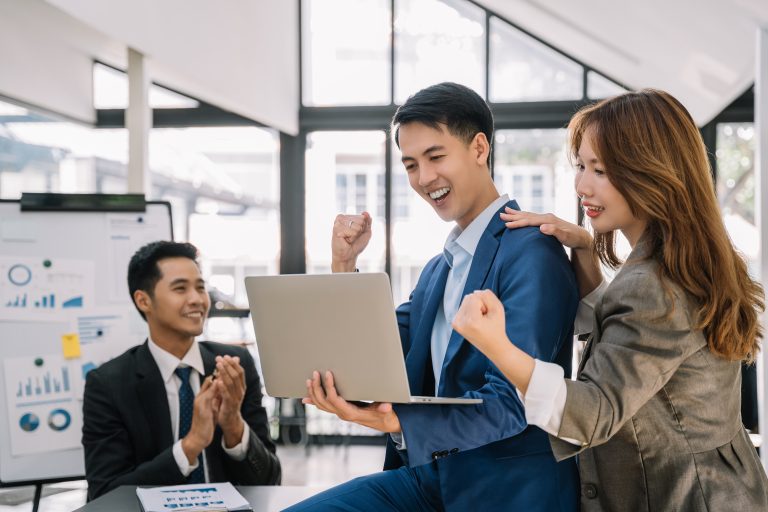 Pitch deck template gallery
This interactive multimedia presentation template can work in high resolution for professional users.
This modern pitch deck template can work for apps or other hi-tech-oriented businesses.
Canva lets you customize pitch deck templates like this one.
Designing a multimedia pitch deck is easy with a presentation like that.
The presentation template can draw the attention of the viewer thanks to bright colors.
Summary
Above all, you must remember that software alone is not enough to create a great pitch deck; all its elements must work together to make the final presentation win hearts and minds of your audience. You can also read our guide on how to make a PowerPoint presentation that stands out.
The best multimedia presentation creator provides: creative freedom, simplicity of the design process, data visualization capabilities, various presentation modes and good analytics. That's what presentations from Publuu are.
You don't have to be an experienced designer – just choose software that is fast, efficient and easy to use. Instead of creating the perfect pitch deck, choose a good program and focus on your work and creating your product yourself.

You may also be interested in:
PowerPoint Alternatives
Top Tips To Prepare Virtual Presentation
20 Creative Presentation Ideas to Inspire Your Next Slide Show