MENU
Top 10 Elegant Hotel Brochure Templates (Spa, Resort, and More)
One of the most common brochures is the hotel brochure. It is often used by hotels to promote their property and services to potential guests. It will usually contain information about the hotel, its facilities, and pictures of the rooms and amenities.
Hotel brochures can be created using several different formats, such as a booklet, a flyer, or an online presentation. The format used will depend on what type of information needs to be included in it.
You may be surprised, but you can make your electronic brochure now, right here with Publuu creator! All you need to do is to drag your PDF and drop it in the interactive area below! Or, you can click the UPLOAD PDF button and select a PDF from your hard drive if you wish!
Carry on reading, because in this blog post you will find:
a short guide on what to include in your hotel brochure text,

a list of the best hotel brochures with examples,

some free hotel brochure templates.
What should the hotel brochure text include?
Hotels provide their guests with brochures that list the services they offer. Start with deciding what you want your audience to know about your hotel before writing the content for your brochure.
The layout of a brochure is also important. It should be designed in such a way that the information provided by the business can be easily found by customers. That is one of the most important principles to have in mind while designing a brochure. The layout should also follow a logical order so that readers know where to look for information about different aspects of the business. The same layout aspects can be found in the other brochure design ideas that you can apply in both hotel brochures, as well as in the other spheres of business.
If you take a look at any type of brochure, you will notice some common information that every brochure needs to contain: the name of your company, a logo, contact details, eye-catching pictures, and sometimes also some discounts.
Let's take a look deeper into some of the most important parts of the hotel brochure.
Name, logo, and a slogan
If you run your own hotel business, you certainly know that a good brochure can't exist without the name and logo of your brand. Make sure that your logotype and brand name are the first things your potential client will notice when looking at your hotel brochure so put it in a visible place.
What is more, think about your hotel slogan – developing a strong slogan is an important thing for any business. Think about how much more your customers will remember what you stand for if you have a simple, powerful slogan that is repeated often. For hotels, this can really be used in advertisements and other marketing campaigns as well.
Contact and location
A complete address and phone number of your hotel is a piece of must-have information in your hotel brochure. When you're providing a hotel phone number, be sure to include the concierge or front desk. It would also be helpful to mention what department each option connects to if you have a customer service line.
You should also provide a clear location map and some details of the surrounding neighborhood, like how to get from the airport by showing nearby popular landmarks and streets. That way people will know they can book a room at your hotel even if they are arriving by train, bus, or airplane.
Rooms and Facilities
You should feature all the rooms and suites your hotel has to offer. When applicable, it could be useful to also include what kind of amenities you have for each package as well as the general amenities provided by the hotel.
Apart from the descriptions of the amenities, you should also include pictures of your hotel rooms. Nonetheless, if space is limited and you only want to show your best accommodations, only display images of the most luxurious hotel rooms.
10 Hotel Brochure Templates with Examples
A good hotel brochure design should be worth spending time reading it. It should have an appealing layout, making the reader want to spend more time looking at it. Below you will find the most stunning hotel brochure templates.
Digital Hotel Brochure
You have to market your hotel so that it looks enticing to all potential clients who might see your brochure, but you are bored with traditional paper brochures that go unnoticed? There is a great solution for you – try a digital brochure!
What is a digital brochure? Simply speaking, a digital brochure is one of the marketing tools in a form of a flipbook. You don't need to print your brochure, you can just send it to your clients as a direct link via your email or social media.
Prepare your brochure in PDF format using the free software, upload it to Publuu and it will automatically convert your static PDF file into an interactive brochure with a stunning page-flipping effect added on each page! You don't need to be advanced in graphics to design your brochure – with Publuu's intuitive menu you can easily change the background, add some hotspots with links to your website and even enrich your brochure with a few images or videos!
Publuu's hotel brochure example
View more brochure examples
You don't have to limit yourself to only one page when creating an interactive hotel brochure using Publuu – you can use a PDF file with many pages and it will still look good! Moreover, don't worry about the size of your file – it will be sent as a direct link, not as an attachment, so your recipients will easily display it on every mobile device.
With Publuu you have access to statistics – you can check who opened your brochure, how much time did he spent on it, and which pages are the most viewed.
Luxury Hotel Brochure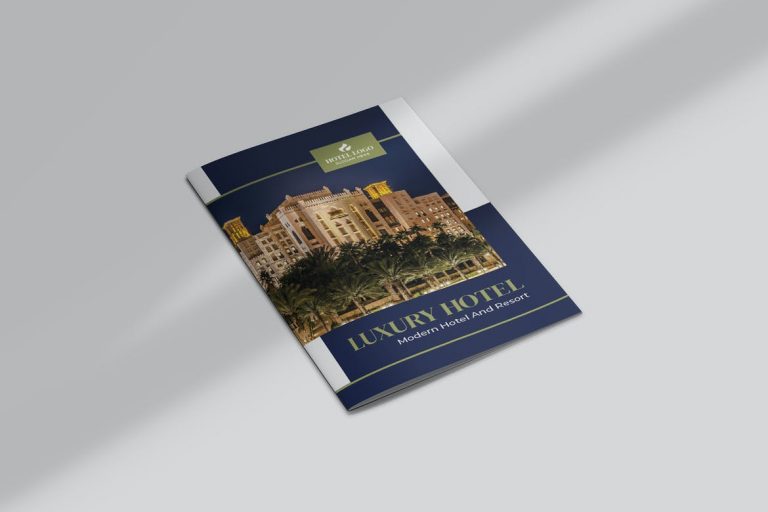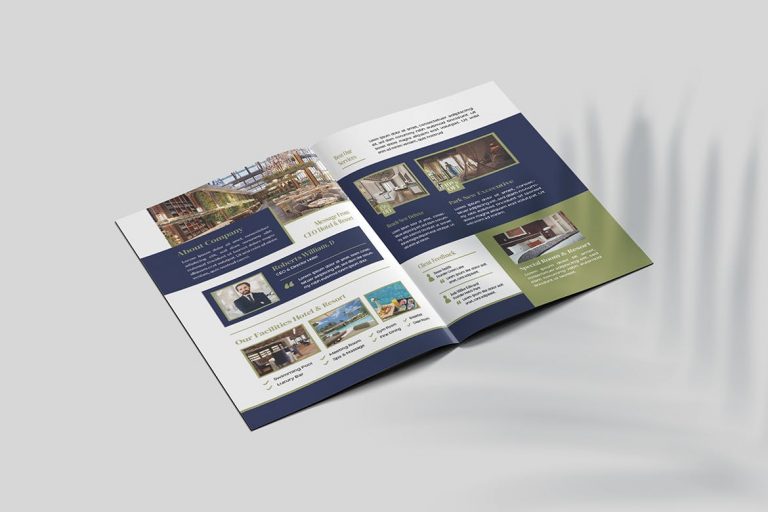 This luxury hotel brochure highlights your hotel's best aspects. Your guests will be delighted by the classy layout of this hotel brochure and will appreciate your love for details.
5 Star Hotel Brochure


This tri-fold brochure is suitable for a 5-star hotel – its sublime design showcases your good taste. The elements of gold, such as fonts, are the synonym for elegance and luxury.
City Hotel Brochure Template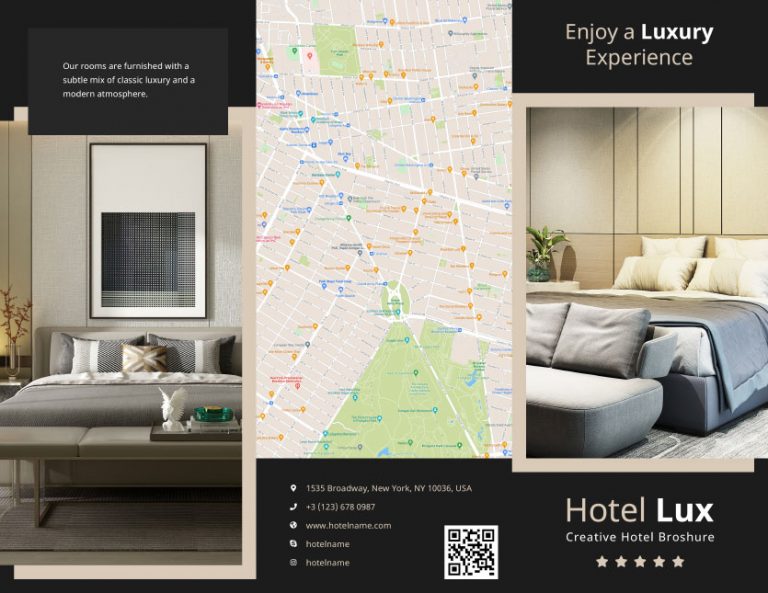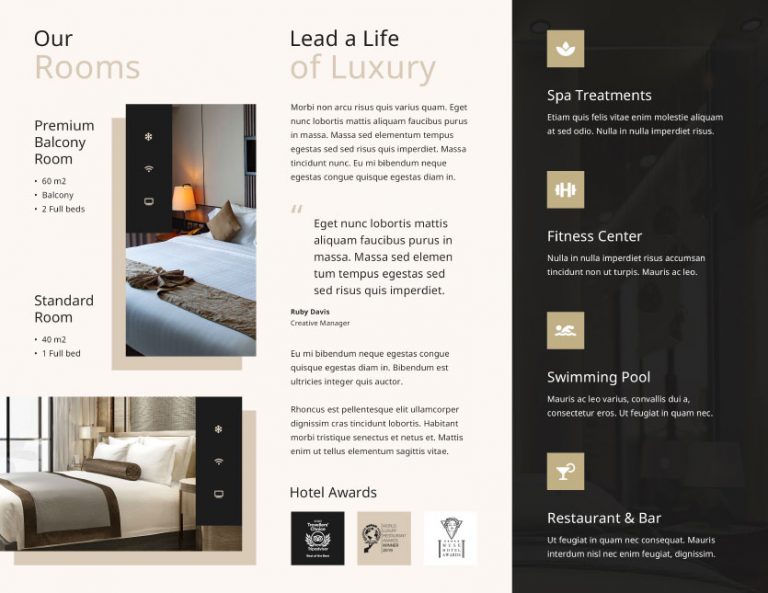 This simple design is best for city hotels, B&B, or boutique hotels. In this urban brochure template, you can include the map with the location of your city hotel to save time for your clients – they will find your city hotel with ease thanks to it. You can download this tri-fold hotel brochure template in PSD format straight away from the website, edit and customize it using Photoshop.
Modern Hotel Brochure Template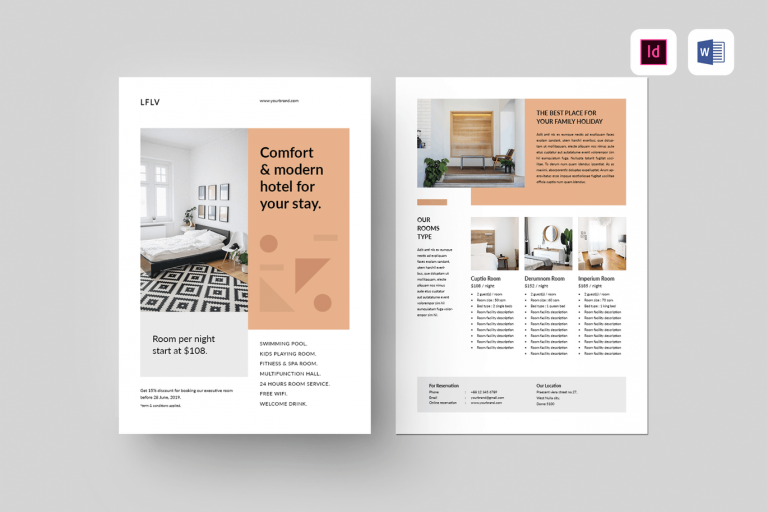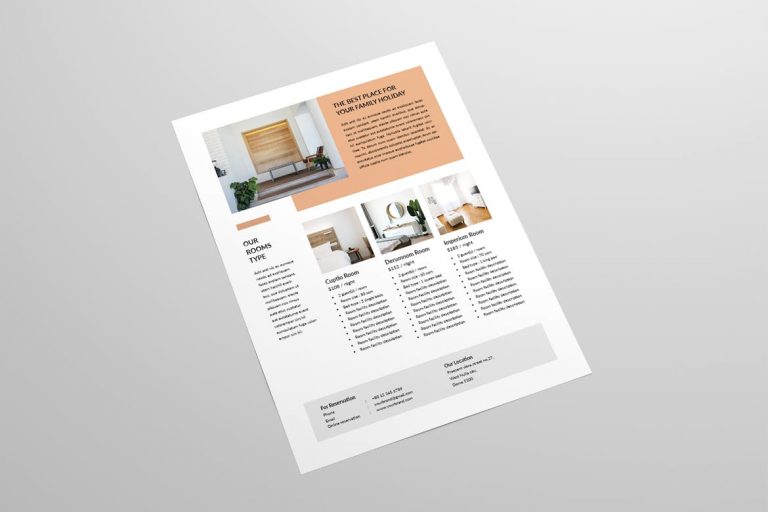 A modern hotel brochure template uses much more graphics than words. Its elegant and consistent style makes it noticeable to those who prefer simple solutions and functionality.
Restaurant Hotel Brochure Template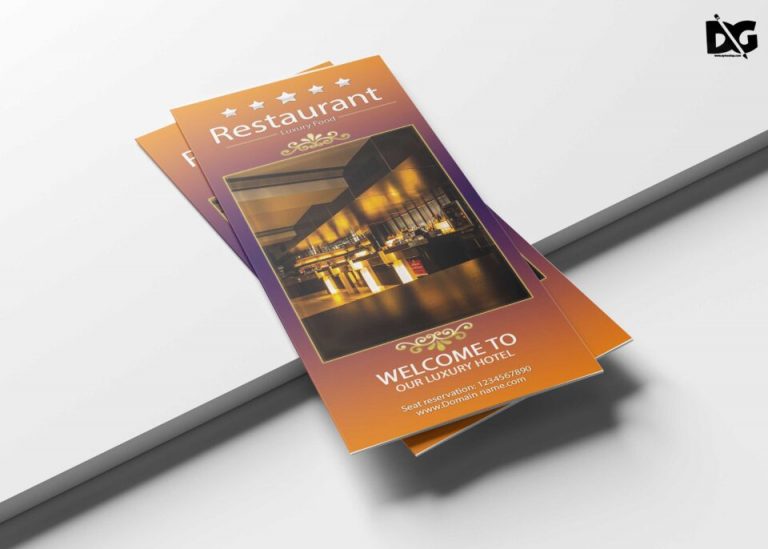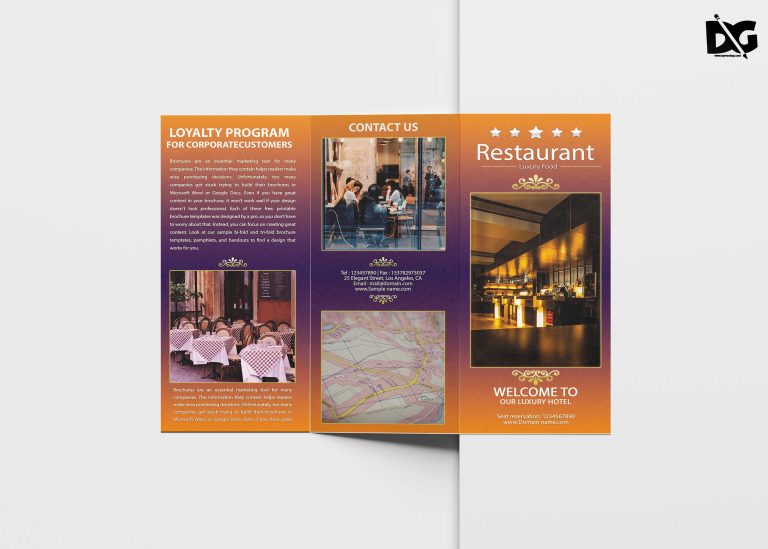 If you search for a restaurant brochure template idea, this one is here for you. Create a traditional tri-fold brochure and promote your hotel restaurant. This brochure template leaves a lot of space to present the images of the best courses in your restaurant. It is easily editable in Photoshop, so feel free to add some details from the menu, such as ingredients or prices.
Free Hotel Brochure Templates
Minimalist Resort Brochure Template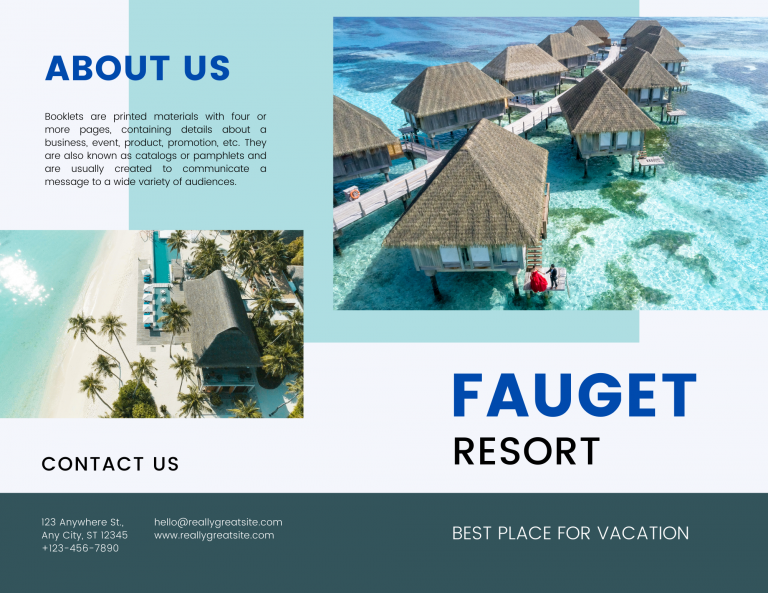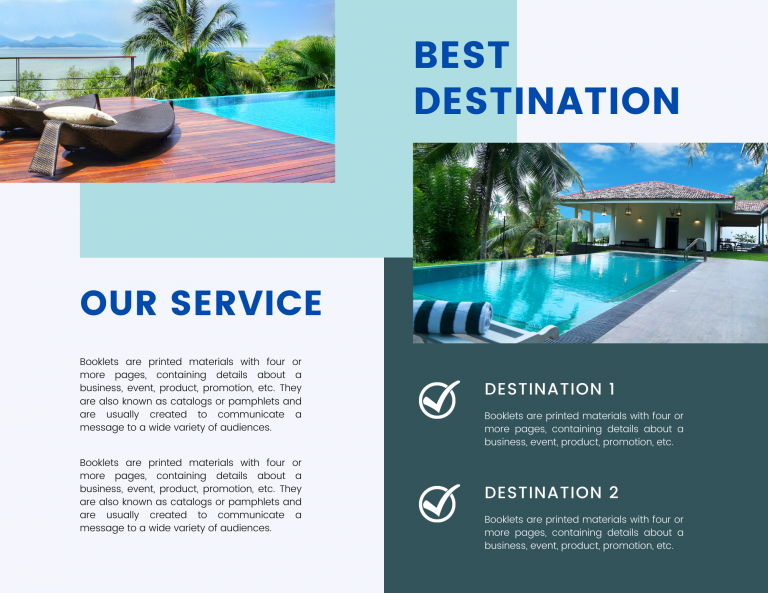 This Canva resort brochure is fully editable – you can add your own photos, videos, and many others. It offers a lot of space for pictures that show your whole resort or a particular room. Canva offers tools to personalize hotel templates – you can upload your own logos or graphics. If you feel like you are a good designer and you are able to design the pages on your own, you can create your own unique hotel brochure from scratch.
Brown & White Minimalist Spa C-fold Brochure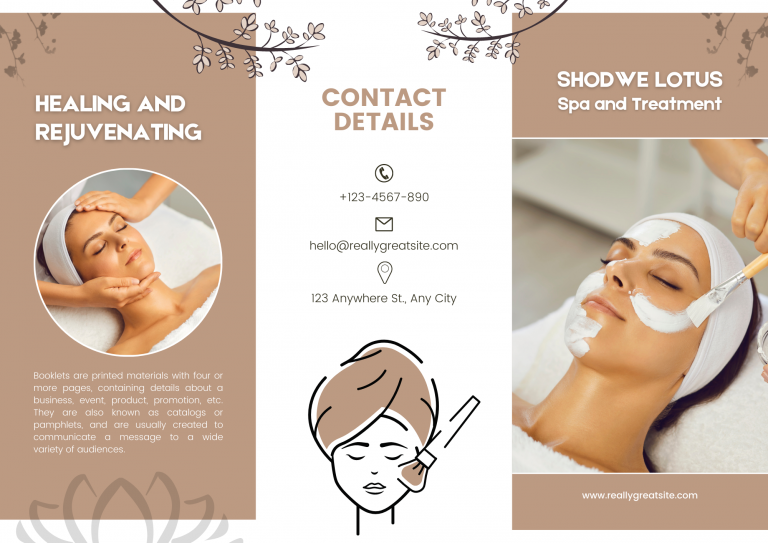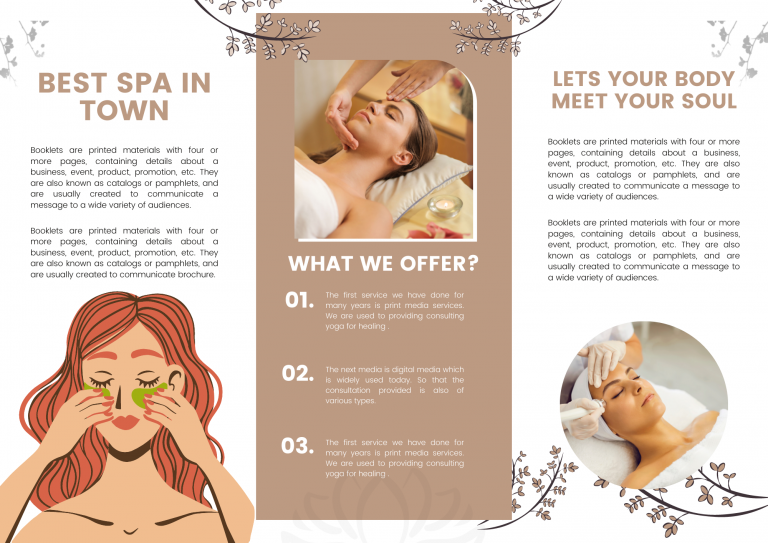 The fully editable Minimalist Spa Brochure template is suitable for hotel resorts that offer a relaxation area. The photos and graphics presenting relaxed people showcase your hotel as the best place to rest.
Free Trifold Brochure Template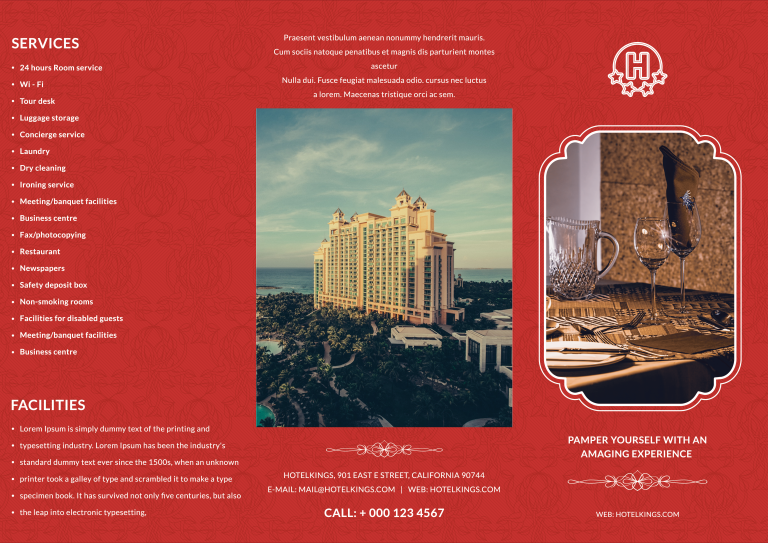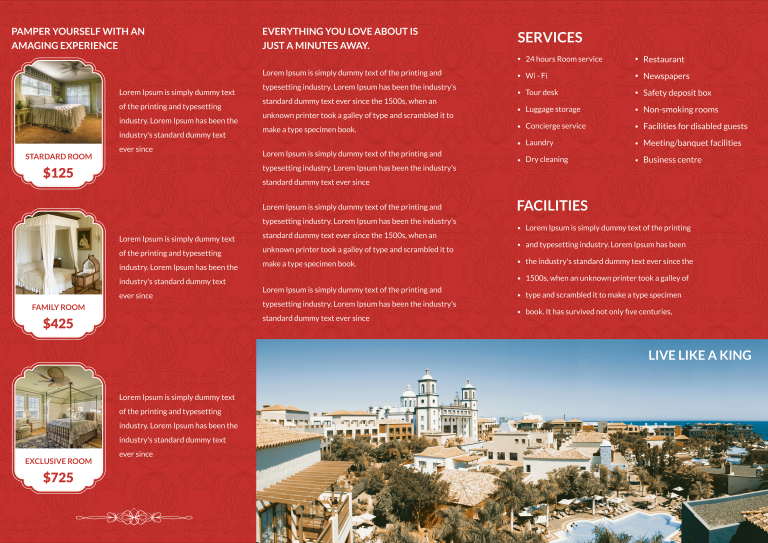 Template.net allows you to choose from various hotel brochures. Download this free tri-fold hotel brochure in PSD format and then edit it in such programs as Adobe Photoshop, Adobe Illustrator, and Adobe Indesign.
Microsoft Word Free Hotel Brochure Templates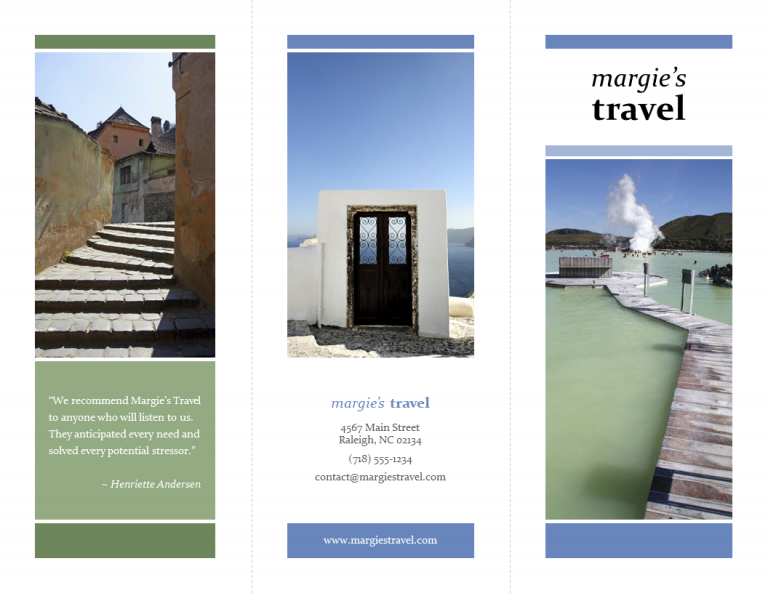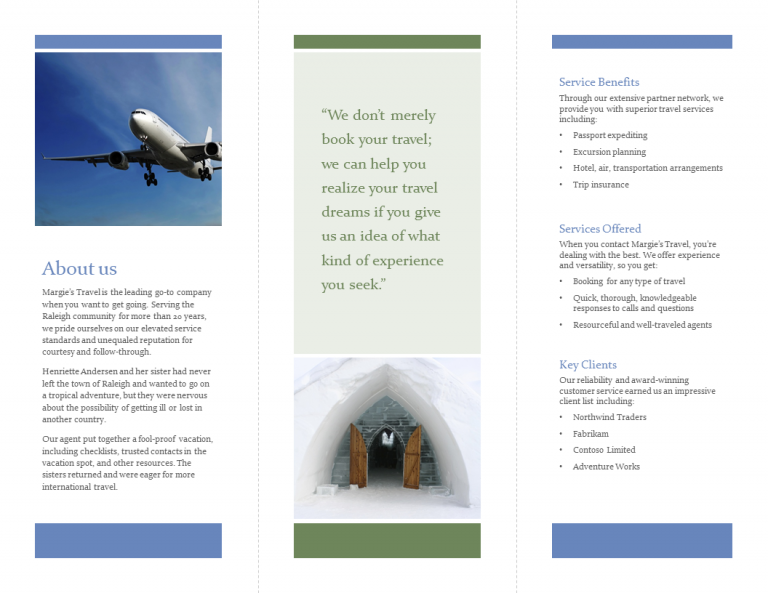 If you search for software with many different free documents, Microsoft Word offers a collection of brochure templates that can be matched to many different kinds of businesses, including hotel business. Download the fully editable document prepared by Microsoft designers and customize the details.
How to make an outstanding hotel brochure in 3 steps
Get inspired
Look at the examples of the beautifully designed templates we provided above, get inspired, and choose the ones that best suit your needs. You don't have to create your brochure from scratch, make it using one of the templates. Once you have selected one, adding content is easy: whether it's text or images, you drag and drop them in the right places using software like Adobe Photoshop or Adobe Illustrator.
Give it a personal touch
Choose the colors that draw attention, use a font that is easy to read, add images of your hotel, and don't forget about the elements of your brand, such as a logo. With software such as Publuu, you can also add some interactiveness to your brochure – a hotspot with a direct link to your website or a professional promotional video of your hotel.
Surprise your audience
If you want your brochure to be unique and appealing to the audience, forget about distributing it in paper form. Instead of it, use Publuu's brochure maker which allows you to share an online brochure as a direct link that you can place in your email or social media or put it on your website using the embed code provided. Your potential clients will be delighted by your modern approach to brochures.
You may be also interested in:

Brochure Design Tips and Tricks
How to Make a Brochure?
The Best Brochure Templates Websites