MENU
We live in times when digital marketing cannot exist without social media.
And even if our business is something small and local – like a coffee house, we still like to make sure that it has some sort of online presence. Or at least a trace of it.
In most cases, it's fairly simple. We open an account for our business and post pictures of our products, events, and special offers. Easy. In that sense, our social media account works like a business page, where everyone can see what our business is about.
But, what if it's more complicated than that?
Normally, you would post pdf catalog with your offer, so people can look at it in their spare time. And this approach is usually working fine for websites and newsletters. But with Facebook – not so much.
While you can't post PDF files to your Facebook feed, there are some workarounds that you could try. In this article, we'll tell you all about them.
Facebook won't post PDF file – what to do?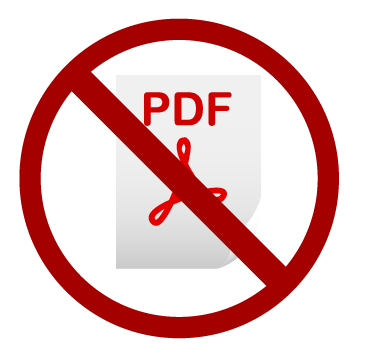 The first method is rather crude and time-consuming, but it's worth trying.
It goes like this: while you can't upload pdf on Facebook, you CAN upload content from ita series of images. How to do it? Just use this simple converter to turn your PDF into an image file. With these, you will have no problems with posting your offer to your group page. It's best to post them as a carousel. This way, your readers will be able to browse individual pages, almost as if they were browsing through your pdf on Facebook.
There are issues with this method. Turning your PDF files into images might damage their quality. Also, you have no guarantee that the final image will be easy to read.
So what to do? Well, in order to post PDF on Facebook, you must turn your PDF into a Facebook post. To do this, you need to find software that you can open PDFs with. Next, upload a PDF file to it.
Now's the hard part.
Turn your PDF to Facebook post. Page by page. Every image, every line of text. You will need to copy, edit it and post it to your Facebook group. While it might take a significant amount of time, there is an upside to this method. Your business page will look more professional. How? Imagine that your catalog has 20 pages, featuring 20 products. You will not post them to your Facebook group all at once, right?
Instead, you will divide them into 20 posts. That's 5 posts a week, for 4 weeks. Your business page will suddenly have daily updates!
Facebook PDF file upload – is there a workaround?
Sadly, the only way to post PDF on Facebook is to share it with a single user.
This isn't necessarily a bad thing – if someone is interested in our product, they can receive a full offer via private message. They will need to either invite us to their friend list or at least exchange a few messages. This way, Facebook ensures that no one is randomly sending files to its users. Spam is bad for business.
Luckily, there is one more way to share a pdf on Facebook page.
Facebook, unlike Instagram, allows you to share links – with no extra costs.
Recommended: Use Publuu to share your PDFs on your Facebook group
How to post a PDF on Facebook, when there's no feature to even upload a PDF?
It's simple: post a link generated on Publuu.com
Once you do that, Facebook will automatically generate a preview of your pdf file. Will it look good? It's hard to tell – at this point you have very little control over what Facebook does.
Click HERE and see live example of above.
That's where Publuu comes in.
When you normally post a link with a PDF on Facebook, you can expect to see some sort of image from the website as a preview. If you're lucky, Facebook algorithm will use a part of your PDF as a preview.
But your brand is better than that, isn't it?
Make your product catalog look like a bestselling book!
Publuu adds an extra spin to your Facebook preview – a 3D look, that will look a real, physical book! It will remind you of a featured magazine in a TV commercial.
And the best part? It happens automatically. Every PDF file that you will ever embed on your website with Publuu, will get this enhanced look. How cool is that?
Have you tried out any of our methods before? Or maybe you are waiting for Facebook to announce posting pdf as their new feature?? Let us know in the comments below.
Convert your PDF to flipbook today!
Go beyond boring PDF and create digital flipbook for free.
Register with Publuu for free today and check out all the smart options we prepared for you!