MENU
Real Estate Leads – How to generate them?

There are many ways for real estate agents to discover new clients and close their deals. If you ask a typical real estate broker what the biggest source of free leads is, you'll usually get one of two answers – cold calling or simply knocking on doors in the chosen area.
But let's be honest. These methods can turn out to be a waste of time and money – and calling at random makes people mistrust your real estate business. Those aren't the only options available these days. Today, calls from unknown numbers and visits from strangers don't work as well as they used to.
The methods of real estate lead generation are constantly changing, especially in this day and age. What had brought great leads at a low cost a few months ago may not work anymore. As a result, real estate agents are constantly on the lookout for novel and inventive tactics to generate exclusive leads for homes and properties.
Agents can start cooperating with the lead generation companies working in real estate marketing to identify all sorts of buyers and sellers who live in specific locations, have specific interests, or are looking for specific types of homes. Various online tools make generating leads possible, thanks to lead generation software like assorted websites, marketing tools, social media platforms, and other technologies.
In this article, we'll present some of the best ways of lead generation, how to quickly generate leads, and contact potential buyers.
Old-school methods of real estate lead generation
Many people recommend using cold calling – essentially boiling down (from a database) and asking them whether they're interested. This method of real estate lead generation is inexpensive and fairly reliable but those are basically its only advantage.

This method of generating real estate leads might be illegal in the EU due to GRPR. Furthermore, it can generate leads far more slowly than the other methods. Many buyer leads obtained in this way will be highly unreliable – you will have no data on people outside what you have gathered yourself. A lot of real estate agents use cold calling to schedule appointments, but do not recommend gathering direct data.
However, it's still worth setting up an answering person that will contact leads you'll gather – the people that will seek your agency on their own. It's best to find qualified real estate agents that will answer the incoming questions – rather than a secretary or a telemarketer. Hiring a specialist in real estate investing and trading will give you a significant boost!
Real-world gatherings
With the world rapidly changing one of the best tools for generating real estate leads is meeting the people in real-time. Appear at the local events in your area, open a booth for your agency, talk to locals, show your real estate agents as people.

This presence will help your agents meet people – and this personal connection helps them in creating quality leads. Of course, it also helps that you send the message about your company and gain interest. This activity generates leads indirectly.
A lot of people recommend replacing these events with online events – this can be highly beneficial when combined with online lead conversions. You can find lead generation software that will help you automatically contact the viewers or participators in online conferences.
On the other hand, this can be both very costly and time-consuming. This method of lead generation depends on the goodwill of the local community and governments, as well as weather and other random factors. Many people prefer that their best real estate agents be out there, selling.
Friends of your real estate agents
Real estate lead generation is unique in this a home is always a major purchase and so a lot of both seller leads and ones of the buyers must come from referrals and personal connections. It's not as easy as ABC. Of course, the market for properties is notoriously unpredictable, but if you have spent some days in a real estate career, you'll be able to understand the market and find qualified leads.
A good real estate agent maintains connections and constantly thinks of potential exclusive leads. This is a job for a person who is gregarious and extravert – the best agents are the people who have a lot of friends and acquaintances!
Ask around in the neighborhood, whether they're thinking of buying or selling their properties. Of course, investing takes time – but be sure that at least one person in your district is thinking of buying and selling. When you hire a real estate agent just think about whether they are a people person rather than considering their education. This is one of the best ways to obtain real estate leads.
Content is king
As usual, one of the best ways to generate interest in your real estate is to create content that draws the attention of prospects. New leads work best when they are generated automatically – whether seller leads or owner leads.
Show that you have things to sell, and you'll generate buyer leads. Show that you're buying, and you'll have some seller leads. A potential seller might not even know they're a seller until he learns some interesting information from you!
One of the best methods of lead generation in real estate is creating video materials. Showing beautiful homes will certainly help you generate leads and create interest in your properties. A qualified real estate agent showing the viewer around can work wonders for your entire sales cycle – boosting your views, positive reviews and visits to your agency's website almost instantly.
Use flipbooks to capture leads for your real estate business
Many agencies release real estate brochures to promote and advertise their properties. They help increase visibility for the listings they are trying to rent or sell. Whether they're promoting a single apartment, home, condo, or commercial property, they can display the information on your real estate and promote
For prospective buyers, brochures provide a convenient way to learn about the property in a matter of seconds. Buyers may decide for themselves whether or not the property is worth checking out, just by checking out the real estate brochures. Booklets have an indirect impact on sales and profitability by boosting awareness of your brand and so they also help in lead generation in real estate.
Although traditional brochures are still in use, we can recommend switching to flipbooks – they can turn out to be great tools for real estate lead generation. Publuu can help you greatly in creating flipbook for your brochures, newsletters or online catalogs.
Publuu's flipbook example
View more online flipbook examples
Publuu – a great real estate lead generation tool
Thanks to our innovative flipbook tool, you can upload your PDF presentation containing your real estate photos, and display it in the cloud so that it can reach your sellers and buyers.
Publuu has all the tools you need to create realistic flyers that will draw the attentions of readers and allow you to publish all sorts of real estate materials. You can convert your presentations, catalogs, brochures or online magazines with your offer to the online flipbooks.
These beautiful flipbooks from Publuu will be able to enhance your marketing materials and also allow you to connect with your buyer and seller leads. Since these flipbooks are easily available online, you can use them at any time – and you can add galleries and multi-media features to improve your lead generation. Publuu lets you add more branding to your marketing materials, which also helps you in establishing your agency as real estate professionals.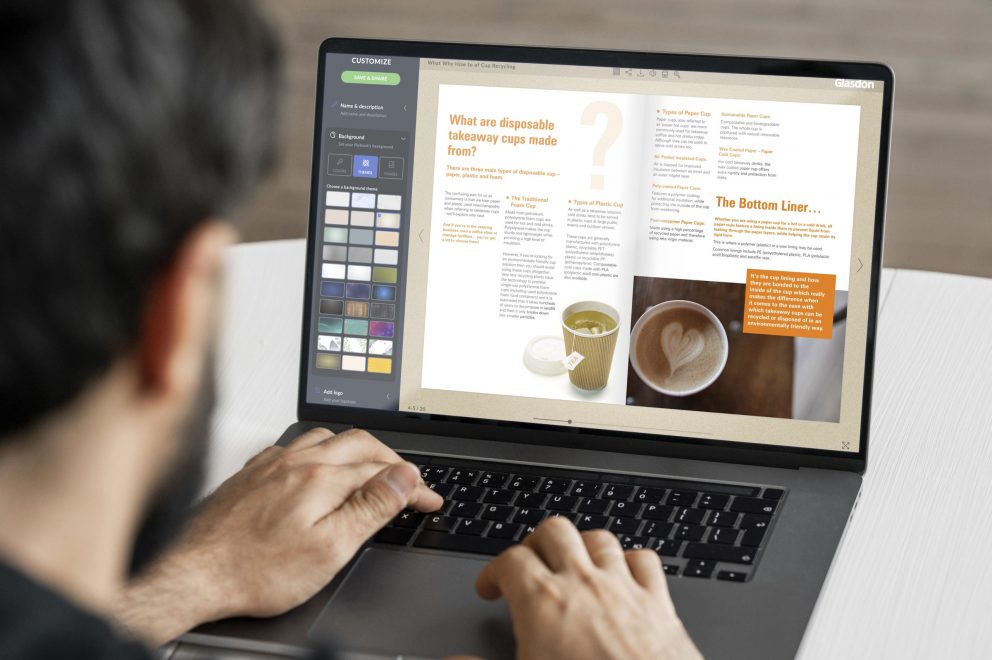 If you want to, you don't have to use Publuu for brochures – many businesses create eBooks to improve their marketing. You can release a free booklet on a history of your local area or housing – and use your branding. Such eBooks can be a great lead source for newcomers!
Showcasing your properties is just the beginning. You can present your real estate business with hard data or tell a story of your company. This also will help you with your lead management – thanks to Publuu lead generation software. Publuu offers you also robust analytics thanks to which you can aggregate data on who visits and reads your eBooks which will help you in optimizing further ad campaigns.
Lead generation software and Publuu database
As anyone in the property business knows, good photos and presentation of a house will bring high quality leads. By showcasing your brochures at local or online events, Publuu can help you in real estate lead generation – thanks to our innovative lead generation tool.
You can add a prompt to your real estate brochures – or eBooks – you publish with Publuu. Your reader can flip through their flipbook, until they see a prompt. You can prepare a pop-up window asking them to leave contact data if they're interested in the properties he's reading about.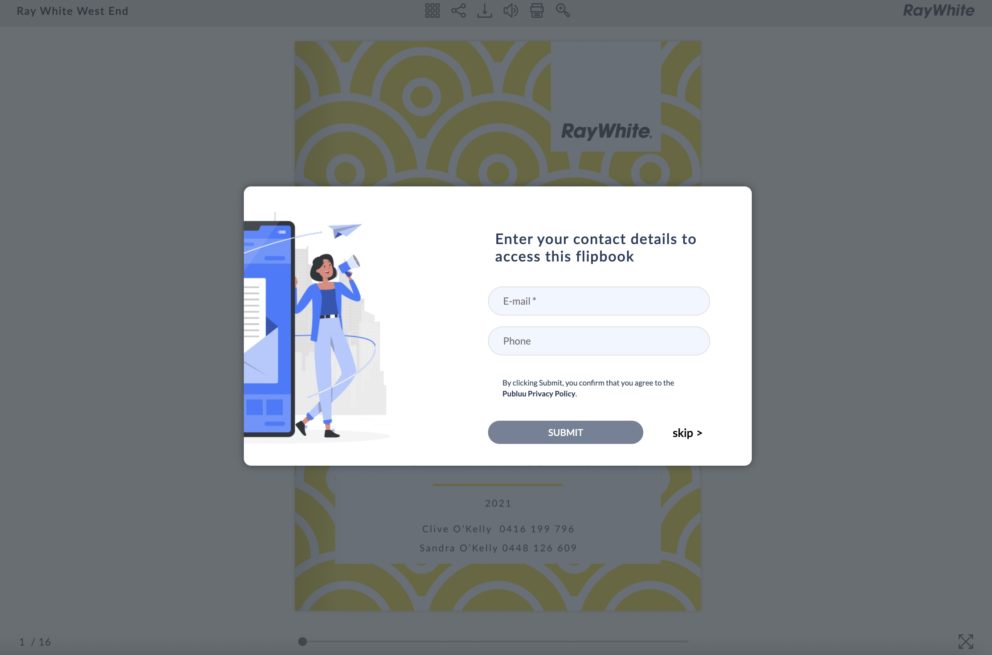 You can gather more leads from the readers if you ask them to let you contact them. For instance, you can create an eBook with interesting content and ask people that if you want to read further, they can just leave their contact information. Quality content captures leads! You can access seller leads if you present interesting content about topics that could interest potential sellers – and real estate seller leads are always very valuable.
Publuu's lead generation forms
You can always add a lead generation form at the end of your brochure – asking your readers to contact you in the future. After all, if someone is browsing real estate brochures, they are already potential buyers. Gathering real estate leads into a database is just another step of lead conversion.
Publuu lets you also build databases on your prospects. Real estate lead generation also helps you manage leads your publications obtain. You can export your real estate leads to create a database for the future use.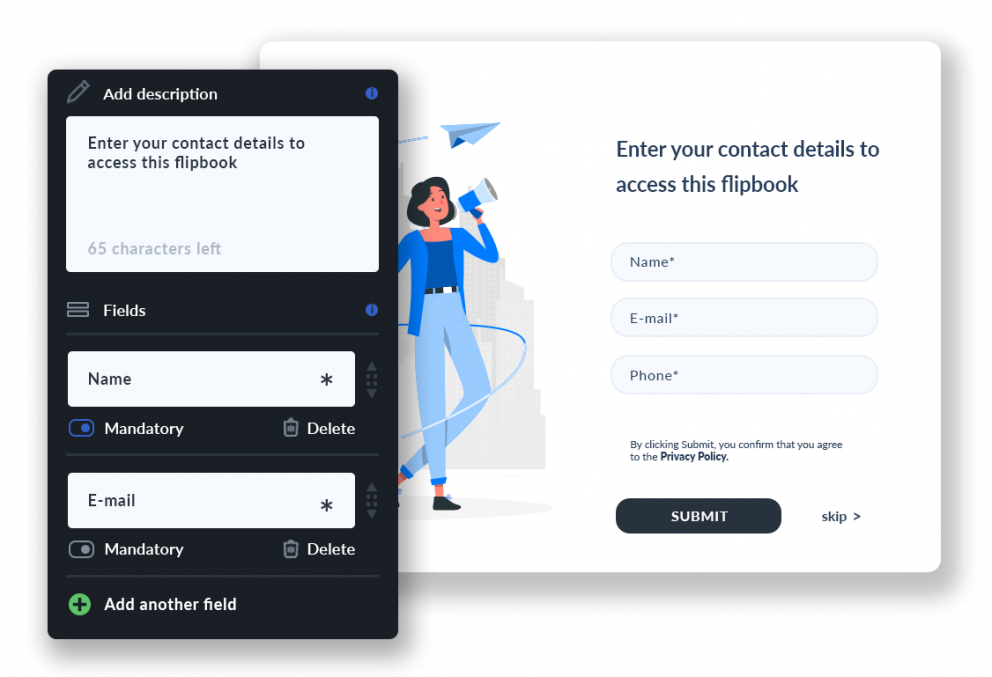 We all know that the property market can change rapidly, and you need to use the leads you gain. That's why you could supplement Publuu as your real estate lead generation tool using other ideas, like company newsletters. To maintain high lead quality, you should take care about potential clients and contact them whenever possible.
Real estate lead generation: a Summary
Calling and knocking on prospective buyers' doors aren't the only techniques to create leads for buying and selling real estate. There are several lead-generating systems on the market that may be used to target buyers and sellers who reside in certain areas, have specific interests, or are seeking specific sorts of property. Online solutions like Publuu can help you rapidly generate excellent revenue leads.
Many people in your prospective seller and buyer crowd originate from personal recommendations and relationships. A smart broker keeps in touch with people and is always thinking about new real estate leads. This is why you should combine traditional and innovative methods, such as Publuu.
Creating attention-grabbing content is one of the best ways to generate interest in your listing that will boost real estate lead generation. Publuu Flipbooks enable you to show your material on your properties in a new and fascinating manner. Because your marketing materials are online, anyone can view your offerings, and you can improve lead generation by adding galleries and multimedia features.
Whether publishing eBooks or catalogs, you will be able to obtain more real estate leads with Publuu. You may ask your readers to allow you to contact them; Publuu software will save their emails in a database for future use.
Lead generation is easy enough when you have access to a simple tool like Publuu. We hope that our flipbook tool will help you generate real estate leads – and present your quality content to the world!
You may be also interested in:
Lead Capture Tips
The Best Lead Generation Services Online
How to Create Lead-Capture Form ?