MENU
The Best Online Menu Maker Software for your Restaurant

The menu at a restaurant can completely transform the experience of visitors. A beautiful menu is a key marketing tool for any restaurant. With an attractive menu created with the online brochure maker, you will be able to easily increase your profits – and a menu is very easy to prepare yourself. Your restaurant menu is the last stage of marketing before your customer's order, so it's worth putting in the effort to design it.
You don't need to have the graphic design experience to design your own menu. If you don't want to get bogged down in typefaces, image editing, and effective layouts, you can use menu design software. In our article, we will introduce menu maker software you could use to design custom menus or publish your menu online.
Food sales and restaurant marketing are sometimes complicated issues. As a result, when marketing your restaurant, the psychology of menu design should not be overlooked. Many bar owners overlook the importance of adding attractive images to their restaurant menu design.
It is common practice to place the most expensive items at the top of the menu, making other dishes appear cheaper. Remember to justify your prices by citing high-priced ingredients, lengthy preparation times, or chef experience. People generally respond favorably to high-quality goods and purchases.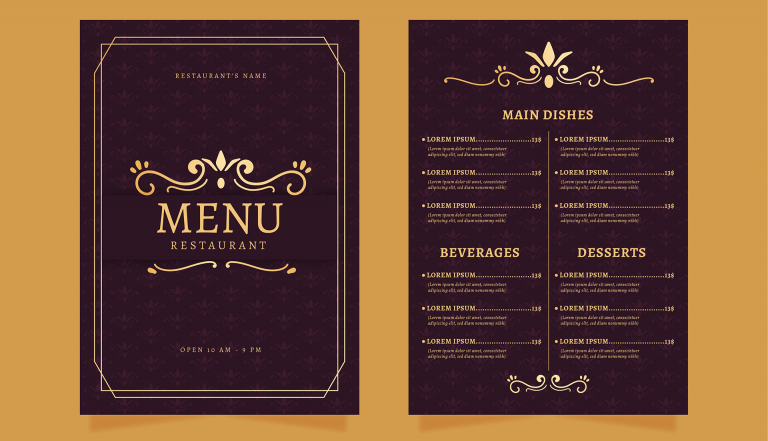 The best items on the menu should be highlighted. In the software we present below, you can highlight the most important parts of your menu in the menu template.
It's also a good idea to keep your options as simple as possible. There is a common misconception that having two different types of pasta on the menu creates a sense of abundance, but these dishes will mostly compete with one another, making it difficult for visitors to choose between them. If you don't specialize in a specific cuisine, like when creating an Italian menu with a multitude of pasta dishes, you can simply serve the dish of the day.
When creating your menu, keep in mind that it should not be too large. It takes up space on the table, is difficult to hold, and if the text is too small, people will struggle to read it. A4 or Letter are the best menu sizes, with A5 as a last resort. The programs discussed below enable you to make a few extra copies of your menu in large font and make them available to all customers who require them.
Keep in mind that some of the software allows you to provide a digital menu that can be accessed via a QR code. You can include a link to the menu in PDF format on the paper menu so that customers can view it online by scanning the QR code there.
To create an appealing restaurant menu, it's probably best to use professional graphic design software available on the market. Thanks to professionally designed templates anyone can customize their own restaurant menu in just a few clicks. Often, online menu maker software is dedicated to creating apps or online digital menu websites. But if you need a restaurant menu maker to create and print your own menus, it's best to practice graphic design skills in the programs described below.
Publuu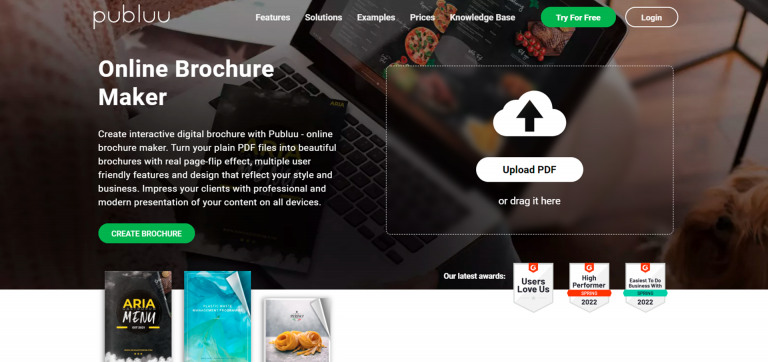 Publuu enables you to create unique digital brochures including multimedia, interactivity, and page-turning effects. Videos can be more appealing and colorful than photos when it comes to showing off your food. You can easily introduce your brand and cuisine by adding videos to your menu using Publuu.
The online brochure maker lets you also add music or audio narration to your brochure, as well as your own logo or pictures of your dishes. To reach more potential customers, you can easily share the brochure on social media or embed it on your website.
Publuu's brochure example
View more online brochure examples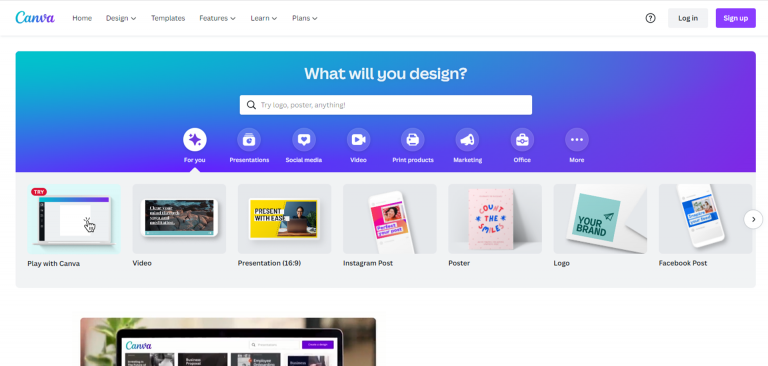 Canva is a well-known online design platform that allows you to design everything, from restaurant menus to social media posts. They offer numerous menu templates allowing you to create a mouthwatering menu in just a few minutes. This app is fully online, so you can use it on your smartphones and tablets. Canva is free to use and thanks to many great features it's often the first choice of smaller restaurants. Thanks to many templates and design assets even non-designers will be able to design a complete menu.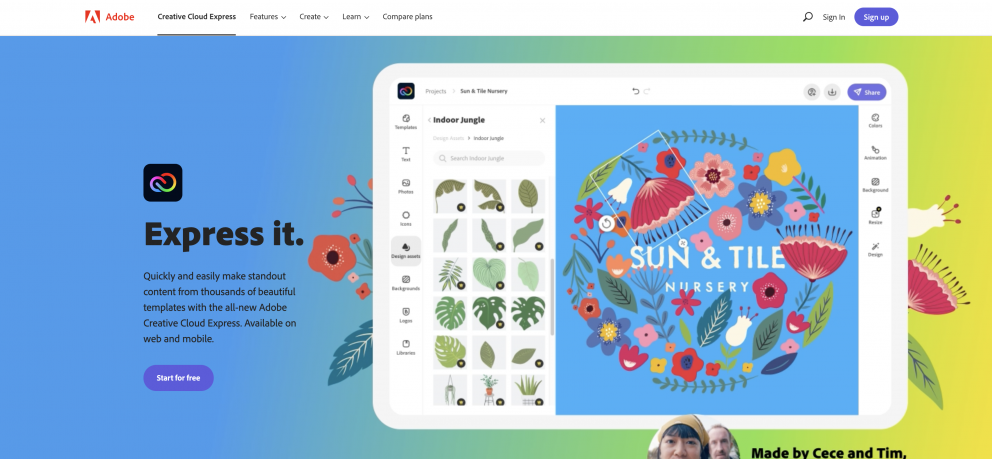 Another very popular web and mobile app design tool, Adobe Express, aims to make the process of creating eye-catching content easier. They also offer a wide selection of menu templates – you can design and print a restaurant menu in just five easy steps. You gain also access to the entire Adobe Gallery – stock art, typography, and other graphical elements. You can use this free menu maker to prepare PDF brochures, and the intuitive drag-and-drop system will help you customize all the templates.
iMenuPro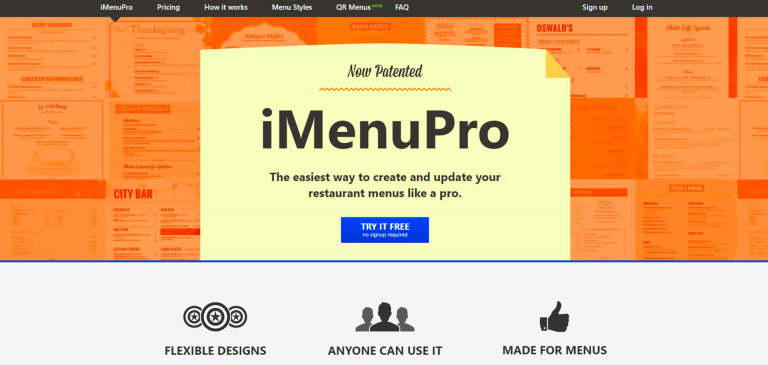 You don't need to have any design skills to create and print menus using iMenuPro, an online menu builder for restaurants. This app offers many fully adjustable and professional menu templates, so it should be easy to find one that works for your business. The drag-and-drop menu builder allows you to add your own logos. It's geared specifically for menu design, so it boasts more specialized features like storing menu items, preparing special deals, or creating advertisements. However, it does not offer a free trial.
MustHaveMenus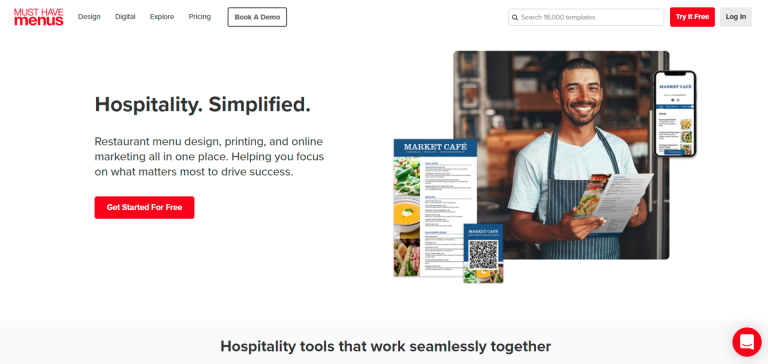 MustHaveMenus is an app intended to help establishments create and distribute menus. You can easily design a menu for your restaurant using their drag and drop creator. They offer a library of templates as well – and they can offer you the help of designers to help you with the menu design. You can also design menus for a particular set of customers – for example solely for vegans or prepare kids' menus. This app is one of the more expensive ones on our list, though.
Menu template gallery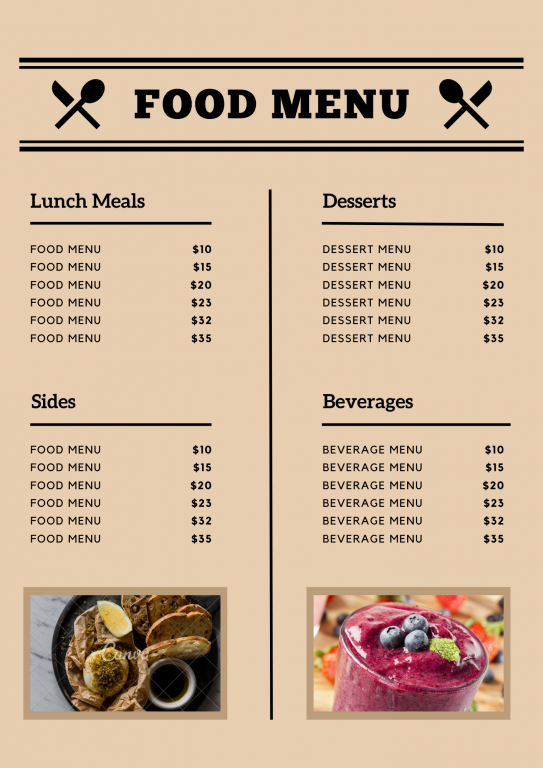 This simple menu template is clear and easy to adjust, simply drag your own images into the project.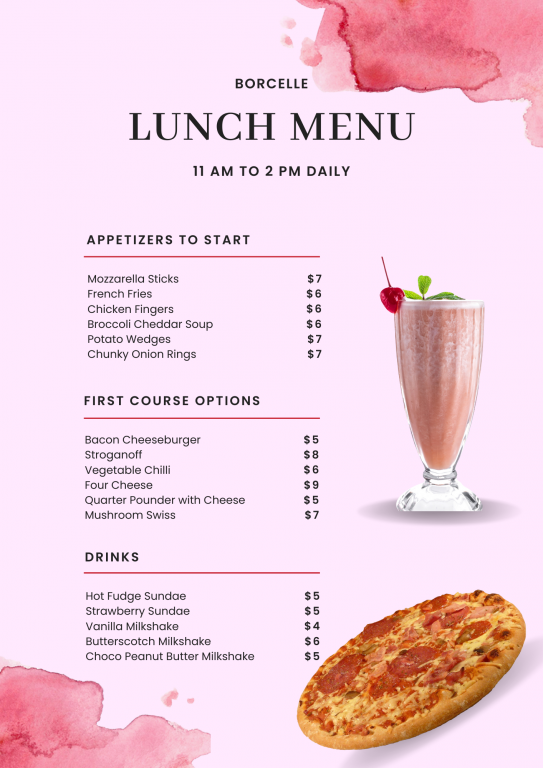 This menu draws the attention of the readers thanks to colorful images and outstanding font choice.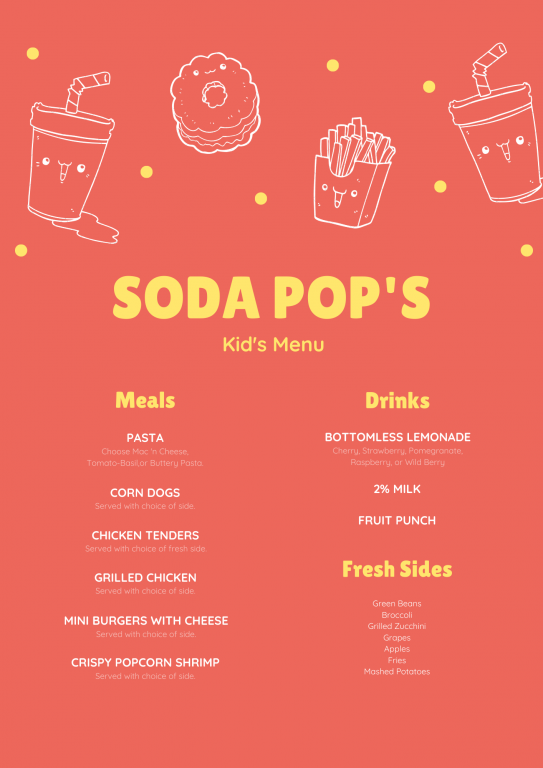 This template is perfect for desserts or other delicious kid treats. It stands out and is very legible.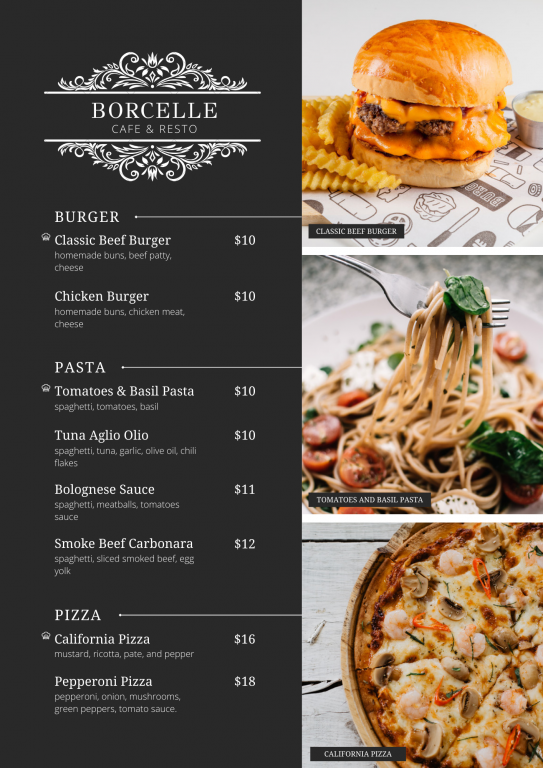 Large images make it work great with any new project or leaflet.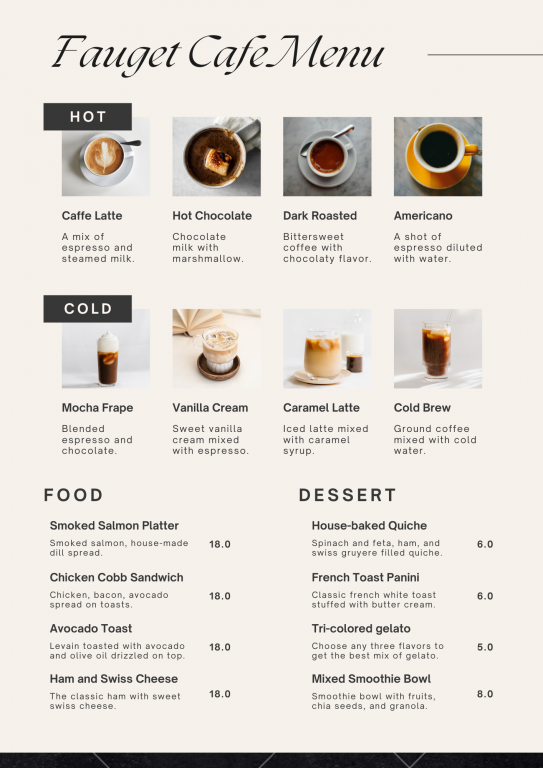 This template can work great for cafes or dessert dishes.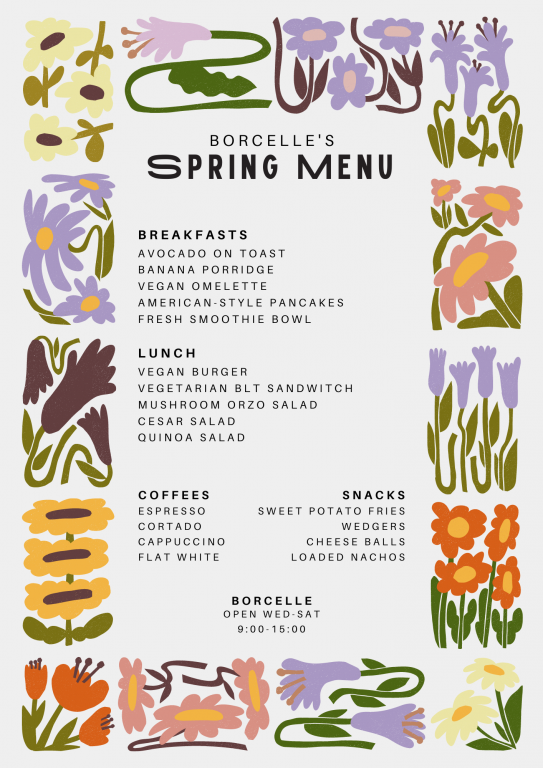 This colorful menu template evokes spring and energy, inviting your guests to dine in your establishment!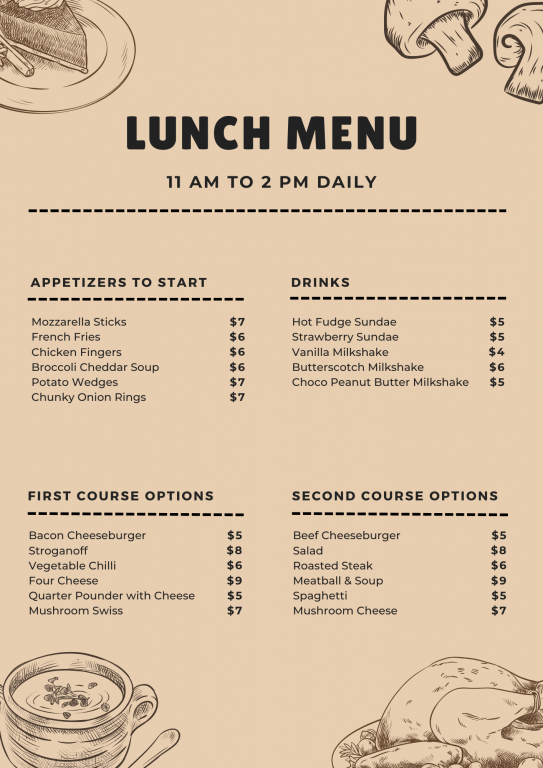 This simple minimalistic template shows the good points of professional menu design – it draws attention to the dishes first.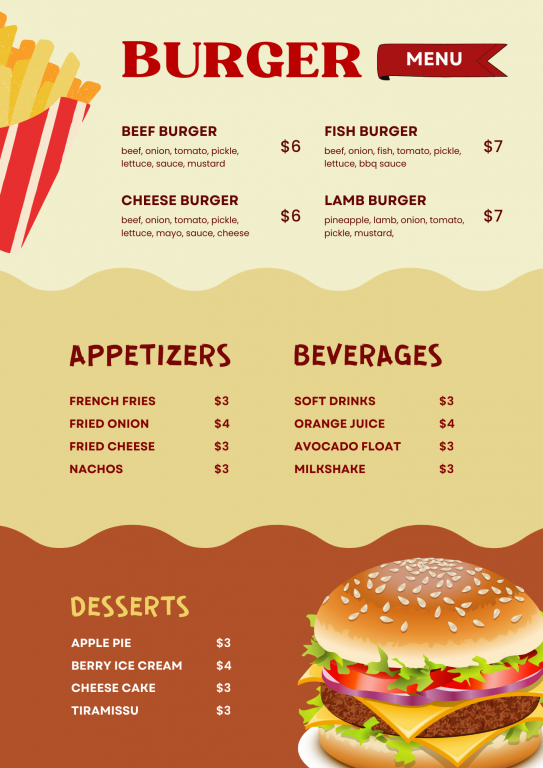 Replace the background image of this template with your own pictures, and you aren't limited to dishes like burgers!
Summary
We've gone over the best restaurant menu maker software that you can use to create your own menus or publish them online. It's better to use software like Adobe Express or Canva if you need a restaurant menu maker to develop and print your own menus.
Using one of the many templates available, you can quickly build a beautiful menu that suits your restaurant. You may easily print these or utilize Publuu to publish them online. Remember that menus are the final piece of advertising your customer sees before making a purchase, so make them appealing!
You may be also interested in:
PDF Design – The Best Software to Create a Professional PDF
Top 10 Elegant Hotel Brochure Templates (Spa, Resort, and More)
5 Best Pamphlet Maker Online Software