MENU
20 Excellent Food Brochure Templates

A restaurant brochure is more than a simple piece of paper advertising menus and specials. It is a presentation of your cuisine, brand, and its superior quality. With it, you can convince hungry customers to choose your restaurant for lunch or dinner. With a well-created brochure, your customers will definitely start salivating just thinking of victuals.
Specifically, food brochures created with an online brochure creator can highlight new delicious treats offered by your company, give information about a healthy diet or the benefits of veganism, present nutritional statistics for a specific dish, showcase culinary events, or present your restaurant's menu. You can distribute brochures in your restaurant, hand them out for free like flyers on the street, or present them at trade shows and events.
In this article, we'll present some of the best brochure template ideas and help you create and customize the perfect brochure for your restaurant or food business! Our list of 20 brochure template examples will help you in creating a great print or online brochure!
How to make a food brochure?
A food brochure can serve a variety of purposes: introducing your restaurant to potential customers, detailing menu items, or enticing consumers to a specific diet. You can choose a tri-fold brochure or a bi-fold brochure template – each type has its own advantages and disadvantages and they're both easy to print.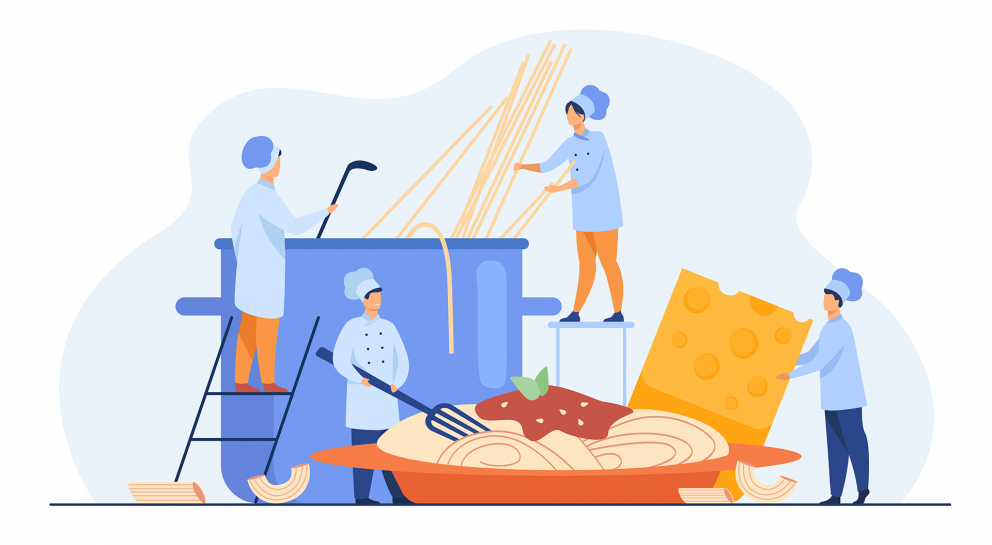 However, keep in mind that when creating a brochure, you must include clear and interesting information as well as personalize your brochure template with personalized content.
Food brochure design – a few tips
What should a food brochure include? First of all, you should focus on your branding and logo. You need to advertise your restaurant in your brochure, so emphasize your identity and put your logo on every page of the brochure template.
Add the best photos of your goods and services, as well as a picture of your dishes or chef at work. Again, make sure that they are of excellent quality. Your restaurant needs to look stunning using the visual medium.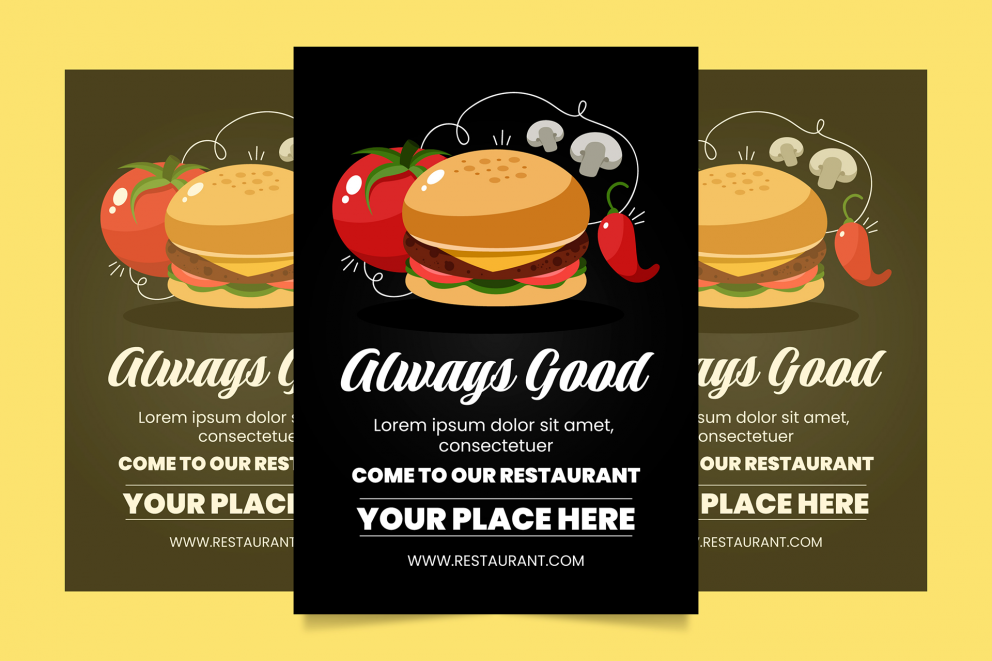 In the copy text inside your brochure template, you must show others what kind of cuisine you serve, and what dishes you specialize in. If you have great employees, describe their experience and skills – can they make Italian or New York-style pizza?
Also, remember to include your contact information and hours of operation, noting your address, your online website, or your social media account to the brochure template. Make sure to emphasize whether you offer a delivery service or have a children's corner – details like this are relevant to almost every customer.
Food brochure content – what to include?
Start with an interesting title that will entice readers to open the food brochure. In the headline, emphasize the most important feature of your dishes – flavor, exoticism, and versatility. The most effective title is a memorable phrase that will be often quoted – try to summarize everything about your restaurant and business in a single line!
Inside the brochure, explain why people should buy your food or service. Include testimonials from customers who have already tasted your food. Add illustrations, but don't visually overwhelm the interior of your brochure template.
Almost every tri-fold brochure template consists of three whole panels. Use them well – add food facts, and nutritional values to your contents or maybe, if you offer ingredients, even a recipe? It's sure to be memorable.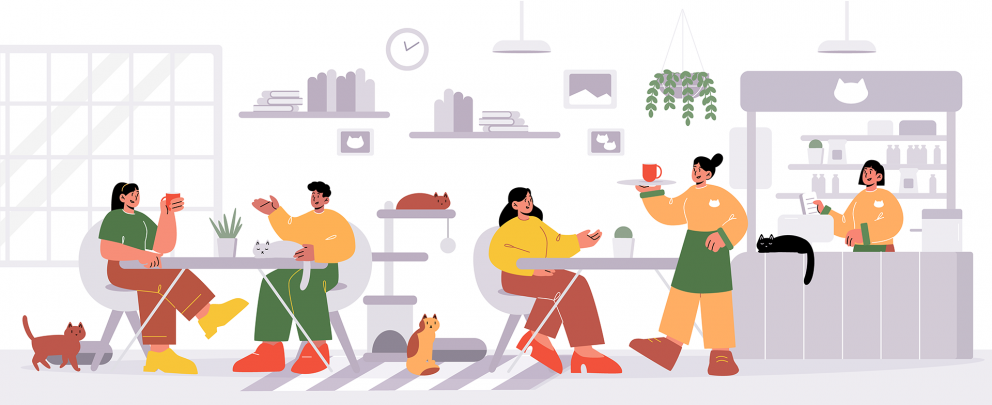 Always include your contact information and a "call to action" at the end of your brochure. You can also invite readers to sign up for your newsletter with vegan recipes or give them a 10% discount on your catering.
Publuu allows you to collect contact information from within the brochure, as well as interactive hotspots that will allow you to link directly to your website or social media profile. Consider uploading your PDFs and converting them into interactive booklets!
Food brochure template gallery
There are many food brochure templates available online – you can create them in complex software like InDesign, HTML5 editors like Canva, Adobe Express, or similar technologies, or even in MS Word or Publisher.
Professional brochures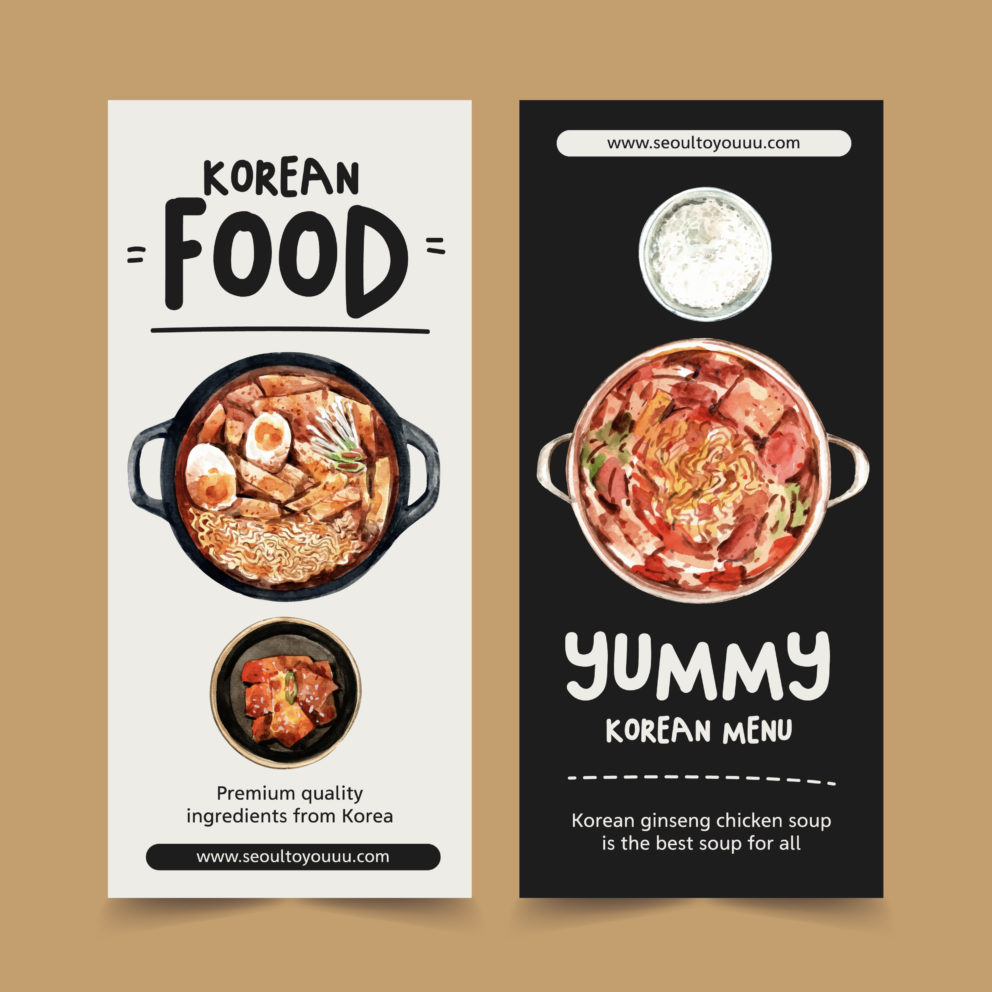 This food brochure template is perfect for a Korean eatery or similar businesses. You can use it as a menu or advertise your restaurant using this colorful theme.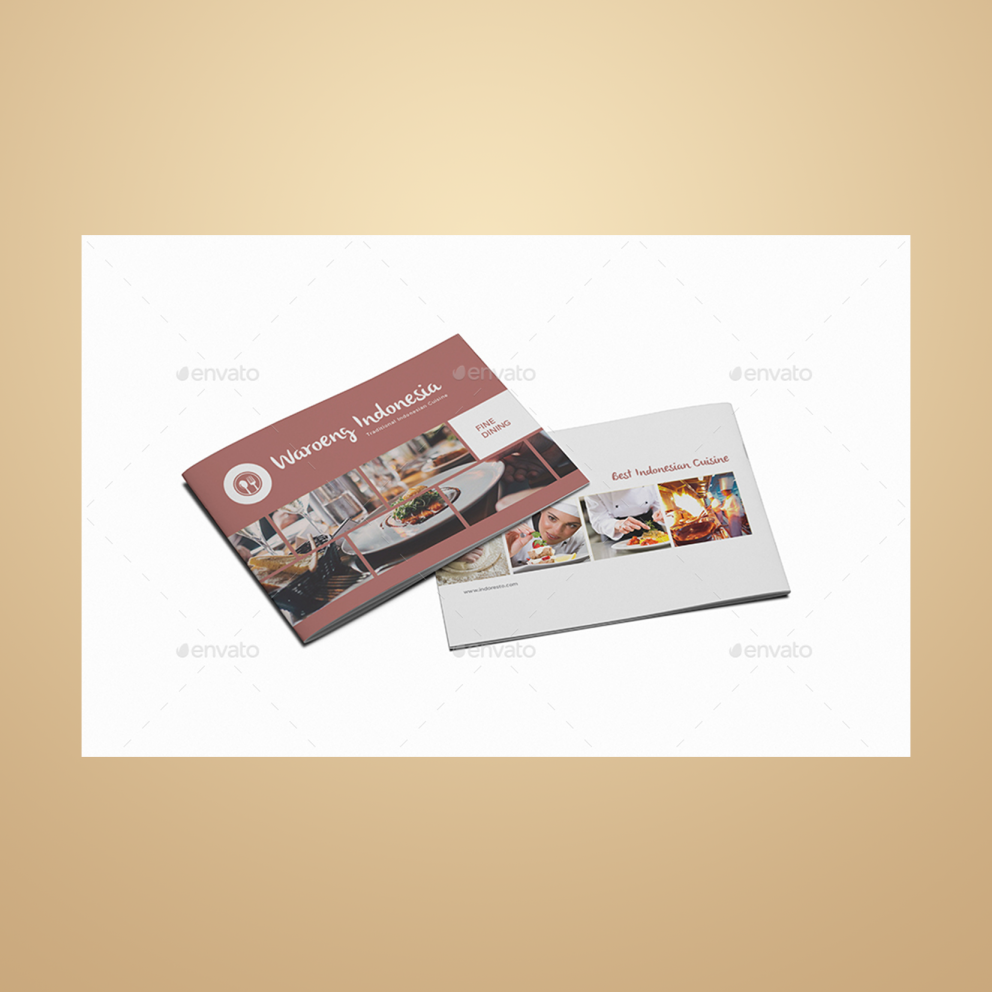 This glamorous brochure template lets you promote your restaurant using the booklet design. It can serve as an inspiration for your own designs.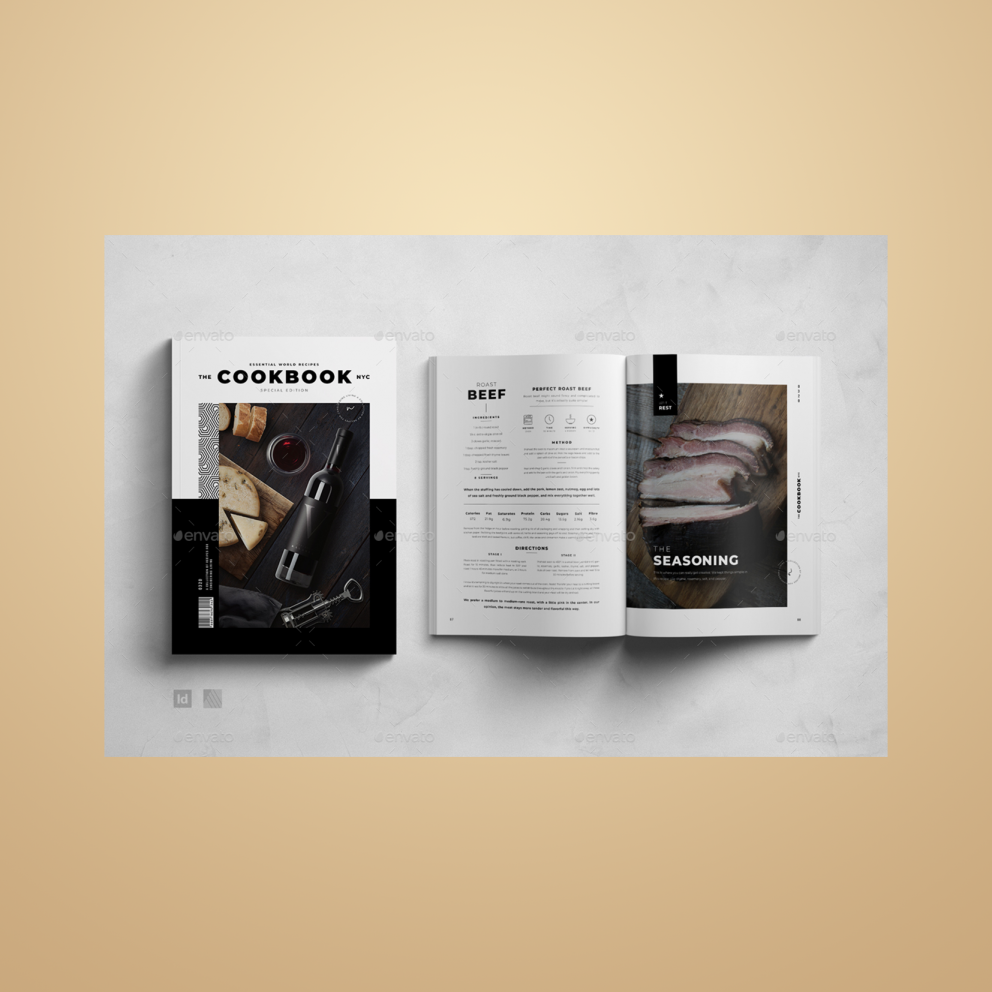 You can use this brochure template to present your offer as a cookbook. If your company offers ingredients, consider sharing this brochure and some recipes for free!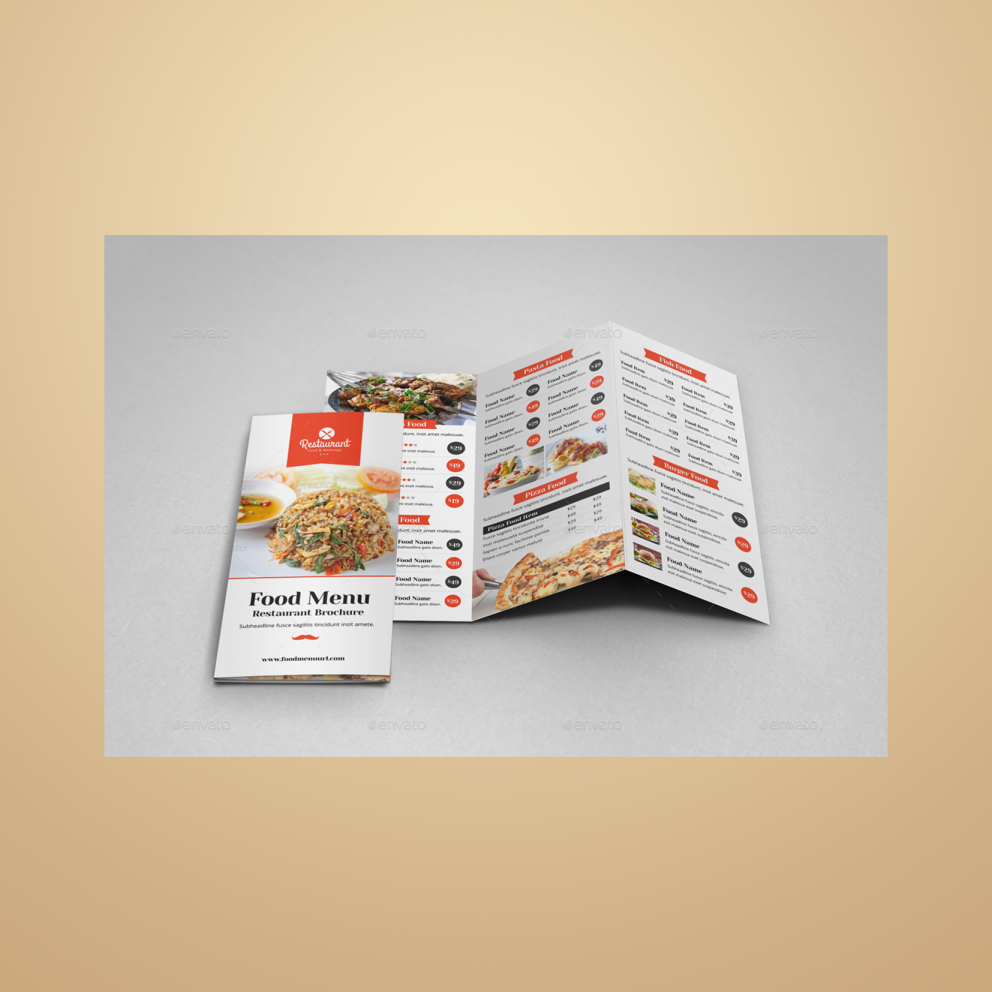 This trifold brochure can showcase any dish or restaurant. Customize it with your company logo on the cover.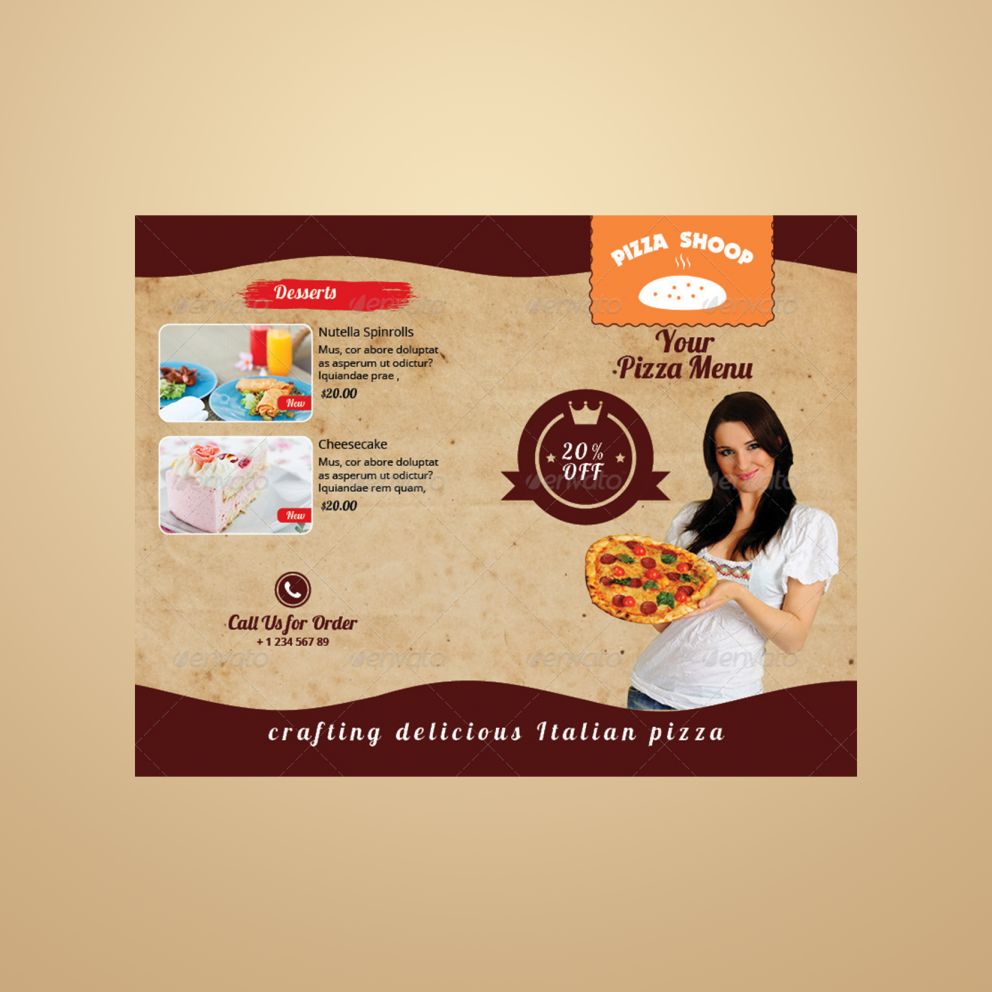 This brochure template focuses on pizza, but you can replace the photos with your own images to customize it for any type of restaurant.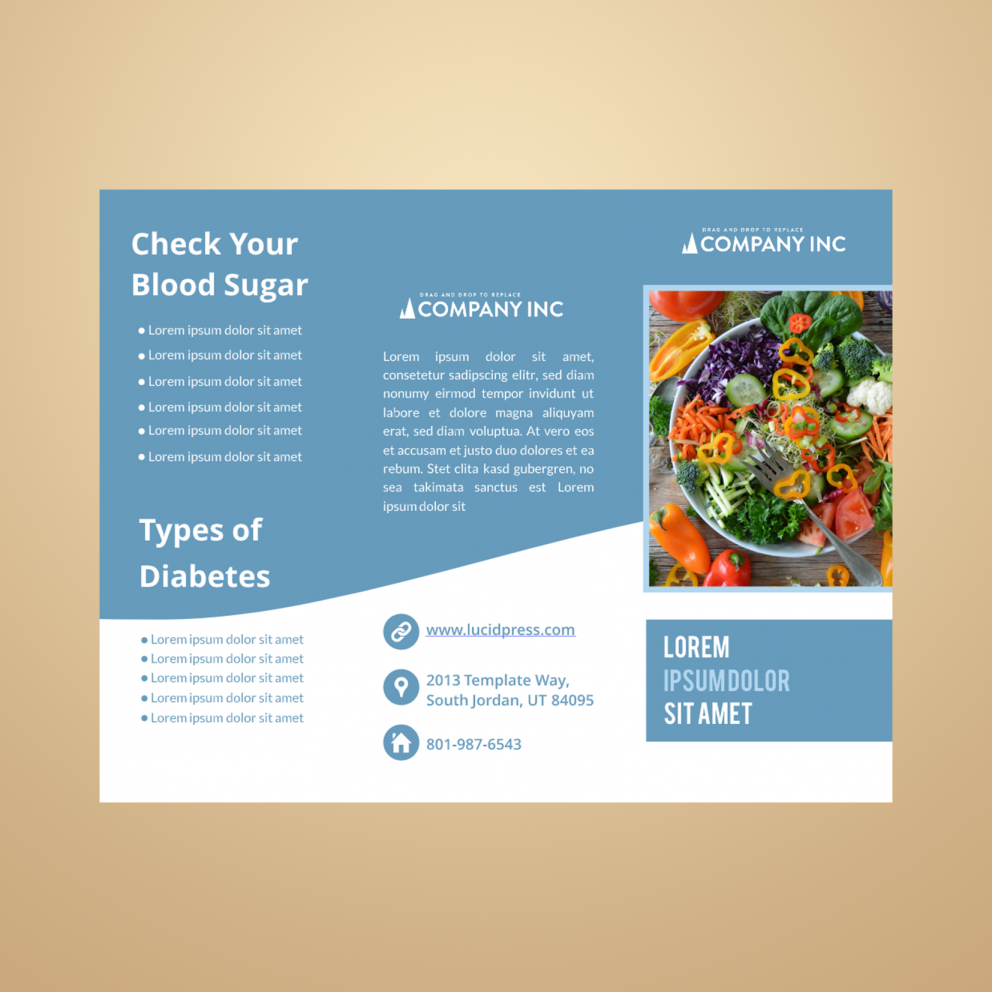 This brochure template can work great for presenting diet options. Vivid colors make it work for any restaurant or company.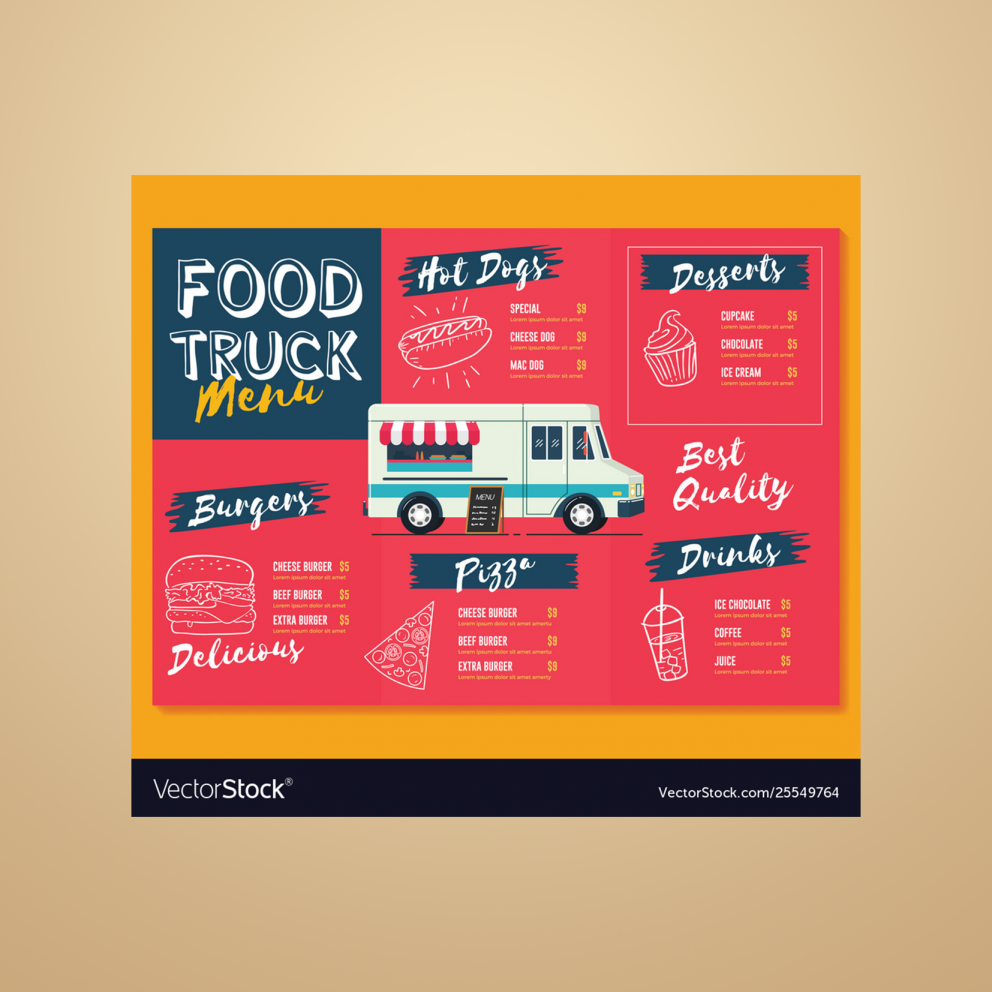 You can use this brochure template to distribute information about the food truck menu – with snacks and drinks!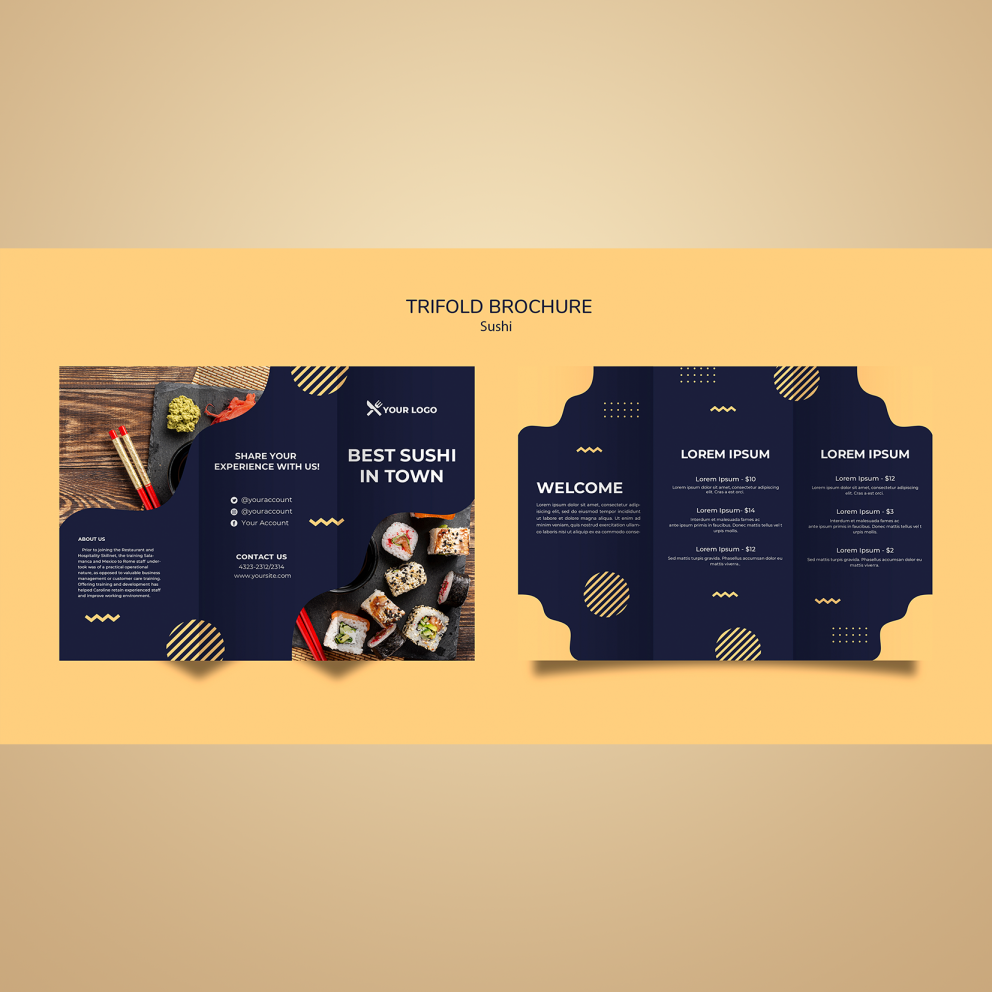 This colorful template can be used to advertise a sushi restaurant thanks to vivid graphical elements.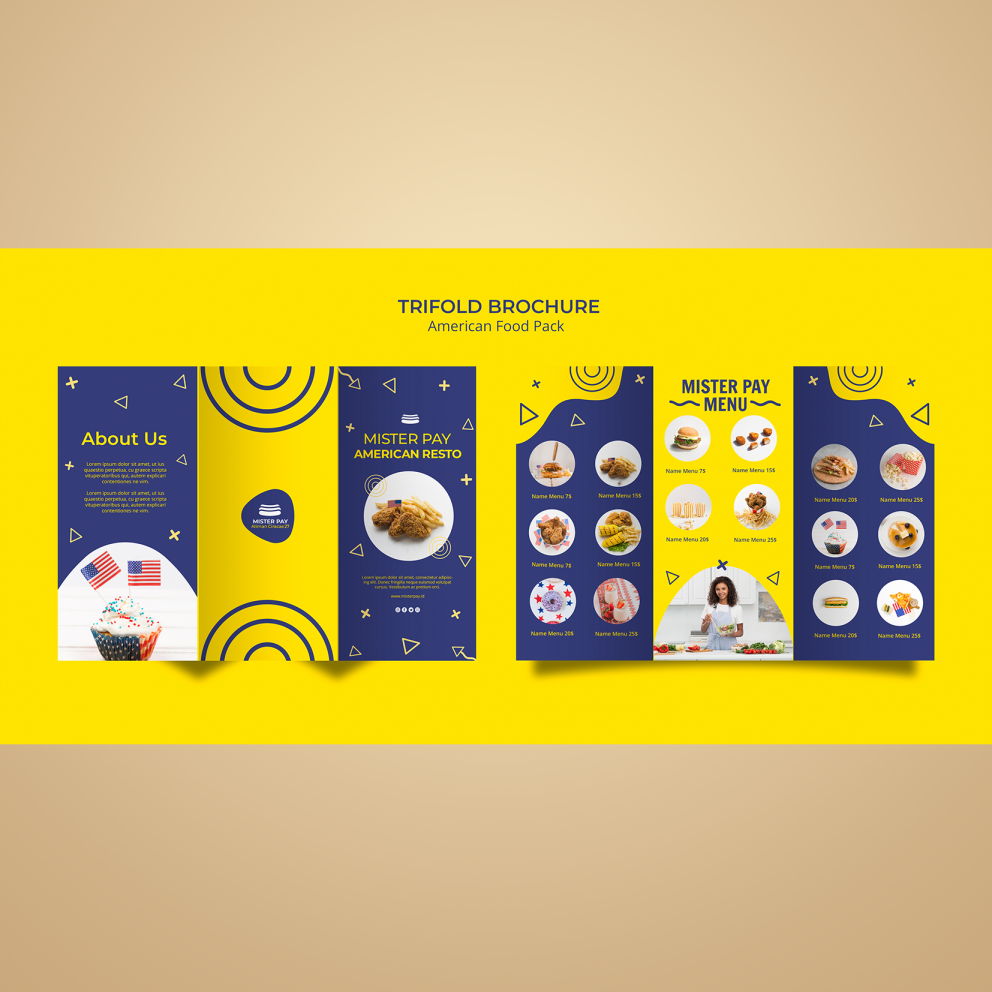 Contrasting colors help this vivid brochure template stand out from the sea of similar ones. It can serve as a menu or just advertise your restaurant.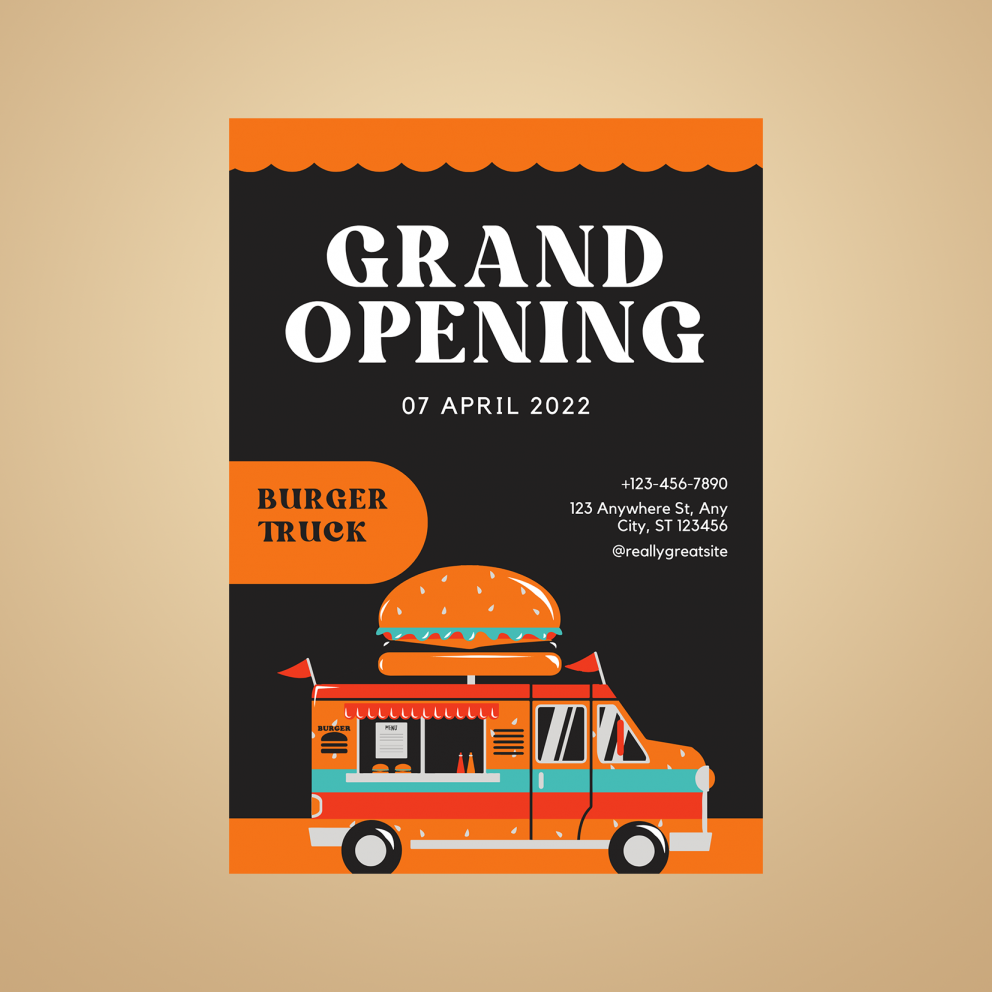 Use this flyer to show others your food truck! Add a call to action to remind your customers that your business is ready to open.
Food brochure templates – free download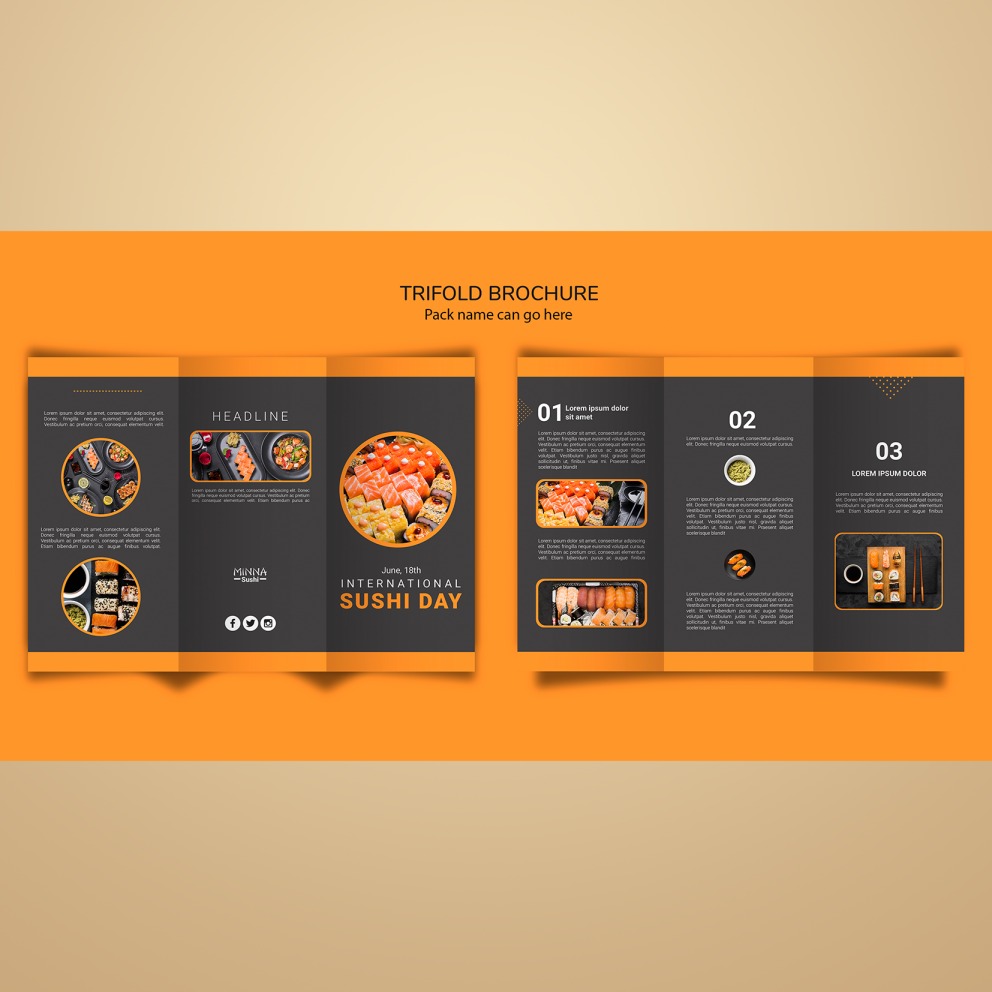 This food brochure template not just presents sushi, it can be used to deliver food information. You can customize it and showcase your social media account on the middle page.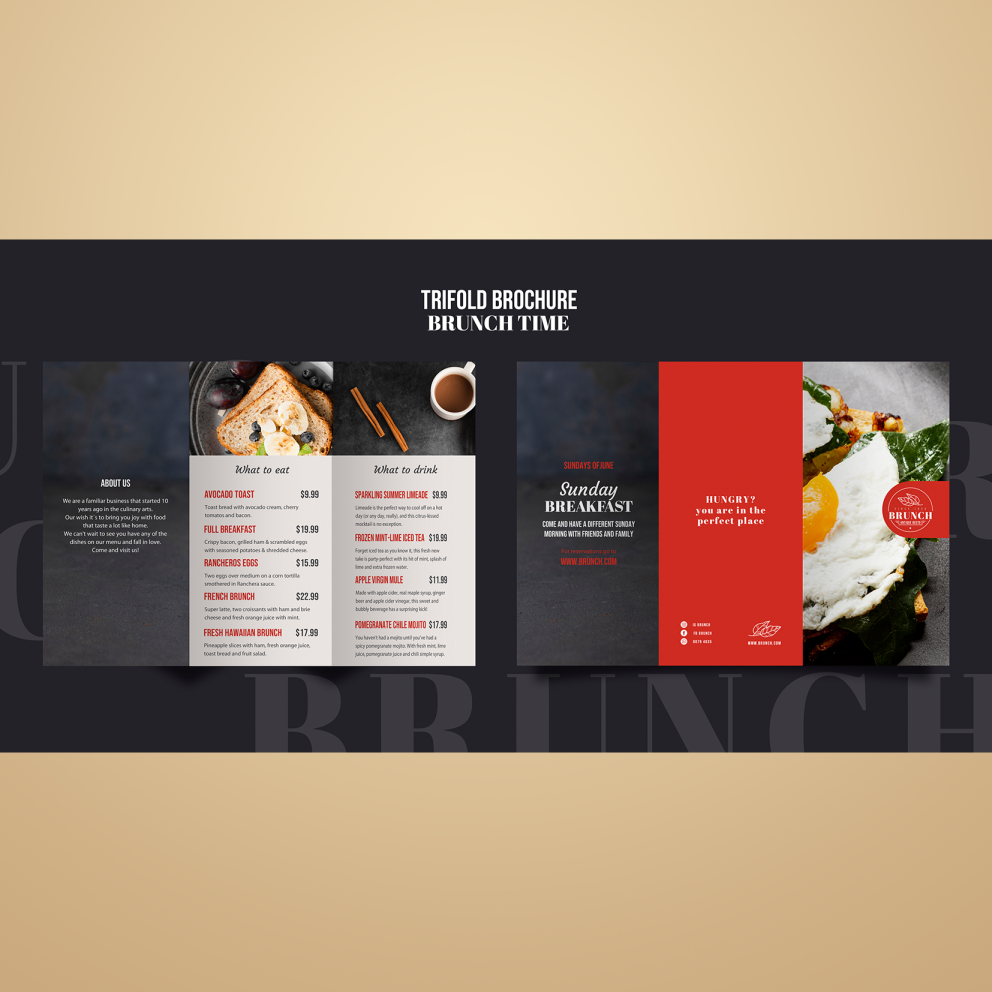 This brunch-themed brochure template can serve as a menu or just present your offer to the potential audience.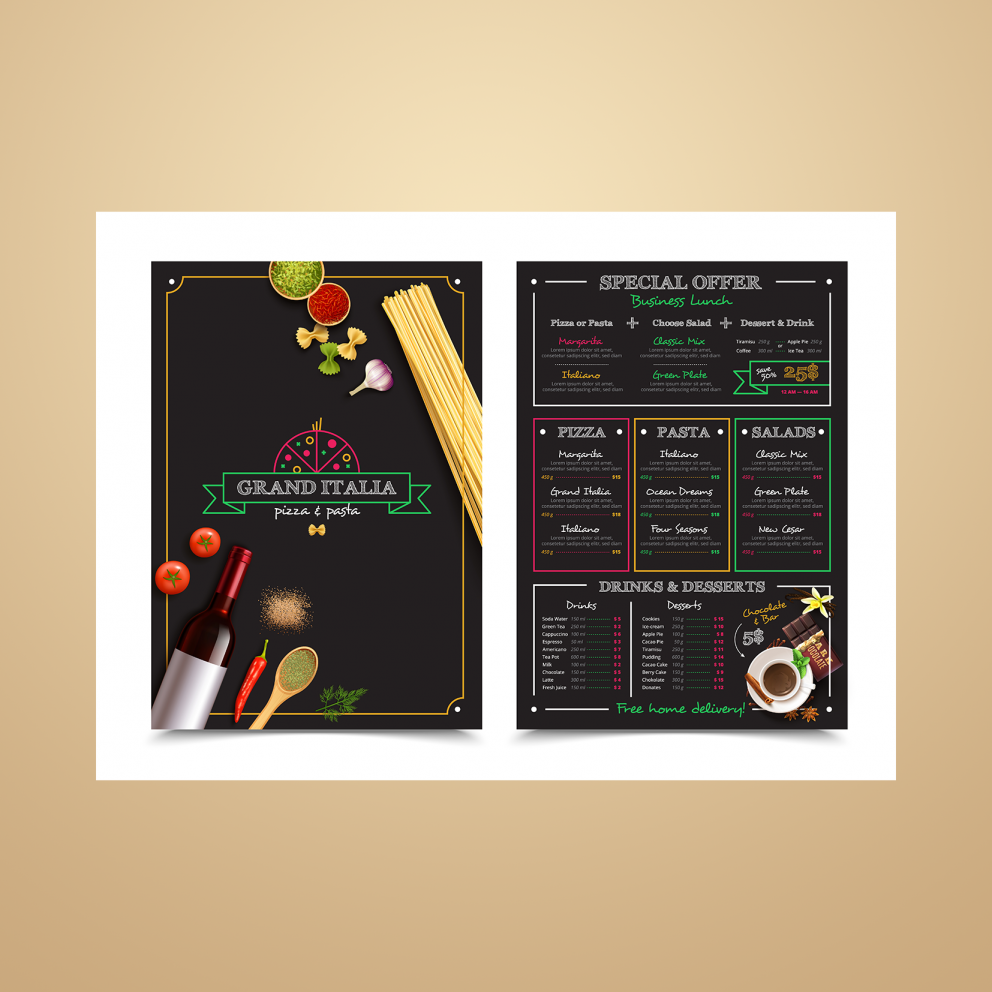 This single-sheet Italian-themed restaurant menu brochure uses the national colors of Italy, but you can use it as an inspiration for any other food-related business.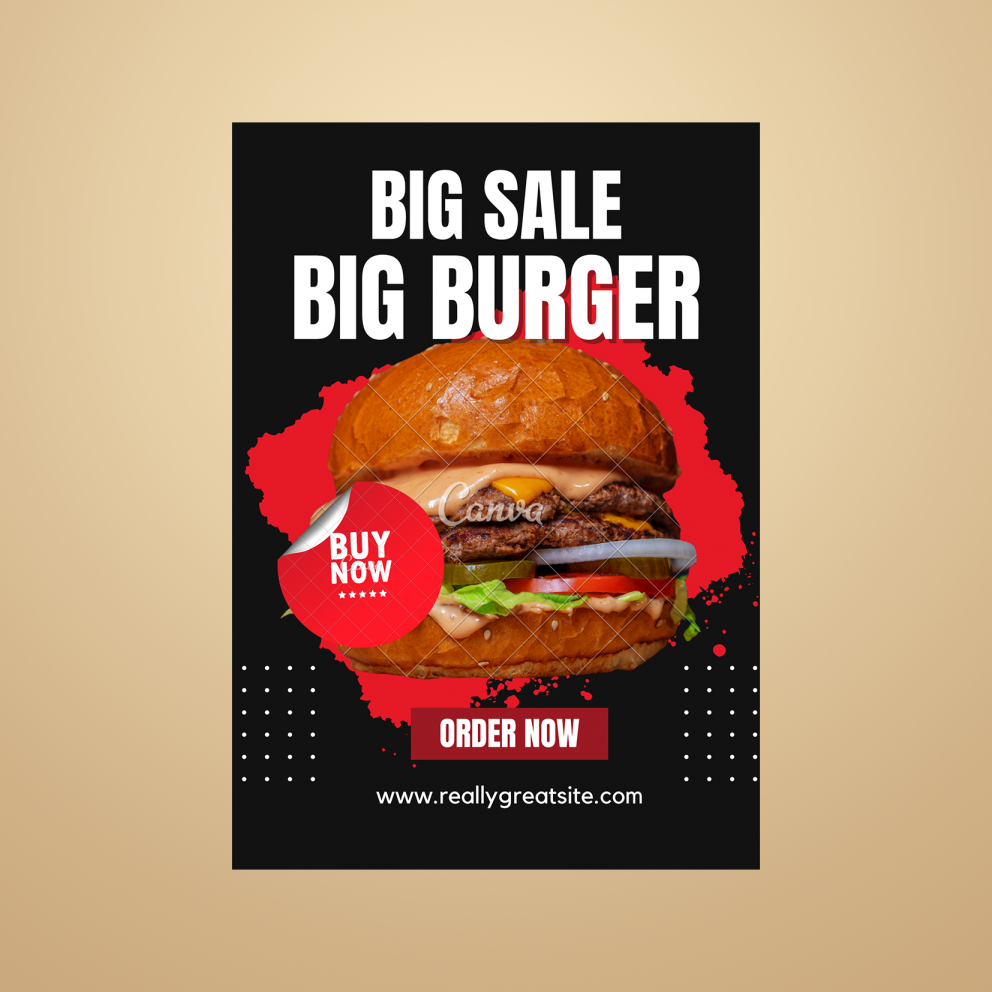 You can use this flyer with any dish – just customize the burger image with that of your own food.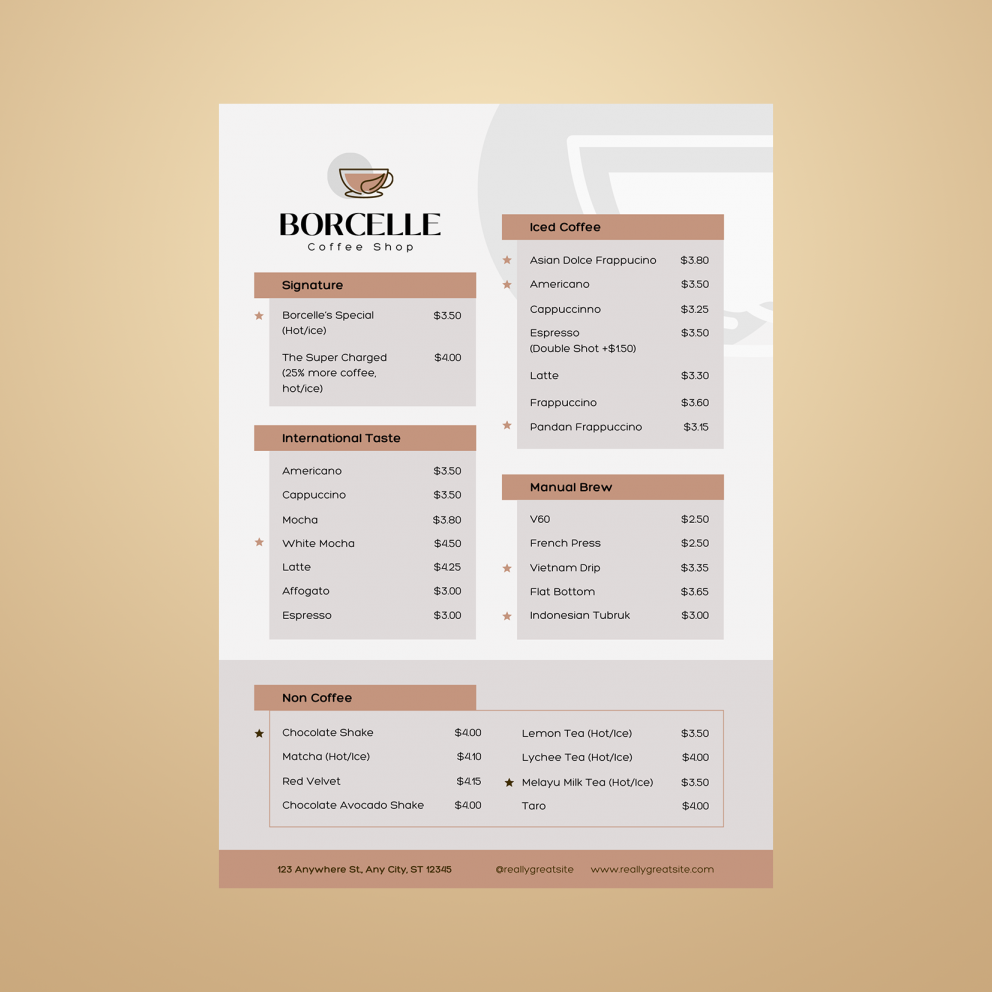 This simple menu for a coffee shop can be very versatile if you want to customize colors and showcase your food and drink.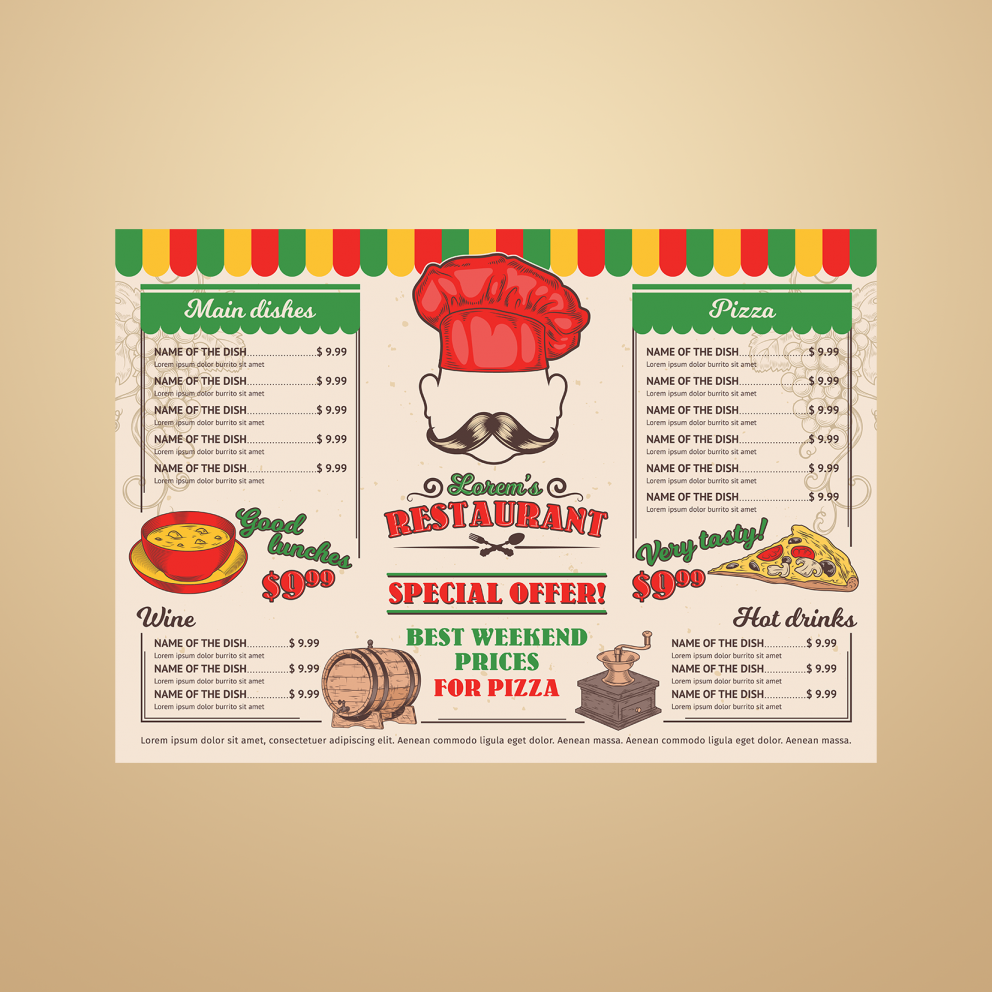 This colorful brochure template can work as a menu or as a poster displayed on the wall. Combine it with another template for double-sided printing!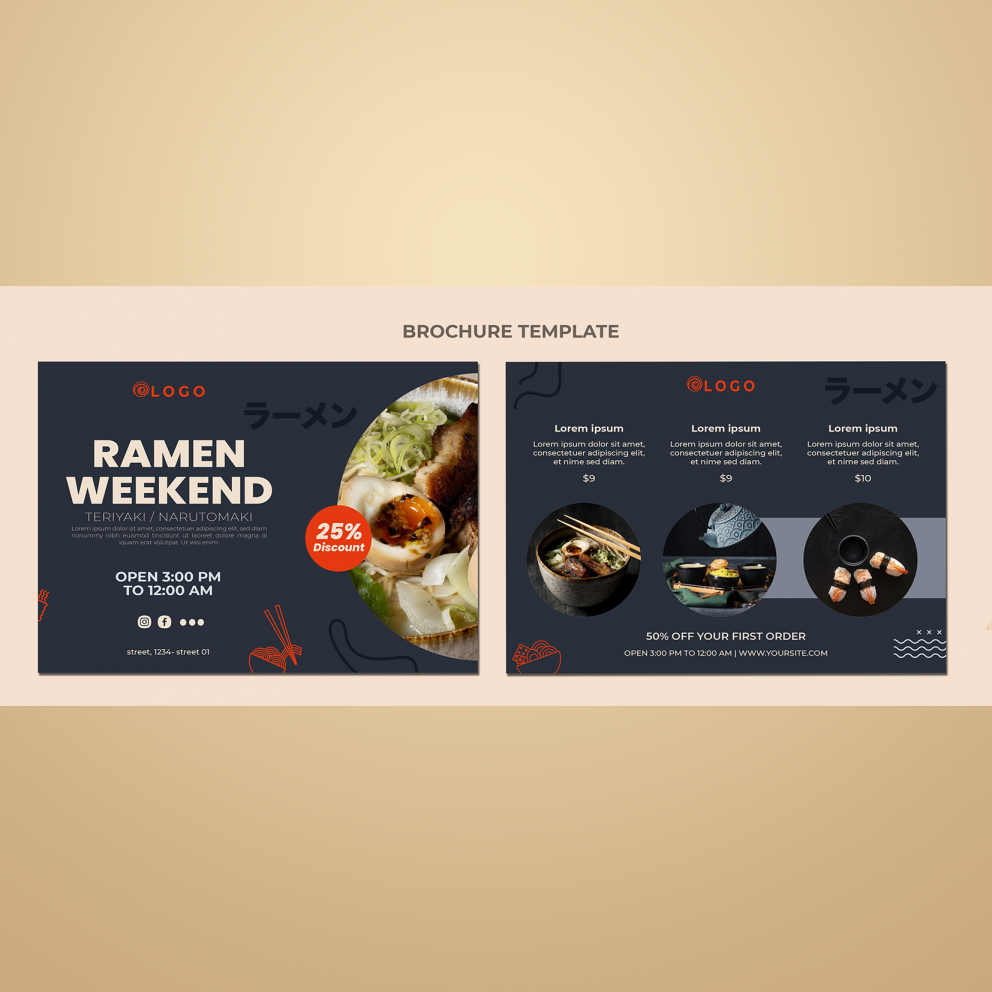 This brochure advertises Ramen and similar templates can also display other Asian dishes like sushi or matcha. Customize it to display your delicious food!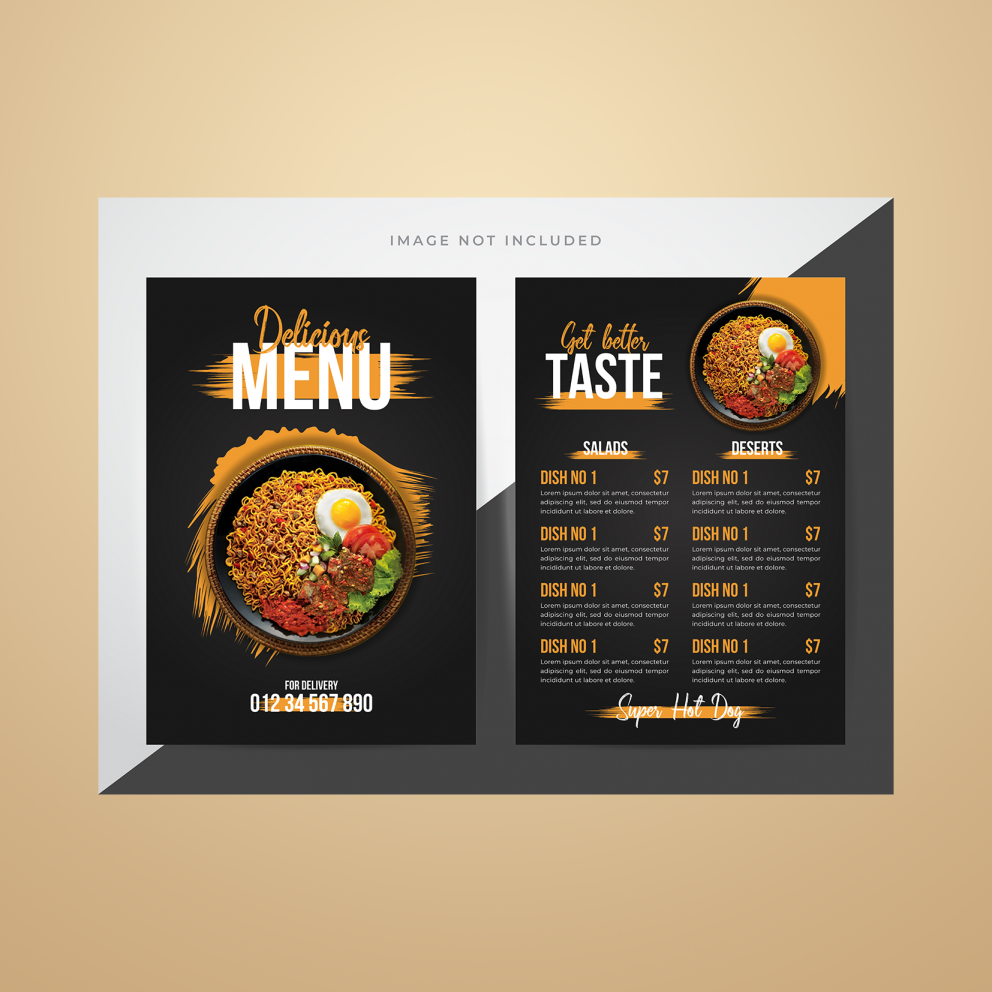 This brochure template can either serve as a menu or as a leaflet – it's easy to customize templates like this one to any style of food or native language.
Food brochure template Word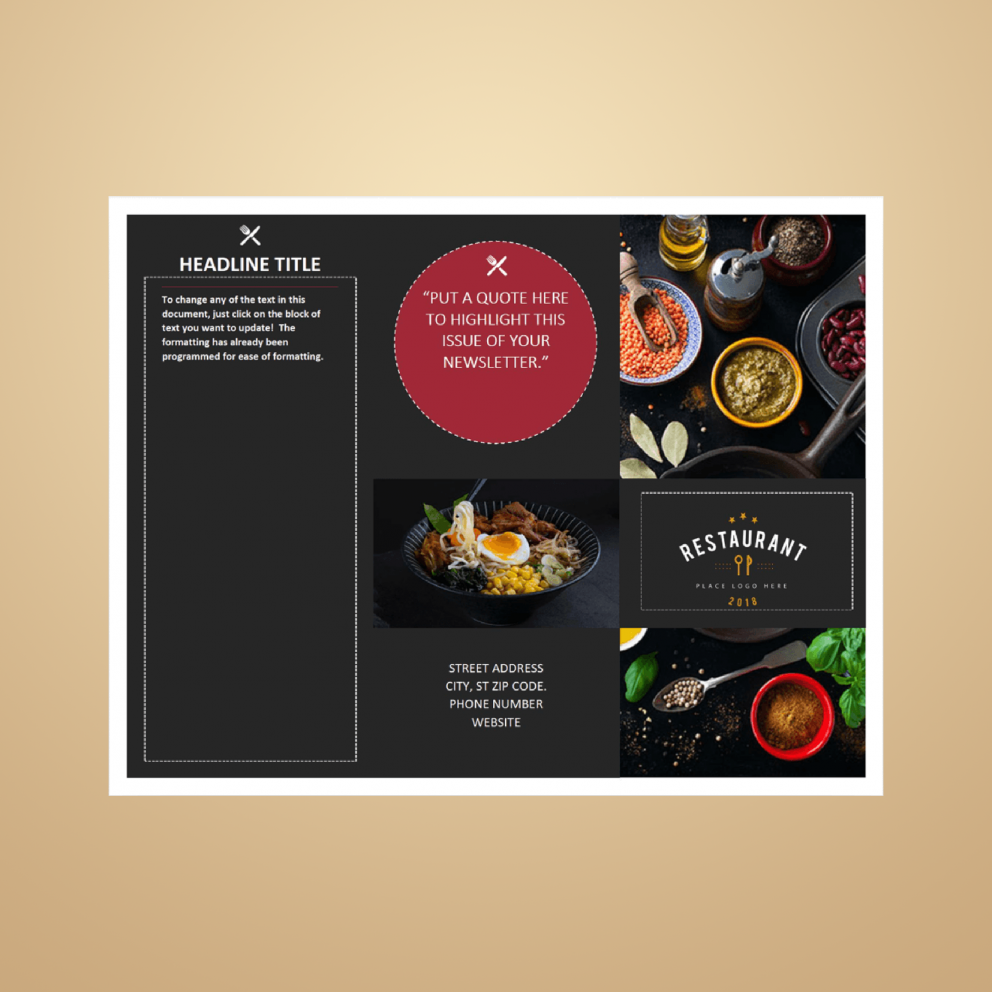 This restaurant brochure template is easy to work within one of the most popular editors. You can easily customize it with your own copy.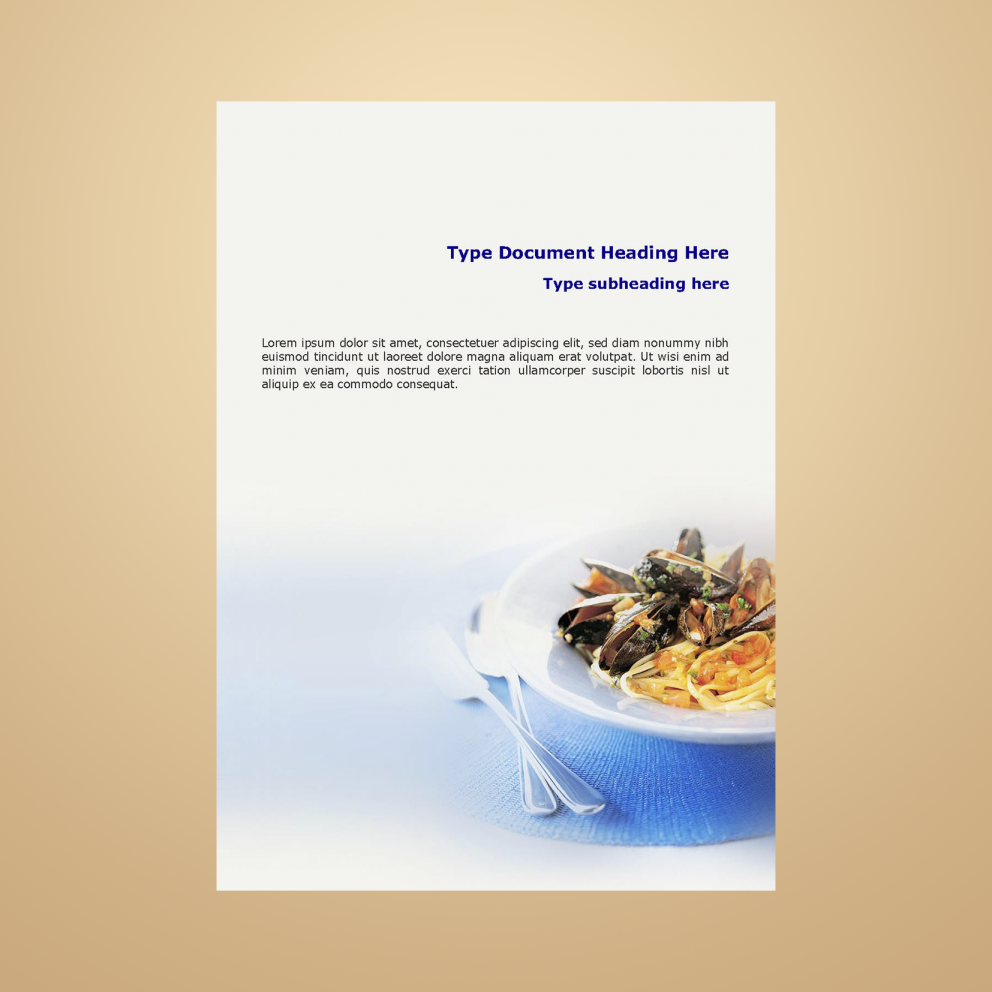 Use this template to create a brochure or an ebook. It's compatible with MS Word or the free Open Office package.
You may be also interested in:
The Best Online Menu Maker Software for your Restaurant
Top 10 Elegant Hotel Brochure Templates (Spa, Resort, and More)
Invitation Maker – the Best Software to Create a Stunning Invitation