MENU
Best Newsletter Design Tips and Tools

What is a newsletter? It's a collection of articles, resources, and tips contained in an email delivered on a regular basis to subscribers. Newsletter design isn't that difficult – but it must draw the attention of potential readers. Industry leaders frequently choose a company newsletter to add value to their business while also gaining a platform to highlight key industry or niche issues.
Many people start their adventure with email marketing, for example, to inform previous customers of new promotions or sales. You can start contacting your readers with a simple welcome email and assume that all the future email newsletter sending will be as simple.
After a while, you might assume that you can easily learn more about newsletter design and expand your emails to customers by creating a newsletter. Many newcomers assume that people will look forward to their email… But the truth is, most newsletters end up in spam.
Why? Because there's nothing exciting in them, the customer just stares at the outdated mass of text which will inevitably be automatically ignored, archived, or deleted. Neither you nor the success of your business will benefit from this.
In this article, we'll explain to you the successful newsletter design principles, what newsletter templates to use, how to use specific design tools – and how to get new subscribers quickly!
Newsletter design – how to start?
Let's talk about what a newsletter is, what newsletter design looks like, and how it differs from other forms of email marketing.
A newsletter is not just one-way communication. It's an email sent by the sender to provide the recipient with interesting content and engage them not only with your company, but the entire industry. Even though you may include some sales suggestions in the content or inform readers of upcoming events, selling products or services is not the main purpose of a newsletter. Its primary function is to create leads – by giving your readers something interesting.
Most email newsletters contain complex HTML formatting – but Publuu can help you get away from this pattern. You can replace the standard email with an interesting online catalog or a real magazine – contained in the email. See below on how to improve design elements by packaging your own content into a fantastic online flipbook.
Publuu's online flipbook example
View more online flipbook examples
Newsletter layout
The title and contact information are frequently found in the footer of newsletters. You can include them online flipbook form as well, by adding hotspots to link to your contact email, social media links, and so on. Remember, you don't want to sell anything important in the newsletter, but your reader must be able to contact you.
A well-organized newsletter design will make it easier for your reader to follow along, whether on a PC screen or on mobile devices. As with your magazine design, it's a good idea to divide your newsletter into different sections – industry news, sales, reviews, or links to interesting websites. Effective newsletter design allows you to create and plan engaging content.
All good newspaper templates usually begin with the featured content section. Your reader most likely won't go through the entire newsletter, so start with the most enticing material, showing just a few lines of text and concluding with a call to action. Then, unlike in a blog post, you can include less important information.
Add illustrations!
A newsletter – especially in an online magazine format – requires some eye-catching visuals. Their proportion in comparison to the text boxes depends on your industry – a great example is the fashion industry. Gaming or sports need beautiful pictures too. With Publuu you can also check analytics to look at your audience behaviour and find out which part of your newsletter attracted their attention the most.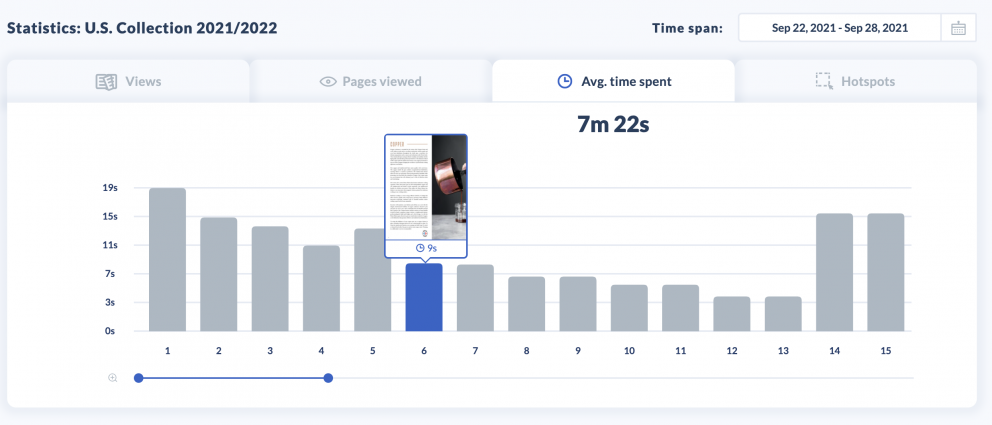 They do not have to be product presentations – remember, a newsletter informs, it does not sell directly. Use attractive, high-quality images to illustrate articles and graphic embellishments – but if you have your own photos or product images, all the better! It's easy to use newsletter templates and apply your own image to them.
It's also a good idea to use alt-text – both for the benefit of the people who are unable to see your images and for the search engine optimization. It makes your pics also more mobile-friendly. The easier you make it for your email recipients, the better.
Use proper newsletter templates

Source: Freepik
Many websites provide pre-made templates which can assist even the most inexperienced person in their email newsletter design. You can upload your own background image; pick the same font you use in your brand logo and customize your future newsletters to your liking.
If you're new to newsletter design, these newsletter templates could be a great place to start. You can import them to graphic design software like Gimp or even MS Word and export them to HTML or high-quality grap to use them in your email campaigns. Even if you're more experienced, they can still provide you with some great newsletter design ideas.
Use Publuu in your newsletter design
Publuu allows you to create a newsletter as an online flipbook created by converting a PDF file. You can use realistic and appealing flipbooks to reach your target audience, capture their attention, and demonstrate the best of your company. The page-turning effect and unique reading experience on any device will make reading newsletters more enjoyable for readers than browsing even the most unique email.
If you want to personalize your newsletters, you can easily do so with Publuu. A well-designed newsletter will look like a magazine – but you can also embed a PDF in the body of the email. Easily upload a PDF version of your newsletter and we'll convert it to the cutting-edge flipbook format in minutes.


Publuu's newsletter example
What's more, you retain the functionality of HTML – you can add animated hotspots with links, videos, or image galleries to such a flipbook – you don't lose anything when compared to HTML.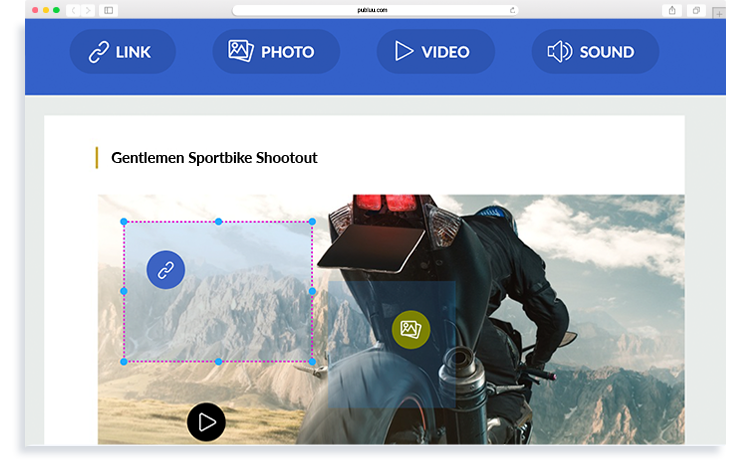 You can put your flipbook in an email, send a link to it or put it on a page so your customers can easily access it. You don't have to use attachments. To keep your mailing list subscribers updated, simply send them the link via email or social media.
Moreover, Publuu analytics can help you communicate more effectively with your team members, business partners or readers. You can configure tracking links to find out who reads your newsletters and what they are interested in.
What to know when designing your newsletter?
Just a few lines of tips!
When creating a professional newsletter design, there are a few things to keep in mind, even if you have worked with email marketing before! These educational tips can help you improve any email newsletter design!
Consider what the purpose of your newsletter should be. It's generally not about making a sale – maybe you want to generate leads, expand your contact list, or look for potential customers. Recognize your main objective – it will shape the entire content of your newsletter and will influence your email campaigns in the future.
Your newsletter content is determined by your purpose; it must help you achieve your objectives, both long and short-term ones. If you want to increase your popularity and improve the public image of your company in the eyes of your readers, you should know that you want to write a short text about the quality of your services.
You should demonstrate your knowledge of your industry right from the subject line. Write about your accomplishments or, if your customers are interested, present a case study. This can be incorporated into your newsletter design; simply include your company logo to reflect the high quality of your content.
How to design newsletters? Should you use a newsletter template?

Choose an application, software or platform to distribute newsletters. We recommend Publuu, of course – to create a PDF you will convert into a great newsletter or design a flipbook newsletter, all you need is MS Word – with the "export as PDF function. You can even create a PDF flipbook using your blog content. There are WordPress plugins that allow you to convert a blog post to PDF or you can save them in Word or Libre Office. Many HTML editors also offer a newsletter template you can use.
Prepare the actual content – even the best newsletter design is nothing without good quality text. Think about personalizing your email. Make sure your newsletter contains all the necessary content – including a link to your website. End your newsletter text with a call to action (CTA) – and put in a subject line that reflects the content of the e-mail. Check how your newsletter looks on other devices including cell phones.

You can also add a clause that when your email clients buy something at a discount, they can receive the first newsletter or they can opt in answering the welcome email.
Add changes to your newsletter design and analyze
Test different versions of your newsletter. A good strategy est the A/B approach. Create two different versions of your newsletter design and send one to half of your email list and the other half to the rest of your readers. Publuu is a great option here – you can easily determine with the advance analytics features which variant will be the most popular.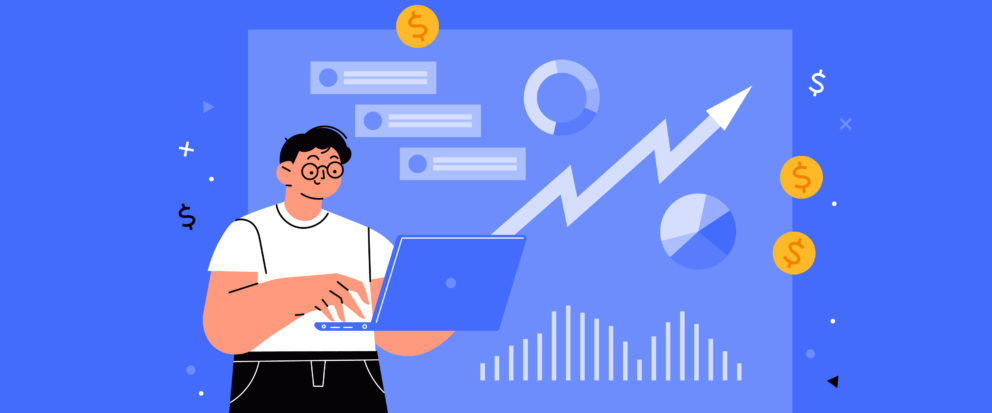 Based on this data you can make changes, analyze the effectiveness of your newsletter and make logical changes to the newsletter design.
Best newsletter design tools
There are many free and paid tools available in the market and online that can help you improve your newsletter design skills. Here are some of the tools we recommend.
Adobe Creative Cloud
Adobe has many editing and design tools in their suite. They are standard and can help you a lot in creating custom email newsletter design. You can easily use any newsletter template and create unique content using this software. Programs like Acrobat and InDesign will also allow you to create PDFs for Publuu. You can create and export email newsletters in HTML format or edit your own images using the Luminosity package.
Affinity Tools
In the past few years, Affinity became a #1 replacement for Adobe. To create PDFs and work on your newsletter layout, use Affinity Publisher – or Affinity Designer for single-sheet newsletters. These tools include all the features a small business might require – and no monthly subscription. The community is user-friendly and the learning newsletter design won't take long for the Affinity users.
Libre Office
You can create a newsletter template using any word processor that has the function to export content as HTML emails – or PDF for Publuu. Libre Writer is an excellent word processor that will help you with newsletter design and you can find more complex functions using Draw.
Canva
Canva is a great online design tool. With it, you can create a variety of graphic objects – and work on a beautiful newsletter design. The Canva service comes preloaded with tons of free and paid newsletter templates – making newsletter design ridiculously easy. The basic program is free – you'll be able to create PDFs of up to four pages with it.
GIMP
The open-source GIMP is a great tool that you can always use on almost any platform. This program is a great graphic editor that rivals Photoshop in terms of features – and it's completely free. It doesn't take much skill to create fantastic effects. A rich library of plugins lets you work on newsletter design and experiment with new ideas. Another great program is paint.net – which is far more user-friendly.
And now – let's summarize this blog post!
Our email newsletter design tips are fairly easy to follow. We hope you integrate them into your email marketing strategy.
Just like web design, effective newsletter design is not just about aesthetics; it's also about results. You need to know the goals and tools of your newsletter and plan well for CTR. We hope the flipbooks from Publuu can help you with this.
You may be also interested in:

How to Gain More Client
Creative Low Cost Marketing Ideas For Your Business
Lead Capture Tips