MENU
How to make a lookbook?

A digital lookbook is a collection of fashion images and photos published in a magazine format online.
In contrast to product catalogs, it's meant to showcase a fashion brand's identity for a new season, as well as present the inspiration of fashion designers and creators. If you're a fashion industry entrepreneur, or an aspiring designer or photographer, you can use a digital lookbook to showcase your work online.
A fashion lookbook should present high-quality photos and brief, but succinct text. Unlike catalogs, it shouldn't have to contain product descriptions. The images in your stunning digital lookbook should show models wearing your ensembles and accessorizing in real life. Your brand's message should be visible beyond describing your product photo or photos.
A digital lookbook shouldn't be only about selling your clothes – it's about the presentation of your own style and design. A good lookbook online can allow you present your products – and Publuu's online flipbook functionalities can let you create a lookbook that links to your store or attractive product descriptions.
In this article, we'll explain how to prepare a digital lookbook, how to use lookbook templates and what tools to use when preparing lookbooks for email marketing.
Use Publuu to present your digital lookbook to the world
Having an digital lookbook is essential for fashion retailers and e-commerce firms, and Publuu is here to help. You can quickly provide your prospective consumers with an immersive, realistic experience using our revolutionary flipbook format.
When compared to a traditional fashion lookbook, a digital one offers far more flexibility, especially if you use Publuu flipbook functionality.
You can use a lookbook template with help of software like InDesign or Scribus. Then you need to create lookbooks by importing photos to the PDF format. Publuu will convert this PDF file to the flipbook – lookbook online within seconds.
Publuu's lookbook example
View more online flipbook examples
You and your potential customers can enjoy the interactive features found in Publuu flipbook lookbook design. Publuu lets add videos, links, or mp3 playing in the background to your lookbooks. You can embed your digital lookbook on your webpage and showcase these digital lookbook examples to any visitors – and integrate them with digital catalogs.
Publuu lets your readers browse a lookbook on any reasonably current browser-enabled mobile device. This means your consumers can view your lookbook and picture how they'd look in these outfits in real life – at any time in any place. This makes Publuu a great way to show your brand to the world.
What to remember about when preparing a digital lookbook?
Lookbooks, regardless of their appearance or design, require some understanding of lookbook design. Well-designed lookbook templates presented for online format would bring you success.
That's why we have prepared some tips on how to create a fashion lookbook online.
Cover of a fashion lookbook – the first impression
The cover page of a digital lookbook is what your customer will see first and what it will make it stand out from other online lookbooks. An alluring cover page is something that tempts the reader to go on and browse the entire online lookbook. It must be both visually beautiful and informative, while also retaining some of the most unique things about your brand. Various elements of cover design can be also inferred from our tips on catalog design.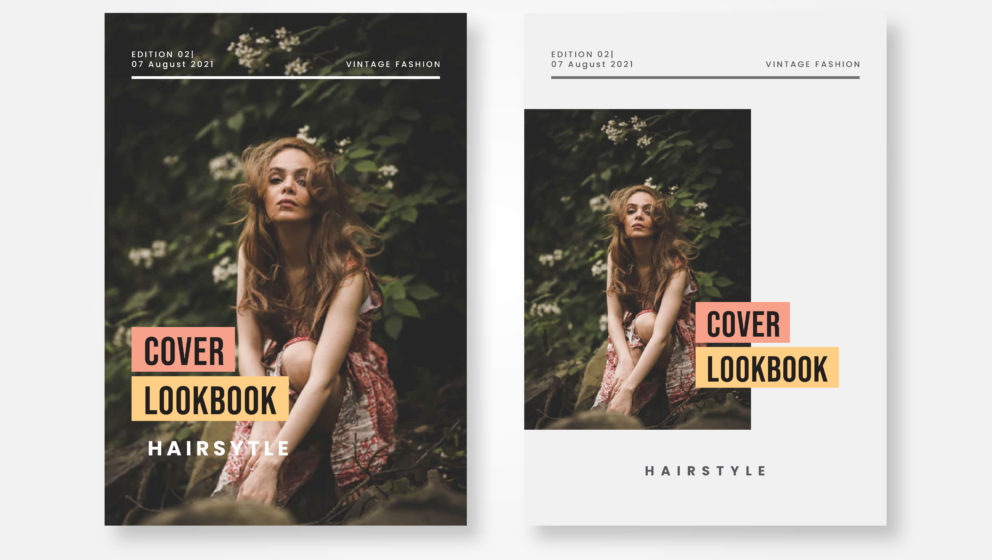 Source: Freepik
Your brand name and the description of the collection should be mentioned on your cover. If you display your lookbook online, in a digital format, you can link to the profile of your company straight from page one. You want an image that makes your audience start reading from the start.
Links and navigation
When you create a lookbook online, you should pay close attention to navigation and linking between sections of your lookbook. Your reader needs to find what they're looking for. Your readers should enjoy browsing your online lookbook, and admire your stunning photography – but to do so, they need to have access to a table of content and links to featured products.
Animated hotspots with product links embedded in lookbook via Publuu service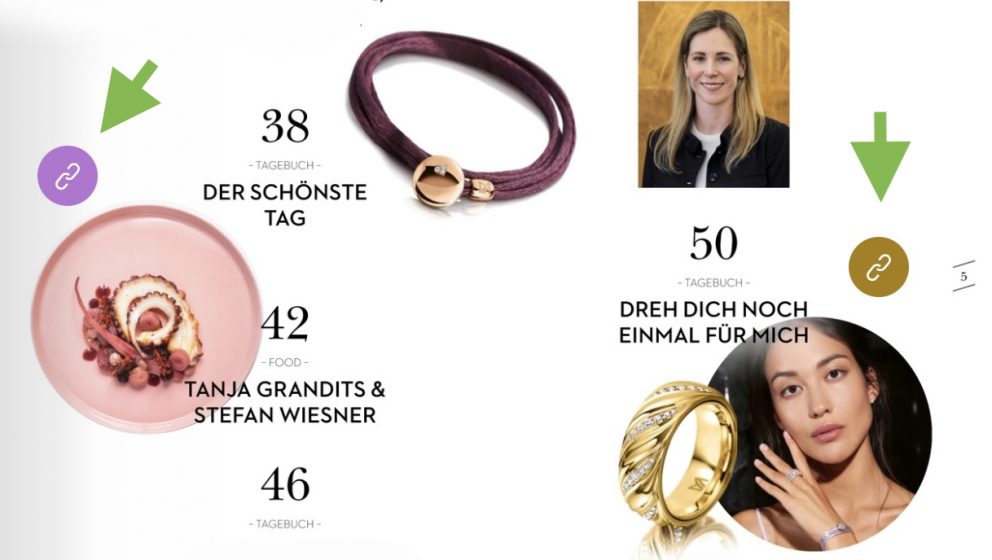 Your lookbooks can supplement your catalog – many publishers link to their online store from the lookbook. It's not just practical for your readers – it's also smart SEO which raises the rank of the store in search engines.
Photographs in your online lookbook!
You can also create a photography lookbook – one that showcases a photographer's skills and can serve as an artist's portfolio – you can find all the details on how to craft such a portfolio on our blog.
A lookbook template you can find online will usually have a place for fantastic photographs. If you have a certain style in mind, you want to create a lookbook that will reflect this vision.
To create great lookbook photos, you can hire a professional photographer and experienced professional models – and use creative shots in various locations. When you browse various lookbook templates online, they draw attention because of the great photos that showcase the designer's latest collection.
Why your lookbook online should tell a story?
Lookbooks are an excellent tool for demonstrating how does your product looks like. It showcases your fashion collection or other products (for example, an interior design lookbook can present new styles of furniture), but it might not be enough. In marketing, to address the needs of your audience, you need to tell a story.
A good fashion lookbook should answer any questions the reader might have -the best digital lookbooks can put the reader in the model's shoes. If the reader starts to fantasize about wearing the clothes or visiting your photography business, you know you're on the right trail.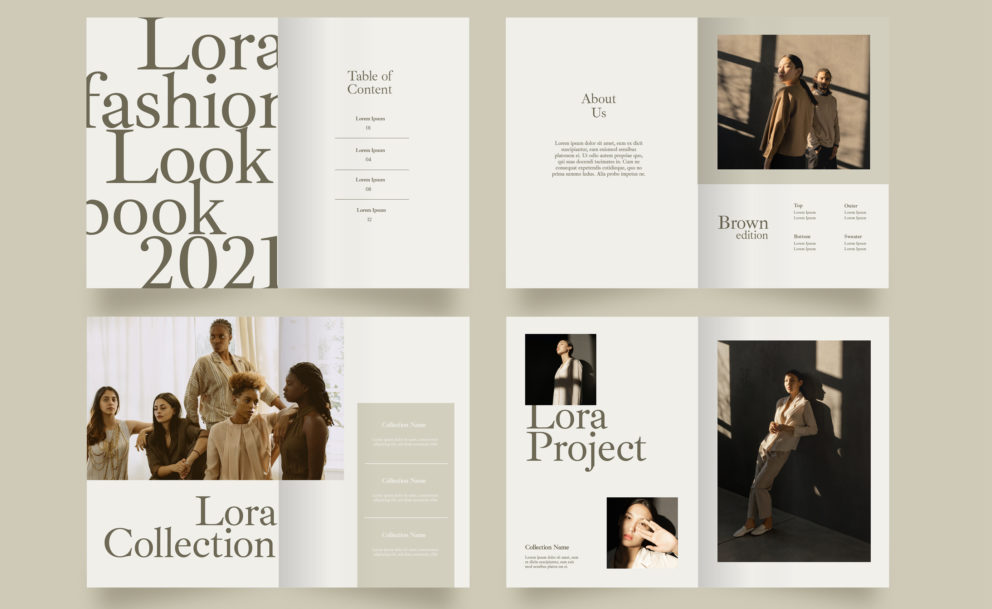 Good storytelling is also a great example on how to grab the reader's attention. Lifestyle shots that show how to use your brand and clothes can make the reader ask questions about the location. That's why a lookbook shouldn't use neutral backdrop for the clothes. Instead, be inspired by the natural light and life scenes when you want to provide fashion inspiration.
If you show a model getting into a vehicle, going on a trip, potential buyers might wonder where is she going or start telling the story themselves. This is a great tool for lookbook designing. When you make a lookbook, consider what kind of story you want to tell.
Create a lookbook – A Summary!
A lookbook is a way to show the images of your new collection or artistic achievements. If you want to create a lookbook, you can use a lookbook template and prepare a gallery online using Publuu's innovative flipbook format.
When you create a lookbook online, you should prepare a good cover, use high-quality images and design elements that will assist you in telling a story. And pack your images and text in a good flipbook format!

You may be also interested in:
Marketing Materials For Your Business
How To Design a Brochure? Quick Guide
Catalog Software for Managing Your Products