MENU
What is a lookbook?

Both your brand and the people you're trying to reach are crucial in marketing. To showcase your offer to the people you are trying to reach, you should prepare a fashion lookbook. But what exactly is a lookbook?
A lookbook is a high-end representation of what your company has to offer: especially for photography, cosmetics, interior, or fashion brands where appearance is everything. Professional lookbooks let you show off your brand – especially to your followers and fans – and increase the interest in your newest fashion collection.
Most lookbooks out there can be an effective means of attracting new clients and consumers. It's a great aid that lets your readers picture how it might feel to wear a certain piece of clothing and see how to style outfits portrayed in the lookbook itself.
Even though lookbooks are mostly used by various fashion brands, they can work for any company that creates seasonal product lines. No matter what sector you're in, lookbooks tend to have a similar "feel" about them, even outside the fashion industry.
In this article, you'll learn what are lookbooks, the basics of lookbook design, what's the difference between a lookbook and similar products, and how to create and promote lookbooks for your business.
Digital lookbook design!
Until recently, lookbooks were printed books that fashion labels used to display their current collections of clothes. In many ways, the traditional printed lookbooks were essentially like fashion magazines: made by a single brand and without the editorial sections and articles.
These days, the majority of lookbooks are available digitally, usually on a company's website. A digital lookbook, containing photos that can be "flipped" through is a great idea. Flipbook format can make your digital lookbooks look very engaging – and they can also have numerous interactive features.
Publuu's lookbook example
View more online flipbook examples
A digital lookbook is distinct from a flipbook catalog. A catalog tends to include price information and a more comprehensive overview of everything a company might offer. But usually, a lookbook and a catalog both use huge, high-quality pictures with minimalistic text. However, if you're thinking of publishing a lookbook online, you should how what's the difference between a lookbook and a catalog.
Differences between a fashion lookbook and a catalogue

Lookbook design relies on larger, full-page images, with a minimalistic text. While a catalog describes individual products of a given brand, a lookbook is primarily focused on first impression – it has minimalistic, decorative text that sums up what these new collections are all about. Product descriptions aren't relevant when creating a lookbook, but you can still design a lookbook using many advice we give on catalogs design.
Lookbook relies on more artistic imagery – it wants to show the general feel of the fashionable looks, rather than simply show the latest fashions and trends. This is a great tool for showcasing the work of famous creative designers. It's supposed to draw the attention of potential buyers rather than showcase every single article in the new collection.
Another product that's similar to a lookbook is a line sheet. Line sheets are similar to catalogs, but they're created to help retailers order your designs. They also contain fashion photographs compiled to showcase your products, but these are usually still shots, photos of models against neutral background. They can also contain product descriptions – sometimes even very technical.
Unlike a catalog or a linesheet, a lookbook is not just about selling. When you create a lookbook, you want to showcase your style and inspiration using high-quality photos. A lookbook is much more versatile – especially if you put it online.
Show how to style outfits using lookbooks with Publuu!
At Publuu we know how important an online lookbook is for various fashion retailers or e-businesses. Thanks to our innovative flipbook format, you can easily deliver an immersive, realistic experience to your potential customers. Creating a PDF using design software isn't difficult – and Publuu lets you convert it to flipbook.
A digital lookbook is much more versatile than a conventional fashion lookbook. By distributing a lookbook online, you can save on printing and distribution costs. An online lookbook in the flipbook format is more environmentally friendly and far cheaper to create. Even if you hire professional photographers, you don't have to bother about things like page amount, or how to select a good paper when you make a lookbook.
An online lookbook can be supplemented by catalog-like features and elements. Publuu's unique hotspot features let you add links to your online store where potential clients will be able to learn more about the clothing line on display. You can also embed it on your website ( like the example below) or even add video content to showcase new style elements for the new season.
View more online flipbook examples
Your customers can enjoy the lookbook and imagine how would they look like wearing these clothes in real life – and thanks to Publuu's versatility, they can enjoy them on any mobile device with a modern browser. Publuu also works great with search engines – your text can make your lookbook be easily found on-line.
What should lead fashion brands put in their lookbooks?
Now that you're ready to get started with your lookbook design, we can give you some tips on how to create a lookbook and use it for email marketing. Any kind of branded graphic design can benefit from well-thought-out advice, not just creating a lookbook.
Great lookboooks rely on great photography. You should hire a professional photographer, or at least an artist. Of course, many smaller brands have created great lookbook designs using a smartphone, so your images should still be impressive. These days, people are much more accepting of the smartphone aesthetic.
Don't just focus on models and ideas about the newest styles. Remember that interesting backgrounds and locations make your pictures look much more creative, especially if you're using full-color shots. Atmospheric lighting also can showcase what your clothing style is really all about.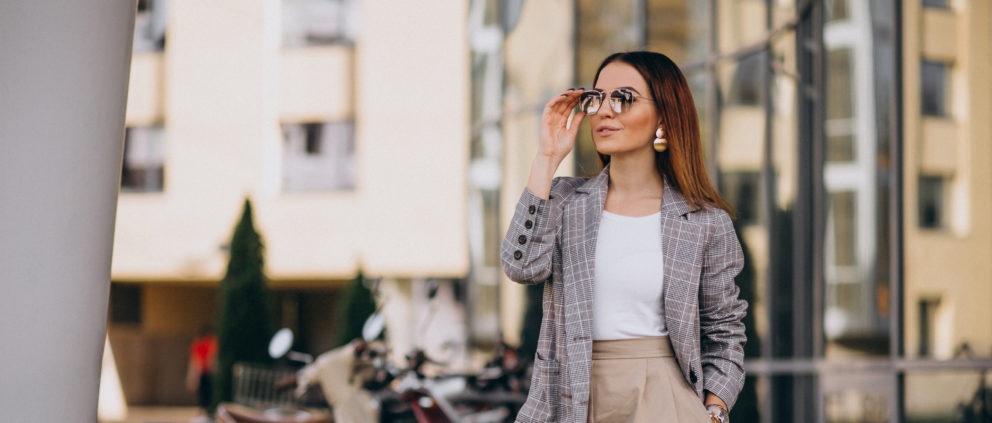 Remember to tell a story with your images. Your lookbook should showcase your collection, and well-selected images should give your viewers ideas on how to use it. If you show your models wearing fashionable clothes on street, your viewers will put themselves in their shoes… hopefully literally. Remember to create interesting, curious images for your audience.
A lookbook should create a sense of exclusivity, but your collection should inspire the readers to understand what your brand is all about. In a properly designed lookbook you should present your images so that they pique the curiosity of your own viewers – if a woman is alone in a cafe, they start thinking – is she waiting for someone? This makes them follow the images, create a story and imagine themselves as a beautiful model.
Online lookbooks – a summary
A lookbook is an attractive way of showcasing your company's most recent offerings – usually in industries that rely on both visuals and seasonal availability, like fashion or jewelry. Often lookbooks are available digitally, you can show them on a company's website or embed them in your email newsletter.
Publuu can offer you tools to enhance your interactive lookbook, like add links or the ability for video previews. It's easy to change your lookbook into an effective marketing tool!
You may be also interested in:

5 Tips to Make Your Catalogs Stand Out
Top 10 Catalog Maker Software
Marketing Materials For Your Business