MENU

How many photographs, or images, do you have on your computer?
Probably thousands – if not more.
If so, how hard is it to find the right one, when you need it?
Whether you are a business owner or a photographer, you will need a catalog software sooner than later. Right software allows you to create catalogs that show off your photographs in the best possible way. In this article, we present to you catalog software that will do just that.
This isn't the first time that we look into catalog software. We have already covered one list of catalog makers. And you loved it so much that we decided to make you another!
Let's dive right in!
Publuu – autonomous digital catalog maker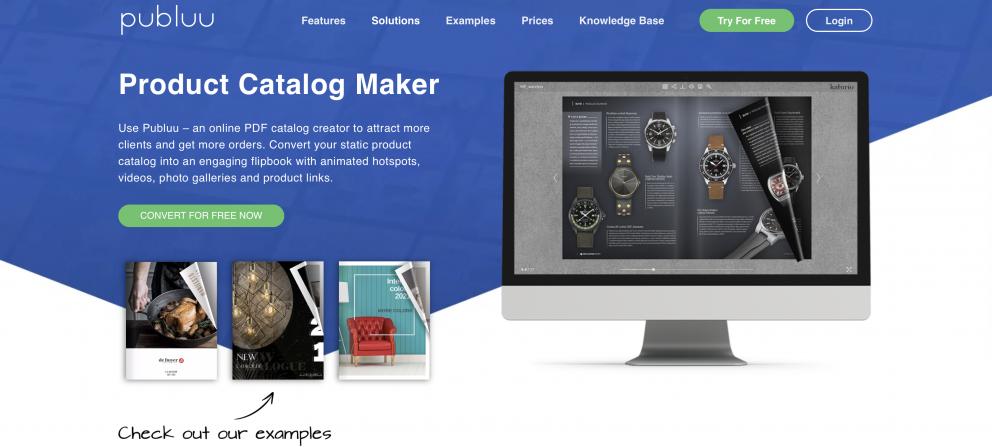 What if, instead of a regular catalog you need a PRODUCT catalog?
Something that you can show to your customers, business partners and retailers? Publuu was made for product catalogs. It's cheap, cloud based and easy to use.
You can start with a basic flipbook. As you make a few of them, you can organize them into something called a virtual bookshelf. Let's break it down a little.
Flipbook is a cloud based catalog that reads, feels and even sounds like its paper counterpart. Publuu, as a product catalog software, allows you to create interactive catalogs by uploading a single PDF file. If that file contains useful information about your products and services Publuu can turn it into a product catalog suited for e commerce.
Publuu's catalog example
Publuu's flipbooks are password protected, visually pleasing and ready to be shared online. Each flipbook comes with a unique sharing link. Post it on Facebook or send in an email – there's no need for lengthy attachments.
Web kiosk is another form of digital product catalog. In simple words, it's multiple flipbooks organised together. What you end up with is basically a fully functional, interactive e commerce store.
You can use it to organize your digital catalogs into different product categories – just like Amazon does.
CleverCat – a drag-and-drop product catalog maker

CleverCat is a data driven product catalog software that heavily relies on its templates.
Basic package comes with a wide selection of templates. You can fill them in with images using good old "drag-and-drop" technique. There are additional templates available to download from a producer's website.
Clever Cat is recommended for small and medium sized businesses that are looking for a catalog maker software for their e commerce business. It allows basic content management features, which is helpful – especially with digital catalogs.
Price: 120 dollars a year.
Filestage – file management on steroids
What if you run an advertising agency and you need to review multiple photographs every day?
Filestage was made to help you.
It's a catalog software that allows you to share files with multiple people. What's so special about it? It's the only catalog software on our list that comes with an approval feature. It's an interesting alternative to the usual chasing the management via emails.
It's a great tool for managers looking for new ways to improve their work process. This cloud based platform allows its users to comment and review their files and keeps the data of every change that was made.
Filestage allows you to create a completely new work culture, with your digital catalog maker in the centre of it.
Adobe InDesign – product catalogs made from scratch

Stunning visuals have always been a part of a positive shopping experience.
That is most likely part of a reason why Adobe software is so successful. A skilled designer can create gorgeous product catalogs, digital brochures and price lists. Out of thin air!
Adobe InDesign is a digital publishing and page layout tool. Advanced users can create stunning catalogs with product information such as price and features. With this software, You can create a template that will be a base to your next product catalog.
It's a highly advanced tool and we recommend it only to experienced designers.
Canva – a digital catalog maker and more!

Canva is a cloud based digital tool that already has millions of users worldwide.
It's a user-friendly software that has templates for almost any occasion. You can use it as a content management tool, digital catalog maker and social media management tool. And it's free!
Create catalogs that will improve the shopping experience for your users. Use catalog templates, edit them and add your own images.
Is there anything that Canva cannot do? Flipbook?
No problem – you can also make a flipbook with Canva ! That's right. You can convert your finished publication into stunning flipbook with just few clicks on canva too!
CatalognTime – for when catalog is time and time is money

Last but not least.
CatalognTime's prime goal is to automate the catalog making process. This cloud based software uses product data to turn your files into catalogs. The end product – your new catalog – can be then imported to either Quark Xpress or Adobe InDesign.
It's an interesting software that seems to be another product of our AI filled era.
Summary – which catalog software should you bet on?
With such a wide selection of catalog software available, it is not difficult to get a headache.
Especially, if you are a solo entrepreneur and you don't have a team of designers ready to help you.
That's why, like with everything in life, we suggest trying out yourself if any of the software from our list would be a right fit for your business.
And to make things a little easier, Publuu offers 14 day trail for free. Try it out and see if you can live without it!
You may be also interested in:
Wholesale Catalog – All You Need to Know
5 Tips to Make Your Catalogs Stand Out
Top 10 Catalog Maker Software For Your Business
How to Make a Catalog ?