MENU
How to Make a Recipe Book? A Complete Guide
A good cookbook is always guaranteed to sell well. Everyone cooks, even if they don't love to, but in general, people like browsing extraordinary recipes. And many people have their own recipes they want to share with the world, so they will want to create a cookbook.
If you are the one who has plenty of your own ideas or wants to transform and publish your family recipe book, you've come to the right place. In this article, you'll learn how to make your own cookbook, write recipes, and prepare it using templates and Publuu's online book maker.
How to create a recipe book online with Publuu?
Regardless of whether you have in mind a collection of recipe cards, a DIY cookbook, or a professional-quality recipe book you can publish it all using realistic Publuu ebooks with a page-flipping effect.
Publuu's ebook example
View more ebook examples
If you're familiar with apps like Scribus, InDesign, or MS Publisher you can create your cookbook using this software – and upload it to Publuu! It will convert them to a beautiful ebook you can read and browse on any modern device.
Thanks to this innovative solution, you can embed your family recipe book into the contents of your website, or easily link to your favorite recipes or selected pages on your social media. You can make use of Publuu's robust analytics features, to determine who and at which hours reads – and cooks – your favorite dishes.
How to make a recipe book to sell? 8 simple steps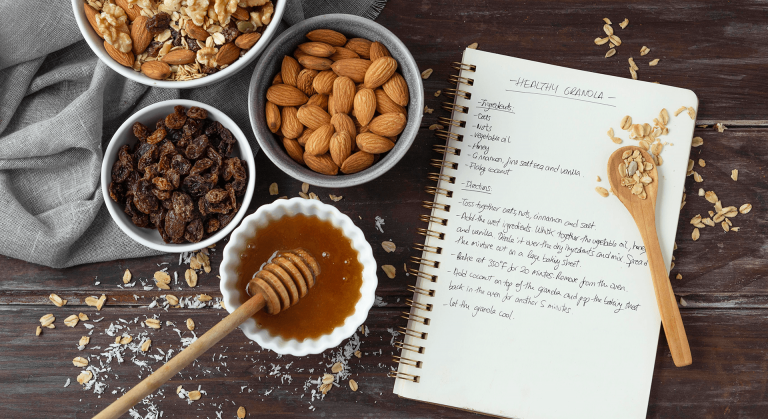 Maybe you have in mind a DIY recipe book published in a professional, elegant way, or maybe you want to make a living writing recipe books. Many companies decide to compile their own recipe book to promote their food products or services – it is always a great idea to share your culinary secrets. Either way, here are some basic rules you should keep in mind when preparing a recipe book of your own!
1. Think about your target audience
Before you sit down to write recipes, you need to know who your readers are. Think about who will most enjoy your book, and who should reach for it. Is your target audience made of experienced cooks or total amateurs? Are they people fascinated by healthy food, or simply shoppers at the local supermarket? Vegetarians, vegans, pescatarians? Or maybe you want to try some dishes from a family member from the old country and are worried about whether the locals will be willing to try them out?
Think about it, look at the books that are selling well, and see if there's a gap in the market you could step into.
2. Dig out recipes
A DIY recipe book might consist of "everything you know". However, if you're thinking of publishing your own cookbook, you should be more careful with the list of the dishes you want to showcase on the pages of your book.
Ask your family members for their favorites, and look at your own established recipes and unusual cooking techniques you have adopted. These are good starting points if you want to make a cookbook for a wider audience.
3. Select and plan your recipes
Now that you have enough material, you can start thinking about putting it in a useful order. You can create a family cookbook, with dishes that reflect your family history and background – or maybe if you want to create a recipe book about your home country you organize the chapters according to a different region. Draw a rough table of contents and try to organize your recipes in an intuitive, unobtrusive manner.
4. Think of your visuals
If you want to publish your cookbook professionally, you need to think of the visual side. People expect color and mouth-watering photos from their recipe books. You have to cook every dish in the cookbook yourself, hire a professional photographer to make photos, and spend time editing the photos. Of course, many cookbooks can be black and white, but a full-color book is much more attractive and fun.
5. Work on your layout
Now you can try designing your own recipe book. Think carefully about the book size and dimensions, as well as the general stylization of your book. Some believe that recipes should be displayed in a simple, intuitive manner – one recipe per page. Others claim that it's okay to display photos of food next to unrelated dishes.
Should you display recipe cards separately? Actually, it's up to you. You can use frames with advice from your friends or explain these special moments that you associate with each meal.
6. Add decorations
Apart from the photos of the dishes and the text of the recipes themselves, add some personal touch. You can mark some recipes as family favorites, and tell some anecdotes about food or educational content. Add other decorative elements to the layout of your cookbook – borders, ribbons and page number decorations.
7. Design a great cover
As usual, people judge a book by its cover – it's up to you whether you want to create a feeling of a family cookbook, with embossed golden letters on a leather cover, or a more modern approach with a collection of realistic images. When you make a cookbook, you need to consider how likely are people to open the book with that cover.
8. Publish and advertise your cookbook
As with any book, cookbooks need to be advertised. If you want to publish the DIY recipe book on your website, posting your recipe book created with Publuu on Facebook and Twitter is a good jumping-off point. But if you want to release it in print, ask the publisher about their ideas of printing it.
How to create a recipe book for free?
Creating a DIY cookbook doesn't have to require expensive design software. There are many templates that allow you to design recipe cards or a simple DIY recipe layout using free tools like Canva, MS Word, or even Google Docs.
You can always make the photographs yourself and use daily life images you already own. If you want to, you can publish a simple cookbook on Publuu or print it on your home printer. Cooking is one of the greatest forms of art because anyone can do it – and part of the fun is sharing your family recipes with the world!
Make your own recipe book – template gallery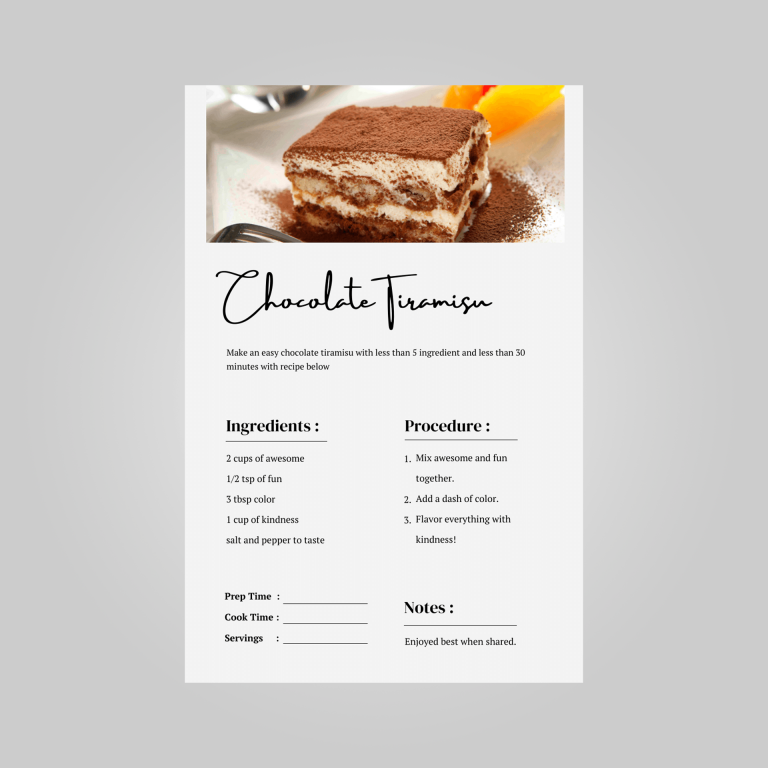 This recipe card can be the basis of any delicious dish – especially if you add your own photo of your favorite desserts.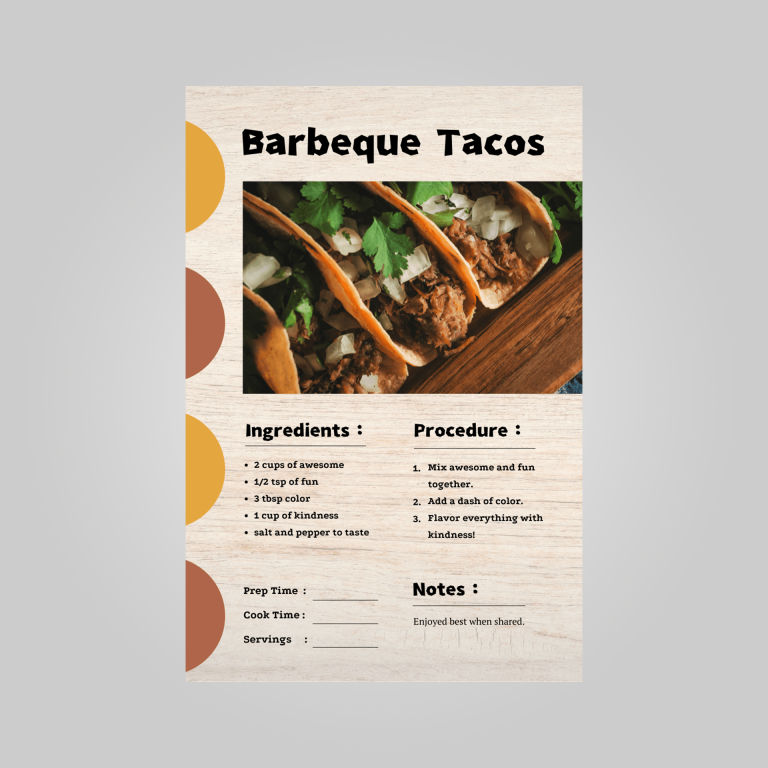 Circular patterns on the edges of your pages can be the defining motif of your cookbook.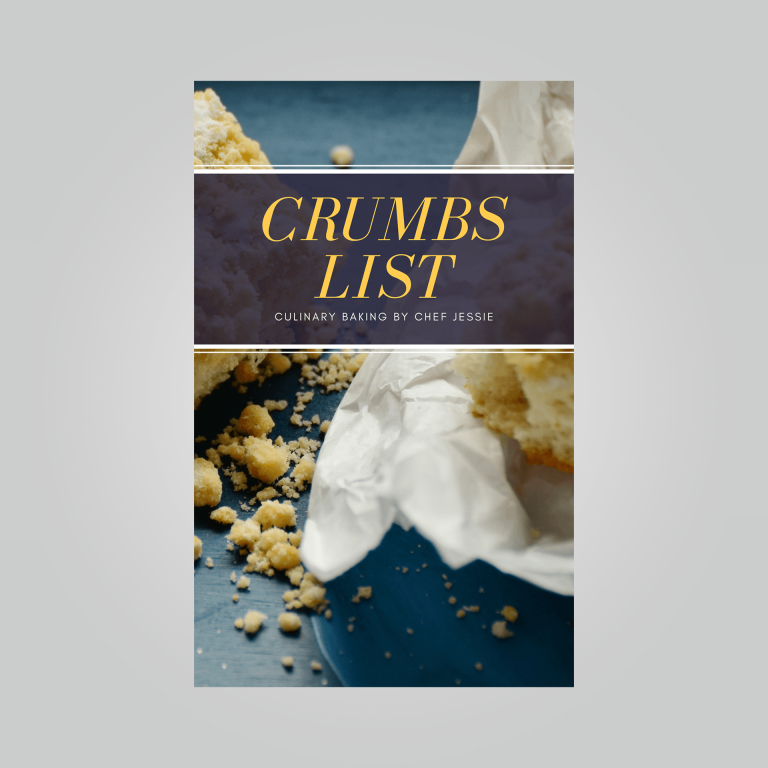 This premium, distinguished template is perfect as a cover of a respectable cookbook.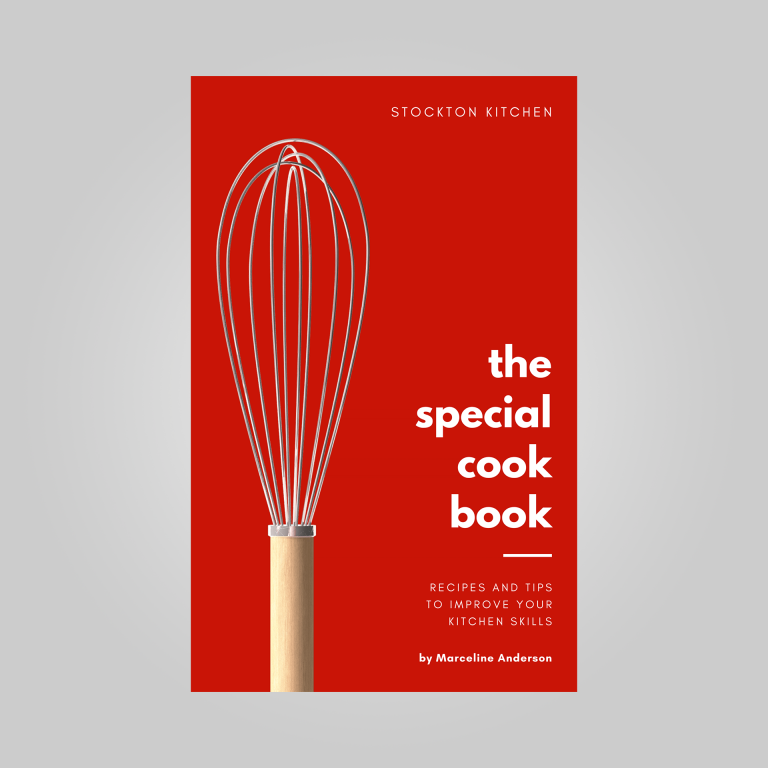 An elegant cover using the motif of kitchen implements is sure to make your readers want more details on your cooking style.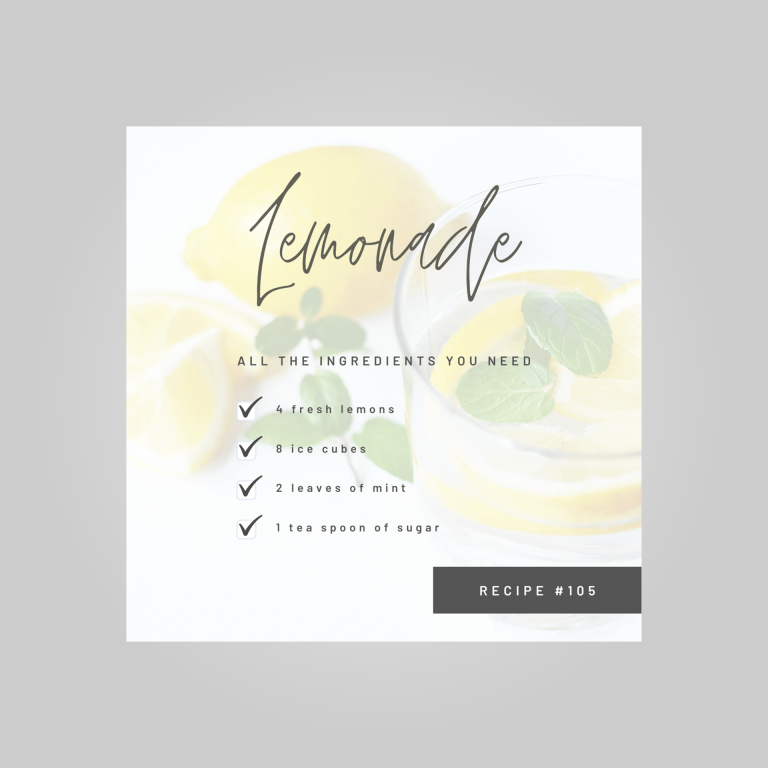 You can use the style of this recipe card to better showcase your cooking ideas.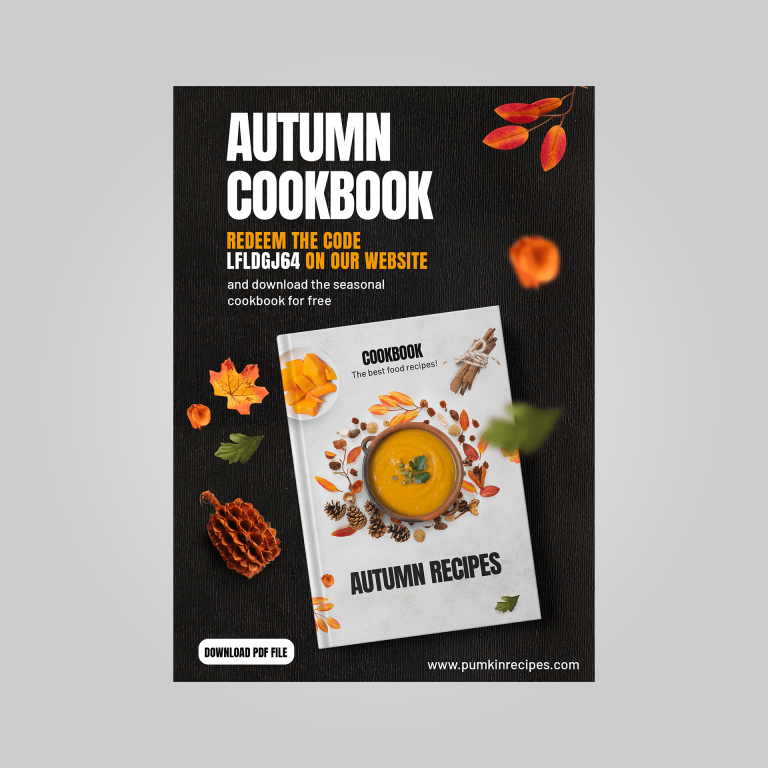 Once you have designed your cookbook's cover, you can use a poster like this one to promote yourself!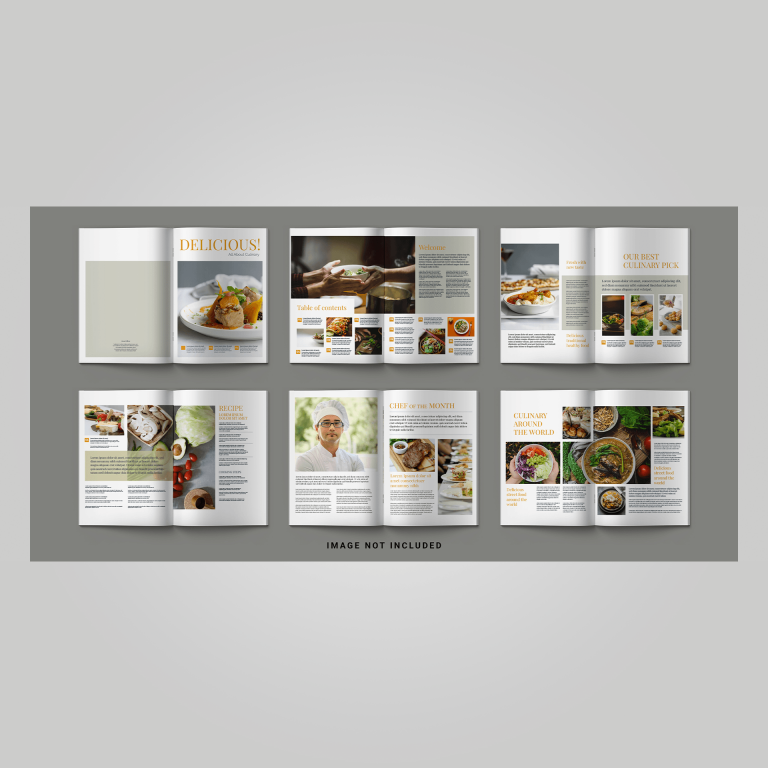 This beautiful cookbook template is sure to give you plenty of ideas on how to present your favorite meals.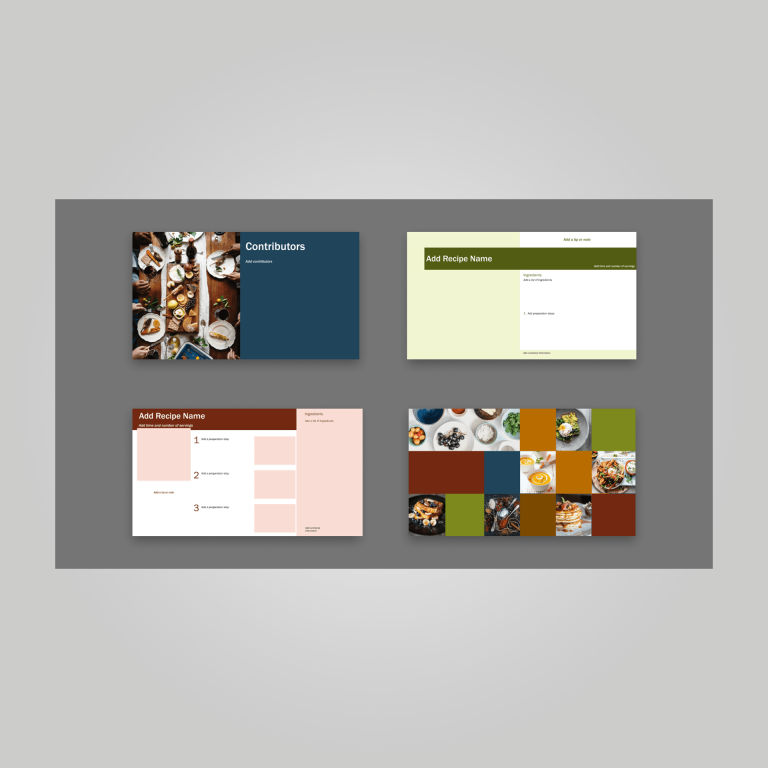 These simple and versatile templates can be used to create cookbooks using only Microsoft Word!
A summary
Crafting a homemade cookbook is a fun project that may become a treasured heirloom for your family and a useful way to document your beloved recipes for future generations to enjoy. It can also be a profitable venture for a company or an aspiring writer.
Whether you want to publish your family cookbook or a professional guide, the basics are the same: decide on your target group, prepare the recipes, pick inspired illustrations, work on beautiful layout and if you want to, publish your cookbook online using Publuu's ebook format!
You may be also interested in:
Ebook Templates – All You Need to Know
A Short Guide to Ebook Design Basics!
How To Convert PDF To Ebook?